Do you experience problems with your drain when you use a sink, take a bath, and use a toilet? Do these areas drain slowly, or do they stop draining at all? If so, then it's time to address the issue that has been damaging and pestering your pipelines. 
Clogged drainage may occur due to various reasons. Since it's often used in everyday living, it may be inevitable to have your pipes get blocked. Here are some of the most common causes of clogged drains:
Cooking Oil

– It forms a mass of dirt together with other food debris, causing a blockage.

Food Scraps

– Similar to cooking oil, it should be disposed of properly and not in your drainage system.

Other Foreign Materials

– These include soap, hair strands, toiletries, natural debris like leaves, and kids' toys.
Addressing clogged drains may take too much time, especially when you don't know how to do it right. If that's the case, you may visit Brisbane Plumbing & Drainage or your local plumbing services and let the professionals take care of it.
But if you want to do it on your own and save a few bucks, you may consider the following helpful tips below:
1. Use Natural Ingredients To Remove Any Blockage
One of the most popular hacks a lot of folks know when dealing with clogged drains is using natural ingredients, particularly baking soda and vinegar. 
The first thing you need to do is pour some hot water to soften the clog and follow it with a mixture of baking soda and vinegar. To create the solution, simply mix equal parts of baking soda and vinegar. Then, let it be for around 25 minutes, and pour another batch of hot water to clear the clog. 
The baking soda and vinegar solution has a corrosive action that breaks down the clog and clears it up. However, this technique may not be viable for metal pipes because baking soda may corrode the surface of the pipes.
You may also use the following mixtures below just in case baking soda and vinegar won't work:
Baking Soda + Salt

– Pour equal parts and let it sit on the drain for around 25 minutes before pouring hot water.

Salt + Vinegar + Lemon

– Combine equal parts of salt and vinegar and add the juice of half of a lemon. Mix them well, pour the solution into the drain, and let it sit for around 25 minutes before following it with hot water.

Hot Water + Salt –

Pour a handful of salt and hot water and let it sit for around 25 minutes. Then, add more hot water to remove the clog.
However, it's important to note that these methods may not be an effective approach to removing fat, grease, and oil residues. Also, hot water may only distribute these substances all over your pipeline, creating future problems. In addition, this hot water trick may not be advised for plastic pipelines.
2. Use A Wire Hanger
A wire hanger may help you unclog your blocked drainage. Take a wire hanger, straighten it, and make a small hook on one end. Once you're done creating a small fishing rod, it's time to fish for some dirt.
Slowly push the wire down the drain to avoid pushing the dirt away from you. Then, gently feel the dirt and hook it up. Once you hook some blockage, pull the gunk gently from your drain. You may repeat this step until the flow of water resumes back to normal or until you feel no dirt down your drain.
3. Use Washing Soda
Using a washing soda is a more powerful alternative to baking soda. It's commonly known as sodium carbonate and is usually present as one of the active ingredients in most cleaning products. Also, it's more alkaline compared to baking soda, making it a stronger clog remover.
To use washing soda, you need to pour some hot water down your drain first. Then, pour a glass of washing soda into the drain and follow it with hot water. Let it sit for at least five minutes, and if it still doesn't work, you may repeat the process.
Don't worry if you have no washing soda at home or if you can't find one in your local market. You can turn your baking soda into a washing soda by baking it in the oven for one hour at 400F to 450F. By doing so, you allow the baking soda to release most of its carbon dioxide, making it a washing soda.
4. Use Soft Drinks Like Coke
Surprisingly, you can also use soft drinks to unclog your drain. They are caustic substances effective at clearing away dirt buildup. However, it's less powerful than most drain cleaners.
What you need to do is pour two litres of soft drinks down your drain and let it sit for at least one hour before adding hot water to drain everything. 
Unfortunately, you can't use soft drinks to clear your drain most of the time. This is because soft drinks have sugar substances, which can leave a sticky coating on the surface of your pipes. If this is the case, use baking soda or washing soda instead.
5. Use A Plunger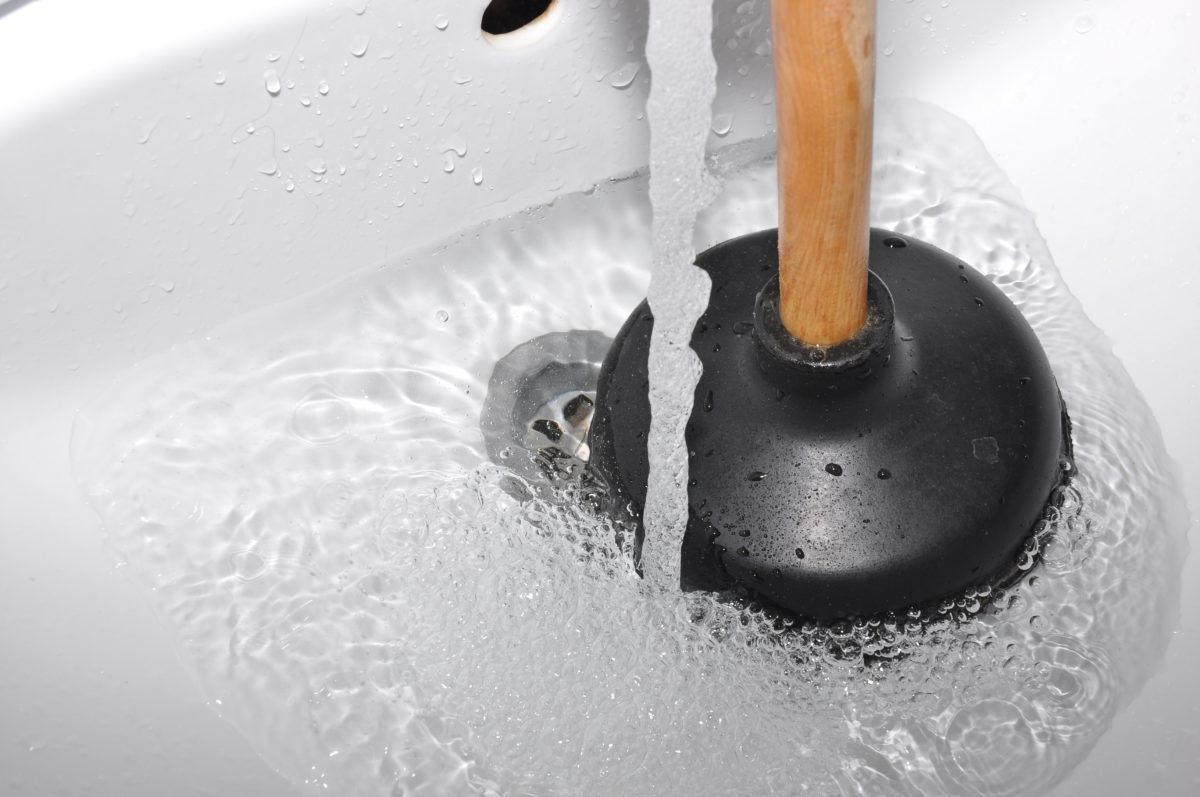 If everything discussed above fails, maybe it's time to use a plunger and manually drain your clogged drainage. However, you need to make sure to use the plunger that fits the job. You don't want a toilet plunger if you're draining your sink because it won't work. Instead, you may use cup plungers to address clog issues in smaller drains.
To use plungers, you need to remove the stopper or drainage seal. Then, plunge as aggressively and vigorously as possible. To check if the clog has been removed, run water, and if it still doesn't work, repeat the procedure until the clog has disappeared. 
Final Words
Having a clogged drain is an annoying problem, whether it's your sink, toilet, or bath. To address such issues, you may consider the following tips and hacks discussed above. You may use baking soda and other kitchen ingredients, a straightened wire hanger, washing soda, soft drinks, or a plunger. 
However, these tips may not work most of the time, especially when the clog is severe. If this is the case, maybe it's time to ask for help from professional plumbing services. They have special tools and equipment they can use to do their job efficiently and effectively.