Kitchens and bathrooms are some of the rooms in a home that we most frequent, yet at the same time, they can also be hazardous spaces due to the risks of slipping, falling or even cutting yourself. This is why it is so important that we pay attention to kitchen and bathroom safety by implementing design features that are able to protect us from potential hazards.
In today's article, we have a look at some kitchen and bathroom design features that improve safety in order to ensure that everyone in the home is kept healthy, safe and happy! So, before you start looking through Melbourne kitchen and bathroom showrooms, strap yourself in and read on to find out more!
Why Bathroom Safety is Paramount
Before we dive into the bathroom safety features that every home should have, it is important that we identify the potential safety hazards that lurk in every bathroom. One of the major concerns when it comes to bathroom safety is preventing slips and falls due to wet or slippery tiles. This is exceptionally important when there are children or elderly folk living in the home, as falls can prove to be deadly for those who are at high risk.
Another issue that is rarely spoken about is shower curtain vapours that can cause asthma, eye irritation or in extreme cases, cancer. Lastly, the accumulation of toxic mould in bathrooms is something that shouldn't be taken lightly and can create serious health problems for those who suffer from respiratory issues.
Bathroom Design Features That Improve Safety
Now that we've identified some of the potential hazards one can encounter in the bathroom, let's have a look at how we can go about avoiding nasty falls and other health complications that may arise from any of the aforementioned safety threats.
Avoiding Bathtub Slips and Falls
Even under supervision, the rate at which small children slip and fall in the bathroom is one that is cause for concern. The highest risk age group for nasty falls is children younger than five, so ensuring that your bathroom is fall-proofed is key. One of the best ways to do this is to purchase rubber bath mats and padding for any protruding objects that may exist in your bathroom.
It is important to note that the elderly are also at high risk when it comes to slips and falls, and the best solution to prevent a nasty accident is to install grab bars that provide support and assist your loved ones in anchoring themselves. The addition of a shower stool is also always recommended to provide stability for elders with difficulty balancing for long periods of time.
Say Goodbye To Bathroom Flooding
Bathroom floodings are something that most of us would rather not experience, but unfortunately without the proper preventative steps and measures, there is no way to completely eradicate the chances of an inconvenient flood. A flooded bathroom can cause immense water damage to your home and can even lead to the growth of harmful and toxic mould. So, what's the best way to "flood-proof" your bathroom? Well, simply put, it is to ensure that you have sufficient overflow in your sink and shower areas.
Basin overflow (also commonly referred to as the "holes" in your sink or shower area) serve two purposes — to allow airflow into the drain and for water to drain faster when a plug is pulled. This is exceptionally important in apartment or multi-story buildings as potential floods have the ability to cause water damage to units below you. While there are no rules on drainage holes for ground floor buildings, we decided to pay 5% more and include them in our bathrooms in order to reduce the likelihood of flooding. After all, you can never be too safe! If you're interested in doing so yourself, simply head to any Melbourne kitchen and bathroom showrooms and speak to a representative who will be able to give you all the information you need!
Preventing Toxic Mould
The bathroom is a naturally damp and humid environment which makes it the ideal breeding ground for mould and mildew. The best way to reduce the chances of a nasty infestation is to ensure that your bathroom design includes a window and a bathroom fan that will improve ventilation and reduce the chances of a humid environment. Window treatment is as important as the window itself, and choosing thin curtains that are less prone to develop mould and mildew is key. Blinds are also another fantastic option, with aluminium plantation shutters being our first choice.
Shower Curtain Woes
Not going to lie, this one's a little scary and something we should definitely be talking about more. Studies have shown that PVC shower curtains contain up to 108 volatile organic compounds, some of which may cause developmental damage and damage to the respiratory system. Some of these chemicals can even linger in the air for 4 weeks after your curtains are installed, so ensuring that you purchase shower curtains that are certified vinyl and PVC free is crucial.
Water Temperature Limiters
Multiple Australian states have "Hot Water Burns Like Fire" campaigns, aimed at reducing scalding injuries, especially for children. Here's one PDF flyer from NSW, detailing how you can limit your hot water to 50°C using the settings on your gas hot water heater, or by installing a hot-cold water mixing valve. The World Health Organization cites this campaign and these actions as highly effective, however when discussing government policy at a large scale it is worth noting an independent academic study titled Scald prevention campaigns: do they work? casts doubts on whether the campaigns are effective. Nonetheless, if you have young children or elderly people in the home, both with thinner, less durable skin, you should absolutely limit your hot water temperature.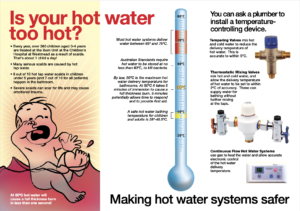 Smart faucet temperature limits are another way to achieve this, discussed in the below section.
Kitchen Safety 101
Now that we've covered the bathroom, let's dive straight into the kitchen. Naturally, kitchens are hazardous spaces due to sharp objects, hot surfaces, direct flame and slippery floors. While none of us are strangers to small accidents in the kitchen such as cutting a finger or burning a hand, ensuring that the kitchen is equipped with safety features to prevent more serious accidents is so incredibly important.
Kitchen Design Features That Improve Safety
In order to make your kitchen the safest space possible, here are some design features that are sure to eliminate as many hazards as possible.
Lighting is Crucial
Aside from making the space look better, adequate and specific lighting is more important than ever when it comes to kitchens. Considering the fact that knives and other sharp objects are handled in this space, a well-lit work area is a safety essential in any kitchen. You can choose from pendant lighting, downlights or LED strip lights depending on the layout of your kitchen, especially in washup, prep and cooking areas.
Avoiding Nasty Falls
Similar to the bathroom, the kitchen poses a number of threats when it comes to slipping and/or falling. The best way to avoid this is again by placing water-absorbent, non-skid mats in front of your sink. Footwear also plays a huge role in this, so always opt for non-skid shoes whenever possible. Between splashes of water, food spills and other liquid hazards, appropriate footwear and non-slip flooring may save many a fall.
Design A Safe Floor Plan
When it comes to the floor plan of your kitchen, remember the famous work triangle for safety as well as efficiency. The kitchen work triangle is one that represents traffic flow within a kitchen and is designed to help keep your main cooking space devoid of obstacles or traffic. This is incredibly important when you are handling hot pans, trays and other hazardous items that could potentially burn or injure both yourself and others who may be present in the kitchen. For more ideas on how you can create the safest work triangle in your kitchen, click here.
Ovens and Fridges – Not A Match Made in Heaven
One thing that many fail to consider is the positioning of both their oven and refrigerator/freezer. If your refrigerator and oven or stove need to go on the same wall, it is imperative that there is at least a bank of cupboards in between them. So, why exactly is this so important? Simply put, your fridge will struggle to keep its contents cool, which may result in the motor burning not working as efficiently, or in some cases even burning out. As we know, a refrigerator that is unable to keep foods under a certain temperature will allow the growth of harmful bacteria that will inevitably lead to food poisoning.
Install an Easy To Clean Stove
Lastly, kitchen fires can be absolutely devastating, which is why ensuring that you eliminate potential fire hazards is key. Considering most kitchen fires start around the stove, it is important that you choose a burner/stove that is easy to clean. Grease buildup is flammable, and a clean stove is a fire-free stove. Induction cooktops are often revered as the easiest cooktops to clean, and they also eliminate any chance of open flames in your kitchen which can be especially helpful if you have children who enjoy pottering about in the kitchen.
Smart Faucets Prevent Scalds
Similar to whole-home water temperature limiters mentioned above, you can set temperature limits for smart faucets in the kitchen. These are faucets can be controlled by mobile apps or voice home assistants, right down to the volume and temperature of water to dispense. Examples include the U by Moen range and the Delta VoiceIQ range. Some models have LED lights to tell indicate water temperature, with blue to represent cold, and red for hot. There are also digital products for the shower that can also set and limit shower and bath water temperature. These products and can even run the hot water for you until it reaches your perfect bathing temperature, then pause for you to get in. Luxury and safety.
___________
Keeping your kitchen and bathroom areas safe is the best way to ensure that your loved ones remain safe, regardless of their age. By implementing new safety design features and incorporating simple additions such as everyday non-slip mats in these spaces, you'll be able to rest easy knowing that your home is the safest environment it can be for you and the ones you cherish.