Sublime kitchens begin with a functional and well-designed pantry. Even more so than a walk-in wardrobe, pantries need to have a place for everything and everything in its place. They are the concealed engine room where meal magic comes together, to eventually be showcased in the main kitchen area.
With the focus on modern kitchens as a social hub of the home, demand on pantries to be more than just dry-goods storage has increased. Floor plans can have the pantry running behind the main kitchen, partitioned behind a wall or as a separate enclosed room.
Modern homes have pantries which are both functional and beautiful – from simple storage rooms to luxurious, functional and versatile workspaces for the home chef or regular dinner host. The 'perfect' pantry is one is endlessly usefully; catering to all your food storage and preparation needs.
Butler's Pantry
The ultimate kitchen extravagance is a sumptuous butlers pantry. How does it differ from the usual walk-in pantry? A butler's pantry is a preparation area which branches off from the prime kitchen area – a kitchen within a kitchen.
It will usually be equipped with:
cupboards

benches

a sink

shelving

cold storage
Depending on how elaborate your requirements are, you may desire a second dishwasher, microwave and cooktop; enabling the chaos and mess caused by food preparation to be controlled and hidden; allowing the main kitchen to remain pristine.
Doors on pantries make great buffers, particularly when there is food being heated within. Alternatively, you may prefer the streamlined feel of a walk-in area, allowing easy transfer of plates and dishes, without the hindrance of a door.
Ventilation in the butler's pantry will mean cooking odours can be vented before they reach your guests.
Storage
The majority of shelving need only be 300mm deep, which is shallow enough for easy access to, and rotation of, food items as well as providing more floor space. This can also apply to any benchtops, where a width of 600mm can suffice; providing adequate workspace without encroaching substantially on the floor area.
Vertical and horizontal storage options, swing-out shelving, and shallow drawers are just a few design ideas which can maximise space and convenience.
Tips
:
Be mindful of shelf heights. Store regularly used items at torso height.

Consider a pantry within a pantry. Cupboards with pull-out shelving and hidden appliance cabinets

Push to open cupboards make them easier to access when your hands are full

Pull-out shelving, particularly on lower shelves makes access far simpler.
Space Savers
Pull-out pantries are a popular choice for those wishing to maximise their kitchen floor plan. These built-in wonders are incorporated seamlessly into cabinetry and can be pulled out to allow access from both sides.
They can complement larger pantries by providing space for high-use items such as spices, beverages and condiments. They can also act as stand-alone pantries for those with small families or limited space.
Life's Luxuries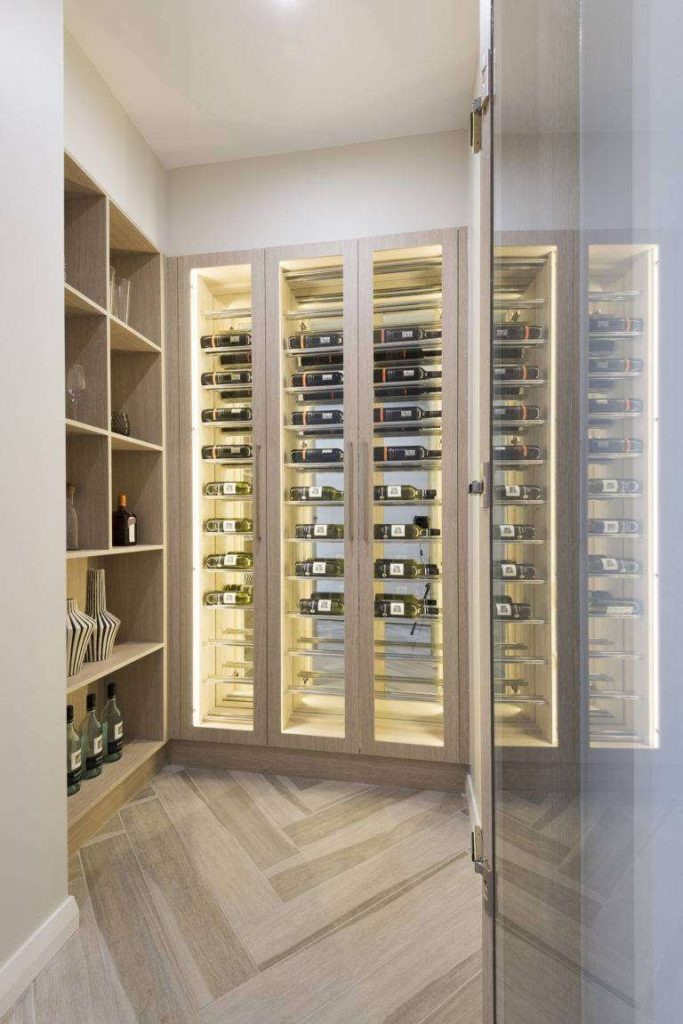 No matter how large our fridge is, most of us will have experienced the frustration of trying to accommodate both food and wine at the same time – particularly when catering for a dinner party or function. The perfect pantry should have ample space for cold beverage storage along with swathes of bench space for platters, bain maries and chopping boards.