I've been a big fan of Hungry Jack's for as long as I can remember, I even got recognised as one of their biggest fans by getting a 50% off VIP card for a whole year back in 2015. Whilst I love other fast-food chains as well, there are three things that would often bring me back to Hungry Jack's over the others. It sells all the burgers at breakfast, the Bacon Deluxe burger and its original onion rings, then later Angry Onions (spicy tempura onion rings) once those became available.
On my last few online orders (via Menulog) and drive-thru at Hungry Jack's Werribee and Port Melbourne I've noticed Angry Onions missing from the menu. Tonight at the Werribee Hungry Jack's drive-thru we were told that Hungry Jack's no longer sells Angry Onions and all the burgers that used to have it have been swapped for similar burgers that have the new style onion rings instead.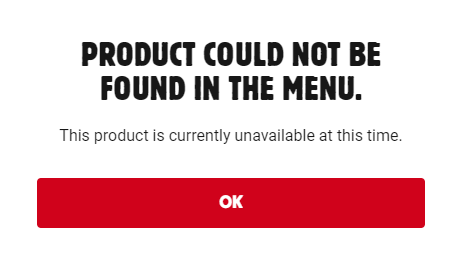 Discontinued Angry Onions Products
The following products appear to be getting phased out at Hungry Jack's stores around Australia in June 2021.
ANGRY ONIONS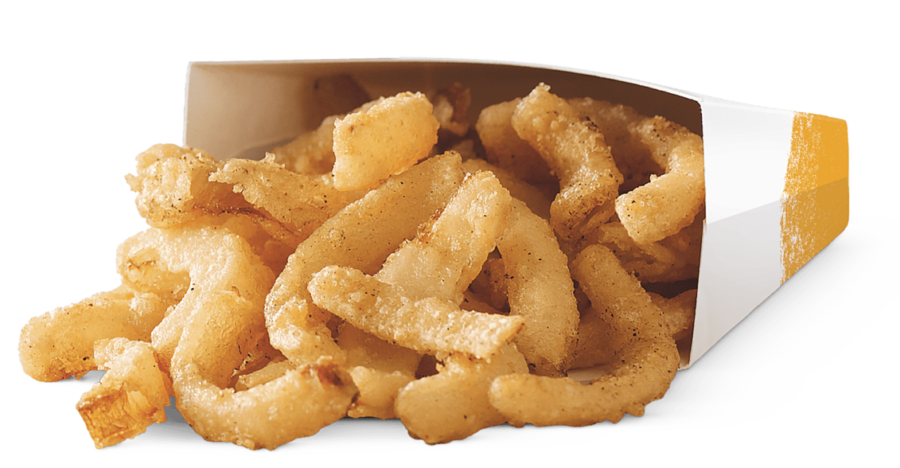 Official description: If you like it hot then you'll be angry if you miss these spicy, tempura battered onions. Available in Small, Medium or Large.
ANGRY WHOPPER®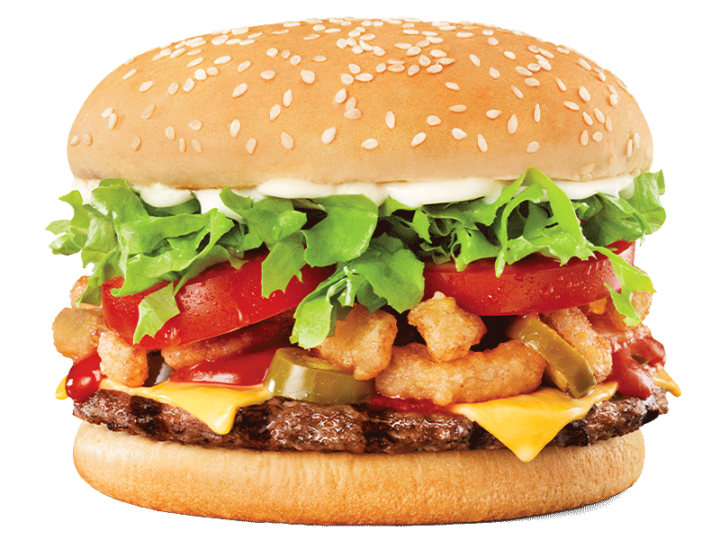 Official description: Pick our Angry Whopper® and stack with your choice of single, double or triple flame-grilled beef, topped with melted cheese, angry onions and spicy jalapenos with fresh salad on a toasted sesame seed bun.
WHISKEY RIVER WHOPPER®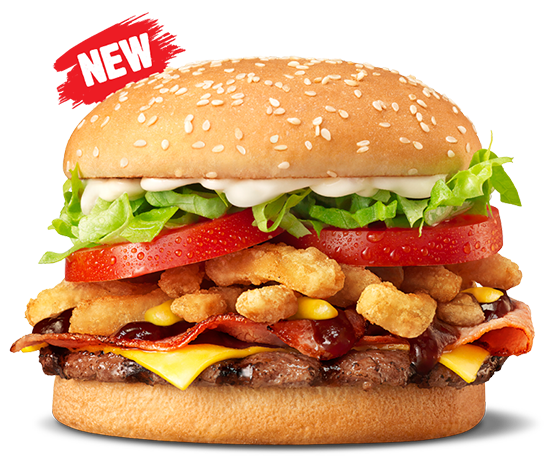 Official description: New Whiskey River Whopper® with 100% Aussie beef, topped with premium eye bacon, melted cheese, smoky BBQ sauce, mustard, angry onions, fresh lettuce, hand-cut tomato and mayo on a toasted sesame seed bun. Stack it with single, double or triple flame-grilled beef. It's your Whopper, your way! Available at participating restaurants.
DOUBLE WHISKEY RIVER WHOPPER®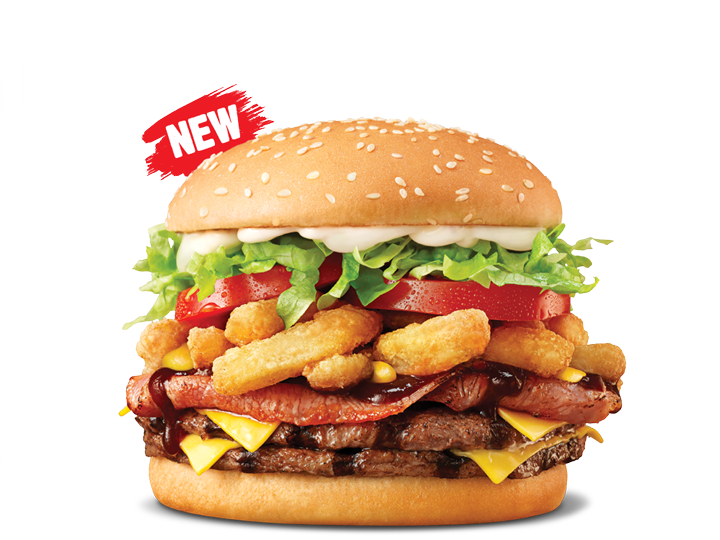 This is the same as the single burger but now with two slices of cheese and two beef patties.
TRIPLE WHISKEY RIVER WHOPPER®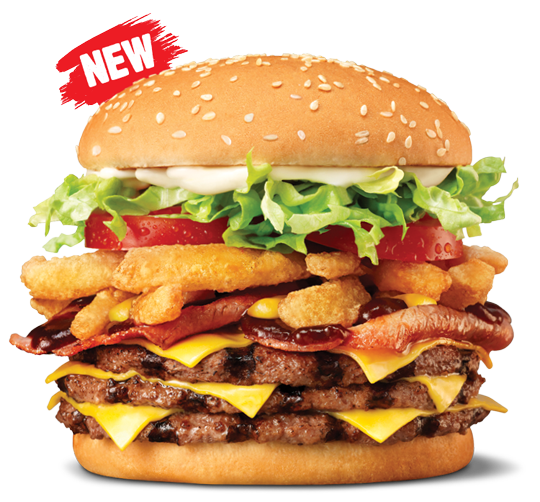 I really just wanted to post the beautiful Triple Whiskey River Whopper but thought I'd better include the single and double variations for the sake of historical preservation.
GRILL MASTERS SMOKY BBQ ANGUS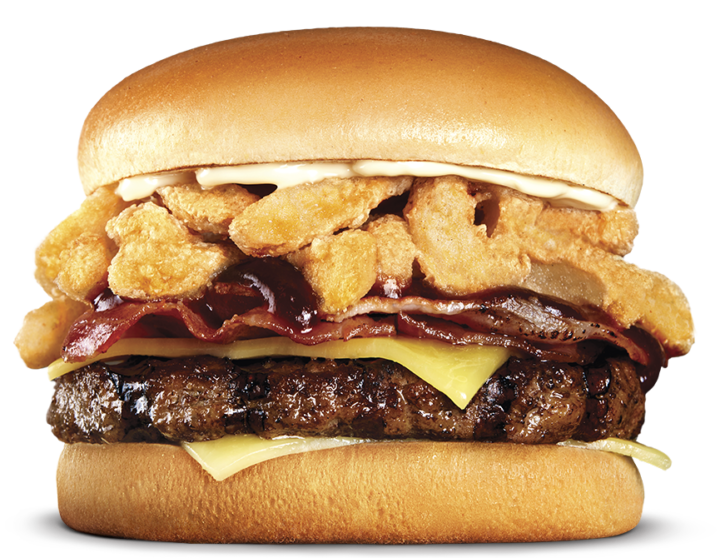 Official description: Taking burgers to the next level with our Grill Masters range. Double the flame-grilled, thicker, juicier 100% Aussie Angus beef, and double the cheese placed on an Artisan Brioche bun. Then stacked high with bacon, spicy angry onions, BBQ, mayo and cheddar cheese.
GRILL MASTERS DOUBLE SMOKY BBQ ANGUS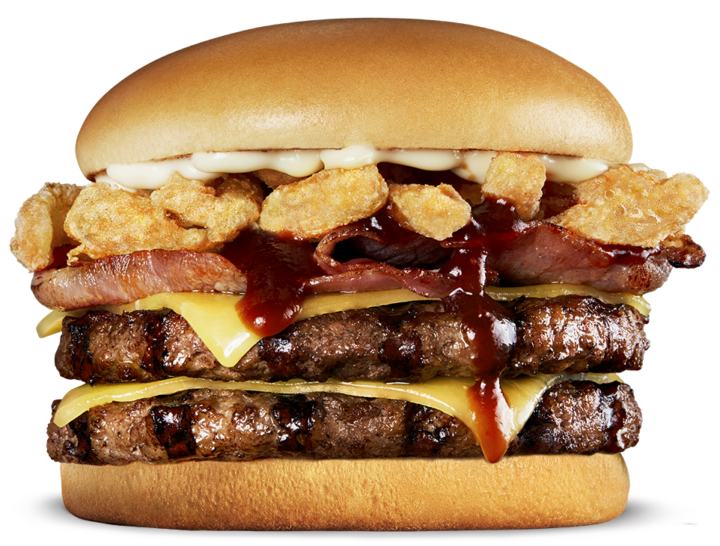 The double version of the Grill Masters Smoky BBQ Angus burger is the same but with an extra piece of beef and an extra piece of cheese. The description from the website was exactly the same. Surprisingly, no triple version was officially advertised for sale.
New Hungry Jack's Angry Onion Burger Replacements
The following Smokehouse burgers replace the Whiskey River burgers, swapping Angry Onions for regular crispy onion rings.
SMOKEHOUSE WHOPPER®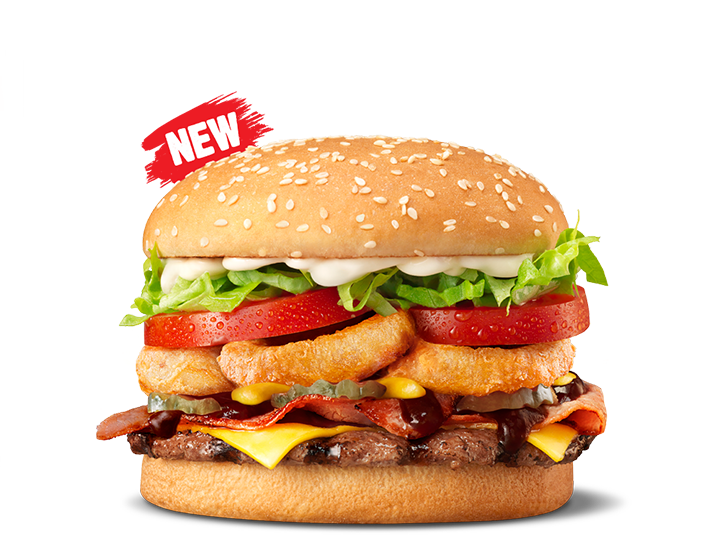 Official description: Flame grilled 100% Aussie beef topped with melted cheese, bacon, crispy onion rings, smoky BBQ sauce, mustard, lettuce, pickles, tomato and mayo on a toasted sesame seed bun. Available at participating restaurants only.
DOUBLE SMOKEHOUSE WHOPPER®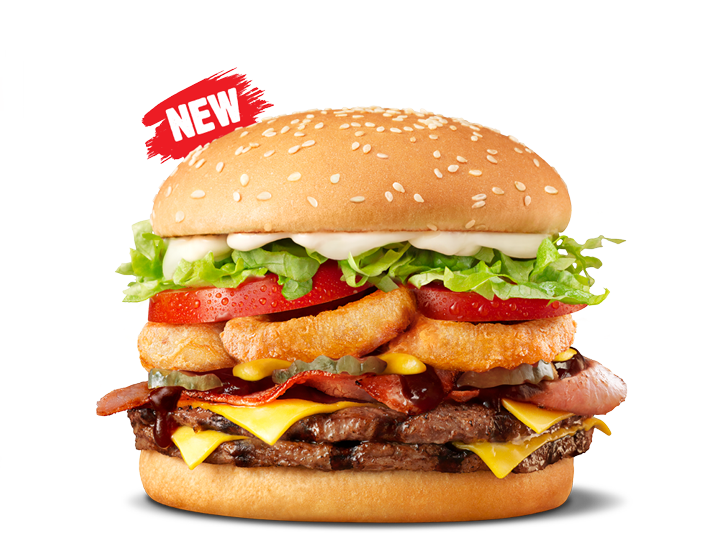 This is the same as the single, but with double cheese and double beef.
TRIPLE SMOKEHOUSE WHOPPER®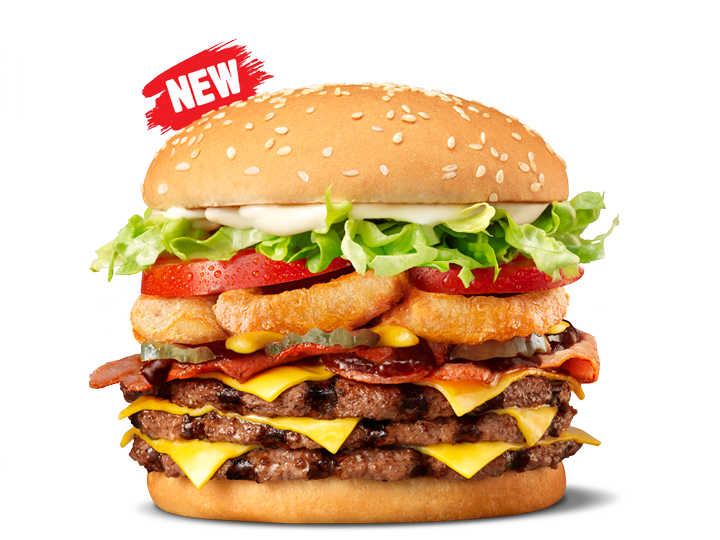 The Smokehouse Whopper with triple the cheese and beef.
There doesn't seem to be an alternative to the Angry Whopper or the Grill Masters Smoky BBQ Angus burger. I suspect the Grill Masters range is next for removal or a menu refresh as there's not much available on there anymore.
Why these Angry Onion products being discontinued?
Well, the Whiskey River Whopper, Grill Masters Smoky BBQ Angus and Angry Whopper can't exist without Angry Onions being available. But why is Hungry Jack's discontinuing the Angry Onions? I guess they just aren't that popular. Hungry Jack's already has its new giant onion rings which replaced the smaller ones they had going back as far as I remember. The new Hungry Jack's crispy onion rings must be quite popular and better suit the "fresh" rebrand that Burger King and Hungry Jack's has been pushing ever since Burger King got rid of their King mascot in the United States.
Angry Onions are greasy and oily. Almost every time I order a packet of them (I used to substitute to my chips a lot), I would have to pull into the waiting bay for them to cook up a fresh batch. This leads me to believe that they are too popular enough to always have some ready to go. That being said, most times I get Hungry Jack's is at breakfast time on my way to work and not everyone wants these for breakfast.
What happened to the original crumbed Hungry Jack's onion rings?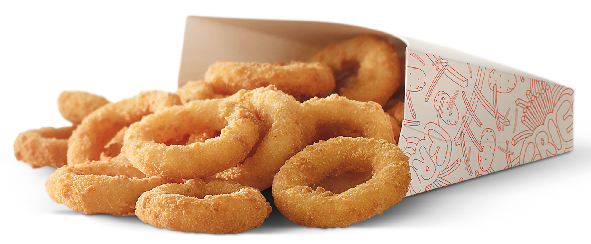 I always loved the old smaller onion rings at Hungry Jack's. I suspect they were a lot more processed than the newer larger crispy onion rings. It was strange that they were always the exact same size, something hard to achieve with natural onions. The inner onion tube always felt a bit rubbery, but I liked it. Often they were cold and hard, which could be disappointing but were still pretty good. I've done a bit of research on these original Hungry Jack's and found them described by Reddit user Spypsy as "crumbed rings with processed onion" whilst the new ones are "battered rings with real onion". They appeared to be discontinued sometime between March and September 2018.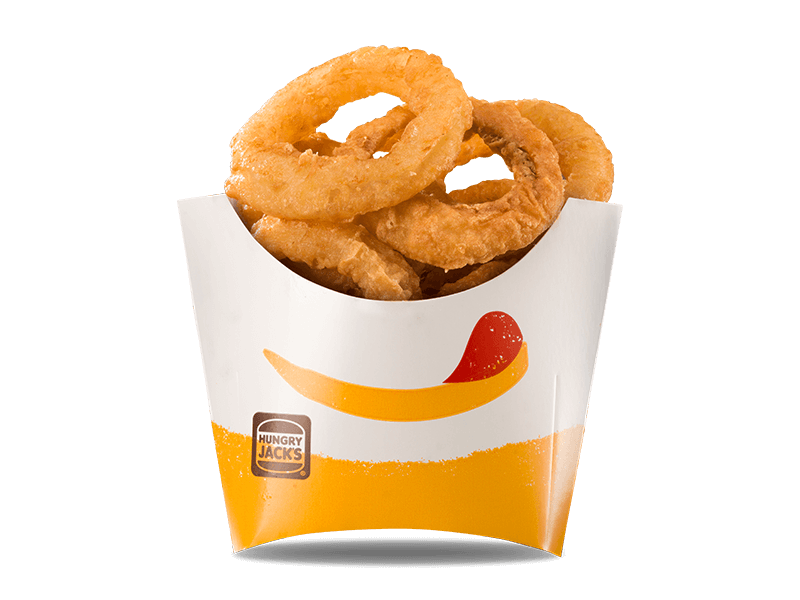 I much preferred both the old processed crumbed onion rings and the angry onions to the new fresher real crispy onion rings. They look more professional and gourmet, yes. But most of the time you get them delivered, the moisture from the onions steams itself in its packaging, resulting in a very soggy and floppy experience. I've even had some that I questioned if they were properly cooked or not they were that soggy and wet. I didn't enjoy them at all.
The introduction of this third onion ring product pushed out the originals and appears to have now pushed out the angry onions as well. Kind of disappointing but given I seem to be the only person writing about this online right now. I guess not too many other people have noticed angry onions missing from Hungry Jack's in Australia.