In late 2014, I won a beer pong table in a Facebook competition. It was one of those "who can get the most likes" contests and it was quite an intense battle of wills between myself and another competitor. But that's a story for another day.
What is a Beer Pong Table?
Why am I reviewing a table? Aren't all tables the same? What even is Beer Pong? Is that slang for bad smelling beer?
Beer Pong is the national sport of American fraternities. It's a drinking game involving a long table with a set of plastic (usually red) cups set up in triangle formations at each end. Each cup is about 1/4 full of beer (or other beverage, usually alcoholic) and opposing teams take turns trying to get a small white ball into the cups on the other side. If you get a ball in your opponent's cup, they have to scull that cup and the cup is removed from play. The objective is to clear the other side of the table and get your opponents as drunk as possible. There are many house rule variations. You can find rules here or Google for more.
Game Boy Beer Pong Table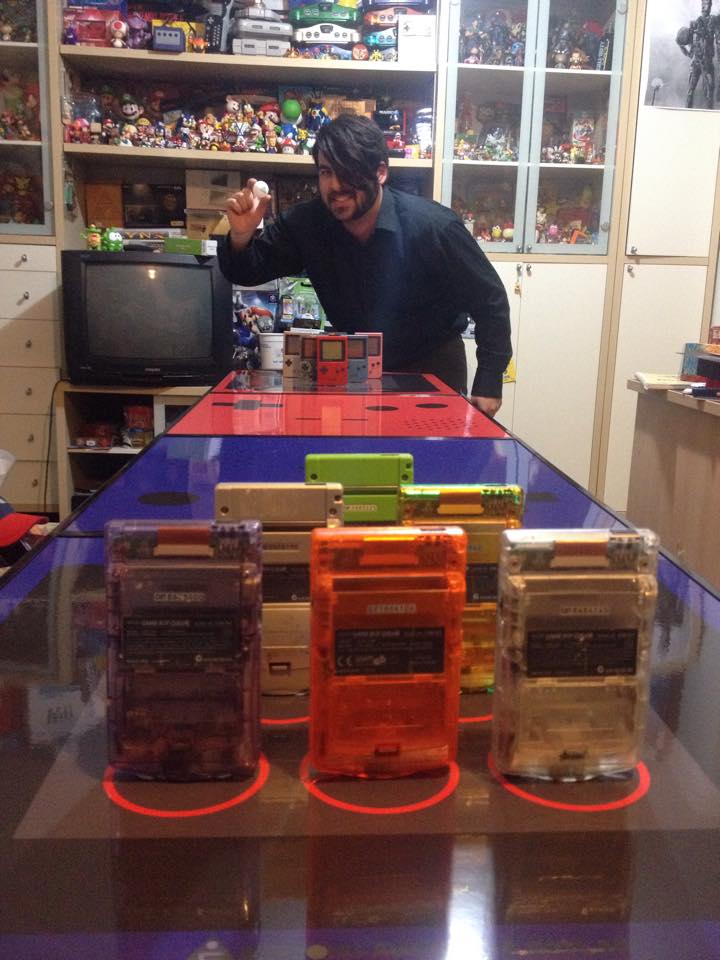 Beer Pong Australia make a range of beer pong tables with various artwork on them. Including this Nintendo Game Boy inspired piece. They also make custom ones with your own images, which would be great for corporate events, birthday presents, Bucks nights etc.
Since I won it then, I've probably taken this to about 15 different parties, including Christmas, New Year and my own birthday party. It was the centrepiece for most of these parties and was a great icebreaker for people who didn't know each other.
In fact, many of my friends invited me under the condition that I had to bring it. Which makes me wonder if I would have been invited if I hadn't won it. I guess it doesn't matter because I have a beer pong table and suddenly I'm a fun person.
This table is actually great for taking with you. The legs collapse and it all folds up into 4 sections and has a black fabric carry bag. It also has handles for easy transport. It has clasps to lock it shut as well.
When people see you turn up with it, it is a bit ambiguous what you are carrying. What's that big black case he's bringing to the party? Is it DJ equipment? Is it a birthday present? Nope it's even better. It is the party.
The Beer Pong Australia package I won also included some plastic trays. As the normal layout is only 6 cups, they also sell trays to allow the formation of 10 cups. I haven't really used these because I prefer shorter games and don't want my friends to have too much fun. 6 cups are enough to determine if you're an absolute legend or not.
Beer Pong Australia Ping Pong Balls
The set also came with a dozen or so ping pong balls. They are branded with Beer Pong Australia on them and seem a little heavier and more solid than regular ping pong balls. Perhaps they don't squish as easily. I think they don't bounce as much which is fine with me because I prefer throwing the ball straight into the cup, not bouncing it.
Quality
One time I was in a situation where I didn't bring my own beer pong table with me and people were playing beer pong on regular tables (two outdoor tables) and they were not really long enough and it just didn't feel right. I still had a good time, but a proper beer pong table just seems less ghetto, it just adds some class to it.
The wooden panels which make up the playing surface are very thin, and the legs are a very light-weight metal. They are the kind that extend down and lock into place. The materials are appropriate for a mobile table that you will want to move around frequently. The materials are not suitable for holding anything heavy. It is definitely not a loadbearing table and should only be used for its intended purpose, which is to help you party.
Conclusion
Would I have bought this beer pong table from Beer Pong Australia even if I didn't win it? That's a tough question. Before I won it, I wasn't that into beer pong, I just entered because I liked the design and thought I had a good chance at winning (which turned out true) so I probably wouldn't have bought one as I didn't think I needed it. That being said, now that I have it, I find it hard to picture myself partying without it.