Another Black Friday sale for us was the Ikea Friheten corner sofa-bed. Ikea had 15% off sofa beds that weekend and we were looking to buy more shelves that day anyway so we thought it would be best to buy everything in one place and get it delivered.
We had always been planning to buy a sofa bed to go in our gaming lounge. If/when we have kids, we will need to replace the spare bed with kid stuff, but we will still want to be able to host guests here. So rather than buying a cheaper couch first and then replacing it later, we thought we'd splash out for a sofa bed now and save ourselves some hassle down the line.
Ikea Friheten corner sofa-bed positives
After looking at some of the other weird sofa-beds at Ikea in Richmond we found the Firheten which seemed better than anything we were even thinking to buy.
Shape
I'd never seen a corner sofa that could fold into a bed before, plus also had storage. I'm a sucker for practical storage and thought this was genius. We were originally going to go for a more traditional design, but this was a pleasant surprise.
Transformation
We tried pulling it out in the store and it was remarkably easy and light compared to other sofa beds we've come across in the past. Unlike traditional sofa-beds, where your head goes to the back of the couch, you sleep sideways to the back. This means you do not need any extra room in front of the bed as it fills out the shape of the corner bit. This is great if you also have a coffee table.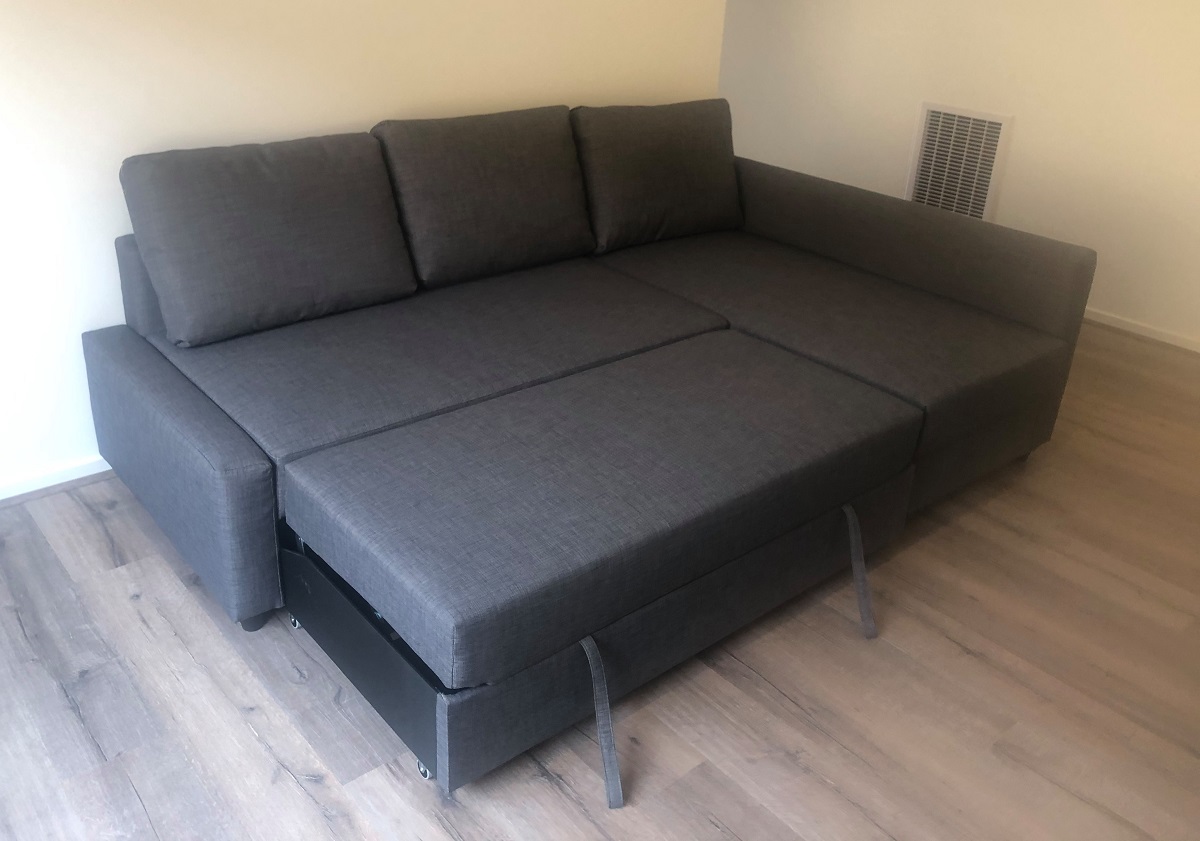 Storage
The fact that it came with a storage area under the other seat was a great bonus. The absolute icing on the cake for us. I would not recommend storing anything heavy under here, as the base of the storage area looks quite thin. Perfect for bedding, however.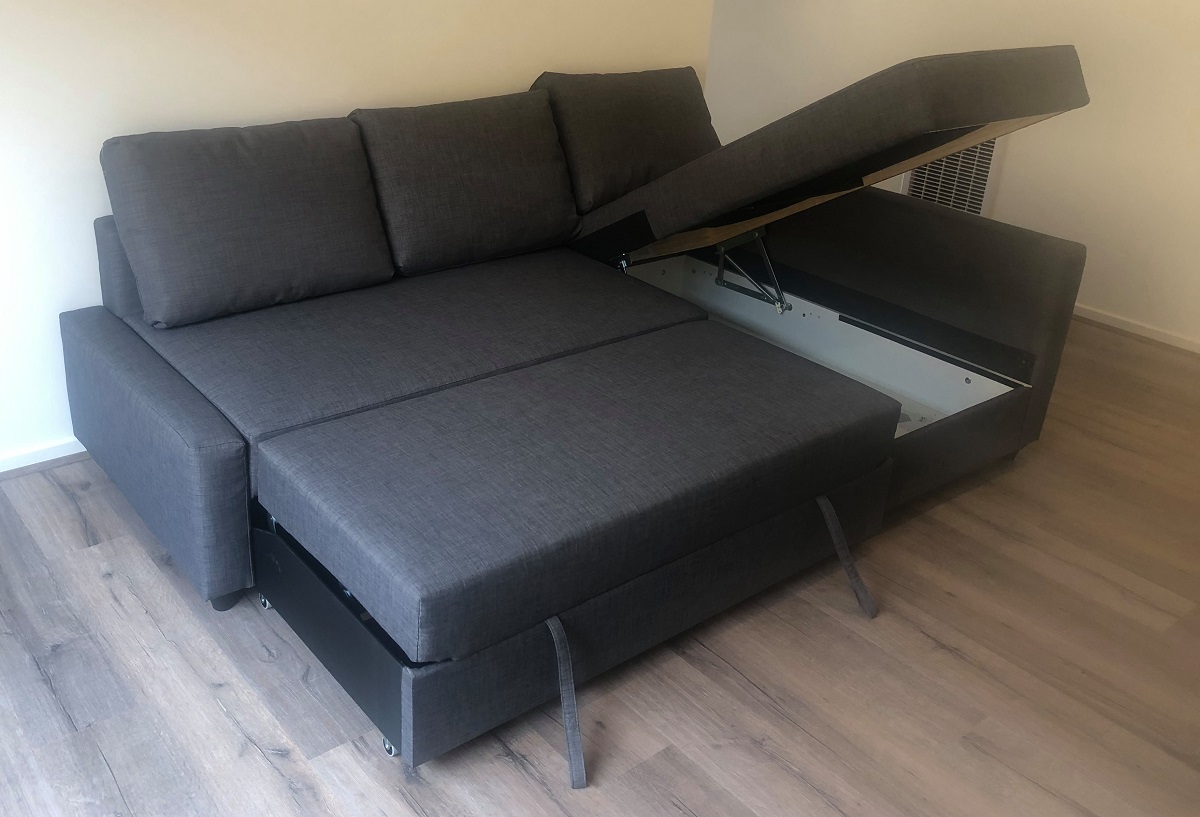 Versatility
It is great that you can set this up with the chaise on either side. This is a decision you must commit to before you start building, as it looks like it would be quite difficult to change it later. I'm sure this is possible, and the little tricks they use to make the chaise fit on either end is kind of interesting, such as the velcro-on fabric on the base that covers up whichever side is facing outward.
Ikea Friheten corner sofa-bed negatives
Whilst we are very happy with this, there are a few things to be aware of.
Comfort
Like most sofa-beds, this is not the most comfortable bed in the world, even in couch mode. It is quite firm due to the wooden frame inside it for the storage compartment and the part that folds out. We were aware of this when we tried it out, but we thought the practicality outweighed the comfort. I mean, this is a sofa-bed in our house, we probably won't need to sleep in it ourselves much. Plus we have already written about ways to make a sofa-bed more comfortable, so it shouldn't be a big issue. We have also been buying extra cushions for it, which will come in handy when sitting on it and adding some comfort.
How to make Friheten more comfortable
I've actually spent the last two weeks sleeping on the Friheten due to do different sleeping schedule with my partner as well as an experiment to spend more time with one of our cats who needs more supervision. I've found it seems comfier than it used to, perhaps it has softened up over time. I would still recommend putting down a sheet or a mattress topper, but I've been surviving without it.
Number of cushions
In the Ikea store, we did notice that some of the cushions had price tags on them, indicating they could be bought separately. This made us wonder how many cushions it actually came with until we ordered it online. If you are buying this in-store, be aware that it just comes with the 3 for the back. The ones on the side are optional. We didn't buy them, but maybe we will one day.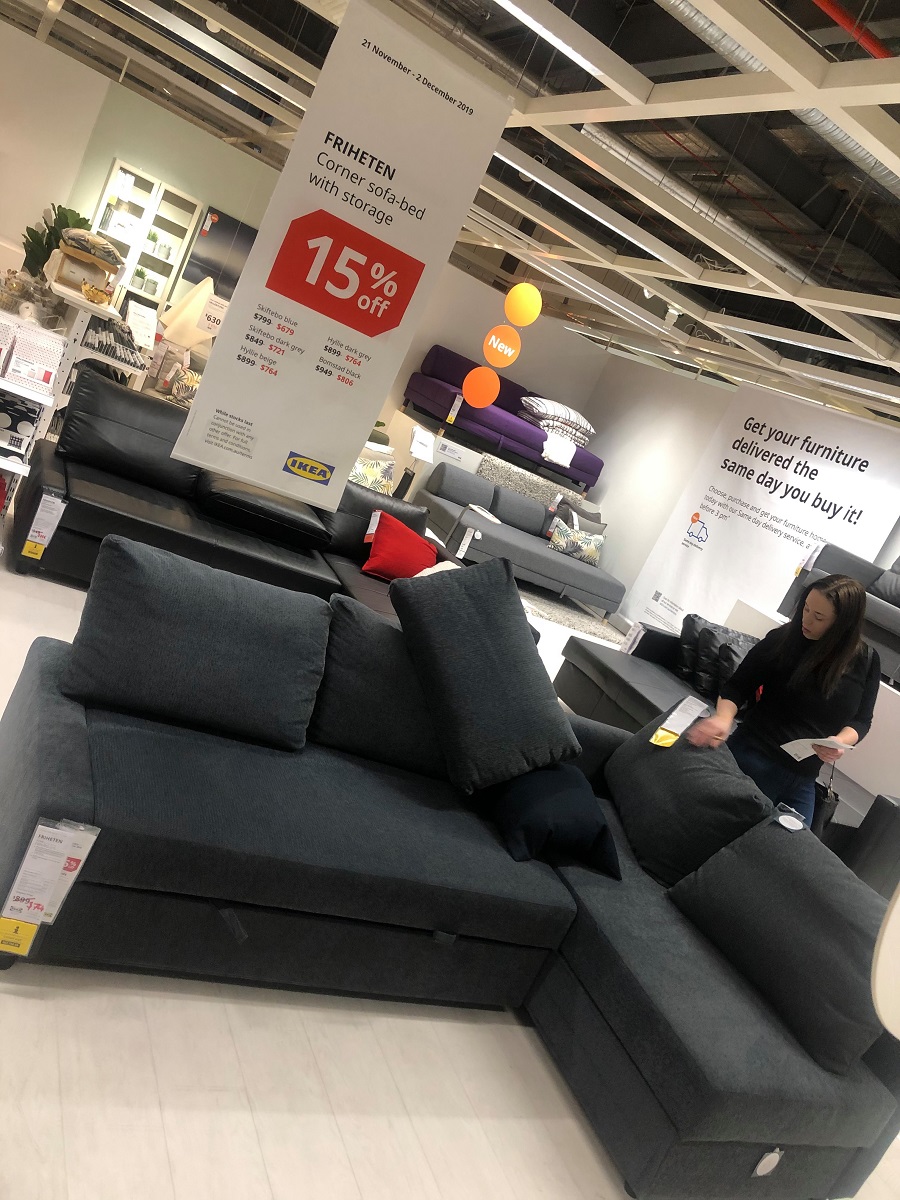 You have to build it yourself
Like all Ikea furniture, you have to build it yourself. This couch comes in 3 massive boxes and has been partially completed. You just have to put it together in the way that you prefer (with the chaise on the left or right). The space required for setting this up is quite extreme, so try and make sure you can fit these 3 giant boxes in your house and have room to manoeuvre around them. You will be throwing out extra cardboard in your recycling for weeks.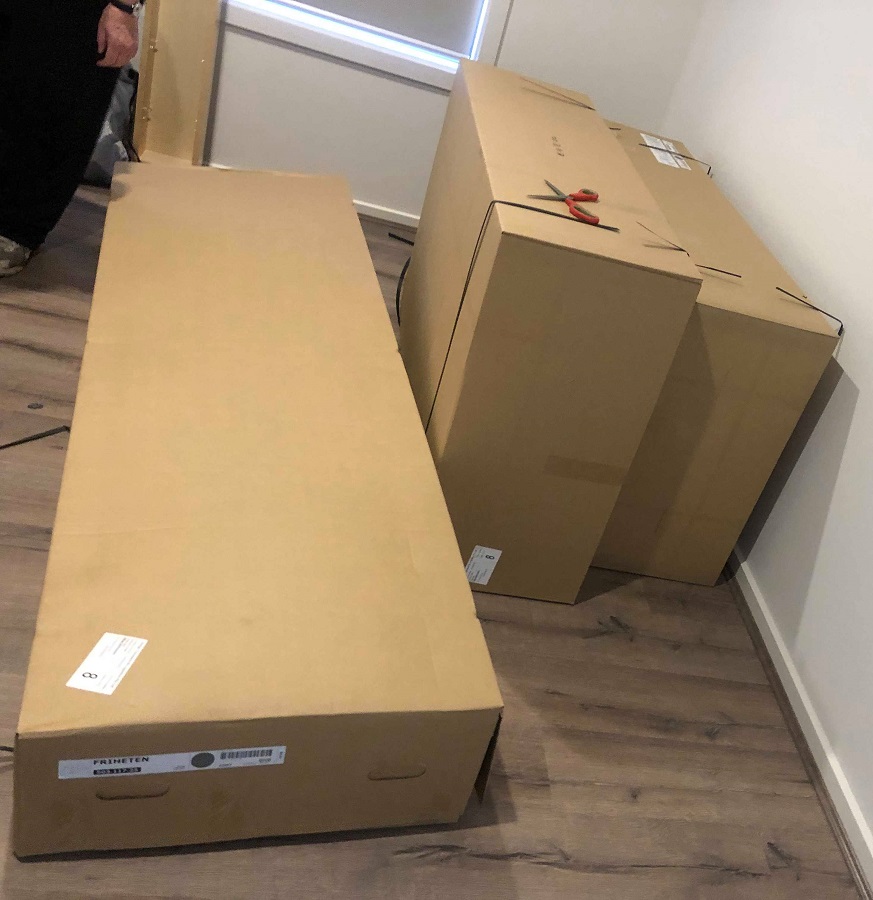 Tips for anyone sleeping on the Friheten Couch
My main concern is that if I stand or put all my weight on a certain spot, it disconnects the pullout part and you could fall between the sections. It is quite easy to reattach, you basically fold it back into couch mode and push down on the inner bits to reattach the connector under the hook that holds it in place. If you assembled this yourself you will know what I mean. Show guests how to do this in case they disconnect it whilst you are sleeping.
Conclusion
I'm very happy with our purchase. My only advice is to try it in-store before you buy it online. I would only recommend this as a secondary couch, rather than your main family couch. Great for a second lounge room or guest room. My main annoyance with it is that our cats love scratching the arm rest on it.