Every day on my way to work, I drive past the abandoned KFC on the eastbound/citybound way around port Melbourne, Australia. What is interesting to me is that this was once a tiny drive-thru only KFC with no indoor counters or seating. Something that might actually work well in the years of UberEats and other delivery services.
On the other side of the freeway, at Todd Road Service Centre there is another larger KFC, but I have heard that it has now also closed down in 2021. Its address is 1 Westgate Freeway Port Melbourne. I believe this westbound location was far more profitable as it was open all night and was great for stopping by for food after a night out in the city. 
For months I've been meaning to stop by the abandoned KFC to take a closer look and a little urban exploring, so one day after work, I pulled in and took some photos. But first, let's look at some older photos I found online so you can see how far this abandoned KFC has decayed over the years.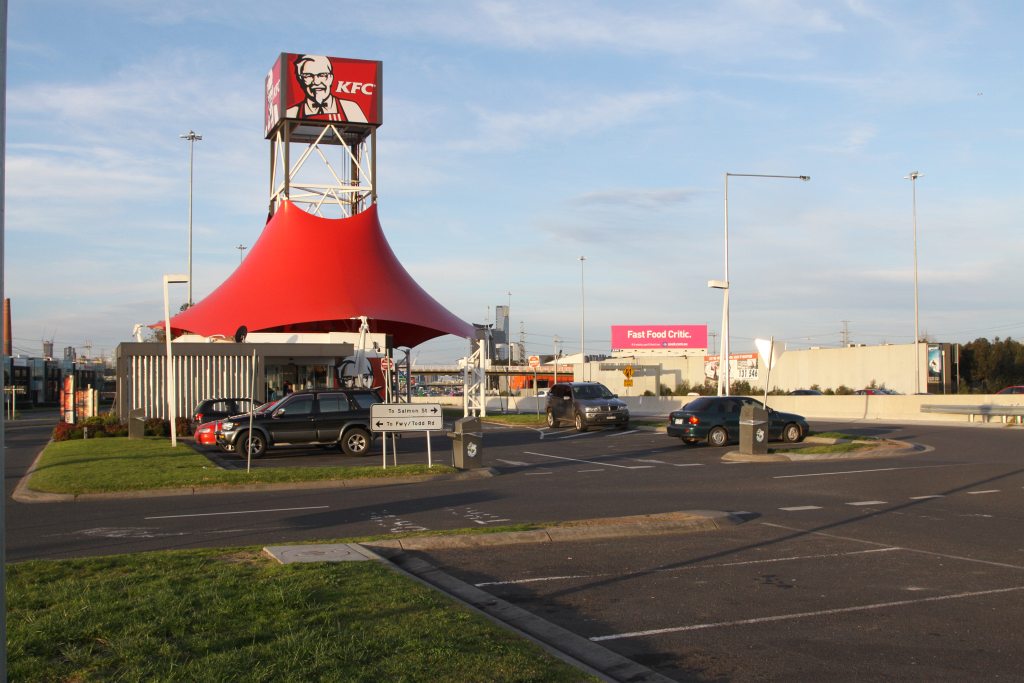 This photo was originally taken by Marcus Wong on July 31st 2011.
Did the 2 KFC Restaurants Send Food Through a Secret Tunnel?
Marcus Wong says "KFC at the eastbound West Gate Bridge service centre:  The 'little' KFC at the West Gate Bridge service centre – originally just a drive-through, they also have a small dining area and walk-up window. Contrary to urban legends the two KFCs never transferred food with their neighbour via a tunnel beneath the freeway – however VicRoads did have a tunnel in the area."
I've discussed this article greatly in Melbourne Facebook groups with most people including people who worked on Salmon Street acknowledge that this is just a joke and that they definitely saw the food getting cooked in the tight kitchen. One guy said that his wife worked there 30 years ago and that the food was constantly ferried across through the Vic Roads tunnel, not a secret tunnel with a conveyer belt. But this seems like a terribly ineffective way to do things, it would have been faster for people to just drive to the other side of the bridge to get their food and perhaps it was done on occasion if the equipment was out of order. If there is any truth to the KFC secret tunnel story, the most plausible root of this urban legend is that the smaller KFC would not have had much storage space, so a lot of the stock for both locations would have been stored in fridges at the larger store. This would have resulted in some deliveries to the smaller store each day.
My Memories of the Little KFC
Having two KFC locations so close to each other always seemed novel to me as a kid. I recall wondering if the tiny one cooked its own food or if it was somehow getting food from the other store. It looked impossibly small out of the car window. I don't think I ever actually went to it myself, as often if I was heading that way I was going into the city where I would have a lot more interesting places to try out. I love KFC, but we have a few in Werribee, so I never needed to stop here.
In the photo above, you can see the outdoor seating area is behind a corrugated plastic window. I'd never known about this seating area until I saw its remnants recently.
Below is another old photo from around 2018 from an archived Reddit thread.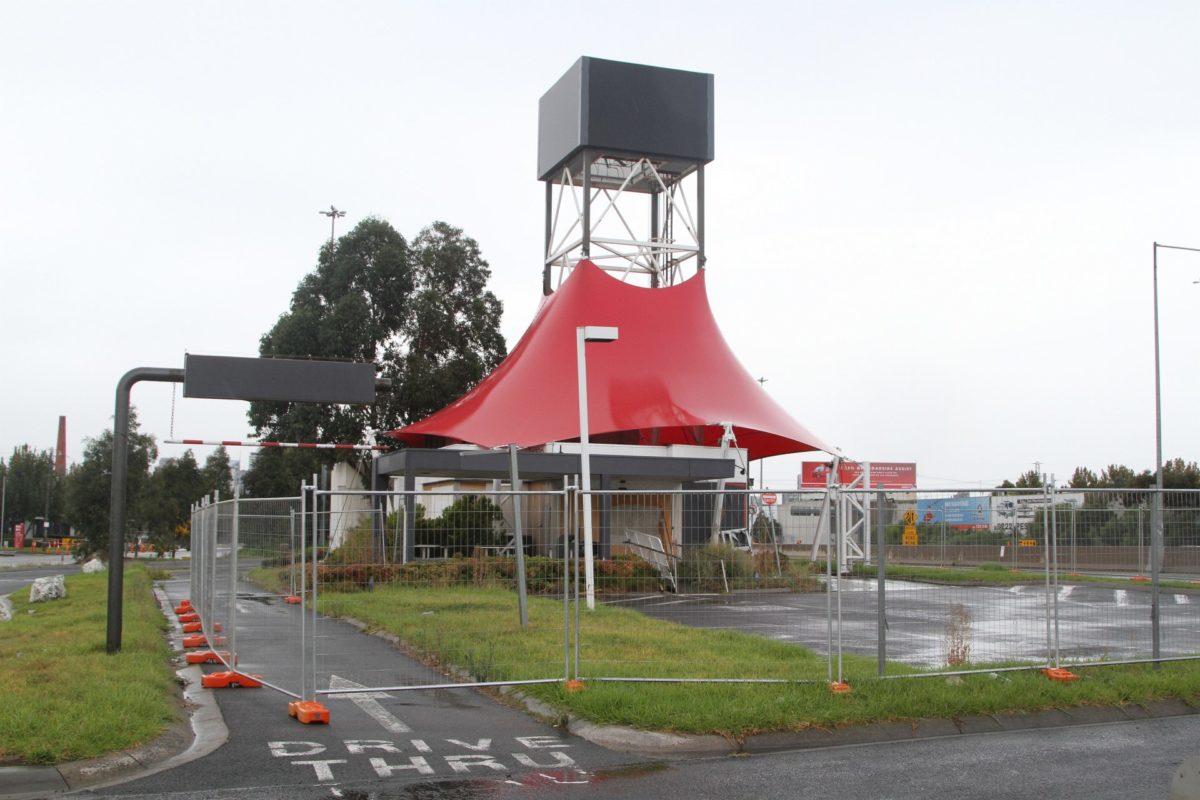 From what I could see on Google Maps and an old Whirlpool forum post, this KFC closed in 2012 and was definitely gone by 2014 when Google Street View updated. In this 2018 photo, you can see all the signage such as the big KFC sign above the restaurant has been removed. The distinctive red sails are still there and the corrugated windows of the dining area is now gone.
My Abandoned KFC Photos from April 2021
Below are all photos I took myself, I hadn't seen the above photos when I took these, or else I'd have tried to match the angles better.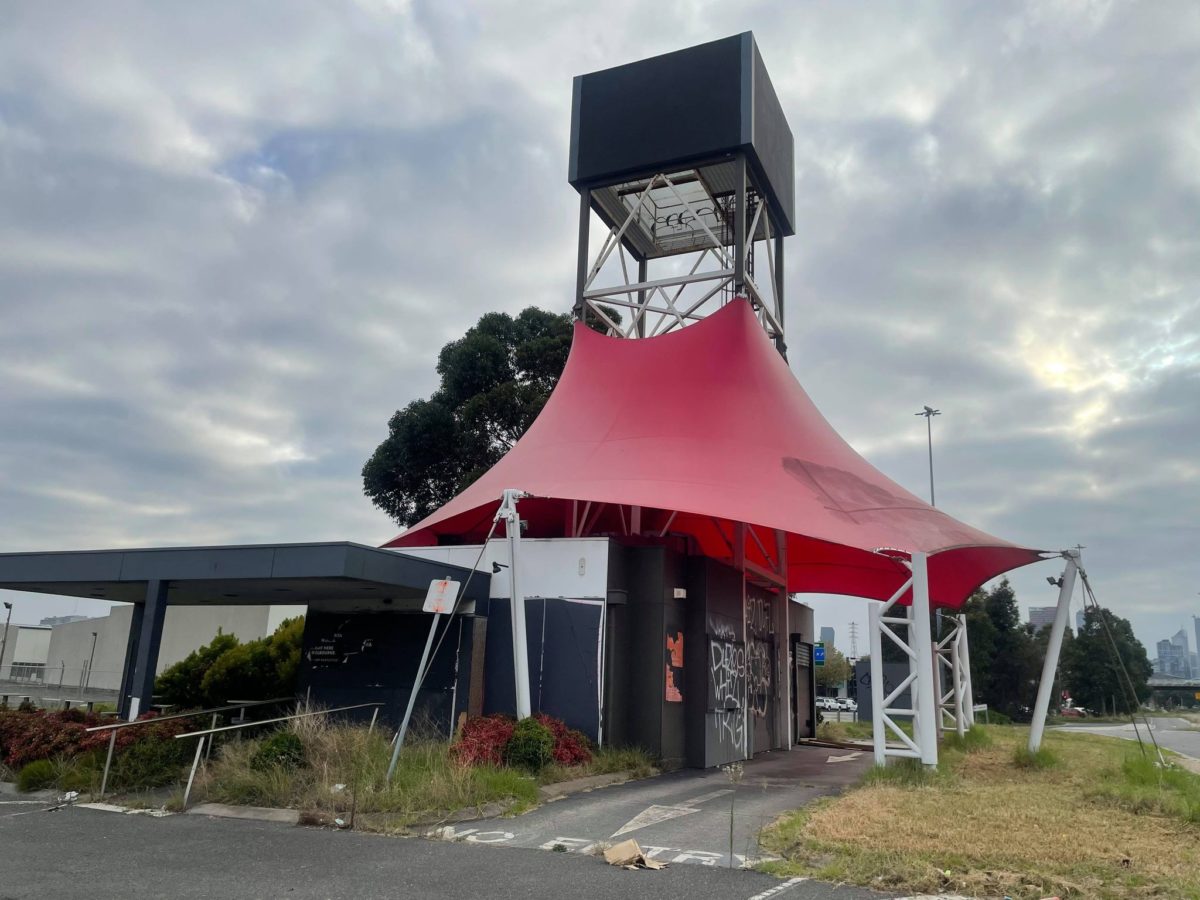 Here you can see that the fencing around the building has been removed and people have trashed the place. There's lots of graffiti and it appears some had once been on the red sail.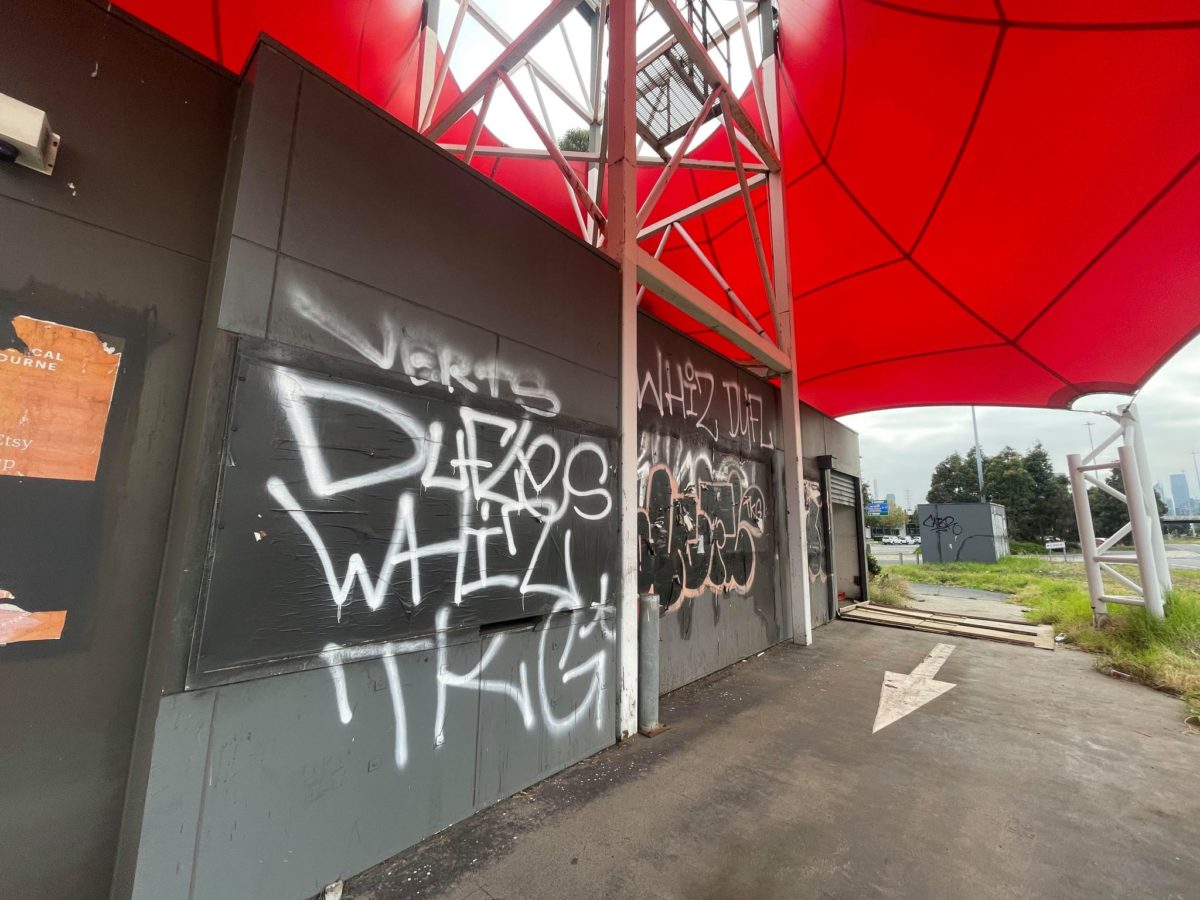 This appears to be where the old drive-thru windows were.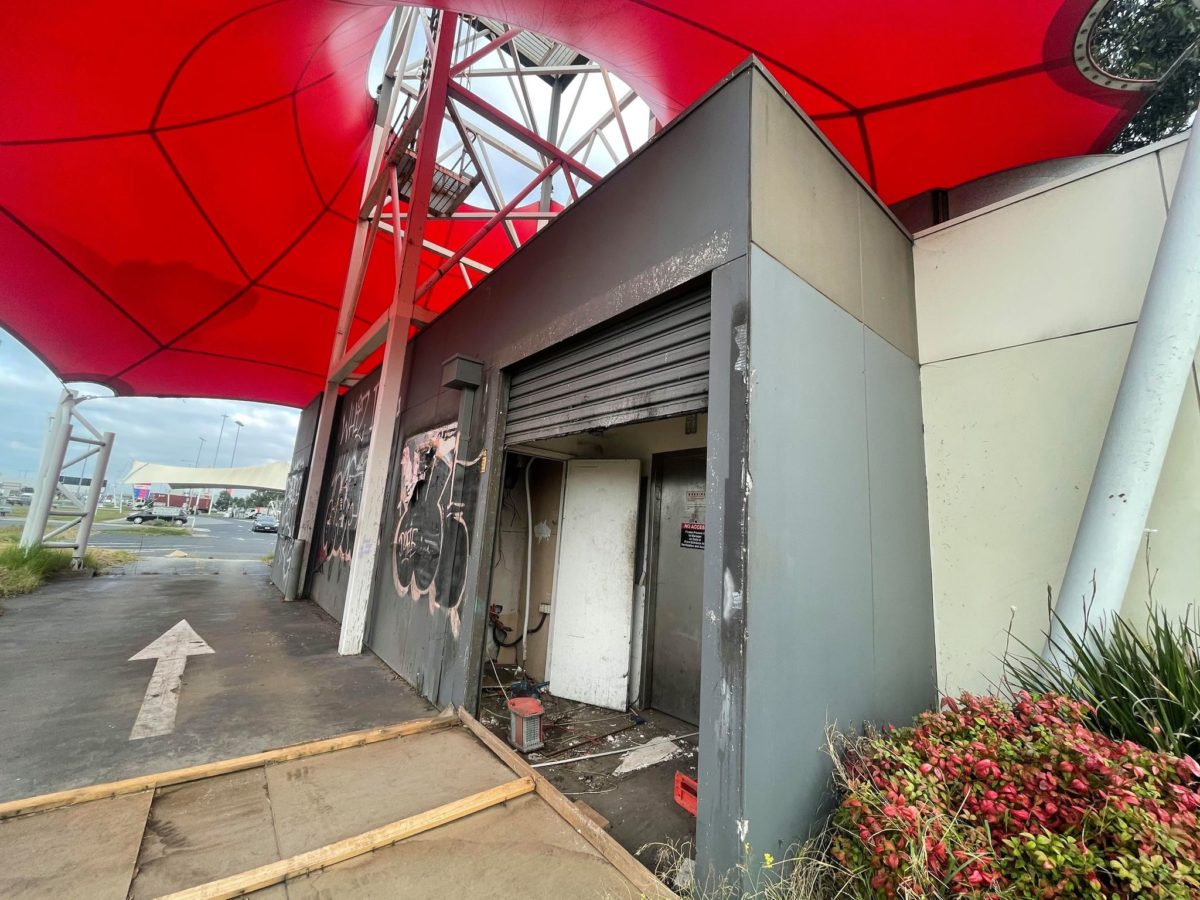 This roller door has been jacked up. This is probably where deliveries were dropped off and the way staff got in and out of the restaurant, given there weren't many doors here. I didn't go inside any further in case there were vagrants living there.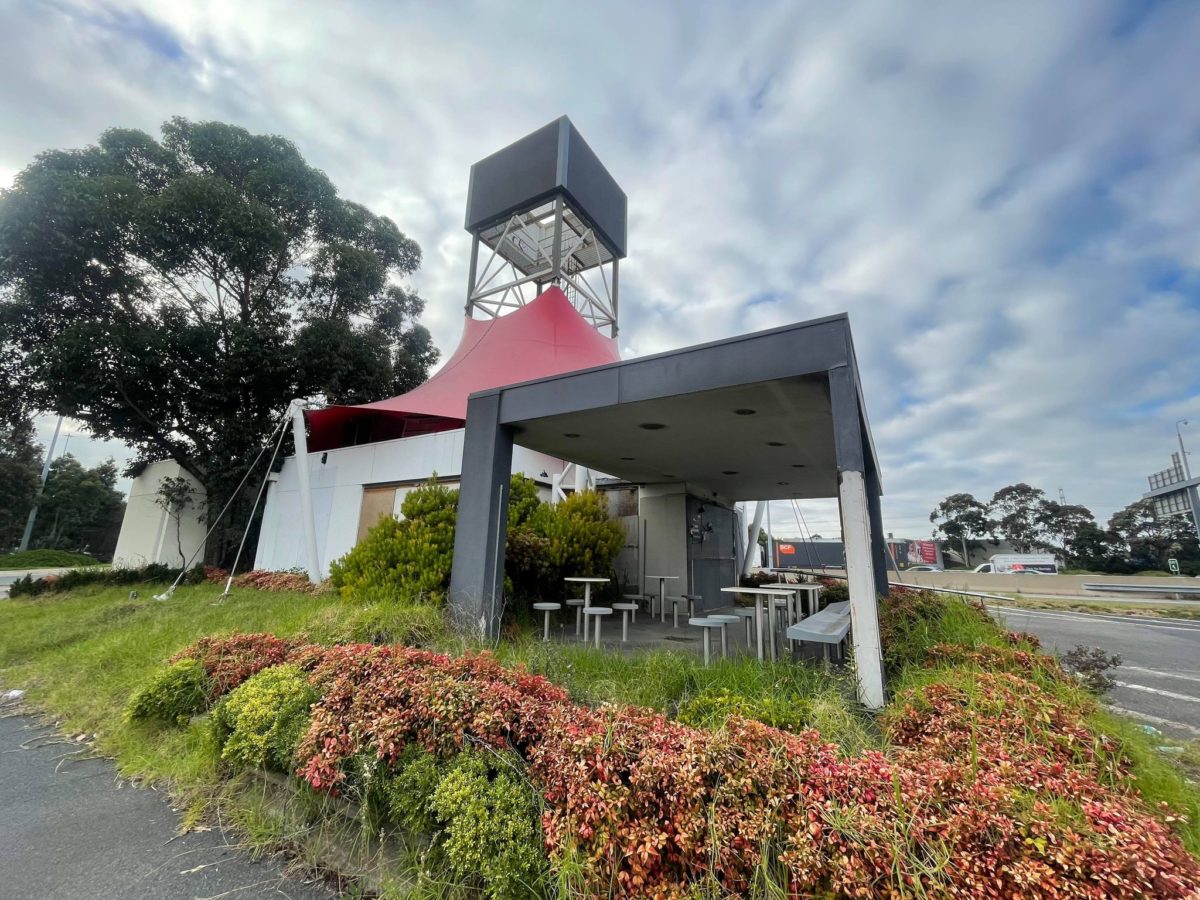 Here you can see a bit of the back and the side of the seating area. Nothing too interesting going on here.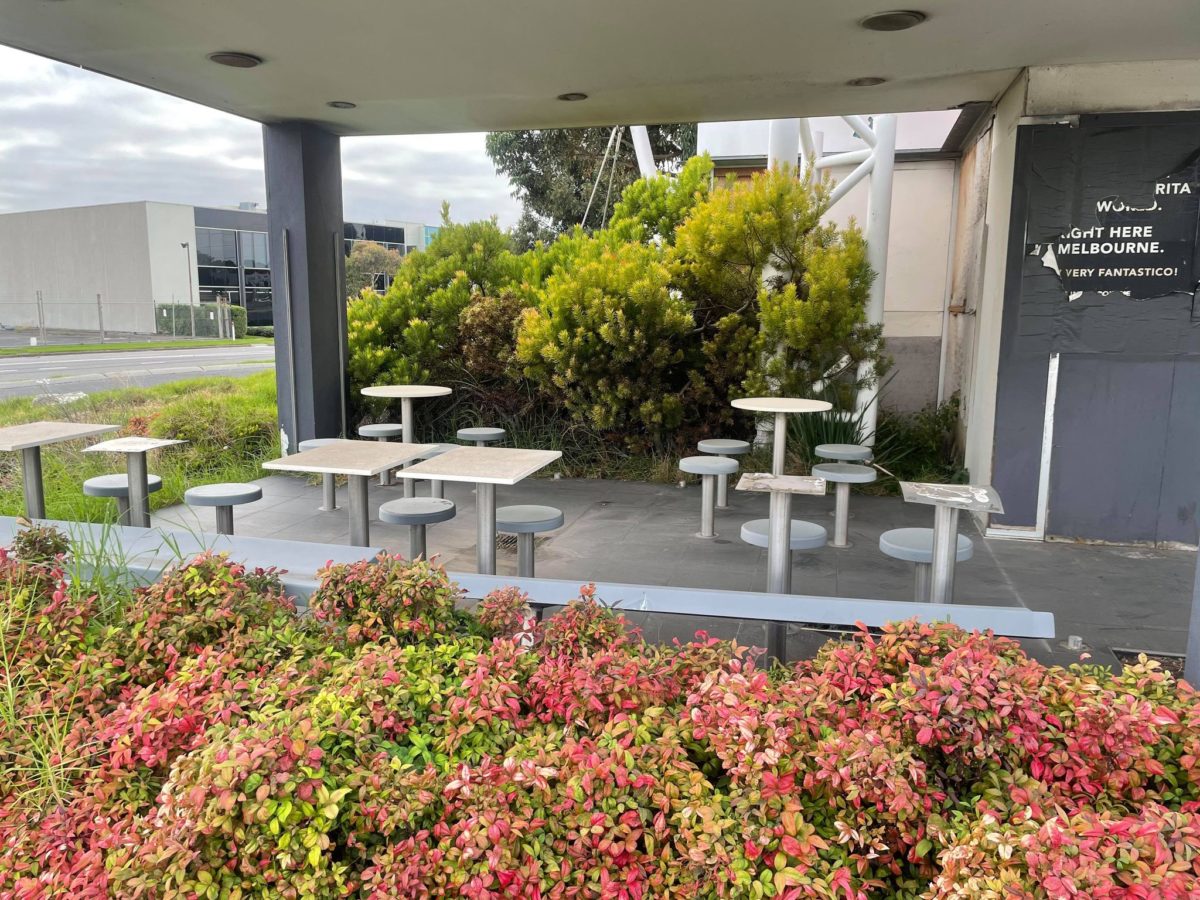 Here you can see someone has removed two of the countertops from the seating area.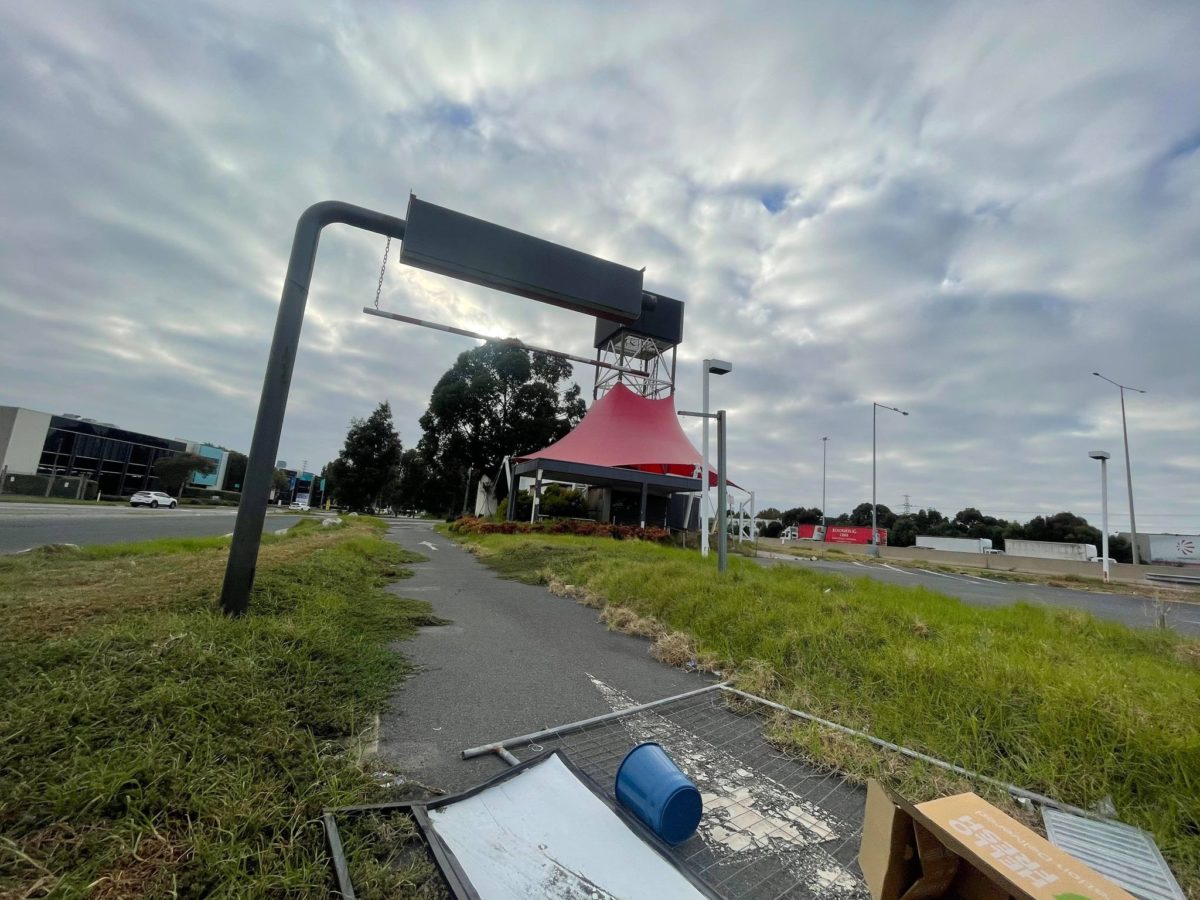 Finally here is the old drive-thru sign still standing. There's a bunch of trash from a nearby charity clothes bin.
Why Did this KFC Close?
As I said earlier, I was surprised that this KFC has closed given how prominent drive-thru and delivery has become for fast food chains. But this might also be part of why it is gone. I am unclear exactly how long ago it closed, so this is purely speculative. It's actually quite easy to get to the other KFC on Todd road if you really want to get to it. Two KFC restaurants so close to each other might get confusing for customers when ordering on the KFC app or other delivery apps, causing customers or delivery drivers to turn up to the wrong locations.
More importantly, back around 2014-2015, the Eastbound West Gate Bridge Service Centre massively increased with a new Red Rooster, Hungry Jack's, Coles Express petrol station being built. A Pie Face also opened at the older petrol station.
The added competition is likely what caused this KFC to close. Geographically, the location of these other restaurants is more convenient and easier to notice than the KFC as well. People may not have noticed the KFC until they were going back onto the freeway. This probably makes this piece of commercial real estate unattractive to other franchises from taking up the lease.