The LEGO diving yacht is an interesting set as it includes both above water and underwater set pieces. As well as the main feature of set 60221, the yacht, there is a tiny underwater diorama with seaweed, a fish and treasure chest. It contains 148 pieces and the hull of the boat is one giant piece.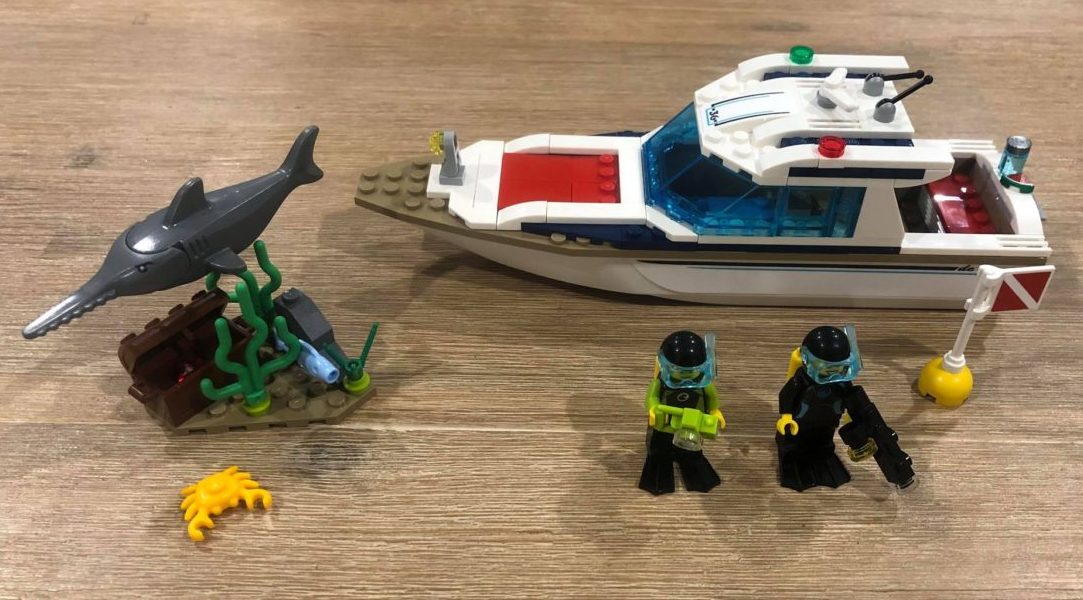 Why did I buy LEGO City Great Vehicles Diving Yacht 60221?
I've set rules around what LEGO I can buy. It must relate to existing LEGO sets I own or to be part of my new Jurassic Park LEGO diorama project. This set was quite cheap at Kmart for only $19 AUD. The pieces in this set are appropriate to my pirates LEGO with the treasure, crab and swordfish, plus these elements also go well with my vintage Aquanauts LEGO. The people themselves are not particularly interesting, but their hairpieces are both good, one looks like LEGO Justin Bieber hair and the lady hairpiece is the same as the Jurassic World park workers.
The LEGO diving yacht itself is also useful for the LEGO Jurrasic Park and Jurassic World scene. It reminds me of the private boat seen at the start of Jurassic Park 2 – The Lost Word where the little girl Cathy Bowman finds the Compsognathus on the beach and is subsequently attacked.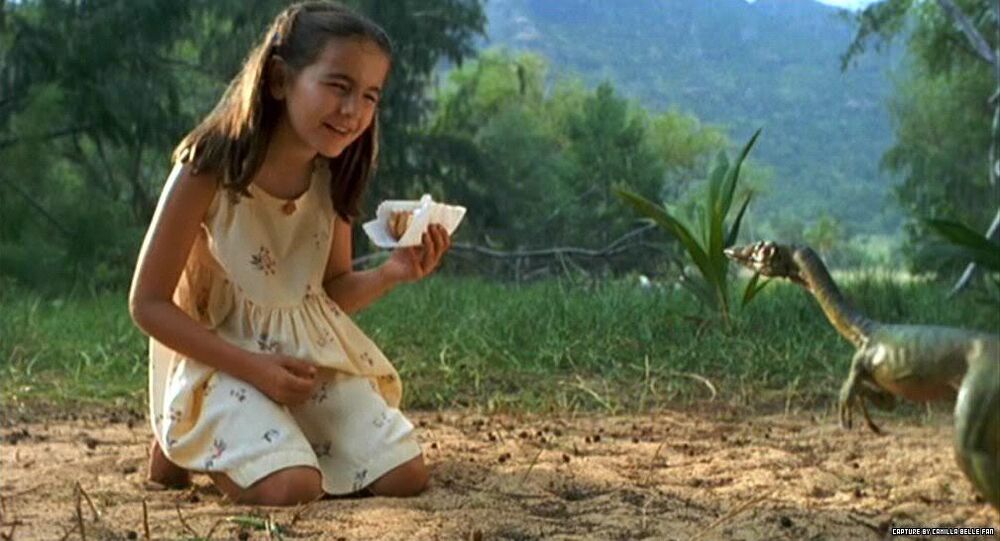 You know the scene right?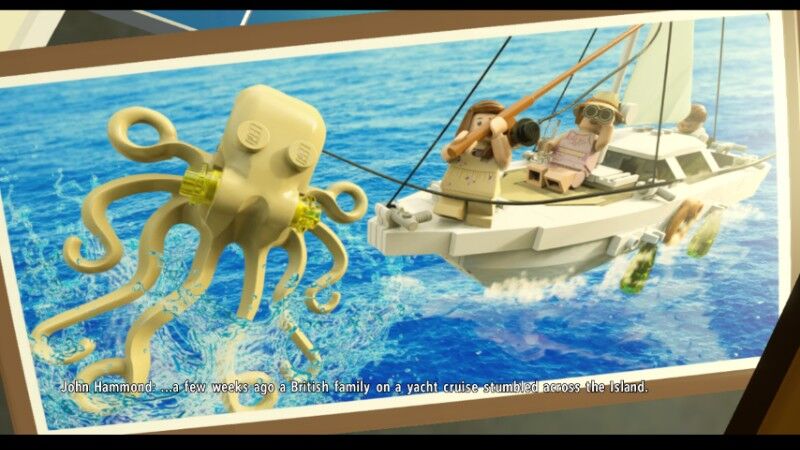 Here's them with the yacht in the Lego Jurassic World video game, but in this instance, they catch an octopus.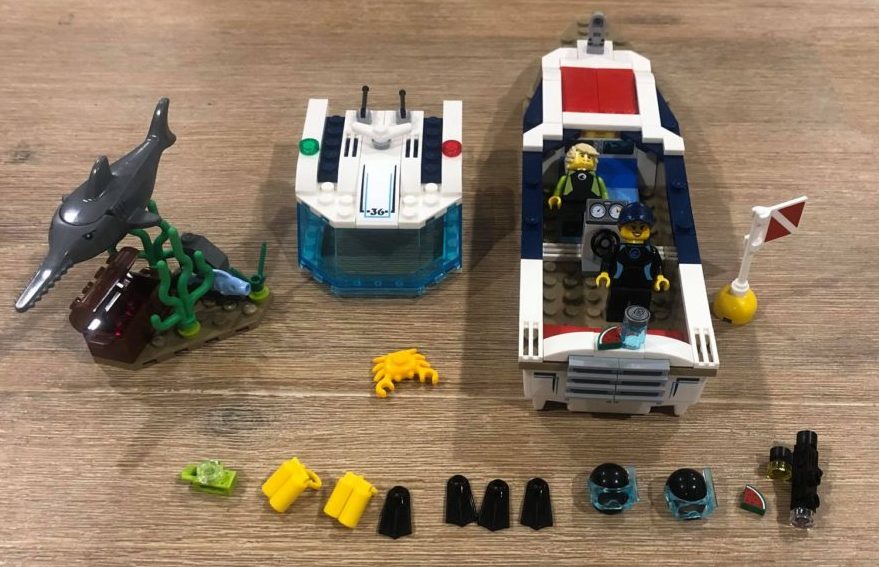 The fact that this set has two styles of dress for the Minifigures is great. They can be dressed as divers with air tanks, helmets with scuba gear and flippers or they can be dressed in their more casual attire with normal hair and hair + hat combo. This adds for more modes of play both inside the boat and underwater. The drink and watermelon slice accessories are also cool and will come in handy in my theme park build.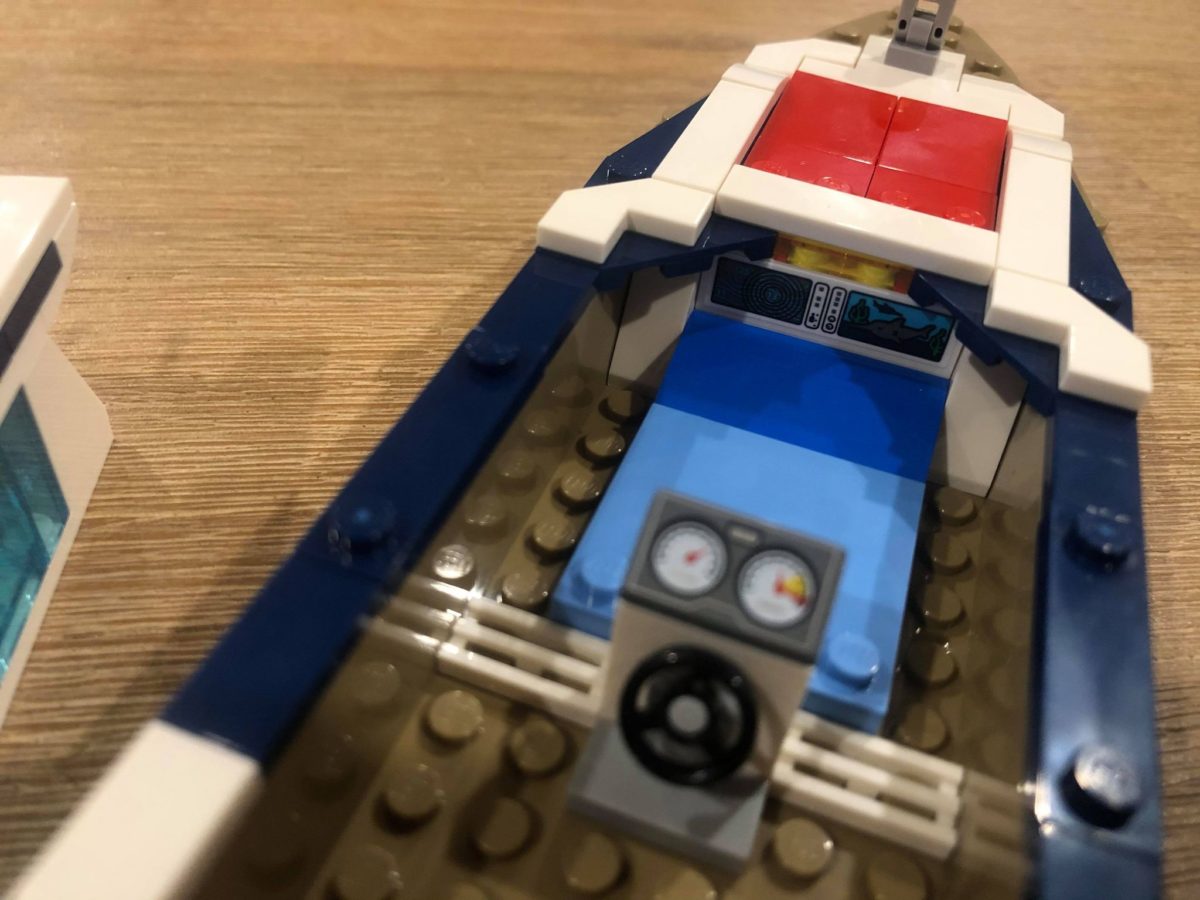 The removable roof is cool allowing you to put your LEGO Minifigures in the bed. This set has several stickers such as the underwater scenes shown at the top of the bed.

Here's a picture of the side of the box, showing how these divers take photos underwater. This scene itself could have been a nice cheap set. It's nice to have included with this Lego diving yacht.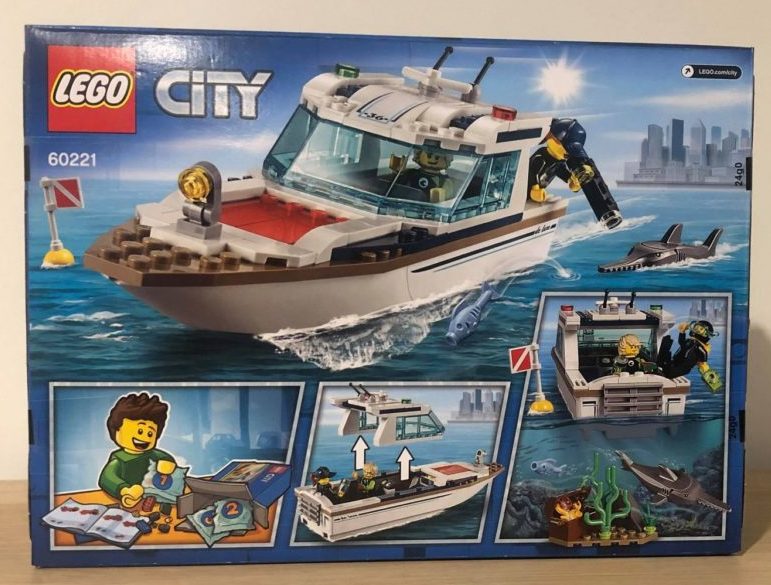 Here's the back of the box for Lego city 60221, showing the features such as the removable roof. I'm not clear if this boat floats or not, but as it has stickers on the side of the hull, I wouldn't put it in water. Overall, I think this set was good value for $19 AUD. I'm not 100% sure if I'll actually use it to make a Jurassic Park scene, but it's good to know I have it available if I want to.