I quite like the Lego Collectible Mini-Figure Series random bags. Most characters from each set certainly have a use in another set past or present, or have created their own sub-sets that go together, such as the food and animal costume characters, which could still be used for a costume party scene or promoting restaurants in your LEGO City build.
1 Robot Repair Tech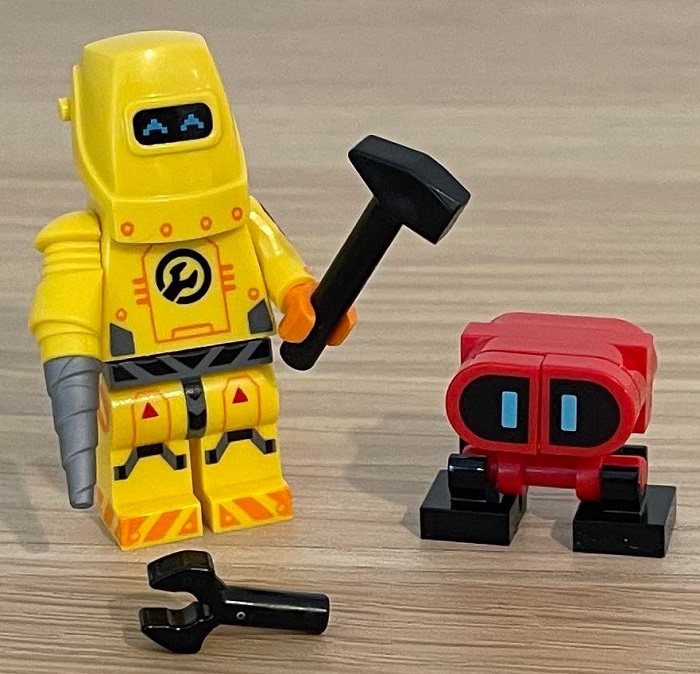 This robot did not interest me initially but has certainly grown in me since opening it. This mini-figure has a special arm that can have fit any LEGO rod item, rather than the regular handpiece, which is its own unique size. This comes with a claw, an axe and a drill which call all also fit into its hand. The little robot companion it comes with is very cute and looks a bit like Pixar's Wall-E with its big eyes.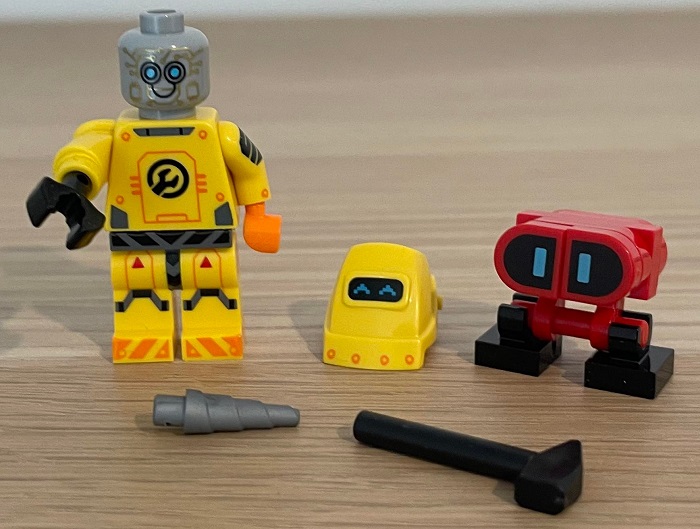 2 Chilli Costume Fan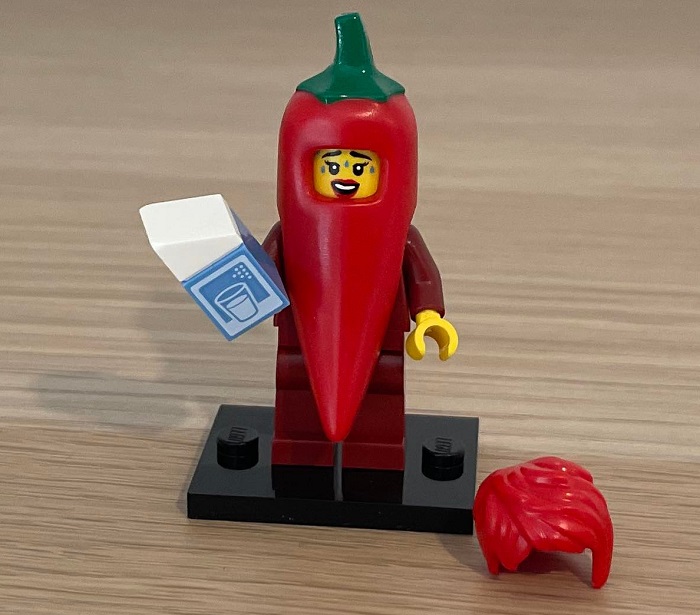 I'm not a big fan of the LEGO food costume people. They are certainly fun but are not useful for any of my displays. This character is pretty cool though due to the alternate red hairpiece, milk carton and alternate faces. I think elements of this piece will work well for my new LEGO Friends Mexican food truck.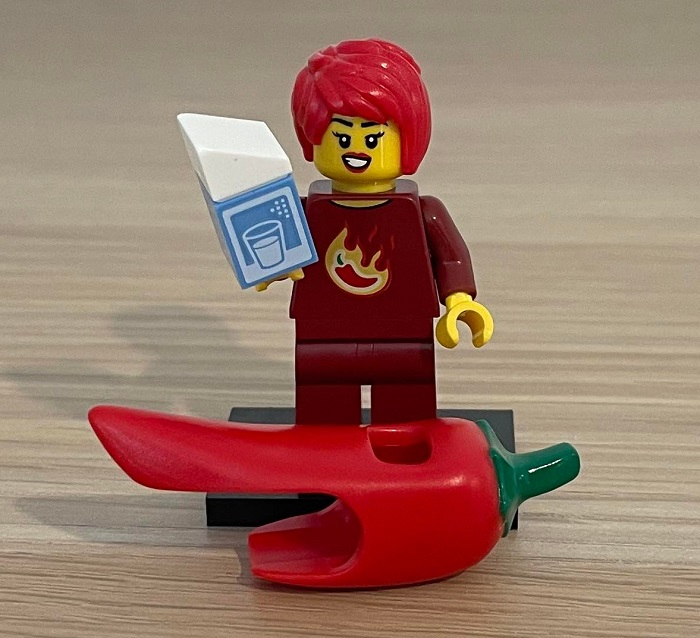 3 Troubadour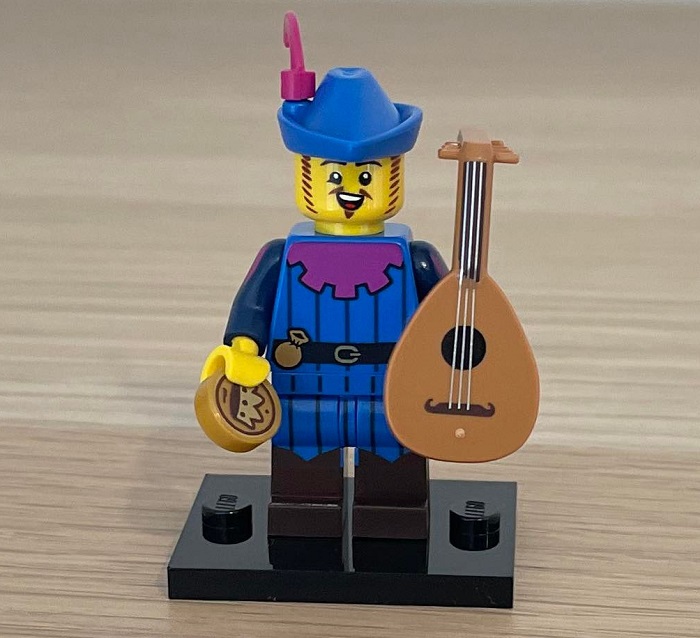 I deliberately got myself two of these bard characters to work into my future LEGO castle builds. The fact that he comes with 3x feathers means he can help fill in gaps in older pirate and castle sets, though the wrong colour. The 3x coins will also come in handy. I think the Troubadour will be one of the most popular LEGO Collectible Mini-Figures of Series 22, given the nostalgia for Castle sets.
4 Snow Guardian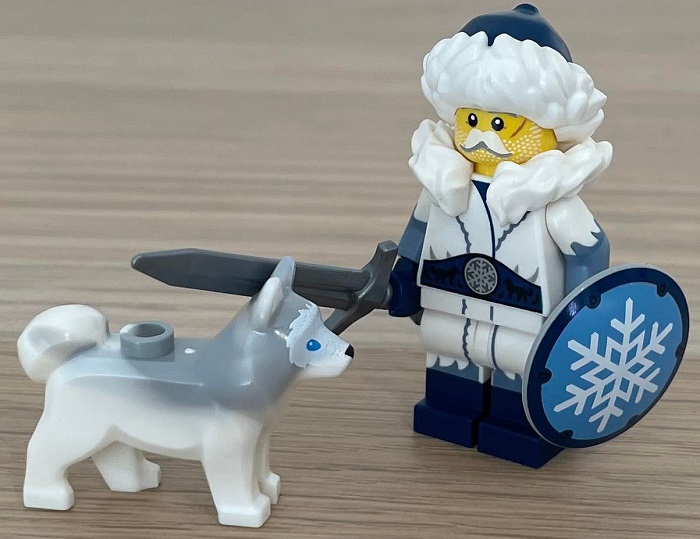 Again another character that didn't interest time much. The design itself is great, with shoulder pieces, a hat, sword, shield and an appropriate looking dog. This character is certainly cool, it just doesn't suit anything I am building. He has two faces and getting faces for older people characters is always helpful.
5 Horse & Groom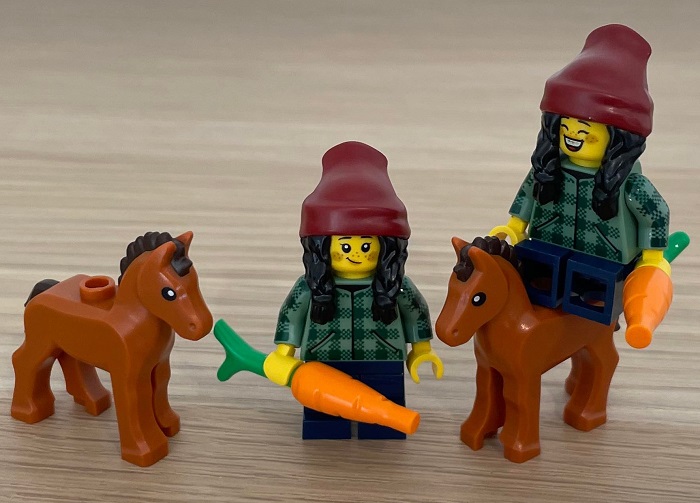 I love the horse girl. This character can fit into any LEGO city layout or my Jurassic World layout. This figure has two faces, one with shiny braces on her teeth. The half-size bendable legs are also very welcome and allow her to sort of sit on the foal, however, it's a bit small for anyone to ride. I bought two of these as the horse girl itself is useful and the horses can also suit my LEGO Castle layouts.
6 Figure Skating Champion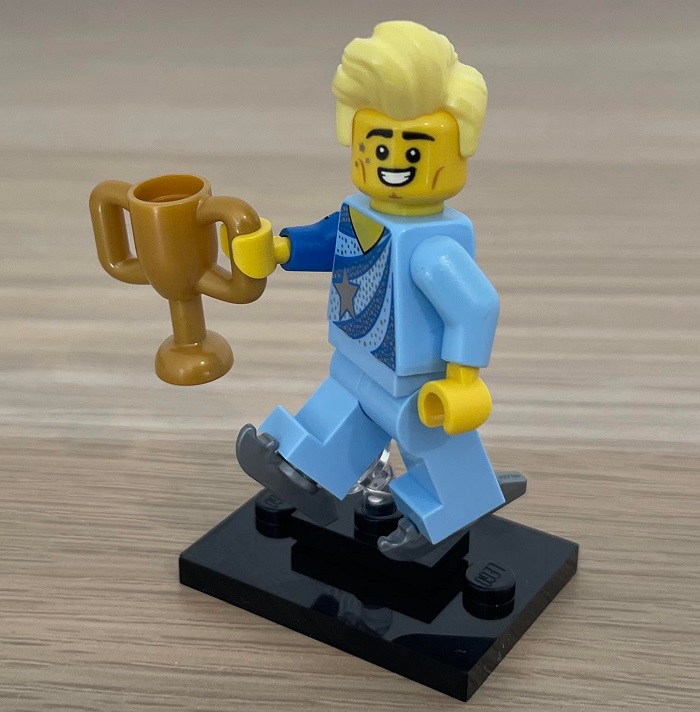 This LEGO mini-figure didn't interest me much, but it definitely has some nice pieces. The hair price and face are quite cool, the glittery clothes are a bit niche but could still blend into a city scene. The one dark arm is a bit off out of the skating context but it is an ice skater after all. What really impressed me here is how it has ice skates under its feet, yet can still fit on the display stands by attaching to the back of the legs using the pieces that the Marvel Super Heroes typically use to fly.
7 Night Protector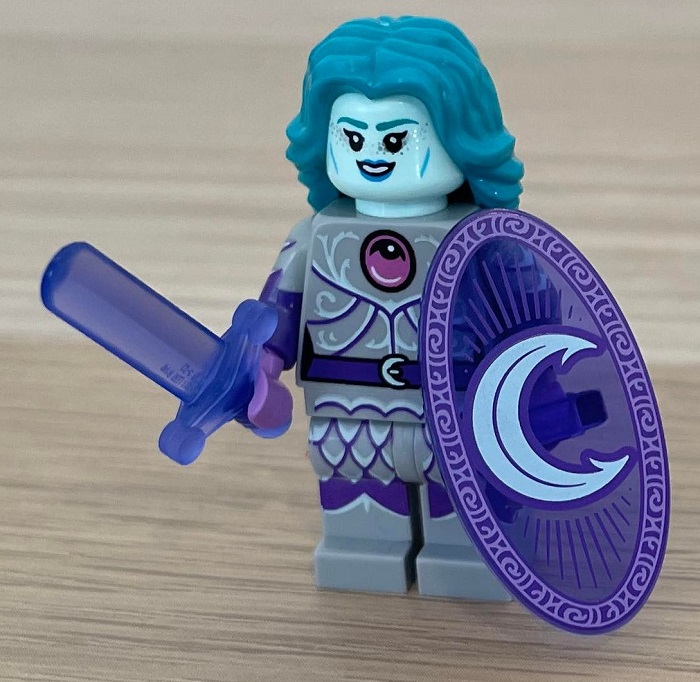 This character is pretty boring to me, there really isn't much here that I can use but I can see other people blending this into a Marvel Guardians of the Galaxy build or a Star Wars build. Its accessories remind me of a lot of old moulds from older sets.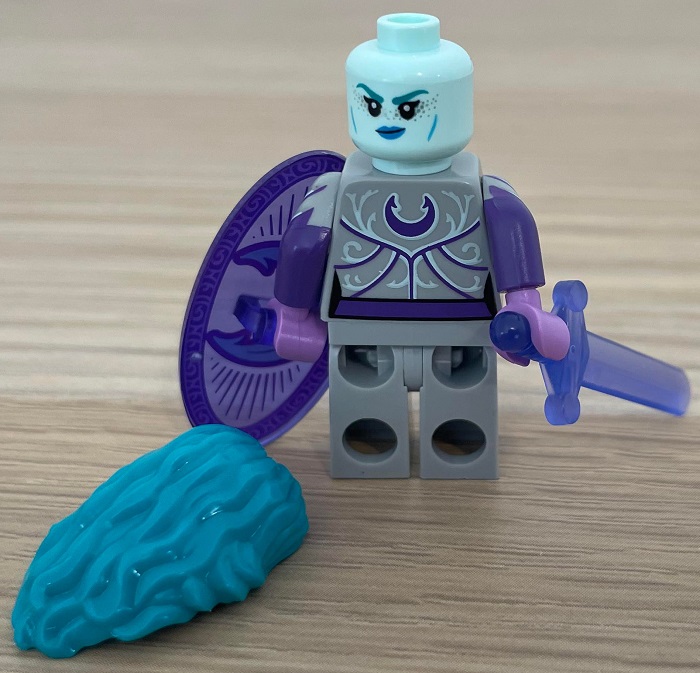 8 Forest Elf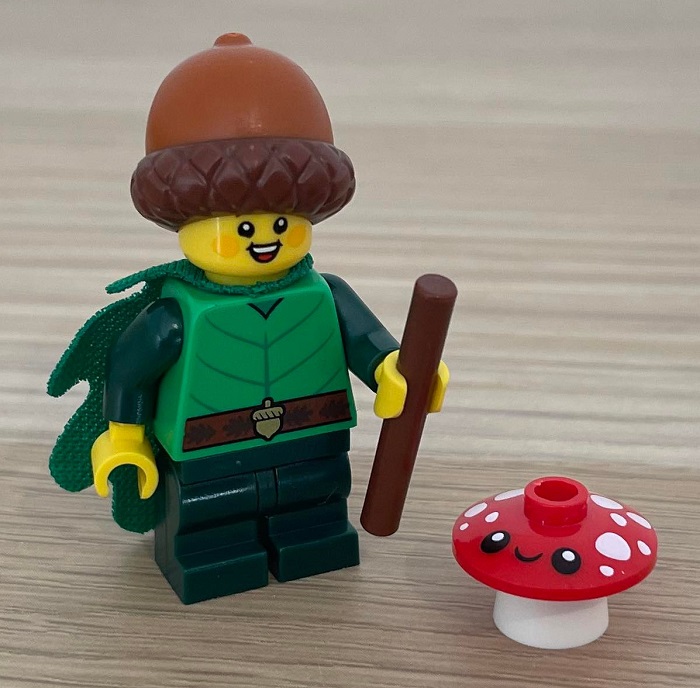 I kind of like this little nut boy, with his bendable half legs and detailed torso. I wish he had a regular hairpiece to go with him. The mushroom accessory is cute but not useful to me. Both faces are very cute though!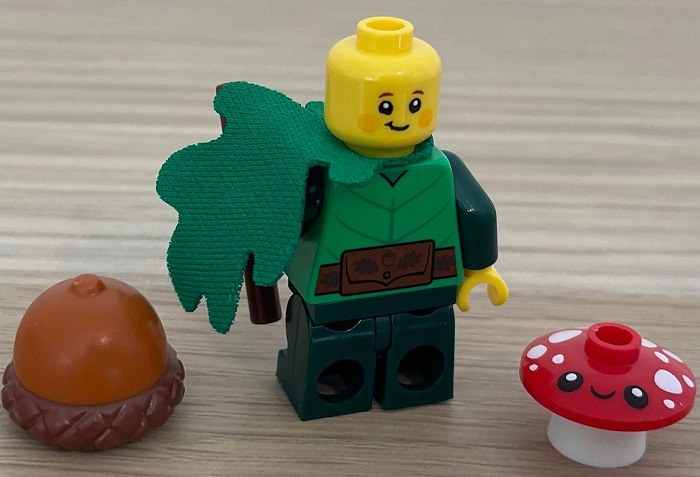 9 Birdwatcher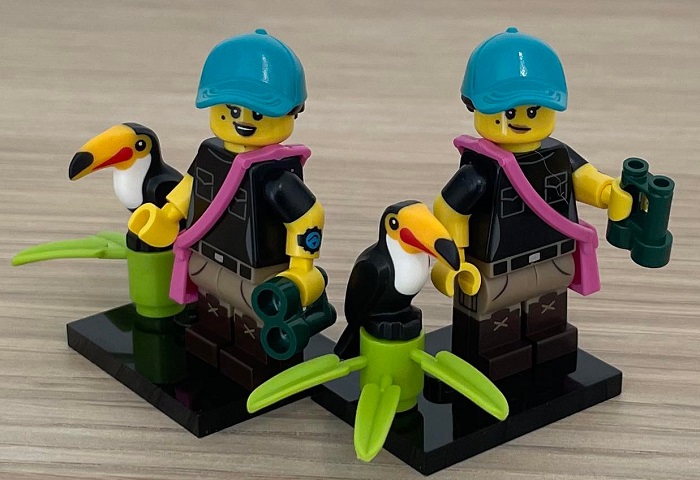 This is another figure I bought two of. This figure is great for any LEGO city layout, especially if you have builds relating to wildlife. The toucan is also great and can probably blend into my Jurassic World or pirate sets. This mini-figure has two different faces, so I've shown them both in one photo.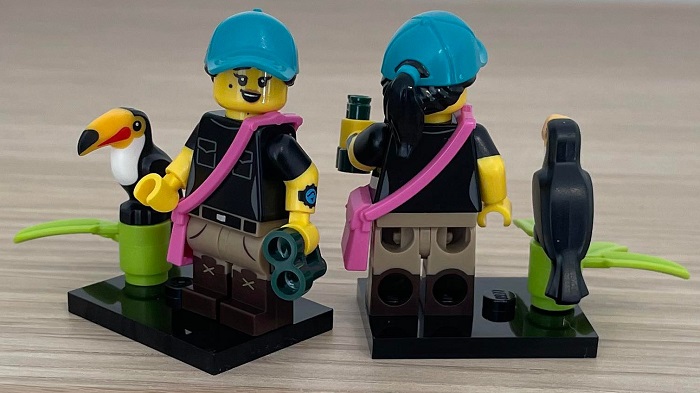 10 Raccoon Costume Fan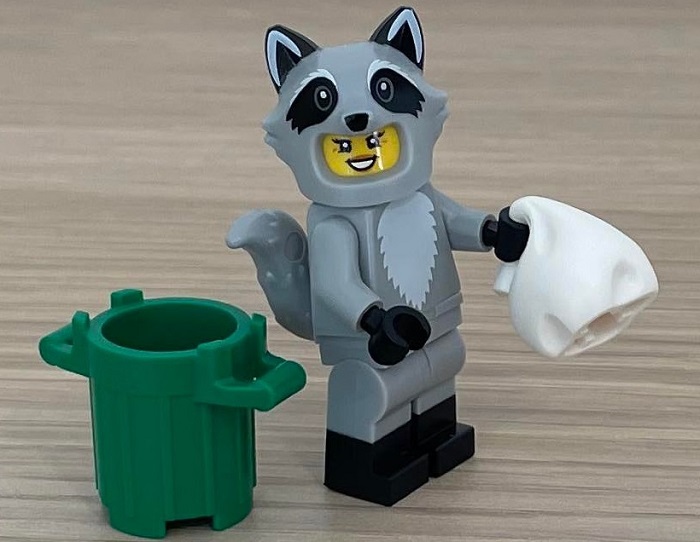 Again most of the costume characters don't interest me very much, other than the dinosaur guy. However, there are some good pieces here including the old lady hairpiece and both faces. The dual moulded legs are also going to be useful, plus any theme park always needs more bins.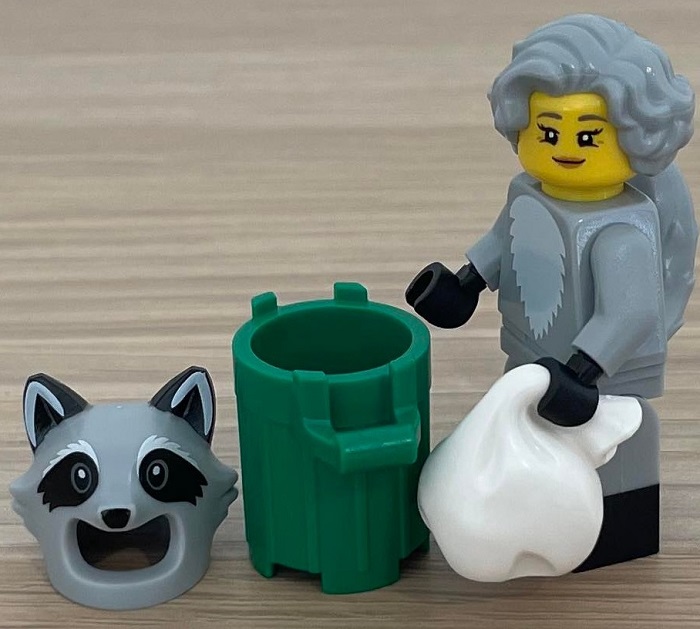 11 Space Creature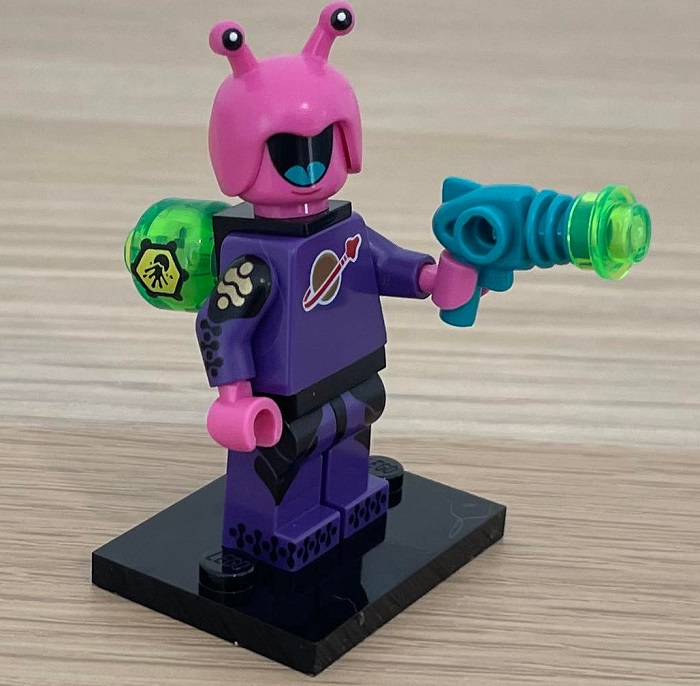 Most people like this figure because it comes with a vintage-style LEGO space chest piece in purple, however, the arm prints, leg prints and other parts make this difficult for most people to convert into a purple vintage-style LEGO space figure. So close, yet so far!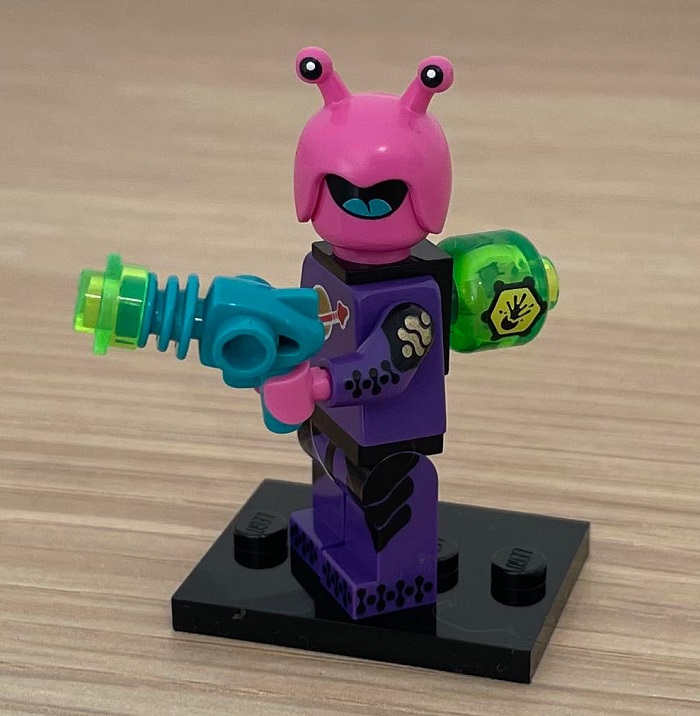 12 Wheelchair Racer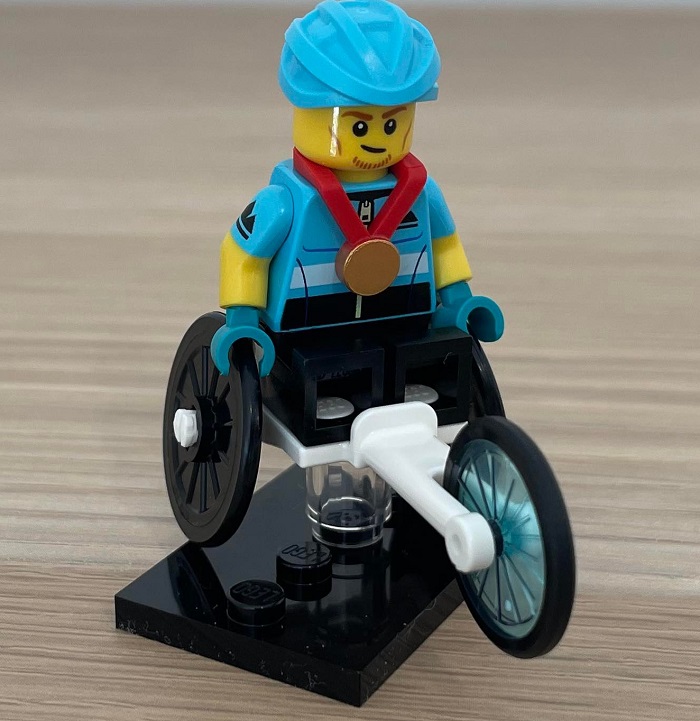 This figure has some great dual-printed arms and a printed front and back torso. It's a great piece of representation for those in wheelchairs too, which have started to appear in more and more LEGO City sets over the years.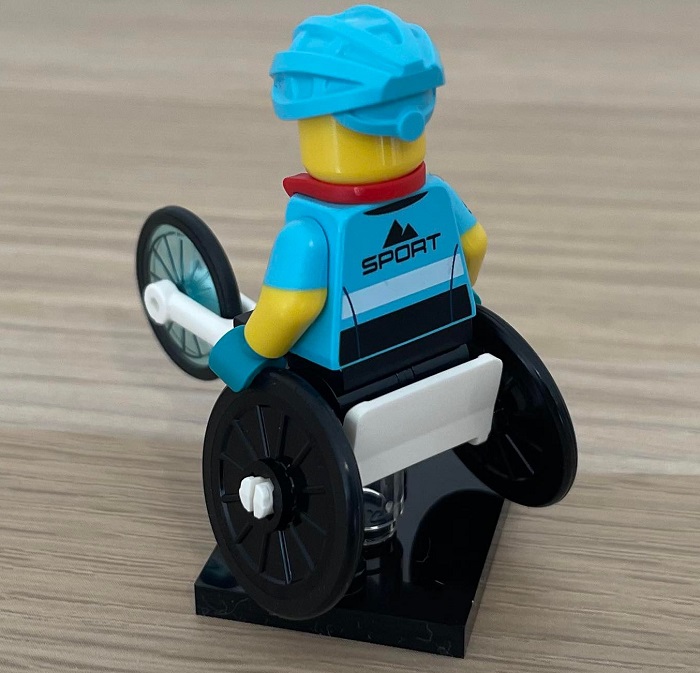 Extra LEGO Pieces
Below shows the extra pieces you will end up with if you buy one of every set.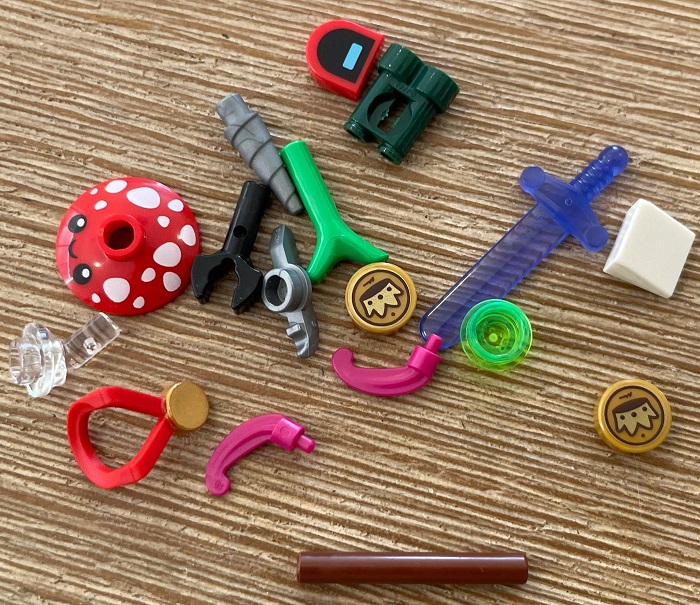 LEGO 41701 CMF Collectible Mini-Figures Series 22 Checklist
The checklist is coming soon once I find my papers.
LEGO 41701 CMF Collectible Mini-Figures Series 22 Packaging
It was really cool that my local store had opened all the packets and then labelled them so you could buy what I wanted without having to worry about people spending hours trying to feel which ones they want.