Given the delay on the film Jurassic World 3: Dominion due to Covid-19, the Jurassic World Camp Cretaceous LEGO sets have been a very welcome addition to tide us over until this film and its inevitable LEGO sets come out.
What is Jurassic World Camp Cretaceous?
For those that don't know, Camp Cretaceous is a CGI animated series on Netflix with 3 seasons so far and a fourth season will be released on December 3rd 2021. It is a more family-friendly show than the films but is still completely enjoyable for adults.
It follows a group of 6 teenagers Darius, Ben, Yaz, Brooklynn, Kenji, and Sammy who have been selected to test out Camp Cretaceous on Isla Nublar, which is some sort of exclusive adventure camp on the site of Jurassic World. Set right before the events of the 2015 Jurassic World film, everything goes wrong as they live out the events of the film from their own perspective and are left for the dead on the island.
The LEGO sets are very welcome as they introduce the 6 new human characters to collect, which is great because they can be used as generic other people in your other builds even if you're not familiar with the characters. Oddly, each set comes with either Owen or Claire which are rather overused as it is and they are not present during these events in the show.
Review: LEGO Jurrasic World Stygimoloch Dinosaur Escape 76939

This 4+ LEGO set retails for $59.99 in Australia. It features 3 human LEGO Minifigures Ben, Brooklynn, Claire Dearing as well as two dinosaurs. These are a green and brown Stygimoloch, which is a recolour of the one from LEGO Stygimoloch Breakout 75927 and a bright green baby Ankylosaurus, which is a recolour of the one from Dr. Wu's Lab: Baby Dinosaurs Breakout – 75939 which represents Bumpy, which becomes Ben's pet. Each figure has an alternate scared face which will come in handy if I ever want to do a dinosaur escape scene in my diorama.
This set is one of my favourites from the line. I love the tree pieces and the brown slide. I bought two sets so I can try mixing them together to make a larger tree and slide, except that didn't work out so well. This reminds me a little of their treehouse from the show or perhaps it is meant to represent Ben's camp from when he gets lost. Inside the treehouse, there's a little bed and a tap/sink. There are also pieces of eggshell around the base and a little dinosaur poop that you can scoop up with the shovel..
The car itself is a very basic build with a preformed chassis, making this a very easy build for children. It has a removable cage on the back which can hold the Stygimoloch. The additional fences can also be added on top which might not be intentional, but I like it.
The printed Jurassic Park logo pieces are very welcome. Most of the previous sets always had the blue Jurassic World logos and they were usually stickers, but I suppose they didn't want to include stickers in a 4+ set as kids always butcher the application.

The accessories of a tranquillizer gun and walkie talkie were also especially welcome as I always need more accessories for my ACU guards to hold. I bought a lot of extra ACU guards on eBay and they didn't come with accessories. The carrot on the stick is also a great accessory that I can use in my Jurassic World theme park build for a feeding demonstration.
Review: LEGO Jurassic World Dinosaur Chase – 76941
This 7+ LEGO set retails for $79.99 in Australia. It features 3 human LEGO Minifigures Owen Grady, Kenji and Sammy. It also features two vehicles, a large 6 wheeled car or truck and a tiny helicopter. The star of this set is Toro the Carnatotaurus, a recolour of the one from the now very expensive Carnotaurus Gyrosphere Escape 75929 set. Toro also features unique scars on his face to set him apart from the previous version.
This set is a little underwhelming to me in particular, as I collect LEGO Jurassic World sets to build up my own theme park display, sets that are heavy on vehicles are a little redundant to me as my park does not need a dozen helicopters and two dozen cars in it. For a kid though, this set has great play value with the two vehicles including a stud shooter on the helicopter to shoot tranquillizer darts at the rampaging Carnatotaurus. The build for the helicopter is one of the most basic we've seen but I believe it is small enough to fit on the back of the truck. I can't find where I've put mine so I can't double-check, but if so then that's a nice feature.
The truck itself is definitely one of the better ones that have been available as it is wide enough for two figures to sit next to each other. Many LEGO cars are too small and unrealistic for me. I may try and use this vehicle in one of my scenes as it's probably in my top 3 so far. I'm just underwhelmed because I didn't really need it, but wanted the characters and the cheaper Carnatotaurus.
I'm a little disappointed in the lack of accessories for the characters to hold with just one shock-pole leaving two characters empty-handed. These pole weapons are always welcome to me though as my ACU guards need more weapons! The heavy reliance on vehicles is likely why more accessories were not included.
Review: LEGO Jurassic World T. Rex Dinosaur Fossil Exhibition – 76940
This 7+ LEGO set retails for $39.99 in Australia. It features 2 LEGO Minifigures of Owen Grady and Darius. It features a baby triceratops which is a recolour from Dr. Wu's Lab: Baby Dinosaurs Breakout – 75939 this time with a blueish shade to it. The main feature is the brick-built Tyrannosaurus Rex skeleton. There is also a little display stand and base for the skeleton.
This is the second brick-built T-Rex I've built with the other being part of LEGO Ideas Dinosaur Fossils 21320 which I have incorporated into a rollercoaster. but this time using a more sandy colour and a pre-made head. This is a great piece because one of the cool things about LEGO's dinosaur sets (starting with the Dino Series in 2010) is that the pieces for most of the larger dinosaurs can be mixed and matched, something that was emphasised in the early Jurassic World sets encouraging you to customise your own hybrid dinosaurs. Well, now you can make a freaky T-Rex with no skin on its face. Some kids will get a real kick out of that.
The Skeleton itself is fully poseable and has additional black pieces under the feet that allow it to attach to the base and to stand up on its own, so kids can play with it if they want to pretend it's alive or to pose it slightly differently.
The little stand has a tooth, a leaf and an egg on it, these are nice little additions. The egg is a sandy or tan colour which is particularly cool as most other LEGO eggs are just plain white. The accessory of a pointing stick makes sense for the set.
Review: LEGO Jurassic World Baryonyx Dinosaur Boat – 76942

This 8+ LEGO set retails for $119.99 in Australia. It features 4 LEGO Minifigures of Darius, a guard, Yaz and Owen Grady. It also features two dinosaurs, a baby velociraptor which has appeared in many other sets and a green Baryonyx, a recolour of the one from the Baryonyx Face-Off: The Treasure Hunt 75935. The main showpiece of this set is the large dinosaur transport boat owned by Jurassic World. It also features a small raft.
I was a bit disappointed in this set as it's another vehicle-centric set, but a boat features heavily in series 3 of Camp Cretaceous, so you can pretend it's that one. I do have some water segments in my display so I'm going to try and work this into it. The boat also floats which is impressive. The giant floating hull makes up much of the cost in this set. It reduces the overall piece count of the set, but it adds a lot of play value. My only concern is that it has stickers on it and I'm hoping they are waterproof, but not going to risk trying it.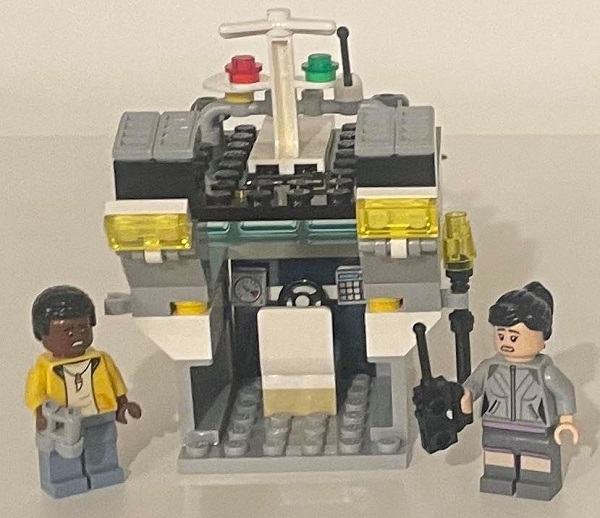 This is the second set to feature Darius and is the only way to get Yaz. I think the original colour in the previous Baryonx set which was grey with blue highlights was a better design. The green does contrast better with the black and grey boat, so the contrast definitely works for this set and I'm glad it's not the same one I've already got. If you are chasing a Baroynx figure, I do recommend the Baryonyx Face-Off: The Treasure Hunt set over this as it comes with one of the best cars in the series.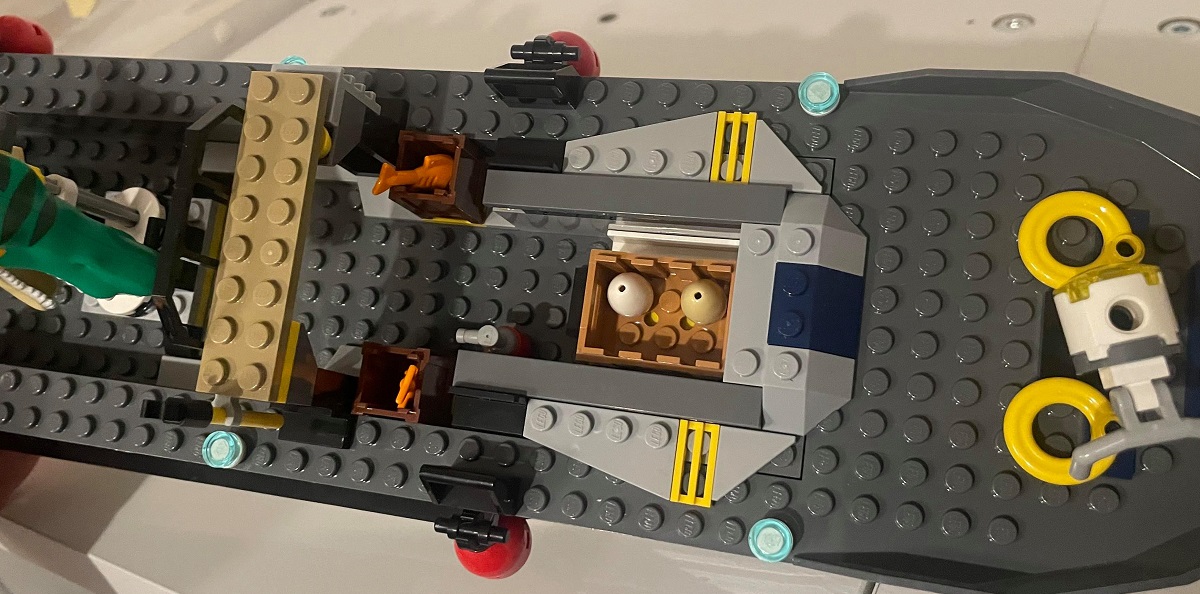 The set includes quite a few small accessories, which add a lot of play value. The fish on a stick, life jackets, tranquillizer dart gun, walkie-talkie, binoculars, a fire extinguisher, life preserver rings, some crates and shock stick are all very welcome. Oddly, the shock stick has a yellow end to it instead of the typical blue ones seen in other sets.