2021 was a great year to be a Masters of the Universe fan, especially if you live in Australia. Not only did 2 new animated shows come out on Netflix (Masters of the Universe Revelation by Kevin Smith aimed towards adults and the kid-friendly He-Man and the Masters of the Universe), but we actually started to get some toys at big retailers. Most of which are exclusive to Big W.
Surprisingly, an exhibition has been running since November 2021 showing off a bit of everything Masters of the Universe, with lots of vintage and recent pieces on display, set up like a funky museum. Most of these pieces are on loan from various local collectors, with a lot of rare items on display. This exhibition is run by Radio Velvet which is a premium t-shirt company which is selling prints by Melbourne artists and also t-shirts. The T-shirts are $60 AUD, A1 prints are $120 and A2 prints are $85. Printed cushions are also available for $80 but I have about 4 Masters of the Universe cushions already (bootlegs from RedBubble) so I didn't get any of those despite them looking cool.
I've been meaning to get to this for weeks, but only got the chance today when I was staying at a hotel a 10-minute walk away and happened to be checking out around the time it was opening. It was great to get there right before it opened as we took photos with the doors shut, which looked particularly cool.
Address for Remastered – Masters of the Universe Store in Melbourne
1st floor, St. Collins Lane. 260 Collins St, Melbourne 3000 Australia.
It is open from 10 am until 4 pm and sometimes 5 pm every day through the rest of January. I'm not sure what happens after that.
Follow Radio Velvet on Facebook for the latest info.
Artists Involved
From what I can see on the Radio Velvet website's prints collection, the artists involved include Sofles, Travis Price, Mighty Short, Lee McConnell, Alex Lehours, Aaron Craig, Heesco, Sahil Roy, Glenno, Justine McAllister, Luke Lucas, Benjamin Dawe, Lauren Carney, Ohnoes and DXTR. The exhibit is curated by Eddie Zammit. Go check them all out, most of them have their MOTU art on their pages or you can see it in the prints collection page on Radio Velvet. Of course, this stuff is better seen in person!
Master of the Universe Museum in Melbourne!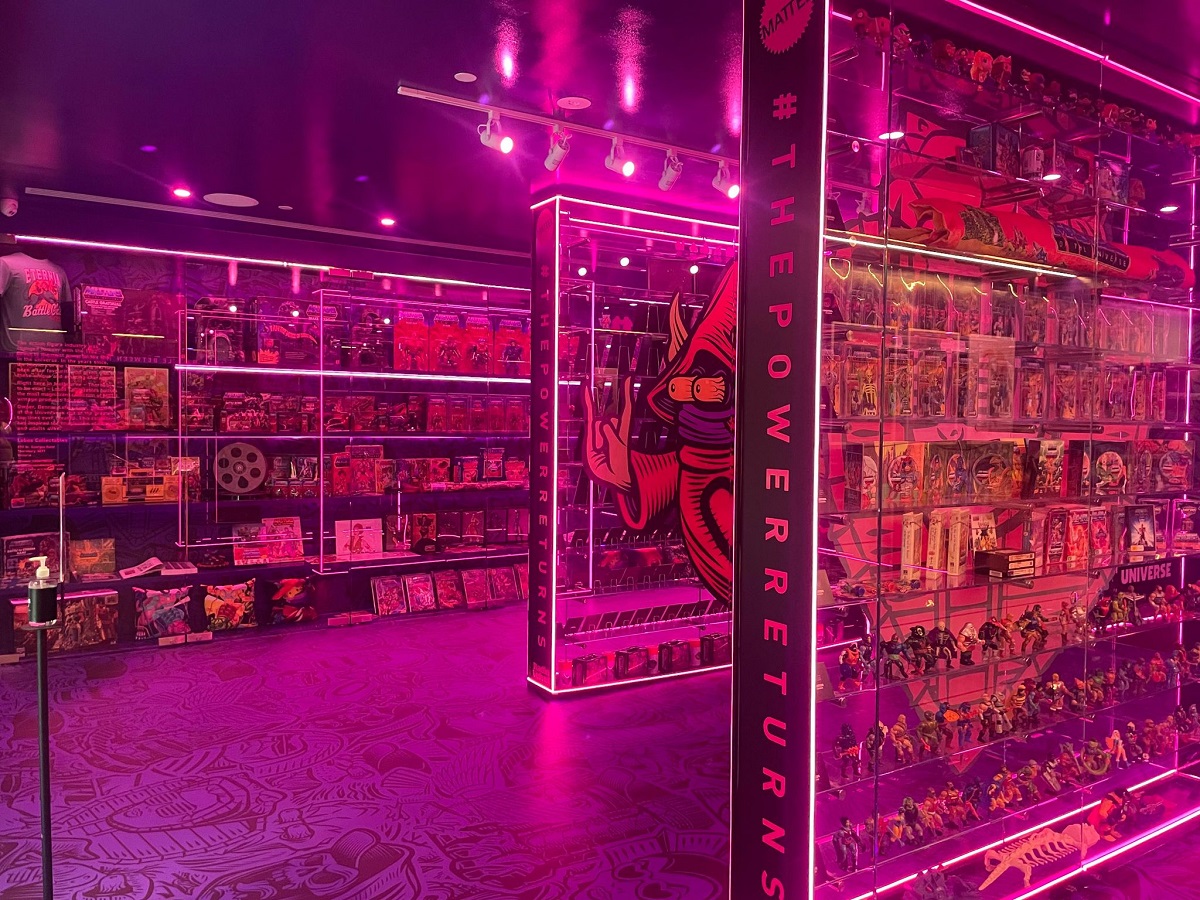 There are 3 main displays of vintage and modern memorabilia and comics, as well as feature walls based on the art. The lighting is all purple and even the floor is decorated. It's truly impressive for a popup store that will only be here for a few months.
I'll now give you a tour of the Remastered store, going counterclockwise starting at the right-hand wall and then doing a bit of a spiral towards the end.
Masters of the Universe Art Prints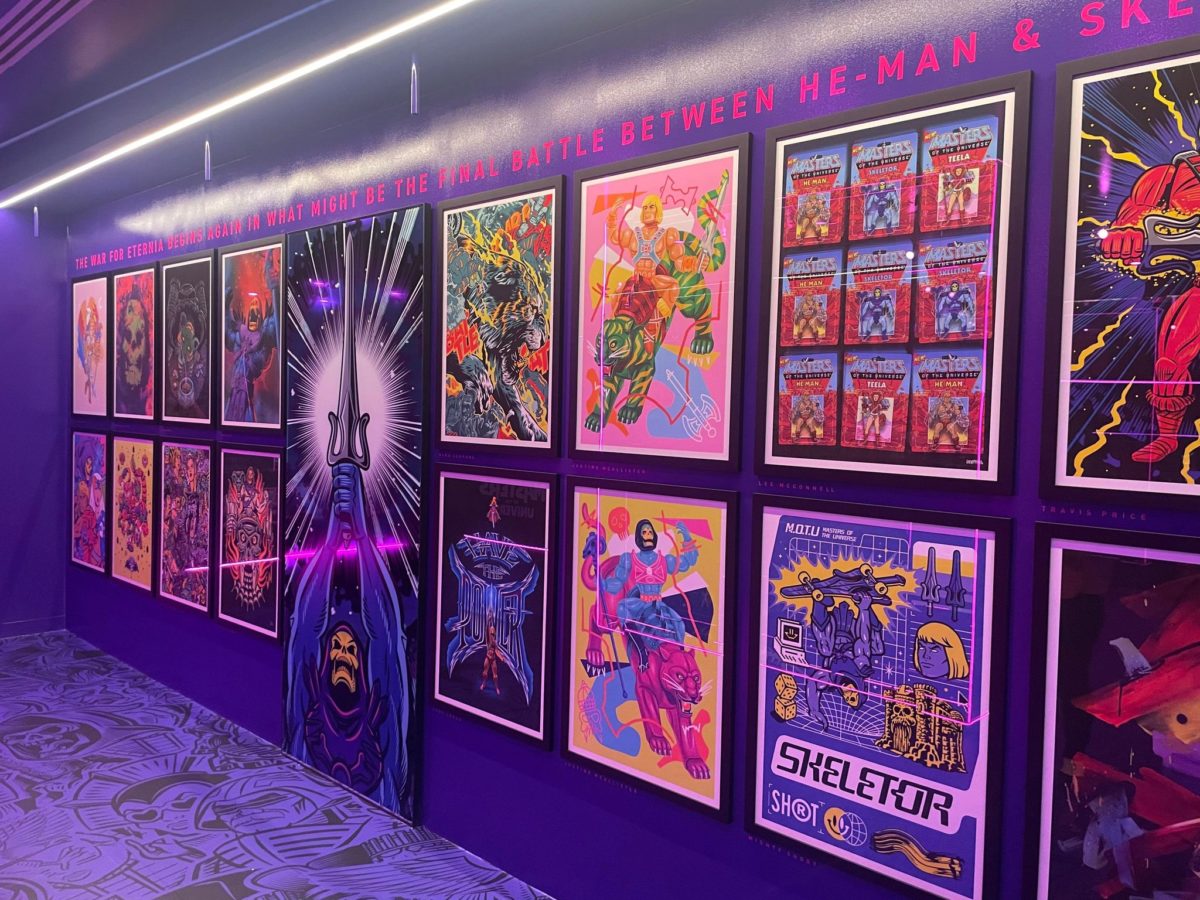 Here you can see most of the print artwork for sale. I should have taken a better photo. There's a few I quite liked, but I really don't have the wall space and my partner won't have this kind of art up around the house. She did like the Orko print by Sahil Roy you can kinda see in the bottom right.
Masters of the Universe Funko Pops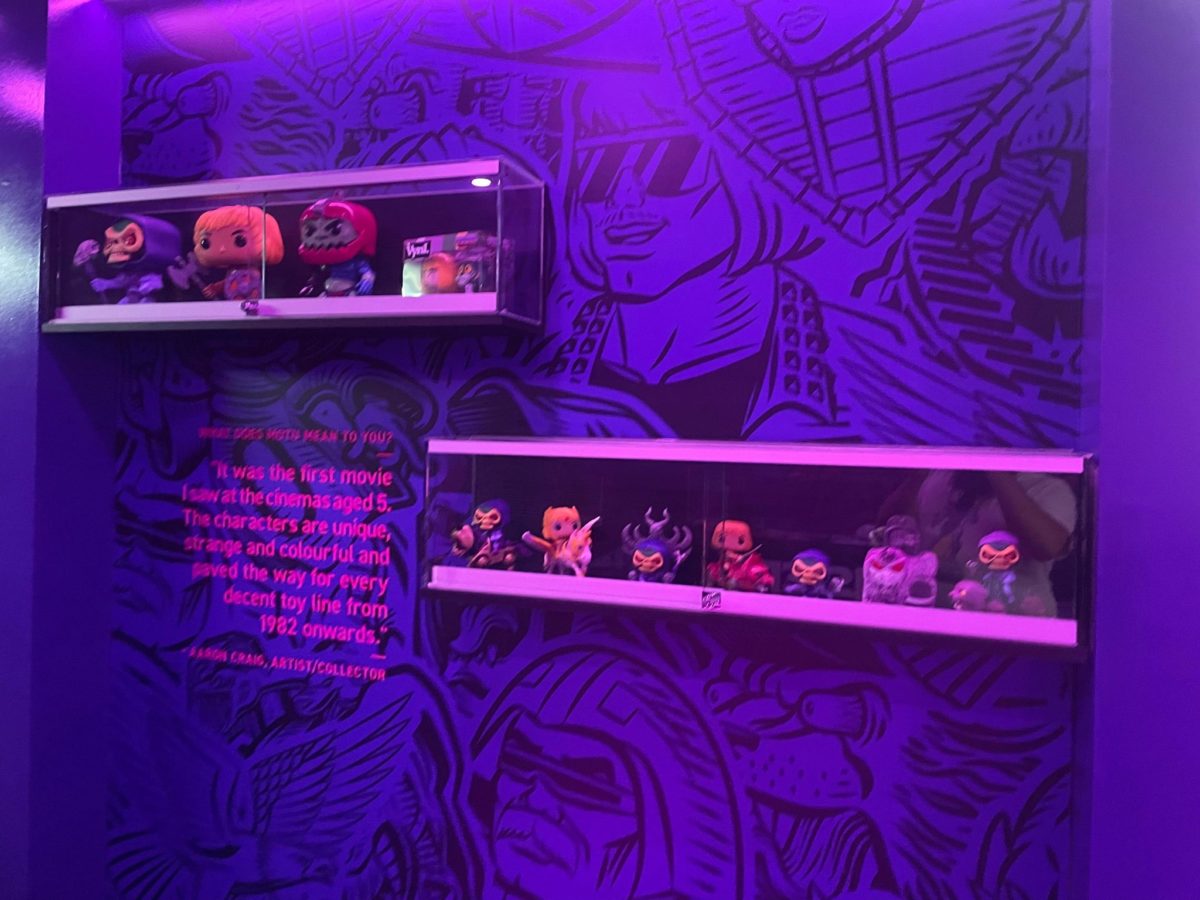 Here is a small display of some of the giant and deluxe Funko Pop Vinyls and a Funko Vynl set. Many of the basic Pops are in another display.
Exclusive Masters of the Universe T-Shirts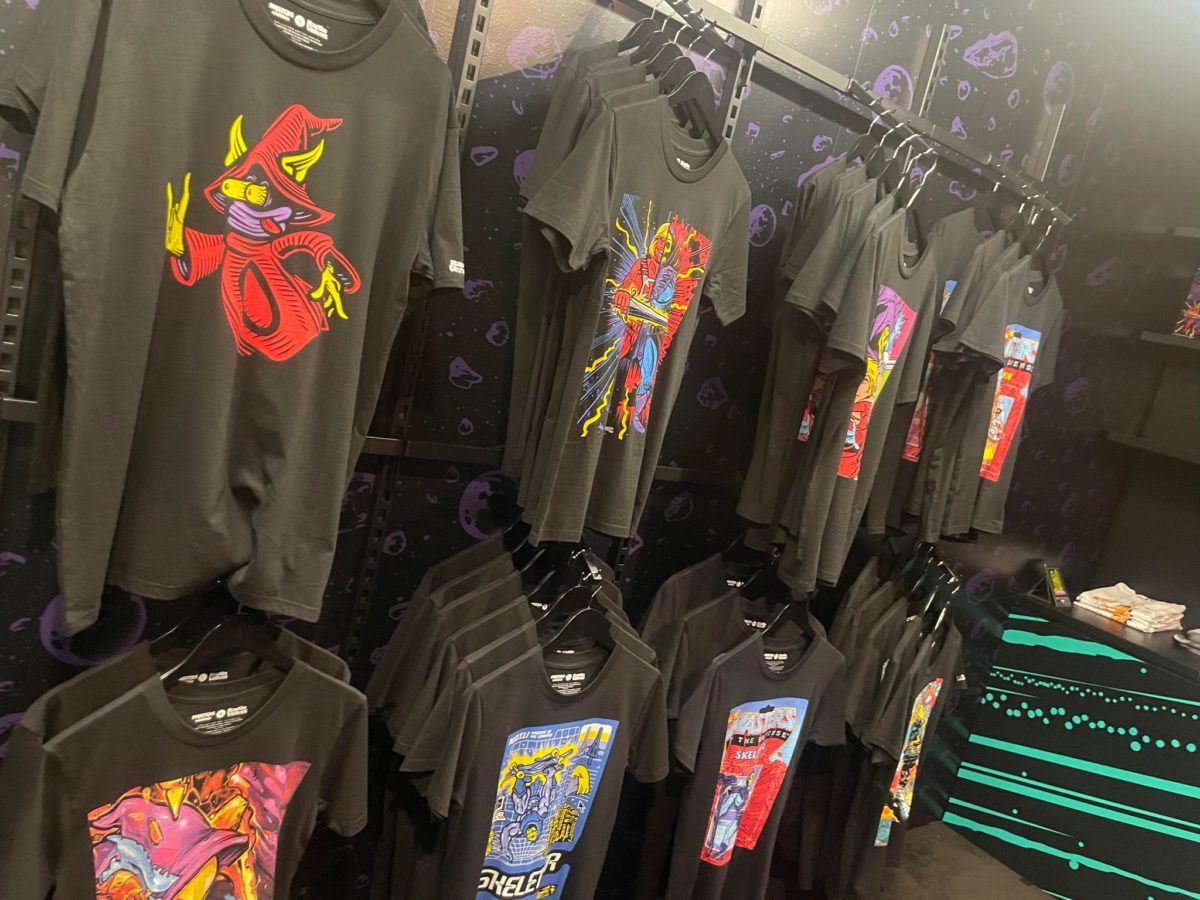 These are shirts based on the art prints, they all seem to be officially licensed and are exclusive to Radio Velvet. A lot of the larger sizes are sold out, but you can still order them and they will send them to you, which is what I did.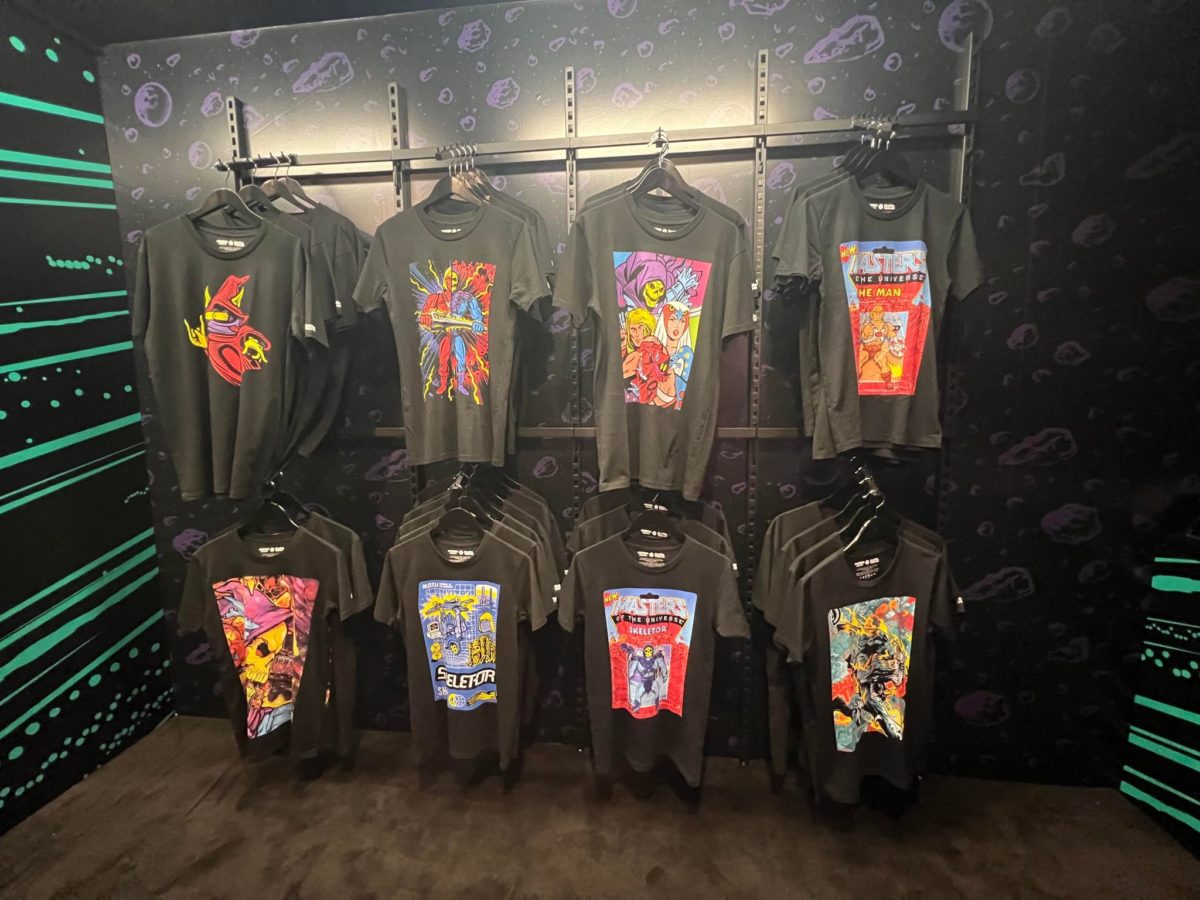 I'm getting the 3rd one on the top row sent to me. There are more designs than just what is pictured.
Counter Displays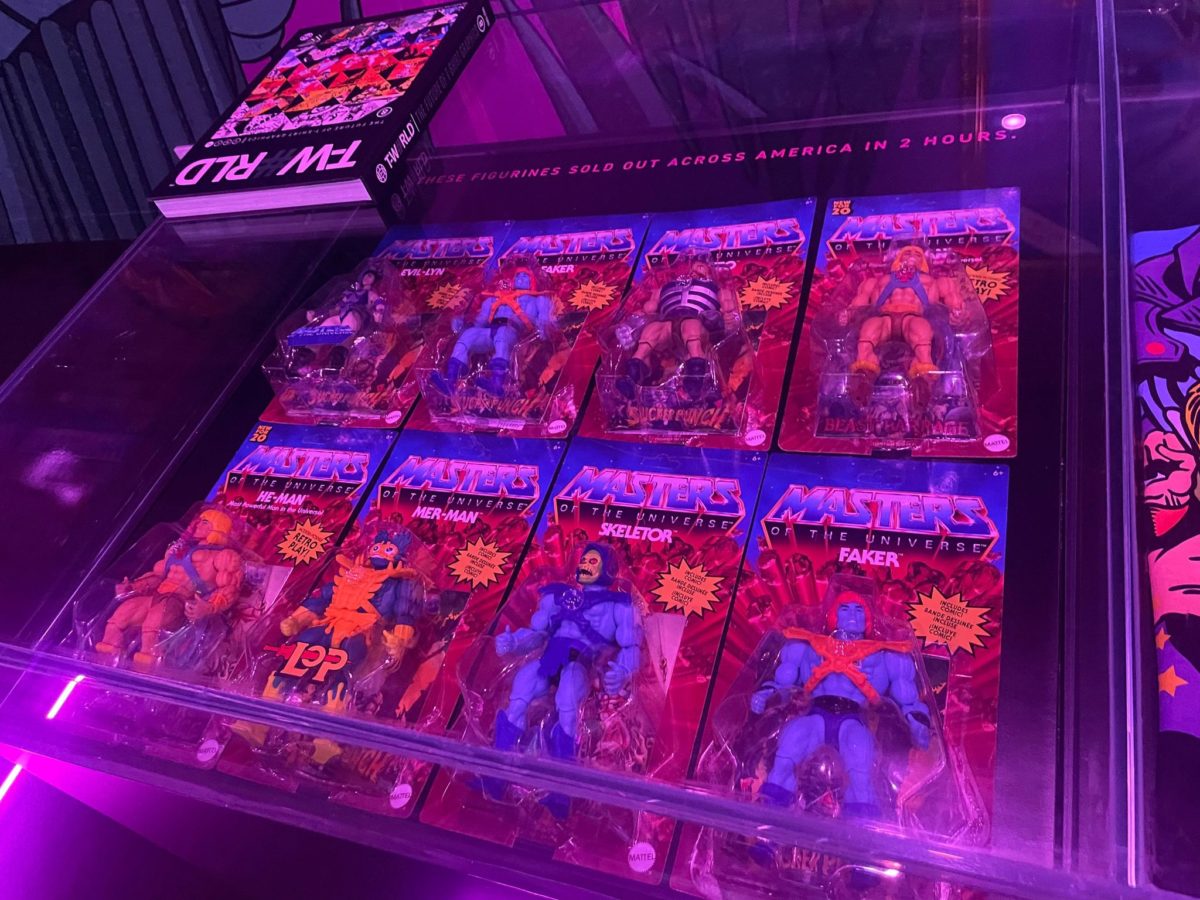 They had two cabinets of the Master of the Universe Origins figures which the other one said you can buy them at Big W, but they're always sold out. I've only managed to get Skeletor, He-Man and Battle Cat so far. I really want to pay the Big W prices of about $19 AUD each, rather than $35 AUD each at collector stores and online.
Masters of the Universe Tshirts and Pins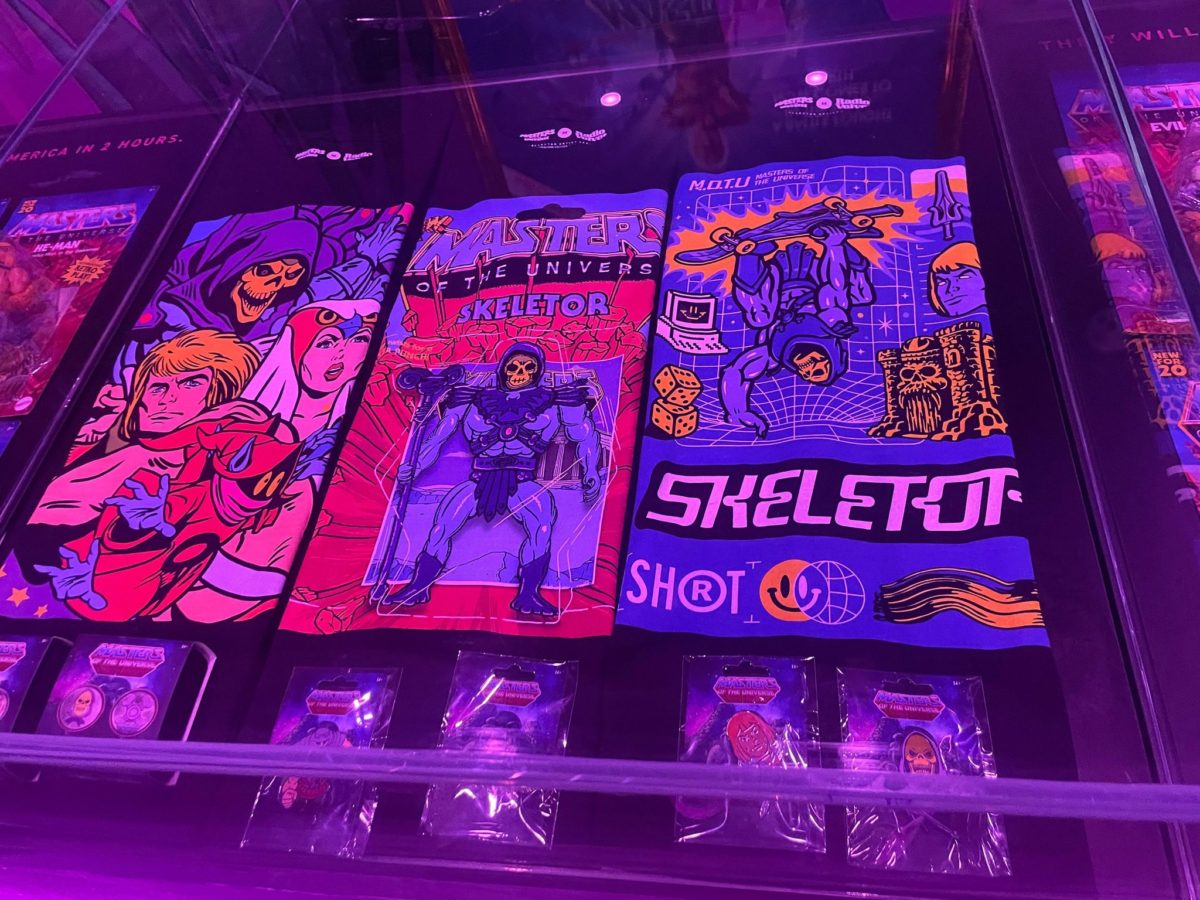 Here are 3 of the t-shirts they have for sale, the pins and coins below probably aren't for sale. They were selling other pin sets, however.
I didn't get a proper photo of the whole counter as the store worker was sitting there. There was a cool 1987 movie poster behind the counter.
Vintage Masters of the Universe Display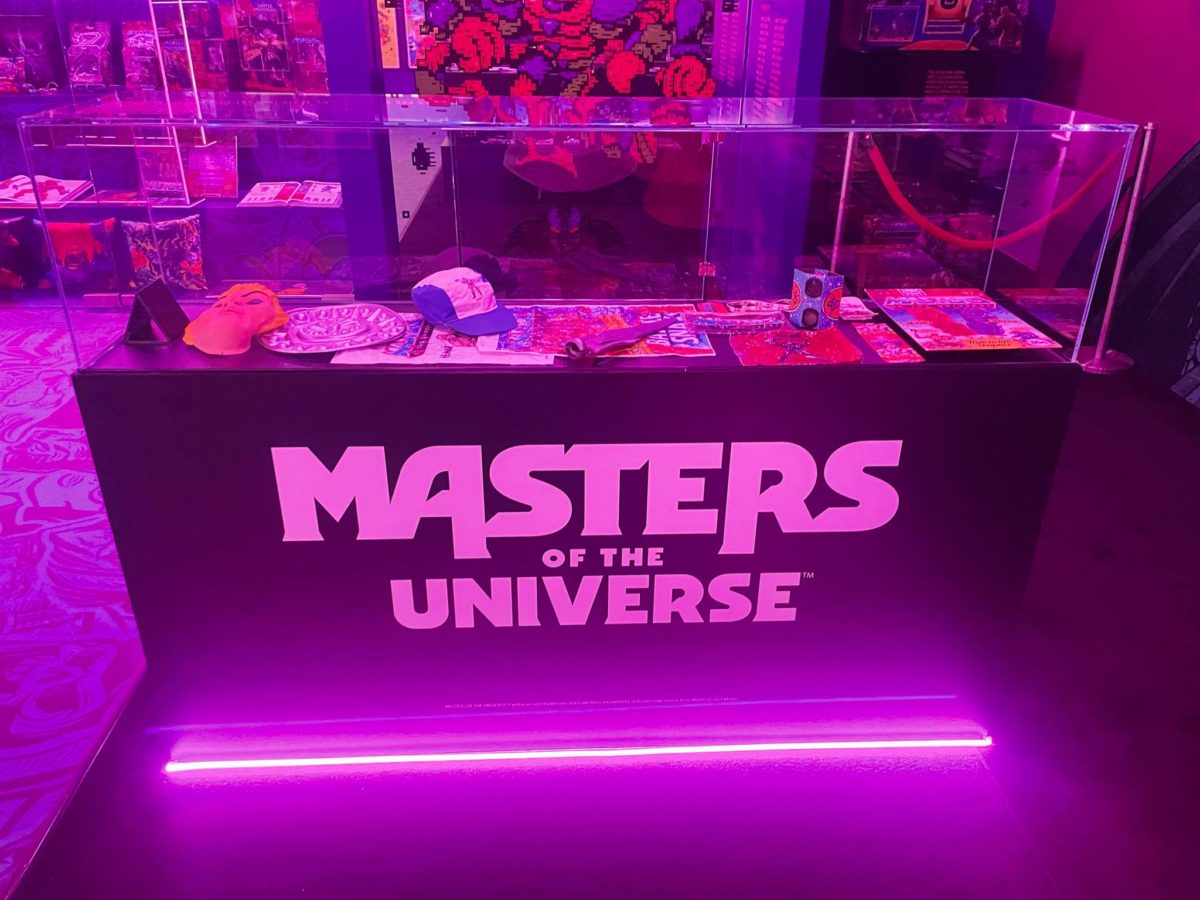 Here is another smaller display with vintage products in it. You can see them better in the next image.
Vintage Masters of the Universe Showbag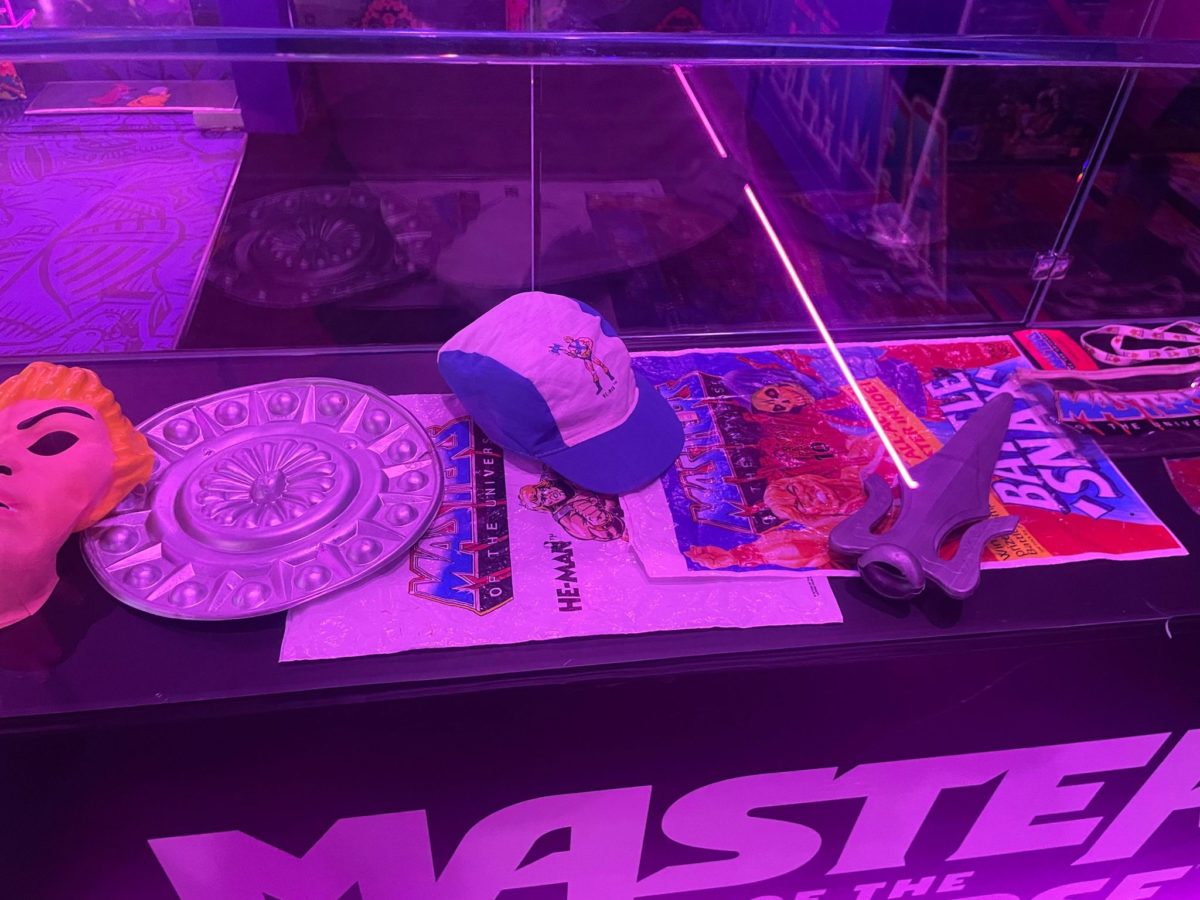 Showbags are a big thing in Australia, where you get a plastic bag full of cheap toys that usually match a theme, often these products are not commercially available, or easy to find in stores. This mask, sword, shield, hat and other small items are from a vintage show bag such as from the Royal Melbourne Show.
Streets Masters of the Universe He-Man & Skeletor Icy Poles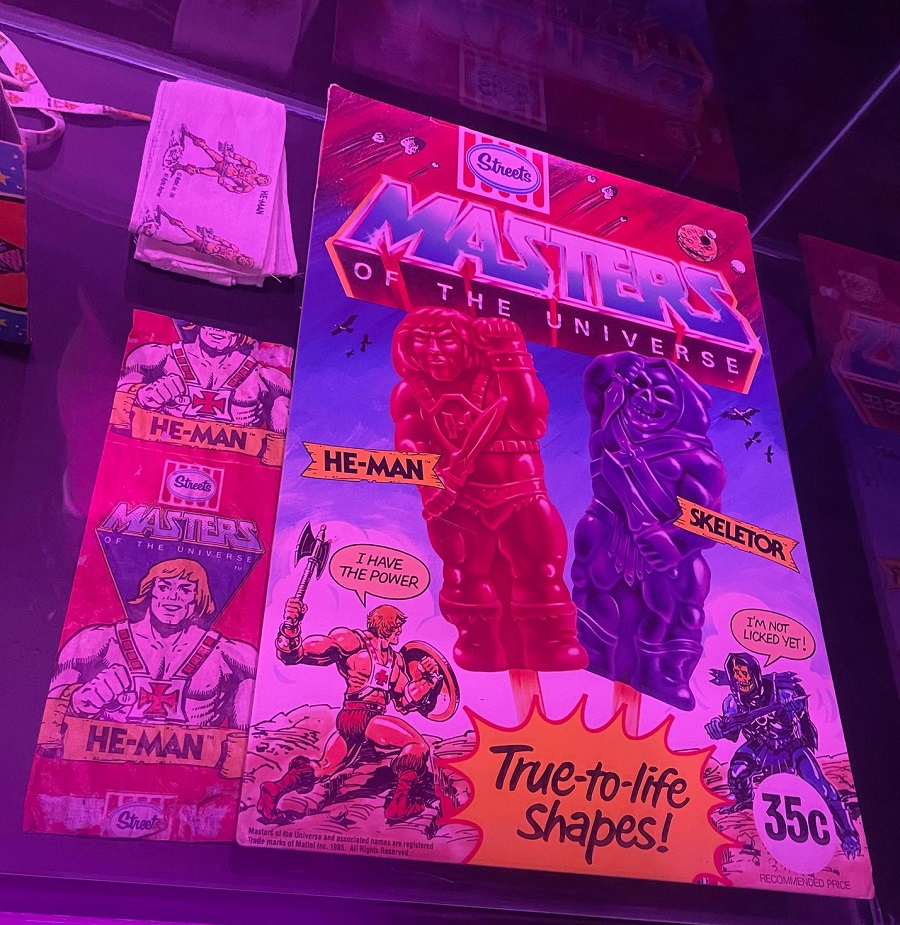 The 80s was a great time for cartoon themed ice creams and icy poles. These He-Man and Skeletor ones are very cool looking. I'd love one of these cardboard signs in my collection but the only one on eBay currently is asking $3,000 which is about 100 times more than I'd be willing to pay for it. It's also cool to see that they have an original He-Man wrapper too.
Snake Mountain Feature Wall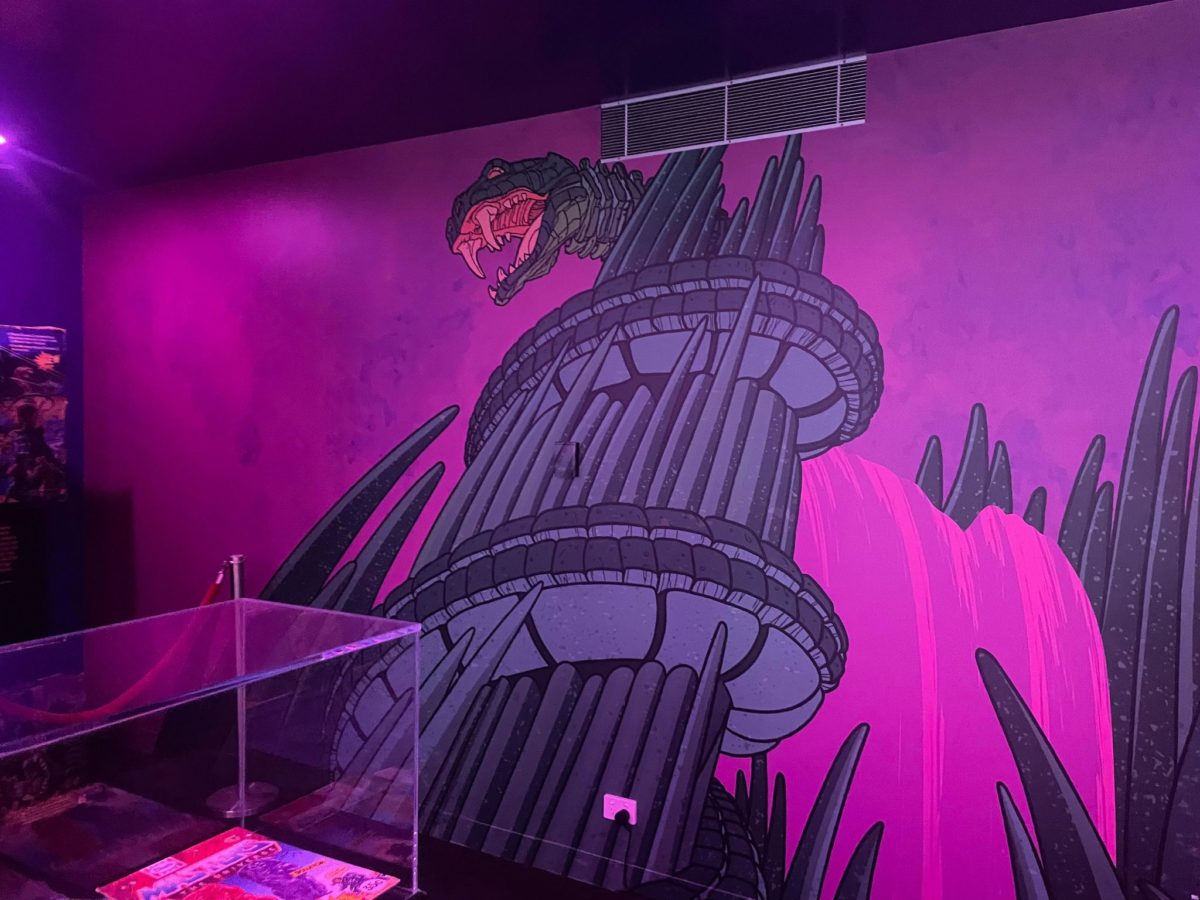 This feature wall is awesome, it's a shame it will get painted over when they do their next exhibition. They should have done it in my garage instead.
Boxed Masters of the Universe Eternia Playset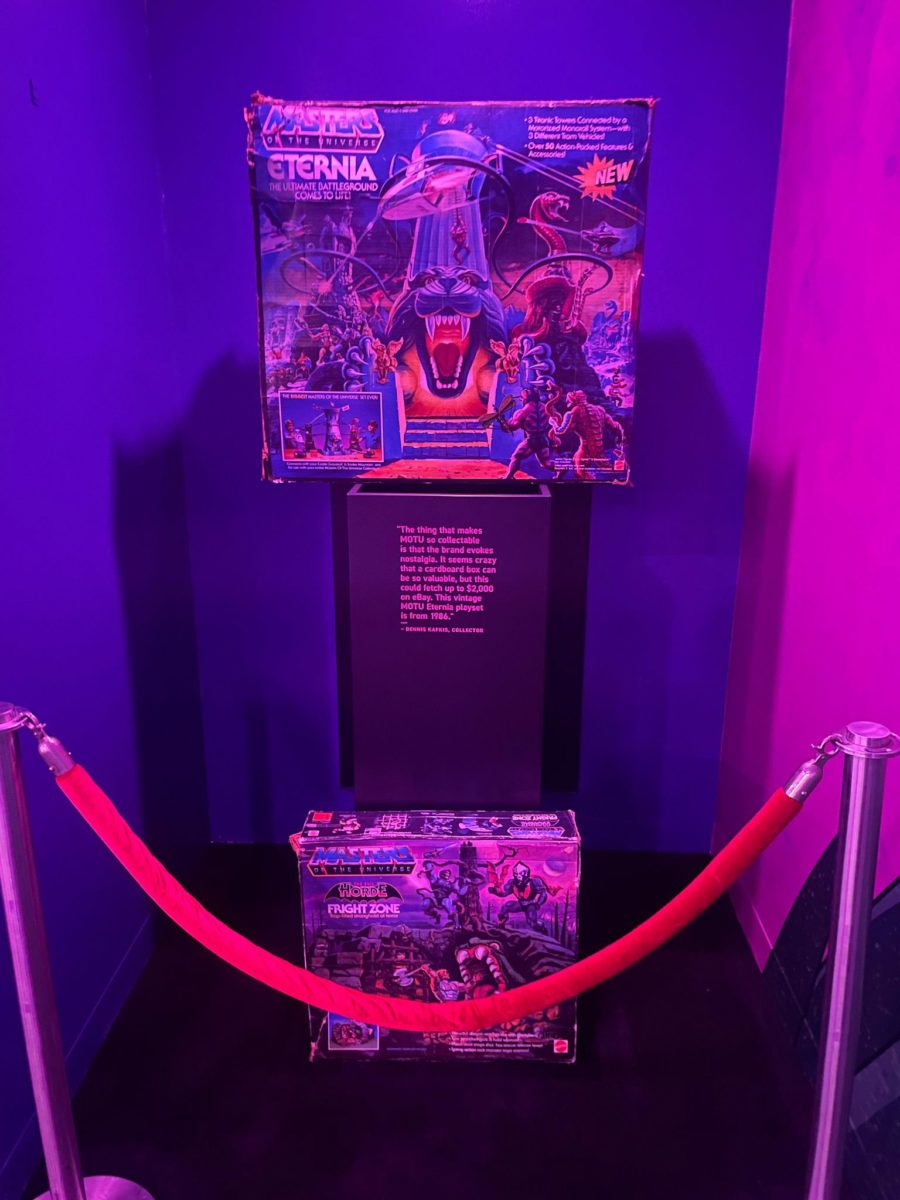 I showed some pictures from this to my friends and they were surprised to see some toys behind a velvet rope. The Eternia Playset is a holy grail for MOTU collectors. It is absolutely massive and has a working monorail system that breaks easily. It has so many parts that even a near-complete one will set you back several thousand dollars. This is the third one I've seen in-person, with the others being at Lobo's Collectables. This item is also exceptionally rare in Australia.
Modulok Pixel Art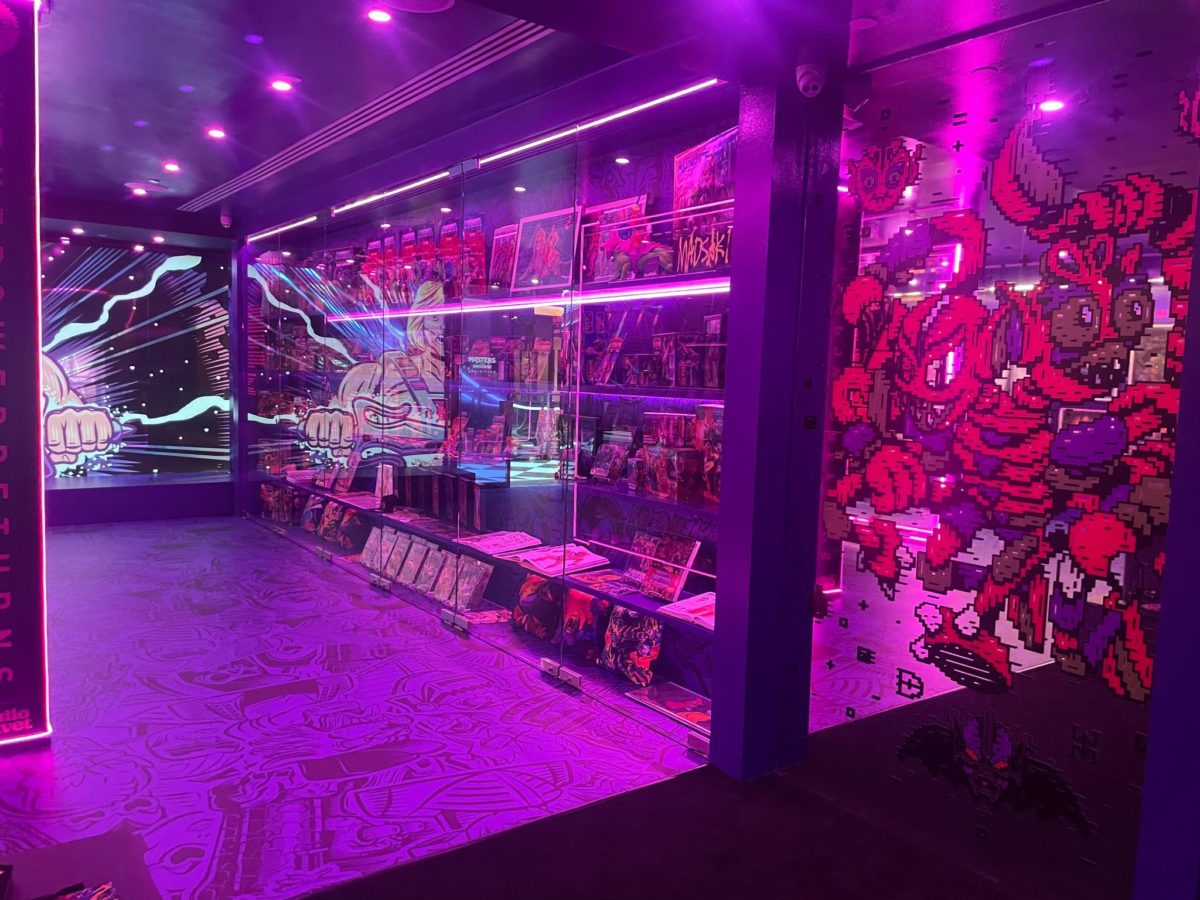 Here's a cool picture of Modulok, one of my favourite toys, you can take him apart and reassemble him all kinds of different ways with multiple arms, legs, heads etc.
Masters of the Universe Vintage Display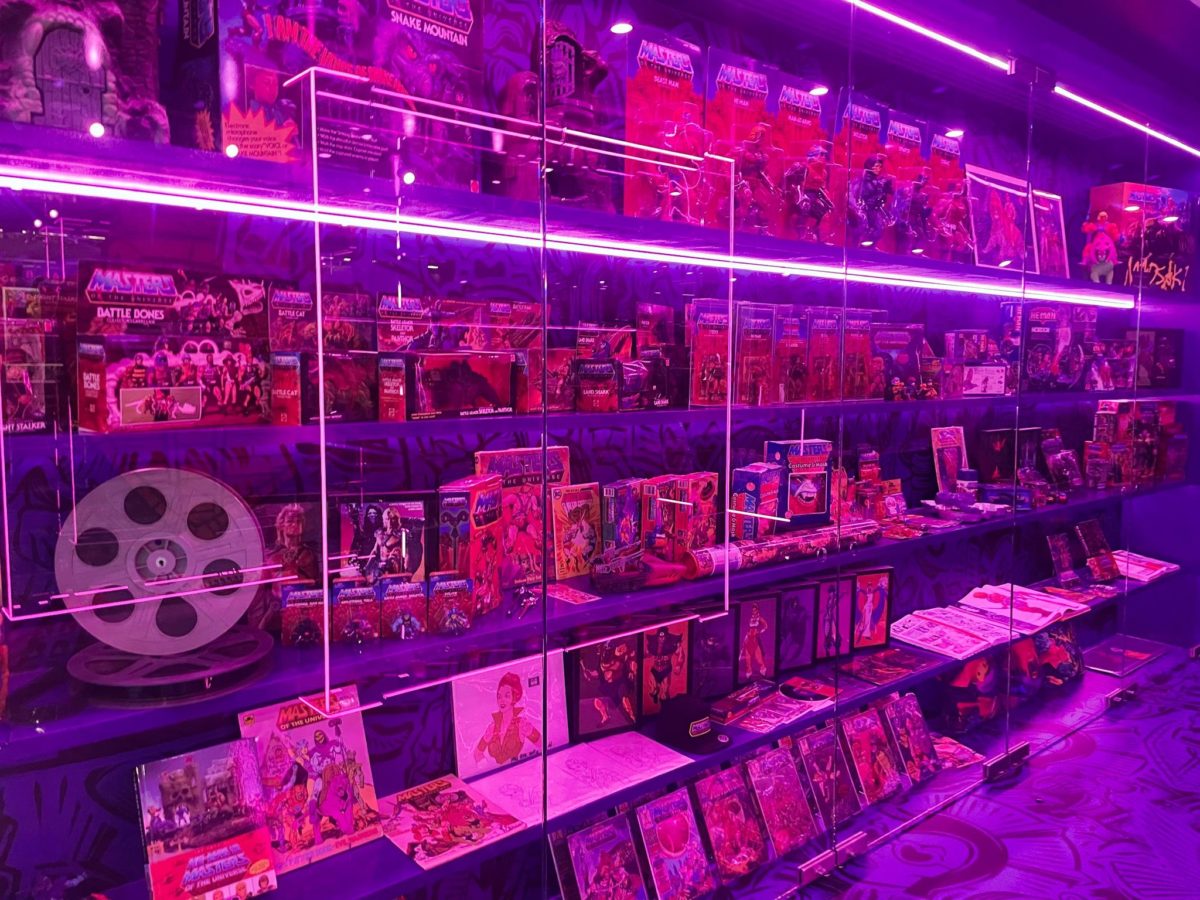 This was probably the main attraction to me, there's a lot of rare items here such as the vintage multipack sets of figures. There's also a few modern items that look like vintage ones such as the giant He-Man, Skeletor, Beast Man, Man-At-Arms, Stratos and Zodac figures and the recent Madsaki x Masters of the Universe He-Man and Battlecat which I kind of regret not buying. It was fun going through this and pointing out which things I have to my partner.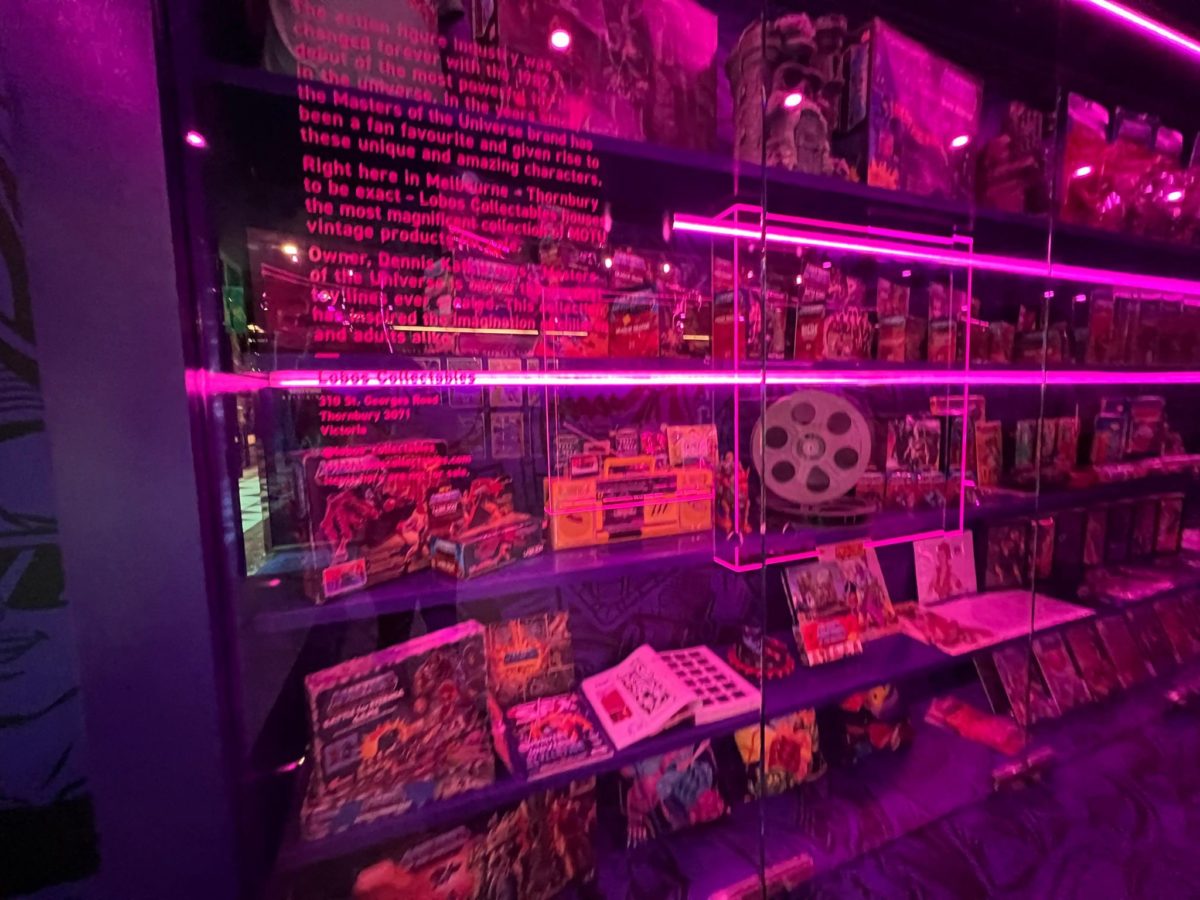 "The action figure industry was changed forever with the 1982 debut of the most powerful man in the universe." This sign acknowledges that this display is from Lobos Collectables in Thornbury, which is one of my favourite shops. I've traded lots of toys there. That shop is basically a free toy museum.
New Adventures of He-Man Toys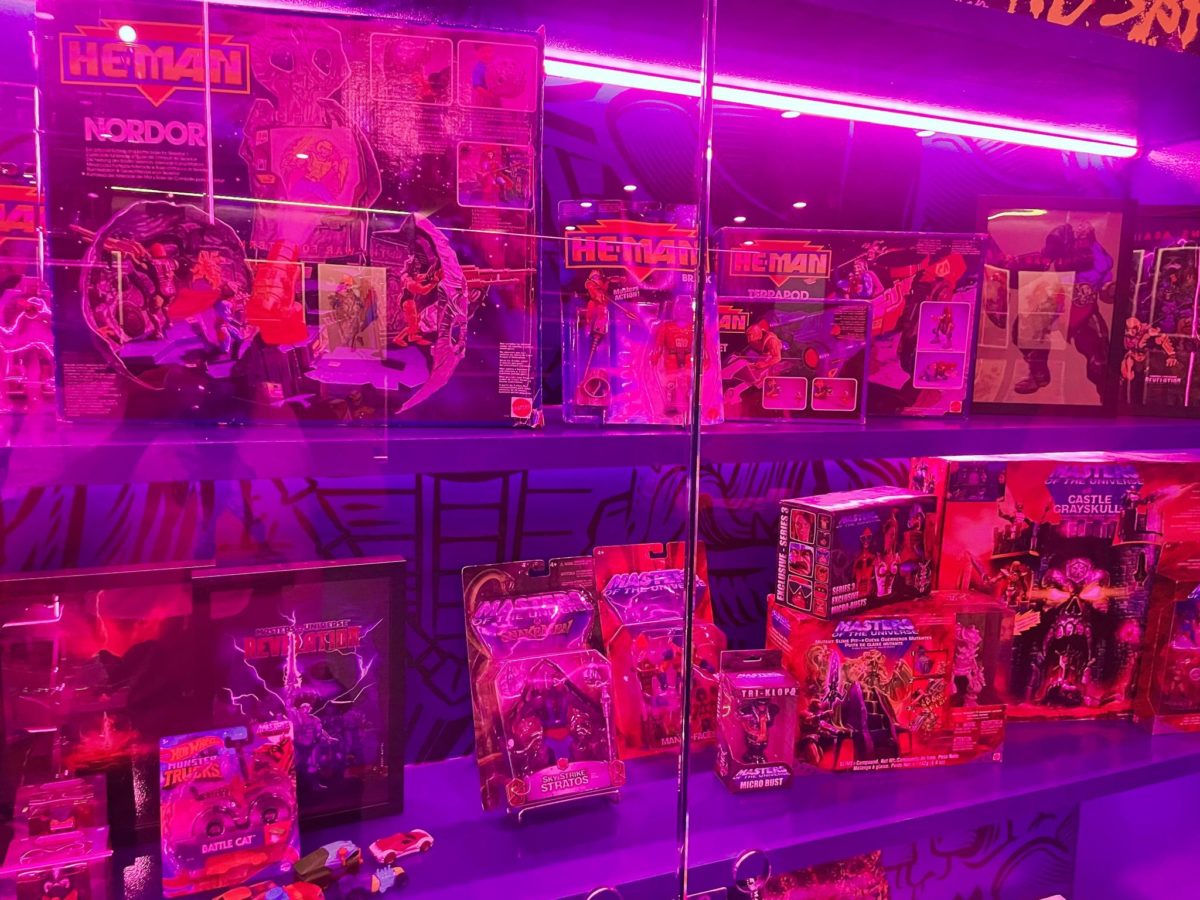 There were also some New Adventures toys, 2000x toys and some of The Loyal Subjects and Hot Wheels toys. I have most of the things on the lower shelf, but without packaging.
Vintage Ben Cooper He-Man and Beast Man Halloween Costumes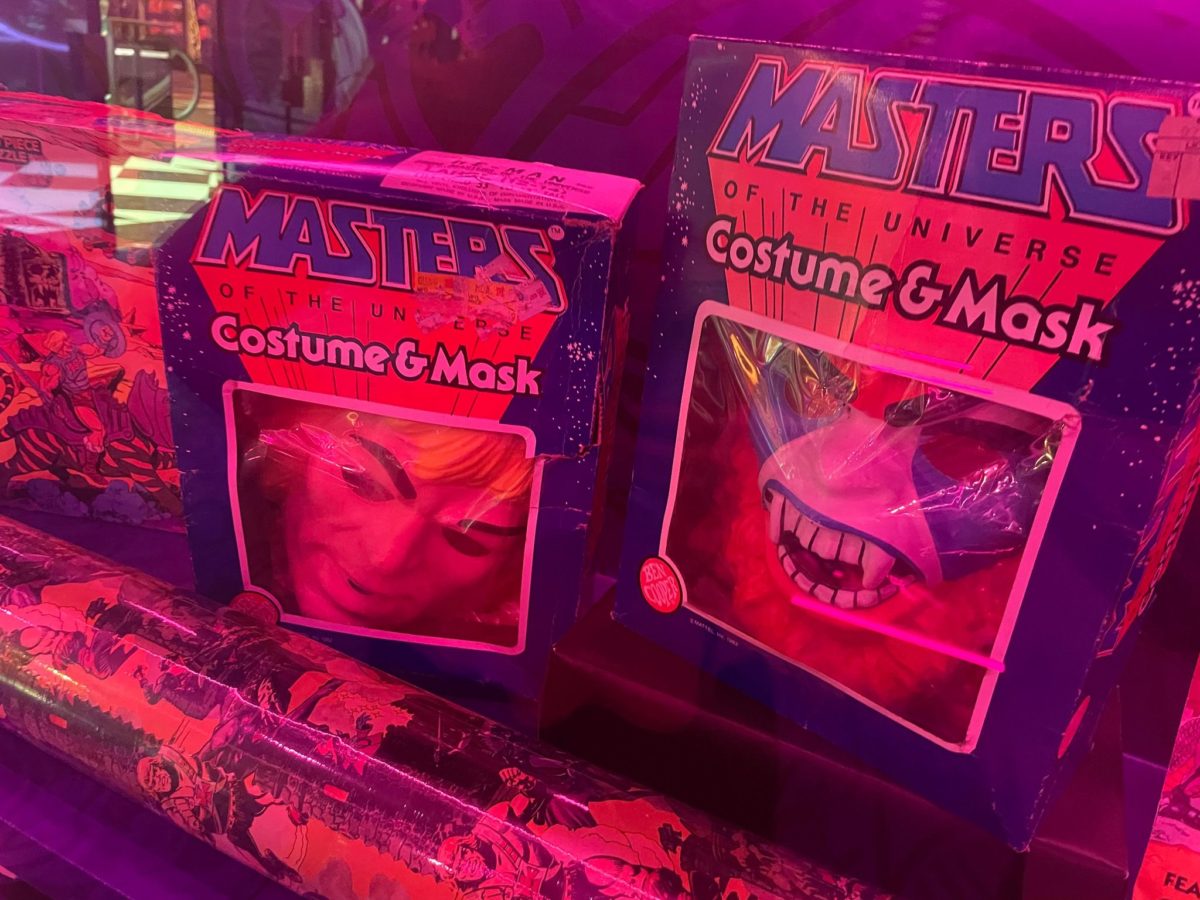 My partner found the vintage He-Man masks really creepy. You'll find Ben Cooper made a lot of really weird kids costumes, most of which had a plastic bib or shirts with a picture of the character on it, rather than trying to look like their costume.
Masters of the Universe Comic Book Display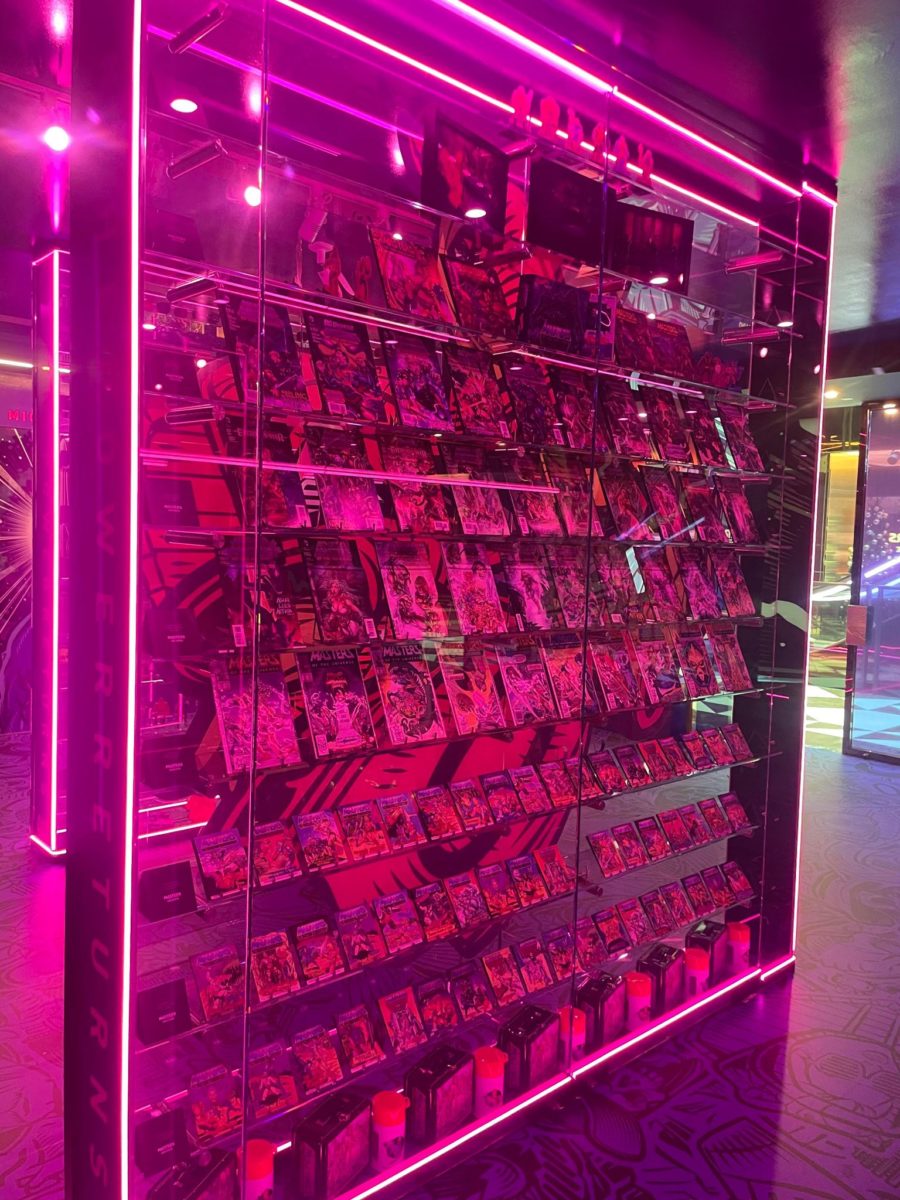 Here are lots of the individual comic books from DC as well, which I think I have all or most of, I didn't check to see if they have the Image comics (I need those). There's also a collection of the mini-comics that used to come with the figures and some lunch boxes and thermoses.
DC Masters of the Universe Comics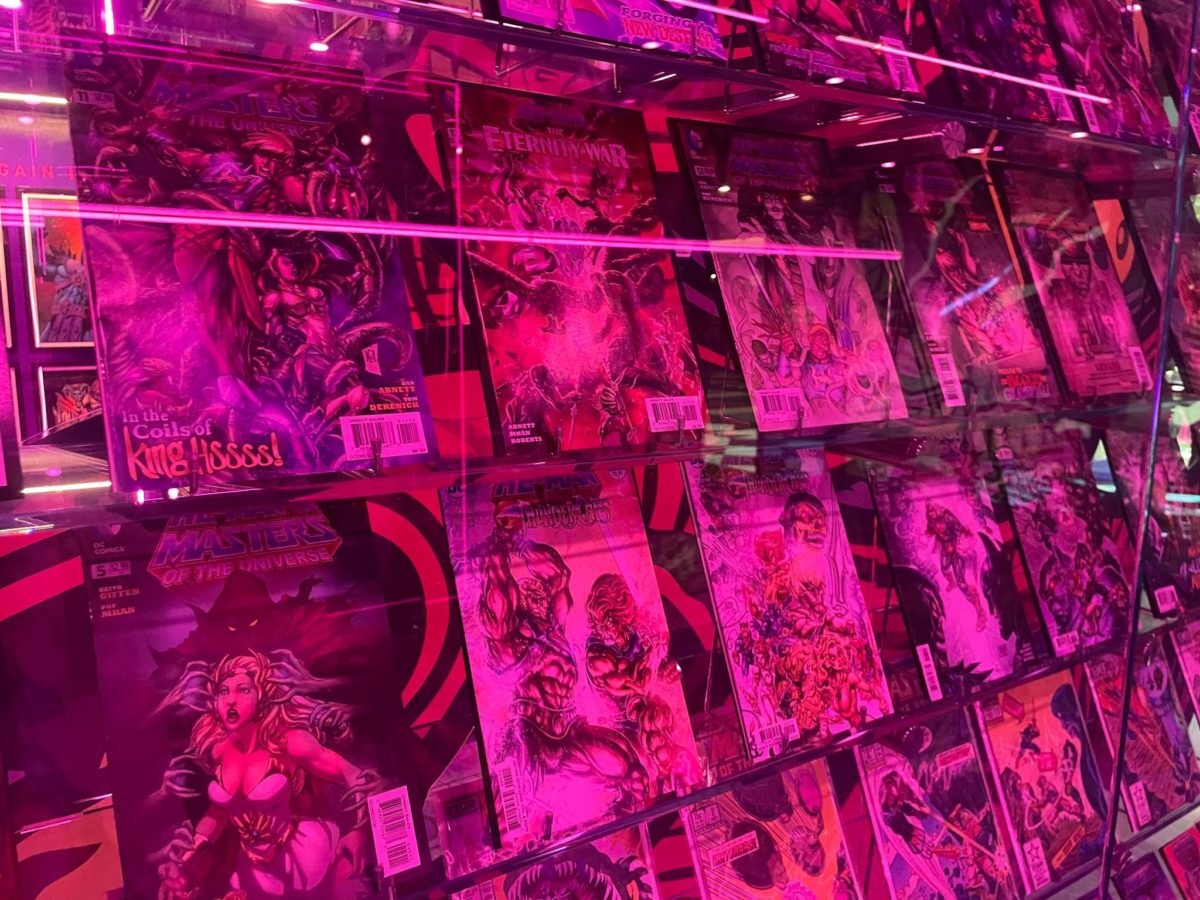 I think there's some vintage Star comics at the bottom here. I didn't look too closely at the comics as I've read most of them.
Loose Masters of the Universe Figures Vintage & Modern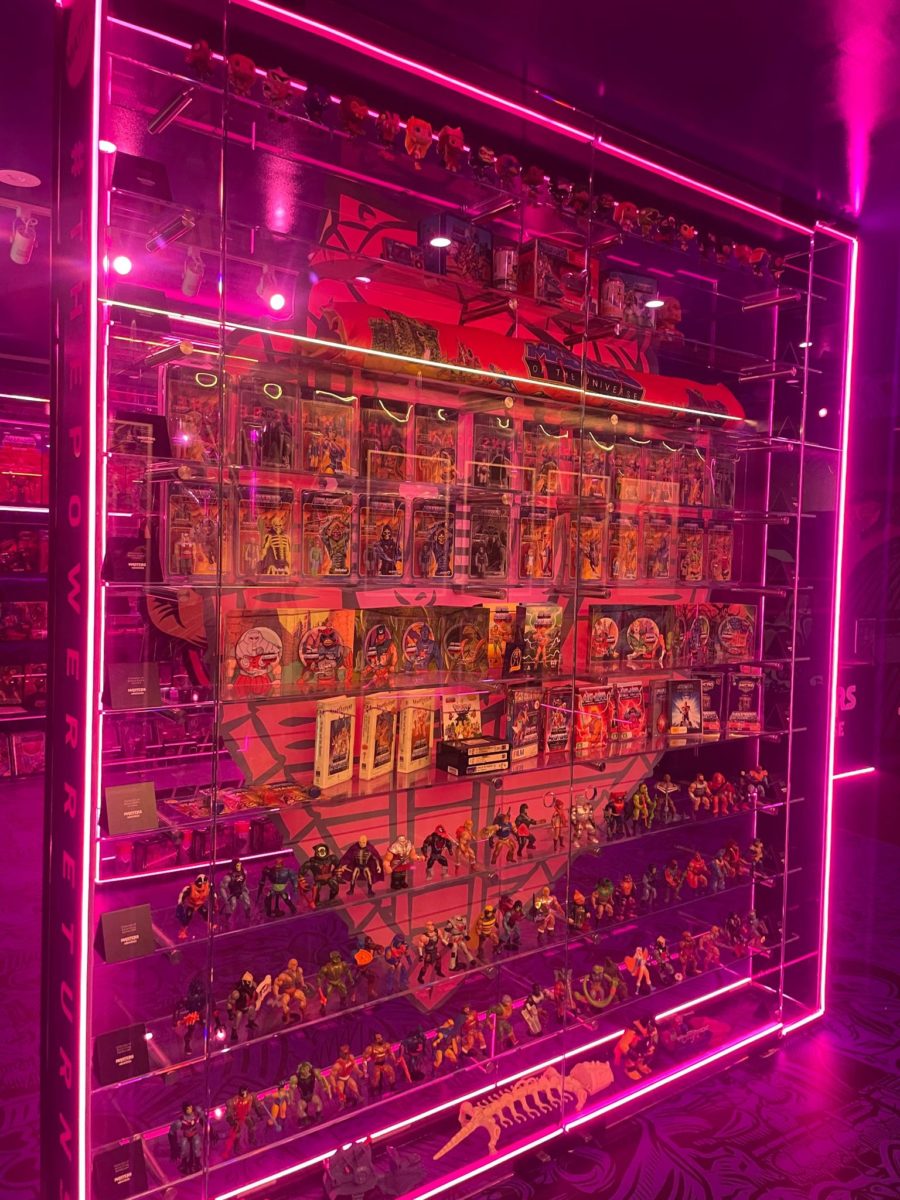 I have almost everything in this cabinet except for the videotapes, sleeping bag, the knock-off figures, lunch boxes, money box, some of the Super7 variants and the custom figure. I wish I had them all on display like this in my house. This display also includes what appears to be a Yugoslavian bootleg He-Man and Jet Sled.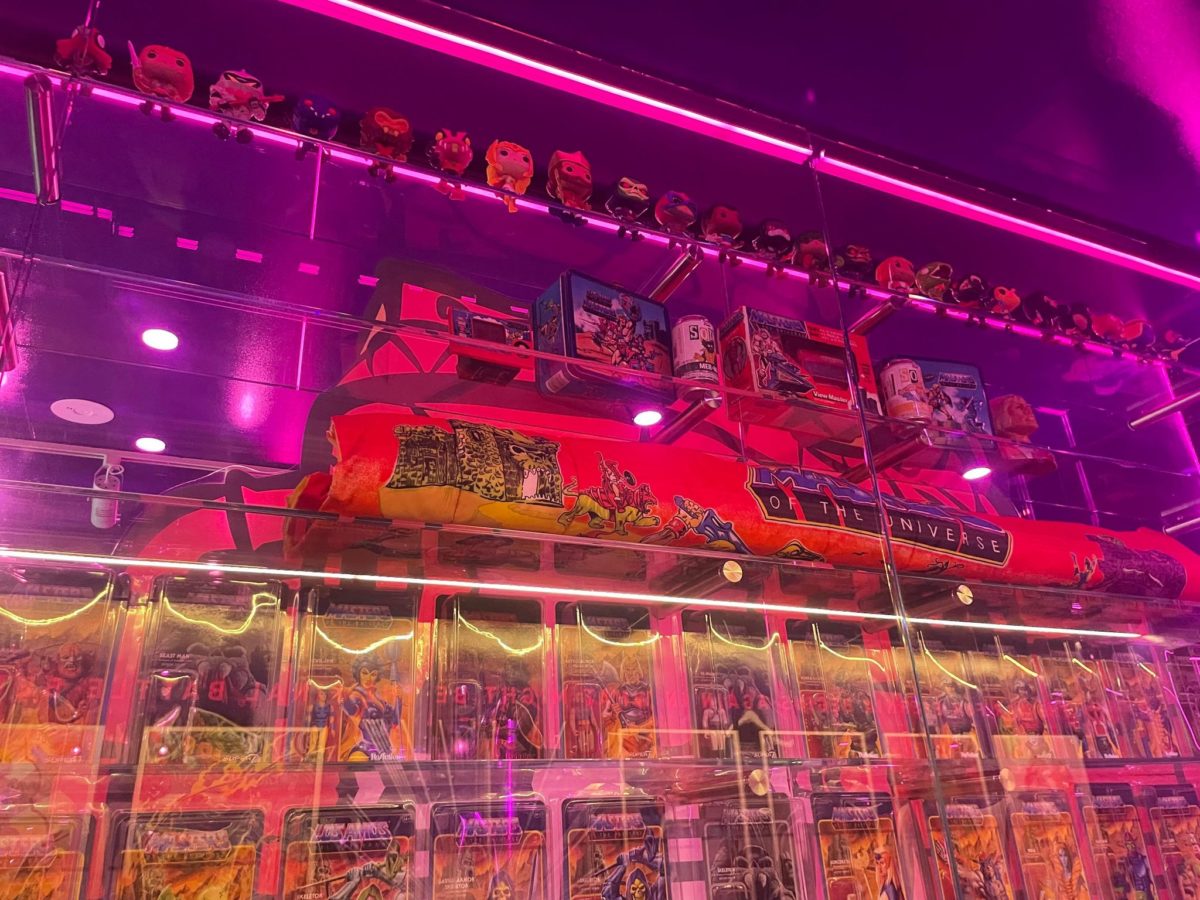 Here's the modern stuff, including the Super7 Re-Action figures which are 3 3/4 scale figures like vintage Star Wars figures. I have most of these but not all the colour variations.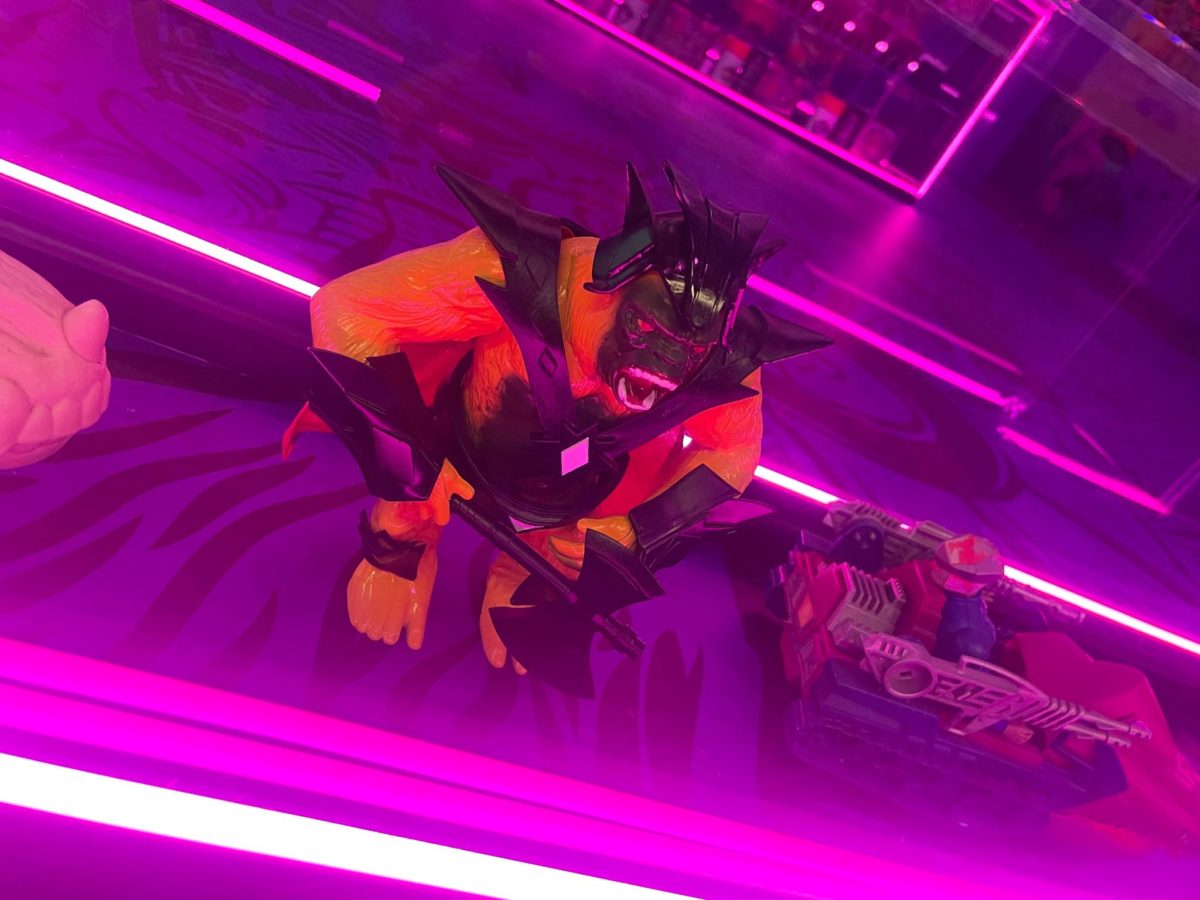 I'm going to assume this is a custom of the unreleased Gygor figure. If it were a real prototype, it would have a more dominant position.
Typical Tourist Photo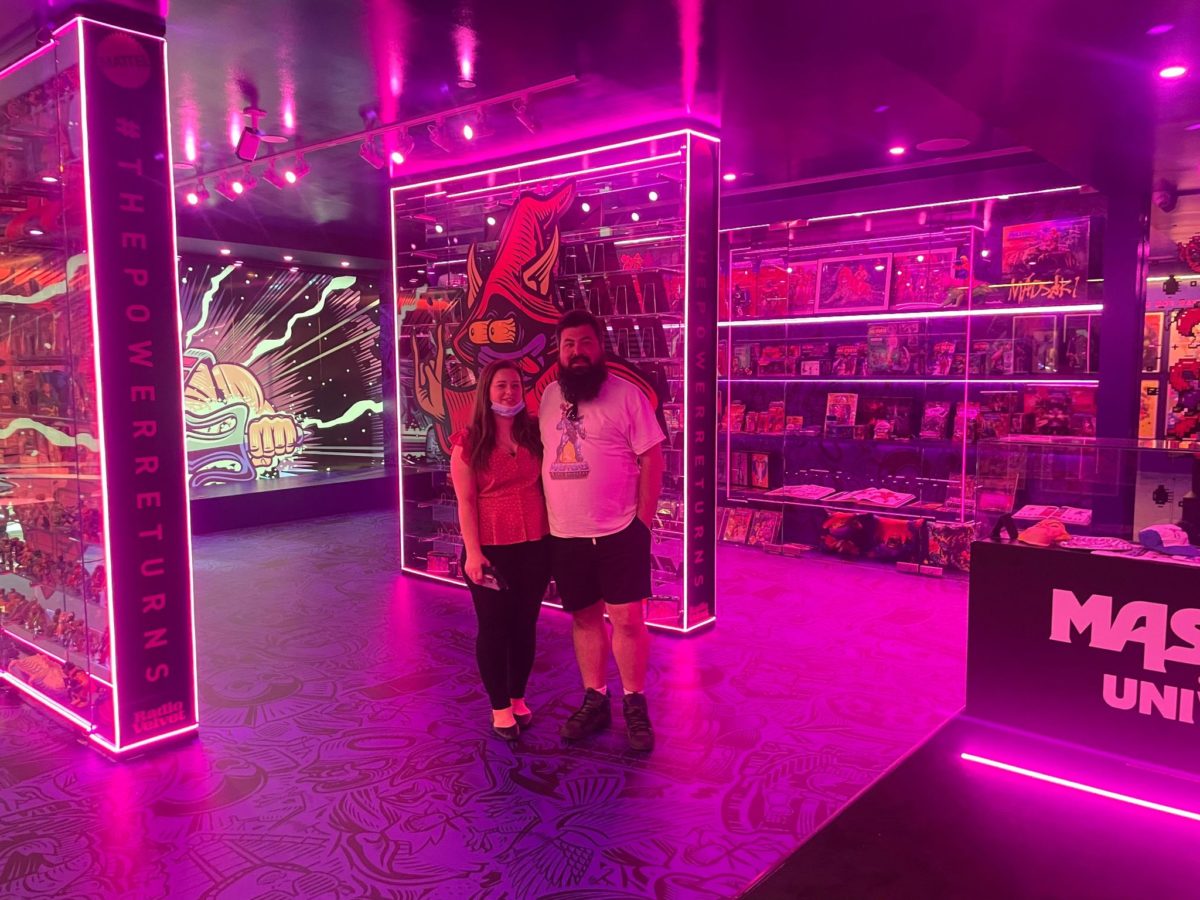 The nice lady working there saw we were both taking photos of everything so she asked if we wanted a photo together and said we could take off our masks. You can see some of their art cushions on the bottom shelf in the background.
Free Gift Bag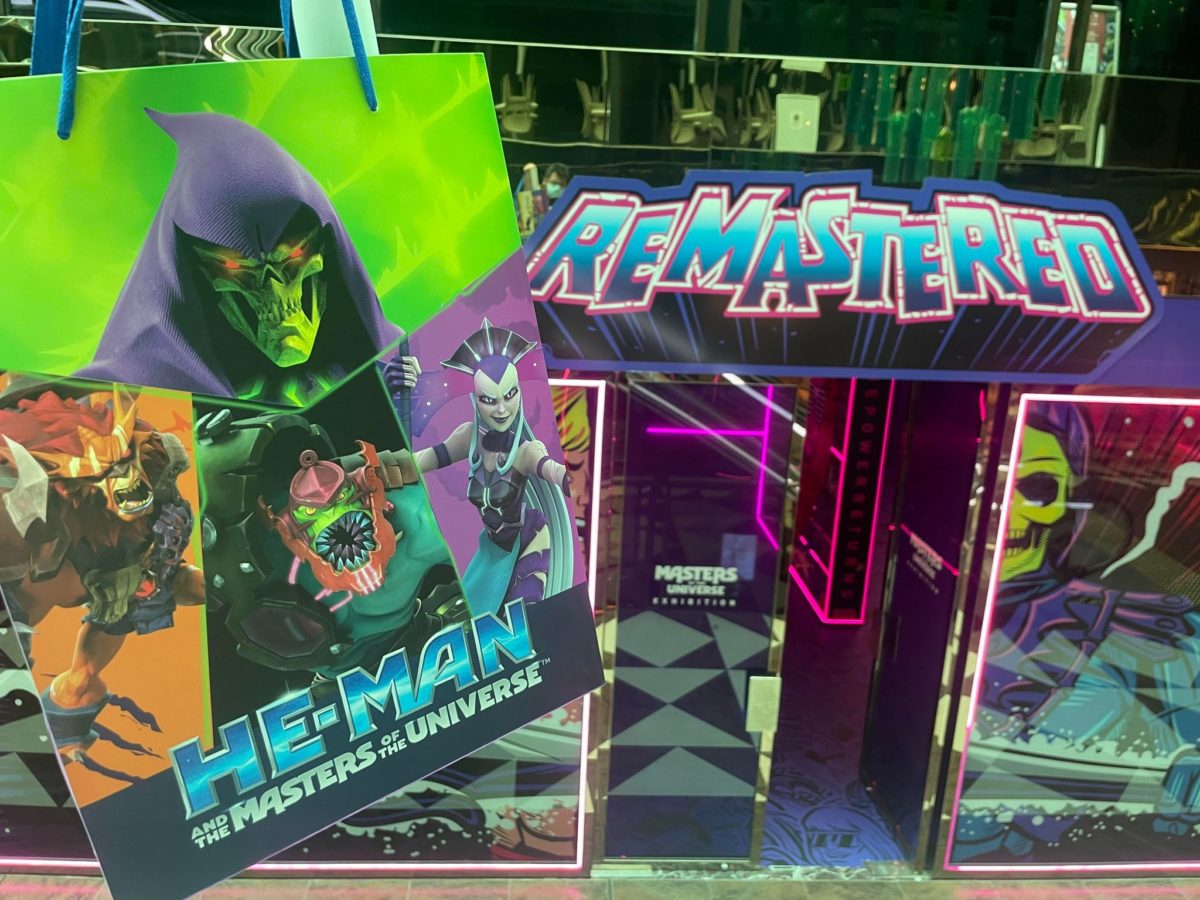 They were giving away free gift bags with purchase, it came with a poster and they also gave us a free size medium t-shirt for my girlfriend so we can both have Masters of the Universe shirts. I don't think everyone will get a free t-shirt, but as I was already wearing a Skeletor shirt and we spoke to her for a while, I think the lady could tell we were serious fans, so if you talk to the staff and make a large enough purchase, you might score one as well if they still have any left!
He-Man T-Shirt by Aaron Craig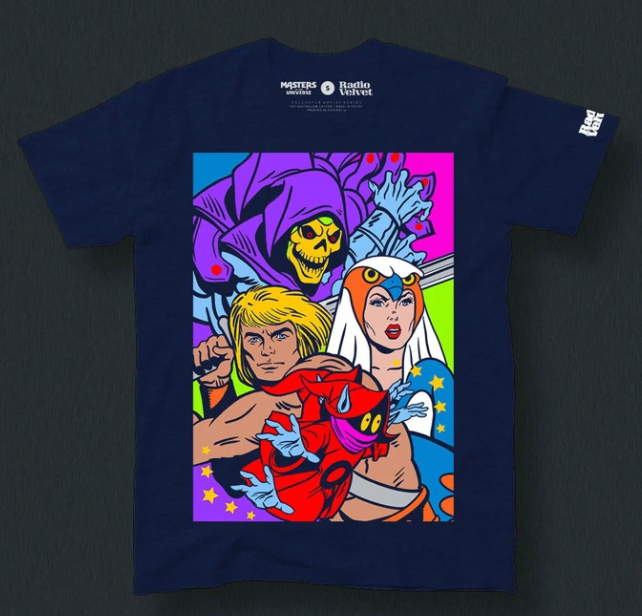 As they didn't have my size in stock, they are shipping me this one later. I'll probably update this picture later when I get mine.
He-Man / Masters of the Universe Revelation Pin Boxes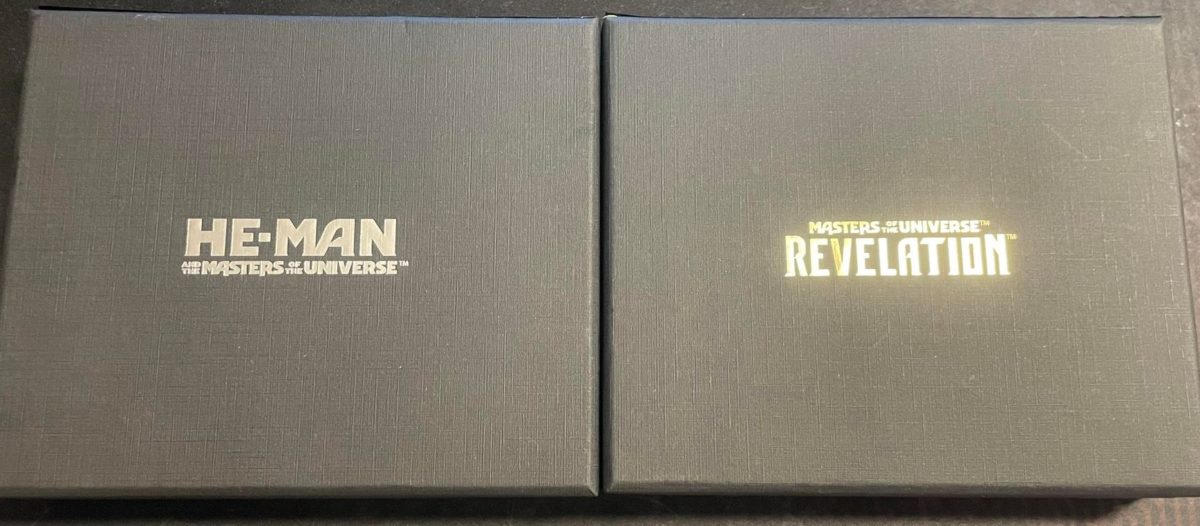 I'm not a big pin collector, but these officially licensed pin boxes were very cheap so I had to get them. There's a silver set for the CGI kids show and gold set for Kevin Smith's adults show.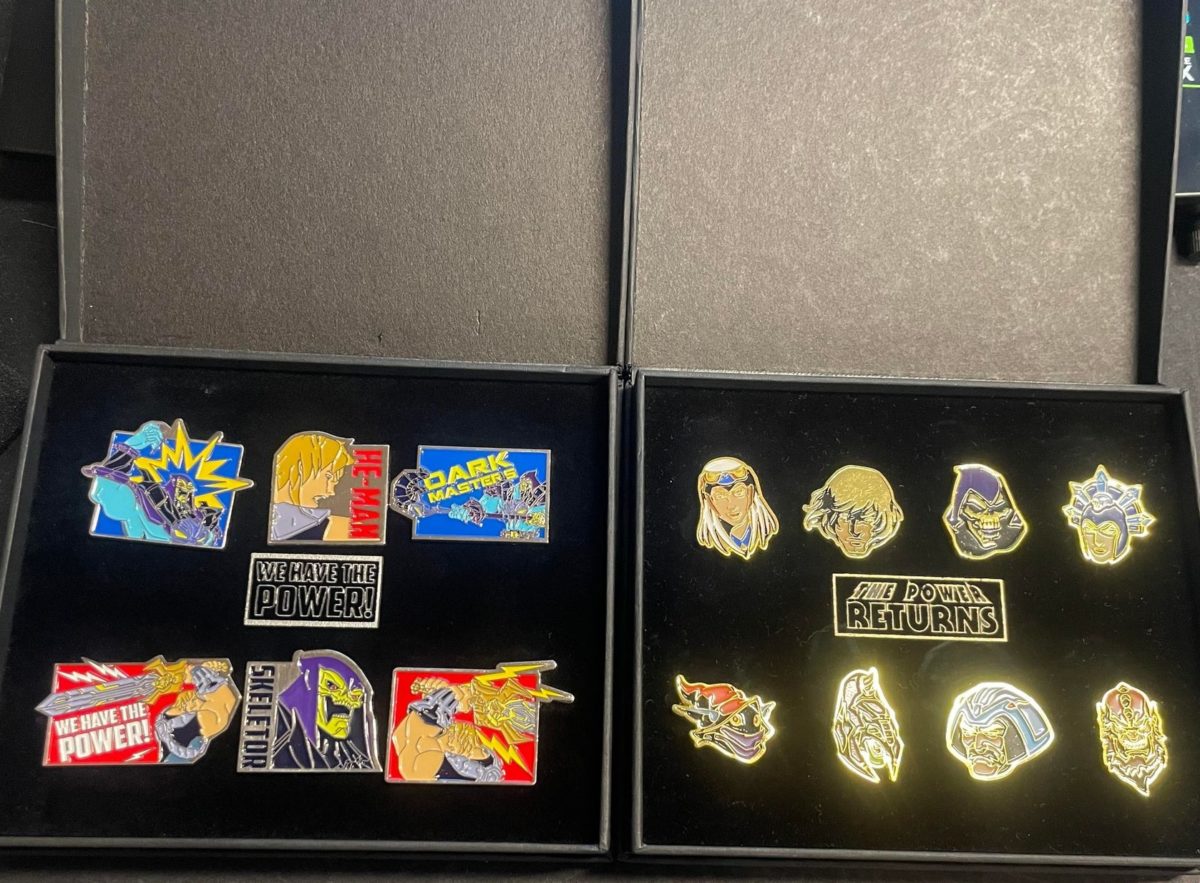 That's 6 and 8 pin sets for $15 AUD each. Often officially licensed pins seem to be $10+ each so this seemed too good to pass up. These include The Sorceress, He-Man, Skeletor, Evil-Lyn, Orko, Battle Cat, Man-At-Arms and Beast Man.
Masters of the Universe Revelation Tshirt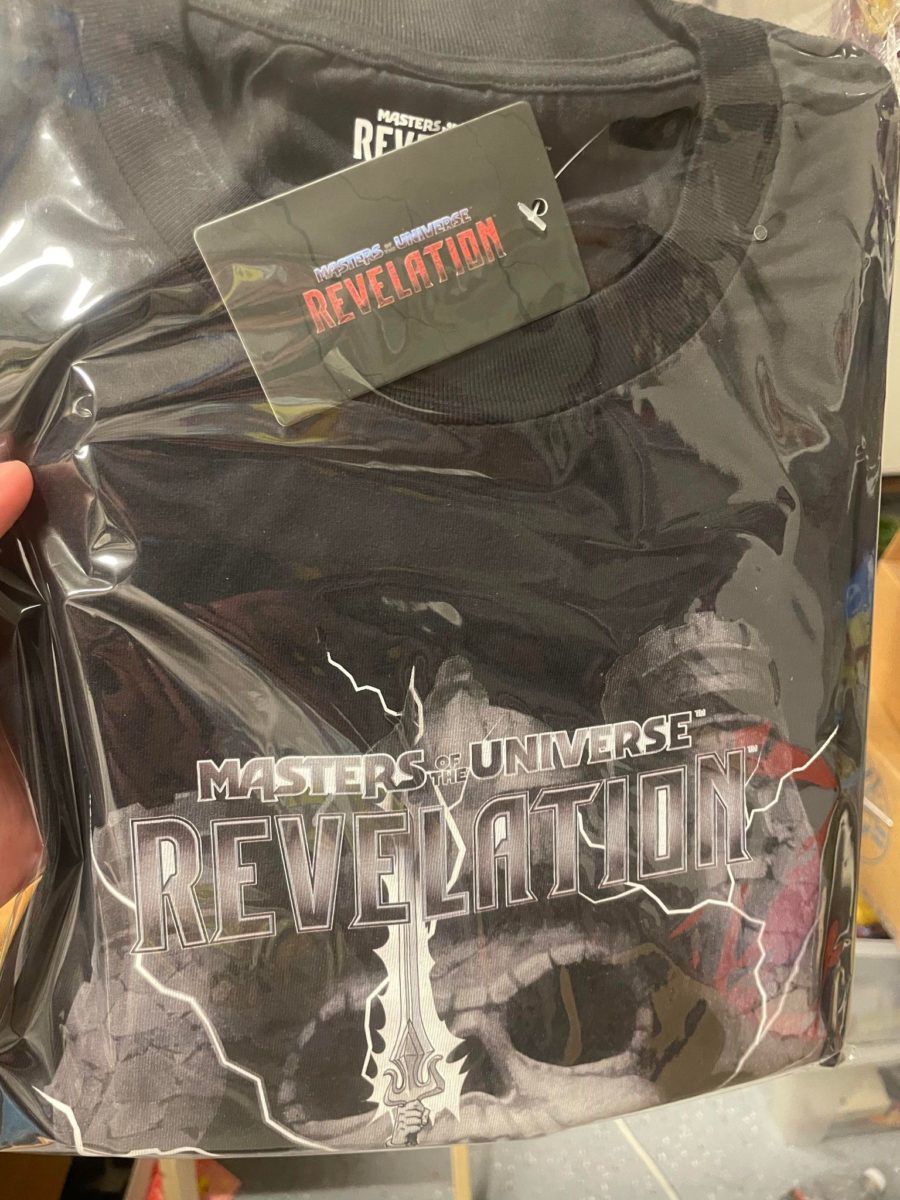 We haven't opened this yet.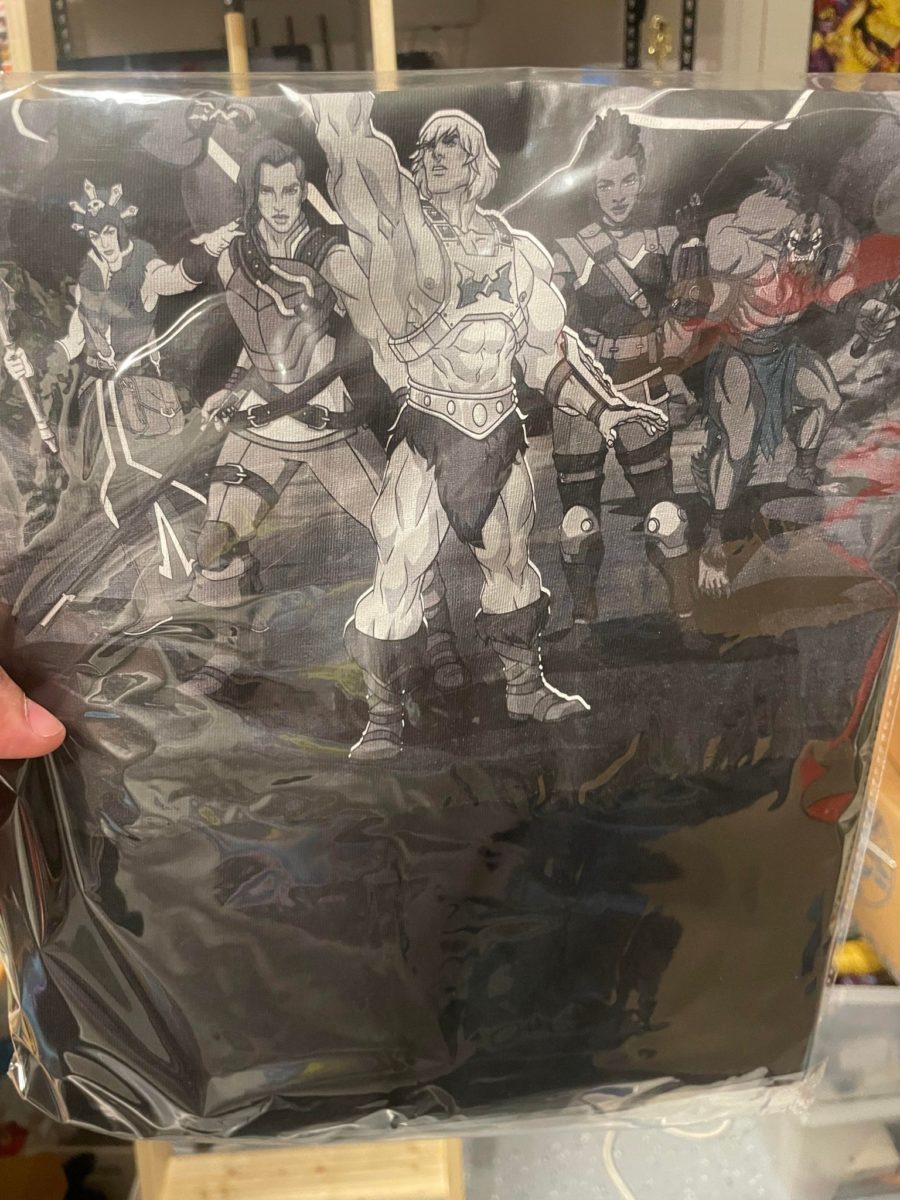 This features Evil-Lyn, Teela, He-Man, Andra and Beast Man in black and white. I can't believe that was free as I'd have bought one if they had them in my size. Maybe it's just a promo item only.
Free Skeletor Poster by Sofles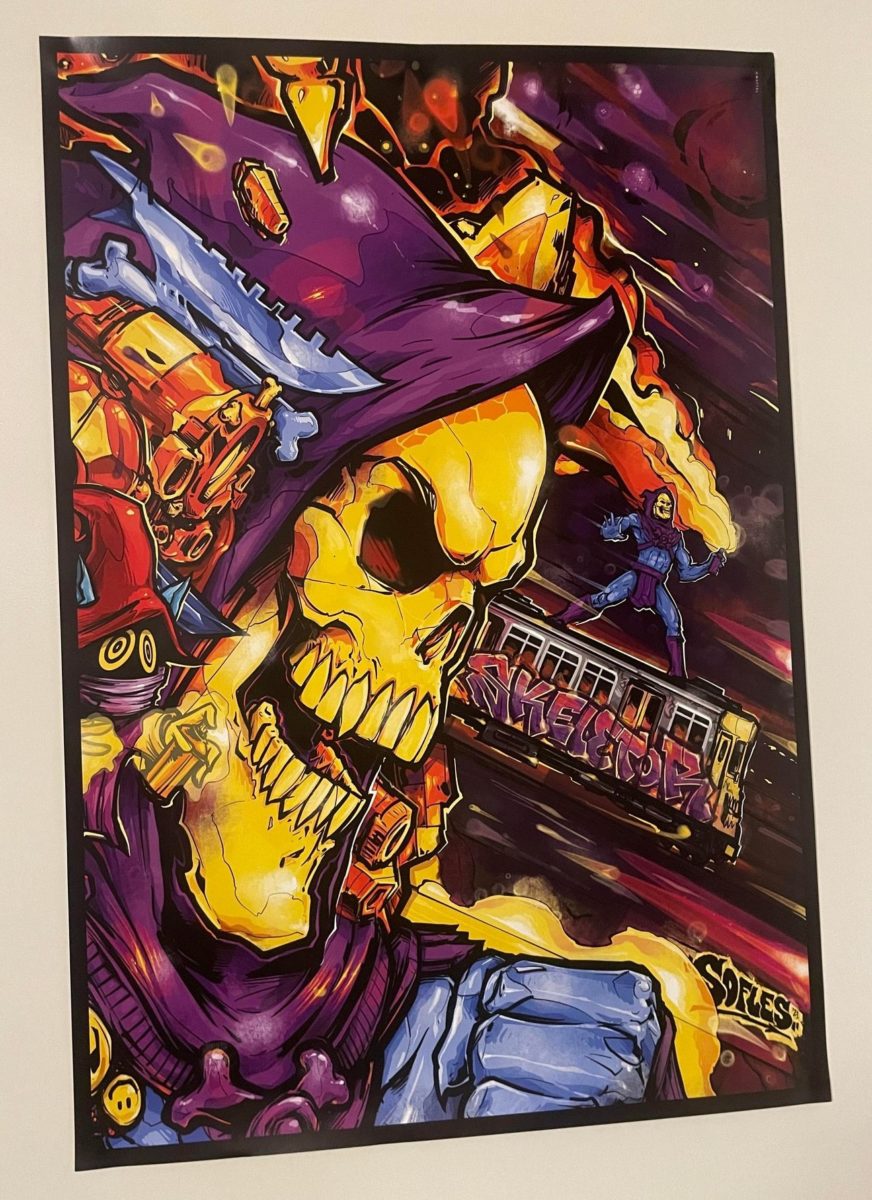 I also got this free poster by local artist Sofles with Skeletor surfing on a train or a tram. I've put this up behind the door in my garage/man cave.
Conclusion
This is a great free exhibition and must-attend for any Masters of the Universe or fans of Australian graffiti and tattoo style art. My partner who isn't the biggest Masters of the Universe fan was thoroughly impressed with it, it was far from the dirty old building she was expecting to see and I even busted her humming the Filmation show's theme song later on in the day.
Whilst they only have a small number of items for sale, keep checking back or visit again if you've already been like some of my friends who have already been didn't see the pins for sale and when they went there were stickers for sale instead. Maybe something else cool will become available next time?