As part of our grand luxury kitchen renovation, our semi-open plan merged ourkitchen and dining room, providing the perfect opportunity to fulfill one of my life goals – having a showpiece dining table. This was our journey experiencing disappointment in retail furniture stores, culminating in our huge satisfaction commissioning a custom-made dining table.
What We Wanted in a Dining Table
After a preliminary visit to furniture stores, we narrowed down our variables to the following.
Essential:
~8 feet/~2.4m long to comfortably seat 8 people.
Dark, brown wood, to match our walnut-look veneer kitchen island panels and other kitchen trims.
Grain running along the length of the table, rather than width-ways. We wanted to highlight the length of the table. Longer and thicker planks were preferred over thin ones, to communicate strength and premium.
One solid table. No center leaf. We hate the crumbs that gather in the leaf creases.
Legs that do not get in the way of chairs or knees.
No veneers! Our mango veneer coffee table, and various Ikea desks quickly developed obvious chips! We couldn't believe how many veneer tables sell for solid wood prices. Double-check!
A durable wood that can take some beating, unlike our existing soft Ikea dining table which dents with every minor knock.
Despite greater Seattle being a city of 4 million (comparable to Sydney), and being a shopping haven compared to most places, stores only had a handful of units that met most of our needs. We visited over a dozen showrooms, sometimes sitting down with salespeople to browse their wholesale catalogues, and spent hours looking online. Eventually, we saw what we wanted on Etsy, which nudged us closer and closer toward a custom built table.
Matching Dining Chairs First
We were exhausted. In the hope that choosing dining chairs first might help inform which table we would want, we swapped to choosing for chairs. Custom chairs were not realistically within our budget.
We wanted something that was
NOT mid-century
a dark brown wood to match the walnut more or less
soft to sit on
Within a few hours of online research, we had a short shortlist, with the Crate & Barrel Thalia chair being our perfect chair. We were in love. With that in our minds, though reeling at the $440 price (incl 10% sales tax), we set off to furniture showrooms in search of cheaper alternatives, only to quickly learn that the $400+ price point is standard for solid wood chairs. So the Thalia it was.
At $3520USD for 8 chairs, we found it worthwhile to get the C&B credit card just for this purchase, and parter it with a coupon, for a total of 15% off. Saving $528 was not too shabby, so be sure to explore your credit card, coupon and military discount (or similar) options, whatever you buy.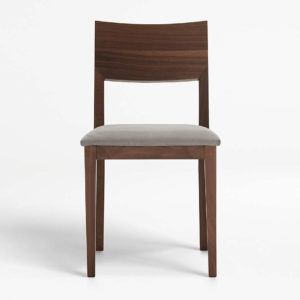 Getting Custom Dining Table
We sent our kitchen designer (and sometimes marriage counselor – I joke) Shoshi (Website, Houzz, Instagram), our requirements (above) and a pinterest board of what we liked. Considering our dissatisfaction with retail products, we decided to pay more for a custom table. After all, we were already liking the portfolios of solo Etsy woodworkers who were based in Europe (cheap, but expensive and difficult to ship), Canada (also cheaper), or the US (both local and interstate), and were considering buying or slightly customizing one of their dining tables. Instead, Shoshi took our design feedback, turned them into practical design notes for a local Seattle woodworker Jack Cerchiara of Salish Sea Woodworks (Website, Instagram), did some back and forth with him on our behalf, and came up with a unique ground-up design met our requirements and design preferences perfectly. Yes, you can also work with your woodworker directly, but having a designer translate your gallery of likes and dislikes into a design for you really takes the pressure off, and our love of the final design speaks for itself.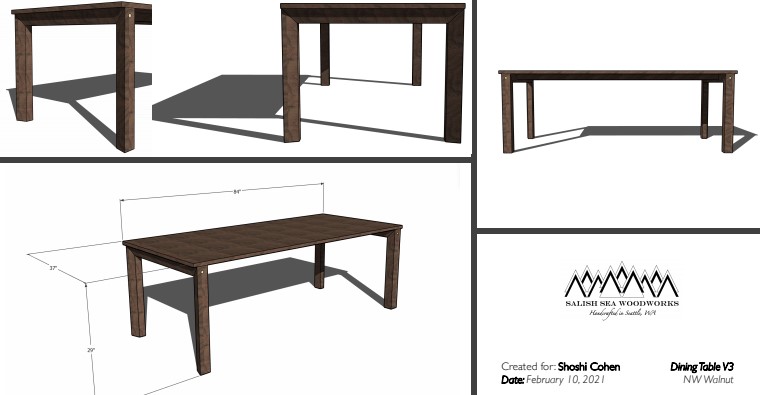 Buying Local Custom Furniture Means Quality, Sustainability, and No Hassles
Can I Trust Furniture Stores?
You might think that spending large amounts of money will result in a high quality, durable product, and while particularly cheap products are made from softer woods, when it came to dining tables, we were shocked at how in the mid and high range, cheaper woods, and even worse, veneer products were going for many thousands of dollars. This was true for both showroom and online stores, and they get away with these extra-high margins as a result of consumer ignorance. Furthermore, big-name brands like Ikea and Dania and more keep getting caught buying unsustainably sourced wood, often made in Eastern Europe and Asia, as covered in the excellent furniture episode of Netflix's 2019 Broken.
Should I Buy Local and Independent?
Local small businesses are Incentivized to deliver quality products and services. As a rule, small businesses need to leave their clients extremely satisfied. Even businesses that are unlikely to make repeat sales to a customer are reliant on word-of-mouth referrals and online reviews.
Visitation. We were able to buy one of the dining chairs from C&B for Jack to match the wood grain and finish. Being local, Jack could pick it up himself, see the space the table is going into, and confirm the delivery crew would be able to deliver the unit up our stairs and through doors without disassembly. A distant independent woodworker would not have these opportunities.
Sourcing & sustainability. Jack sources his walnut not only from ethically and sustainably grown forests, but also locally, just 300 kilometers/200 miles away in Oregon, further reducing the cost and carbon footprint.
Maintenance and advice. By pure coincidence, our wooden cutting boards were sitting out as they were being oiled as Jack visited, prompting me to ask about the oiling he does (a penetrative, hardening wax) and any maintenance I should perform (yearly oiling). At this price and effort level, we want our dining centerpiece to look amazing for years to come. Knowing we had a kid on the way, Jack mentioned that he can sand down and refinish the table once our kids are old enough to stop damaging it, should they have done so.
Supporting small and local. As nice as it can be working with salespeople, there's a special joy in having a relationship with a local independent business, and in referring others to it.

Small details like how the diagonal join on the table leg matche the chair backrest join though a small touch, such a match would never have been possible with a retail purchased product.
An Innovative Marketing Experience for the Customer
When you work for or run a small business, you need to do a little bit of everything, and yet craftspeople frequently focus on their work and let marketing slide. Not in this case. At Salish Sea Woodworks, woodworking is the passion, but he's hit on a brilliant marketing tactic with his frequent stories on his Instagram throughout his workday, where he publishes precisely what he's doing there and then. I cannot begin to tell you how awesome it is as a customer to be able to watch a recently posted video of my hand-crafted item being manufactured, piece by piece. Companies work hard to connect with their customers as much as possible, so much so that some car ads are targeted at people who recently bought that model, in order to move their satisfaction level from merely satisfied, to full-blown evangelist and advocate to their friends, in order to drive word of mouth sales. (With buyer's remorse on the other end of that spectrum). While Jack's videos are unlikely to go truly viral, they're instantly sharable with friends.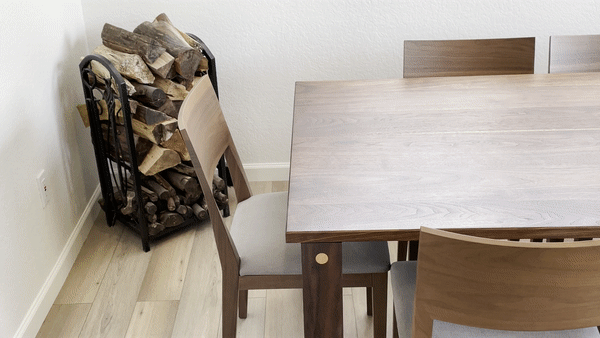 The Final Product
Despite massive scope creep and cost blowouts for our renovation, the few items I fell in love with are the real standouts in both my experience and memory. My large fridge, elegant pendant lights, beatuful dining chairs and dining table, while long decisions to make, help to make up for the massive life disruption, and few items I feel buyer's remorse over. In short, consider custom furniture if you're unable to find what you want already on the market, especially if it is a centerpiece item. It will be one of the something that brings you joy, and may last a century or more.
Full Interview About Woodworking and Running a Small Business
I interviewed Jack about what he wants consumers to know when buying or comissioning a piece of furniture, as well as how he markets his business. You can check out the full 1 hour interview and read the transcript over at goodbadmarketing.com soon.