For most houses to run efficiently, electricity should be available to avoid bringing everything to a stop. Without electricity in a household, the internet, electrical appliances, electronics, and much more won't work, making it challenging to adjust.
In case of a power outage, you'll need a skilled electrician who'd know what to do for power to go back up. These professionals will restore energy and troubleshoot electrical issues, offer inspection of electronics, install wiring, and rewire pieces of equipment.
Do-it-yourself (DIY) projects around the house may be a way for you to save a couple of bucks, especially when it involves repairs. However, steer clear of experimenting with electricity to avoid getting injured seriously or even turn the electrical maintenance into a more costly mistake.
Qualification
Electricians should provide proof of qualification that shows their comprehensive understanding of installing, repairing, and maintaining electrical pieces of equipment, studying the technical diagram, and identifying any problems.
Electricians also have technological and problem-solving skills as they've completed a coursework and apprenticeship program. It'll prove that they can repair, install, and maintain electrical work and let the professional take over.
However, before choosing an electrician from the electrician Northern Beaches and others, decide what skill level you want such as a journeyman or master electrician bonded, licensed, and insured. You can go a step further and opt for an electrician with a certification that reflects the standard of work they can achieve.
Safety
Electricity is a dangerous hazard, especially for an unqualified person who performs improper electrical work. Wiring issues such as faulty appliances cause 40% of house fires that most people would have avoided if a licensed electrician had inspected and fixed wiring issues.
You may be a fan of doing it yourself, but you're making your insurance policy void, which means in case of a fire or accident that destroys property due to your repair, your insurance company won't refund you.
Unlicensed repairs also put your entire household, tenants, and yourself at risk of injuries or even death. You'll also be putting yourself at risk of electric shock, burns, and explosions that may result in property damage by fire.
A qualified electrician will use personal protective equipment (PPE) to keep them safe from electrocution, burns, or overloaded circuits that may cause a fire. They also adhere to risk assessments that are an essential part of safe practices.
Professionals understand the basic safety precautions that keep them safe, including avoiding contact with overhead power lines and keeping electricals from touching the water.
Cuts On Costs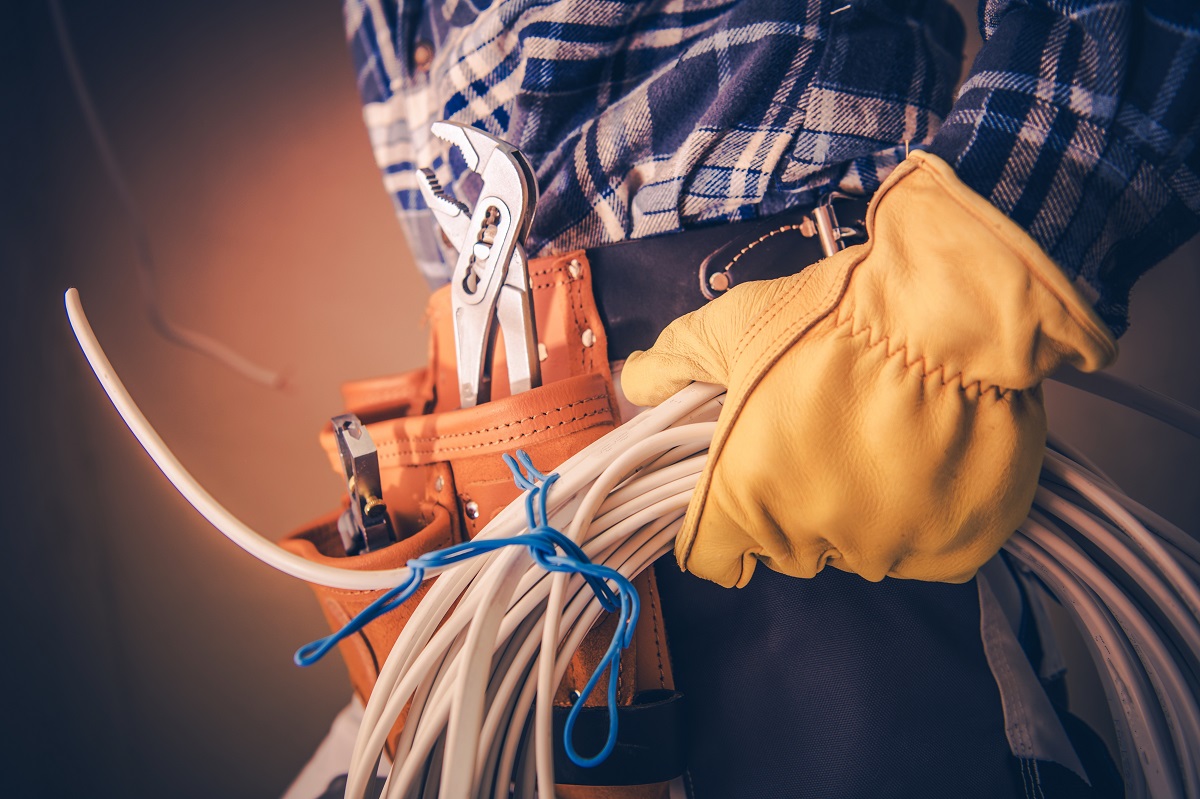 Most DIY attempts on electrical work may end up costing you more due to blunders that'll need a qualified electrician to fix. And electricians tend to be expensive for a good reason as they get the job done the first time. However, you can still cut costs by getting a licensed electrician known for great work. Before letting your electrician get to work, ask for a fixed price quote to avoid any hidden fees that may be costly.
Stay away from inexperienced electricians who may charge less hourly as they stretch out the work long enough, and you end up paying more in the long run. Qualified electricians work faster and more efficiently, leading to fewer costs that help you save.
Getting an electrician to address problems before the situation worsens will cost less than the repairs needed once you get a problem. Getting a good warranty will reassure you of not having any issues arising. Take a chance and spend time preparing for the job to avoid the electrician charging you more for the initial preparation; a realistic budget will cover electrical work in every money-saving scheme.
If the electrician you wanted to work on your electrical job has a higher quote that's out of your budget, consider asking for his suggestions on modifications.
Do-It-Yourself May Be Illegal
Depending on where you are, the legality of electrical work done by oneself varies. And although performing your electrical work isn't advisable, you can check with your permit office and find out the rules on electrical work.
Basic electrical repairs such as plugging in appliances and changing a light bulb are legal. However, replacing a plug, repairing electrical appliances, and having proper lighting are considered illegal with profound risk potentials.
Licensed electricians are the only professionals licensed by The Electricity Act and Regulations Bills to perform any electrical jobs. Failure to follow this bill may lead to prosecution and substantial money in fines.
You'll also need to comply with part of the building regulations if you want to install new electrical work on your own. These regulations need to be conducted by registered electricians. Do-it-yourself electrical work is also considered illegal due to the dangers it poses, including electrical shocks that happen after touching the wrong wires together.
Most DIY projects offer a trial-and-error technique due to the probability of making faulty wiring that becomes a time bomb.
Saves Time
Shoddily done electrical work may produce long-term hazards in your place. By performing your repairs, you risk the chance of creating a more significant problem that may take a long time to fix. Additionally, when you schedule maintenance, you'll reduce the time an electrician will spend fixing a problem caused by negligence. When not addressed, a small problem may grow more extensive in most cases.
When qualified electricians decide to work on your appliances, it'll minimize interruptions and eliminate energy waste equipment that'll run effectively. Quality electrical work will save the time used in constant repairs.
Bottom Line
In conclusion, perform a deep search on the type of electrician you'll need. Start by asking for a license and check for its validity online as confirmation. Ensure that the commission doesn't carry any restrictions.
And if your budget allows, work with an electrician with the highest quality of work. Get an electrician who specializes in the field you want to get repairs done. Ask for recommendations from people you trust the most. Consider the ideas mentioned here as you plan and prepare.