A pest-free home is every homeowner's goal. You can be stressed-free and secure when your house is free from harmful insects and rodents. However, driving the critters away is not an easy task.
Keeping pests out can be tricky. One day they're gone, and the next day you'll see them munching in the bin or crawling in dark corners again. But don't worry because there's a solution to keeping your house pest-free.
Here's a simple guide on how to manage pests around the home.
1. Hire Pest Control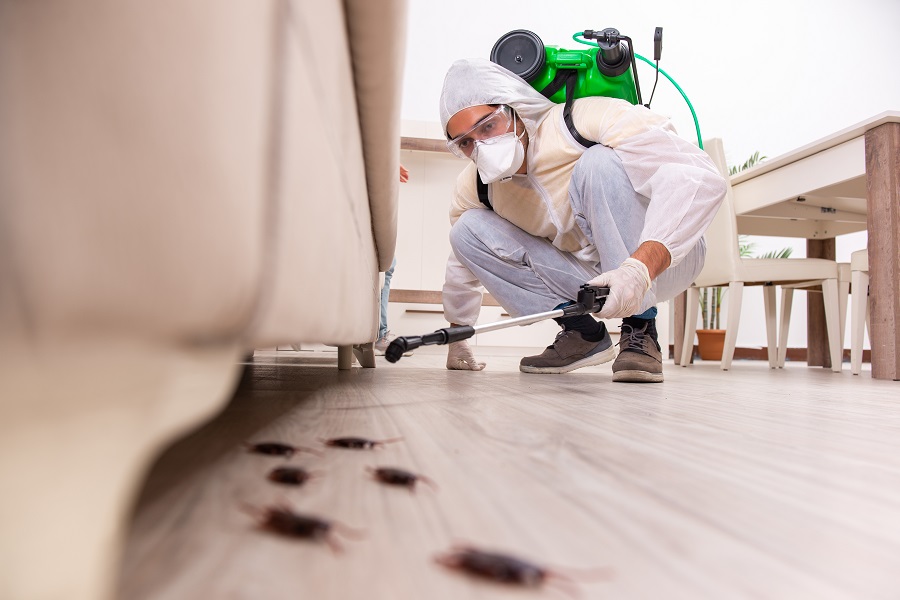 Some houses having recurring pests are usually experiencing a severe infestation. This issue usually occurs in older and poorly-maintained properties. If this is the case, hiring pest control is the best solution.
One type of pest that needs immediate action is termites. They feed on wood and common household items like paper, cardboard, and cotton cloth. They can destroy your home structure and some wooden furniture when left out of control.
Seeing early signs of pest infestation in your home isn't something you can ignore. If you're residing in Queensland, you may reach out to Pest Ex Pest Control in Brisbane and other trusted pest control services near you.
2. Handle Food Waste Securely
One common cause of pest infestation in homes is poor handling of food scraps and other biodegradable waste. Once they find holes and gaps to crawl in, they'll have easy access to your trash bins.
Managing food waste is one step to keeping pests at bay. If you have compost in your backyard, ensure it's fully covered to avoid attracting rats and flies. For bins inside the home, choose those with a properly sealed cover.
On the other hand, washing recyclables like cans and bottles before throwing them into the bin is ideal. This way, you can get rid of foul smells and prevent attracting rodents.
3. Keep Your House And Yard Clean
Keeping your house clean is a strong defence against pests. It includes proper waste management and regular home and yard cleaning to prevent critters from coming in.
When doing general home cleaning, start with the dark and moist areas. These corners are common hideouts of cockroaches and rats. Then, remove all the cobwebs around the house, especially in the attic.
Every homeowner should do general cleaning at least once a week. Then, you may hire deep cleaning services quarterly or annually, depending on your needs.
Another tip is to dispose of all items you no longer use. Suppose your stockroom is full of broken appliances, furniture, gears, and miscellaneous items. In that case, it's time to sort them out and decide which ones to throw out.
Furthermore, regularly vacuuming mattresses and couches are imperative to keep you safe from bedbugs. However, call pest control to get your entire house treated once you notice early signs of infestation, like having itchy red spots on your skin.
4. Seal Holes And Cracks
Pests come into your house through holes and cracks. These gaps in the walls and vents are often too small to notice. No matter how often you clean the home, you'll see that some small insects and even rodents can get in.
Repairing the gaps around the house is an effective way to keep even the tiniest pests outside. To fill in small cracks, you may use a silicon-based sealant. For larger ones, you may use expanding insulation foam. However, it would be best to hire an expert when repairing larger holes around the house, as they can be a sign of structural damage.
Another common space pests use to enter the house is the dryer vents in your laundry. To prevent insects from coming in, you install a piece of wire mesh around the hole.
5. Keep Kitchen And Bathroom Dry
Moist spaces can be a breeding ground for insects like mosquitos and cockroaches. To prevent infestation within your home, keep all the rooms dry, especially the kitchen and bathroom.
The kitchen is one of the pests' favourite areas to scour. Once they find an opportunity to crawl in, they can live and breed in one of your kitchen cabinets. To prevent this, always keep the area dry. Check your sink and dishwasher for leaks, and wipe off any liquid poured on counters and kitchen floor.
For bathrooms, an exhaust fan is a great solution. It keeps moisture out of the house to dry the bathroom when not in use. However, you need to inspect if its power is enough. Try cleaning the vent first if you notice that the walls don't dry out. Regular bathroom cleaning is also highly recommended.
6. Install Light Traps On Dark Corners
Aside from damp areas near pipes, dark corners are the common breeding ground of termites and cockroaches. The areas with stored books, clothes, and items made of wood are common hideouts.
Keeping your house well-lit is an excellent way to drive away pests like roaches and scorpions that may crawl around your garden. However, light can attract insects like moths, flies, and mosquitos. You can drive away specific pests while attracting and trapping other species by installing light traps.
7. Use Safe Pest Repellents
Market-bought pest and insect repellent sprays are often harmful to health. Although some may be labelled as safe, they may still cause allergic reactions for certain people.
As a solution, you can create your insect repellent at home. The following are some kitchen items you can use to drive pests away.
If you love coffee, some critters hate its smell. Aside from being good fertilizers for your garden, coffee grounds can repel ants, mosquitos, and wasps. You may place them in particular areas around the house.
Another organic solution to repelling mosquitos and flies out of your home is orange peels. You may soak them in water and microwave them for about three minutes. After cooling it down, you may use the solution as a surface cleaner.
Vinegar is another common household item used for cleaning and driving away ants, mosquitos, and fruit flies. Pour vinegar into an easy-to-use spray bottle and use it in areas with small cracks and holes. You may also use it to remove foul smells around the house.
Bay leaves are a common cooking ingredient for their aroma. However, some pests hate its scent. You may stick some bay leaves in your cupboards and cabinets to repel mice, roaches, mosquitoes, and flies.
Conclusion
Managing pests around your home is a tedious task, but it's not impossible. With simple tips, you can keep your house clean, safe, and pest-free.