How essential is natural gas for you and your home? Are you using it for cooking? Or to warm your place during the frigid months of June to August? Whether it would supply your needs or not, natural gas will always be essential to your home.
However, you should not simply let it alone once finished setting it. Natural gas is beyond dangerous when left unsupervised. Additionally, this is a common problem for most homeowners, and because of this, many damages and accidents may occur, such as explosions, gas leakage, toxic air quality, and more.
If you have current problems regarding your gas pipes, don't wait for a miracle to happen and ask Plumber Northern Beaches or any plumbing service near you to solve your problem.
Furthermore, here is the guide about everything you need to know about gas pipes, including the types, cost, how deep they should be.
What Is Gas Piping System?
The gas piping system carries the natural gas supply from the primary source to your equipment, such as the heating system. The entire system is along with different branch lines connected to your appliances.
How Much Does It Cost To Move Gas Pipes?
Depending on the severity of your case, the essential cost of moving the gas piping system can range from AUD$100 to AUD$150 per hourly rate. For complex projects, gas pipe moving can go up to AUD$2000.
These are the factors that constitute the plumbing costs:
Materials
Workforce
Council fees
Structural engineer report
Buffers or extra charges for sudden and unexpected job
Since gas pipe moving can be expensive, it would be best to plan it carefully with the experts that can help you save more money and prevent further damages.
What Are The Colour Of The Gas Pipes?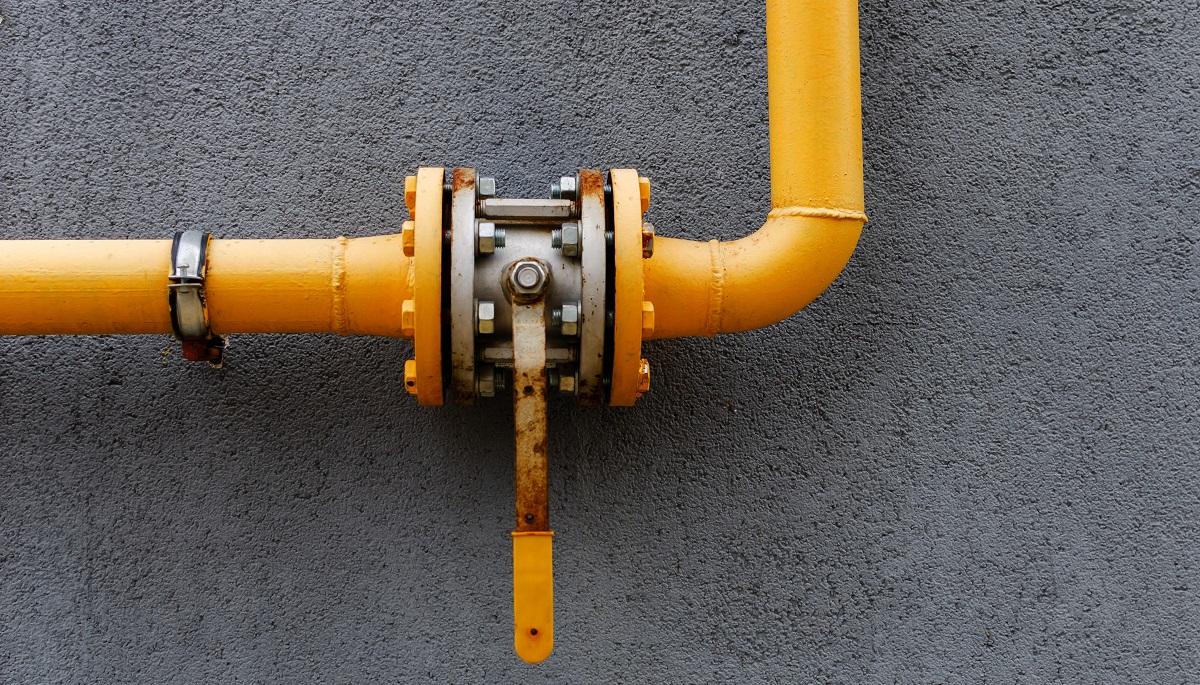 Usually, the colour of gas pipes in Australia for both surface and underground can be yellow or black.
Where Do Gas Pipes Run In The House?
Gas piping systems can be found underground and within your walls, where they can easily connect to your equipment, especially your furnaces. Additionally, the gas piping system uses pressure to make it flow in a highway-like system, which may run from the primary source (can be underground) to your equipment.
What Are The Types Of Pipes Used For Natural Gas?
There are different types of gas pipes you may consider, such as:
Copper Pipes
These pipes are made from 90 to 100 per cent pure copper and can be annealed or drawn in forms. Furthermore, it can withstand extreme heat and is malleable of which perhaps easily fit in any area. Also, copper pipes are rust-free, so you don't have to worry about rust issues.
However, copper pipes may corrode when they encounter other gases, such as carbon dioxide, sulphur dioxide, or hydrogen sulphide.
Black Iron Pipes
It is the most common pipe used in both interior and exterior gas pipelines. Additionally, black iron has good resistance to heat, excellent durability, and the ability to create an airtight seal.
However, black iron may deteriorate over time, and the sealant may lose its ability and deteriorate. In addition, if your home uses black iron pipes, you may call a professional plumber to check and maintain your pipelines properly.
Polyvinyl Chloride (PVC) Pipes
This type of pipe is ideal for underground use since it's more durable and has excellent corrosion resistance. Also, PVC pipe is a cheaper solution for those who need maintenance but lack additional funding. However, these pipes may break during installation, so ask your provider first about this before you decide.
How Deep Should Your Gas Pipes Be Buried?
In Australia, the average depth of gas pipes ranges from 200 millimetres to 600 millimetres. However, the depth may vary depending upon your builder's plan and access point. Additionally, gas pipe depth may vary depending on which country you're currently living in.
For example, the average depth of gas pipes in the United Kingdom ranges from 375 millimetres to 700 millimetres, and for the US minimum requirement of 500 millimetres should be followed.
How To Find Your Gas Pipes?
If you're not the original owner of the house or if you bought it from someone, you might not know where your gas pipes are based. Usually, gas pipes are located within your walls and beneath the surface, and here is what you can do to find them.
Locating Gas Pipes Underground
The first thing you need to do is find where your gas meter is located. From there, you'll be able to determine the gas pipe between the prime and gas meter. Then, you'll be able to see the underground pipeline and other lines it is servicing.
Locating Gas Pipes Within Your Walls
Similar to underground gas pipes, you need to locate the gas meter first. From there, you may follow the pipelines. However, if there's a need to drill a hole in the wall, be careful not to drill the pipes as much as possible. As stated before, gas is extremely dangerous and may cause an explosion.
However, even if you follow these steps, it's still risky to locate them yourself. The best course of action is to call a professional or use a detector to simplify the job.
How To Test For Gas Leaks?
If you suspect your gas pipes have leaks, the first thing you need to do is to close the main gas line. After that, you may call a professional plumber to check your conduit. Gas leaks are highly alarming, so don't do anything and let the plumber take care of them.
Then again, if it needs fixing, you may contact a professional and let them handle it. This way, you are sure that it will get repaired appropriately and unwanted situations, such as explosions, will be prevented.
How Long Do Gas Pipes Last?
Depending on which type you use, the average lifespan of gas pipes may range from 30 to 75 years. If you're looking for a pipeline with a lengthy lifespan, you should check black iron pipes as they can last up to 75 years, depending on your usage.
Can You Paint Your Gas Pipes?
Yes, you can paint your gas pipes. By applying different colours to your pipelines, you'll be able to distinguish them properly, especially if some lines are similar and close to each other. Here are the things you need to do:
The first thing you need to do is prepare the things you need, including the paint.
The next thing you need to do is select the coat for your pipes.
The last thing to do is apply the paint with a paint sprayer or the conventional paint gun.
Even if the steps to paint is simple, you may want to ask a professional about this, especially when you're not sure if you're doing it the right way or not.
Can Rats Eat Through Gas Pipes?
Unfortunately, yes, they can, so make sure that you have regular pest control to inhibit pest activities, especially rodents, in your home, especially in hard-to-reach areas. Also, these little rodents are considered a threat to gas pipes as they can produce leaks that may not be noticed efficiently and may result in an explosion.
Final Words
Now, that's a comprehensive guide. After reading this, you may think you're prepared enough to take on the risks and maintain your gas pipes. However, experts do not recommend working and fixing problems on your own. As previously stated, natural gas is a very hazardous chemical to handle. Not only can they cause poor air quality, but they can also cause explosions, which could be fatal or may cause severe injuries.
That's why if you suspect any damages within your gas lines, the best thing to do is turn the meter off and call for professional help to address the issues appropriately.