As inner-city land becomes scarcer and less affordable, many enterprising landowners are opting to access capital in their properties by selling off pieces of their unused house block. This has the dual benefit of providing quick cash flow for the seller, and an affordable building block for prospective buyers.
For many of these subdivisions, the retention of street frontage for both homeowners can result in substantially narrowed blocks. Fortunately, this needn't be a deal-breaker. If you've found a bargain block exactly where you want to live but are wondering if it's just too narrow to build a stunning home on – then you've come to the right place…
Narrow house designs are possible, some requiring as little as a 7-metre frontage, have been designed to maximise on the size, space and light. Open plans and large designer windows, bring in more light, creating more space. 
Taking it up a level
With restricted floor space, a two-storey design is a great option – particularly when dealing with a block which is both narrow and shallow.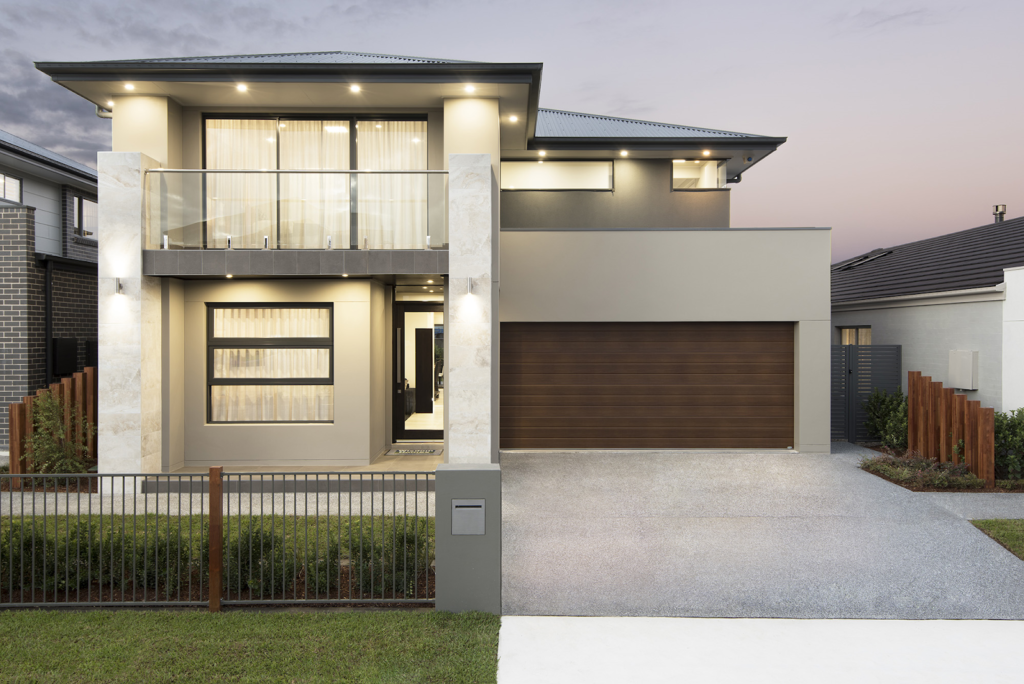 The design featured above requires a minimum lot width of 10 metres, incorporating such space-enhancing details as open glass windows and kitchen glass splashback, a dining and kitchen area which gives way to the outdoor leisure area, perfect for entertaining! 
Storage solutions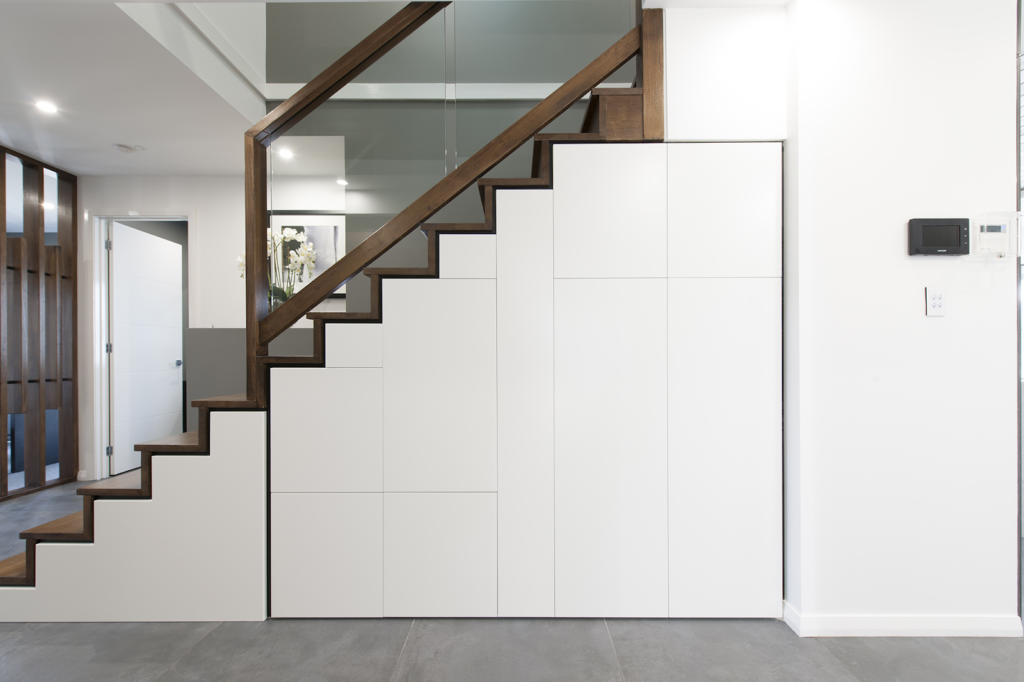 Take advantage of staircases to create under-stair storage rooms, coat closets or cupboards, as seen in the example above. Other voids such as loft spaces, make ideal longer-term solutions for storage. In-built and recessed shelving, as displayed in the gorgeous property below, provides ample room for books, photos and knick-knacks with minimal space requirement.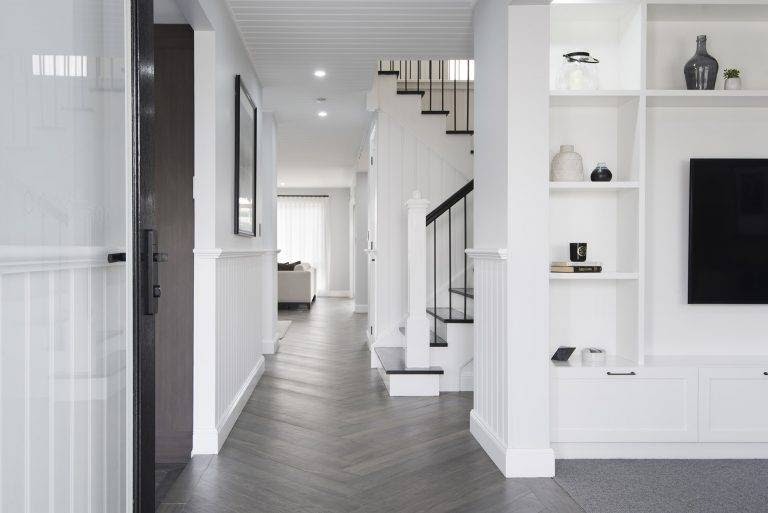 Optical illusions
Internally, open plan living allows greater entry of light and gives the illusion of space, as walls take up valuable floor area. Use optical illusions to minimise the impact of narrow rooms through:
Light coloured paint

Strategically placed mirrors 

Increased entrance of natural light

Flooring running diagonally across the room 

Horizontal windows to allow maximum wall space for benches and furniture.
Clever designs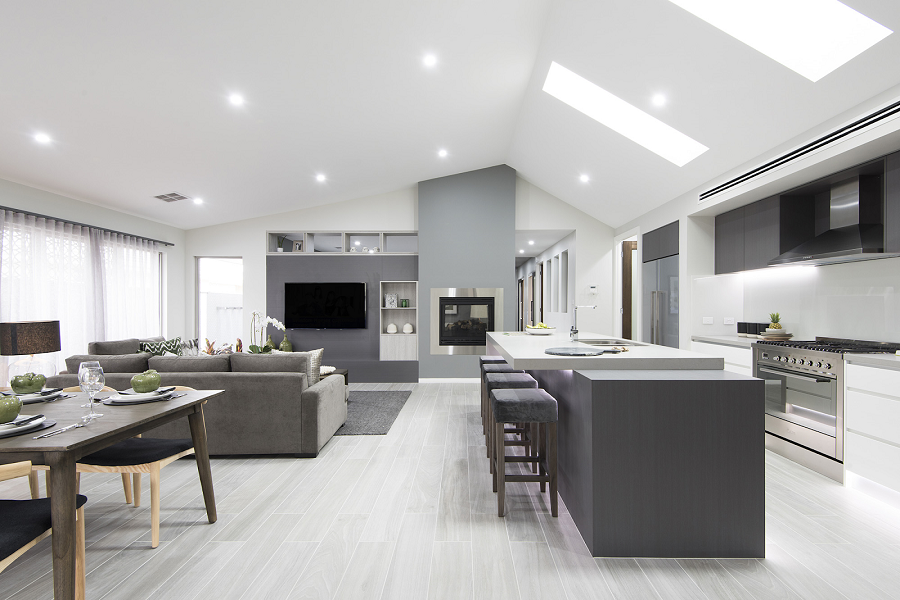 As the stunning property above proves, single storey homes work superbly on narrow blocks too. Designed to fit comfortably on frontage starting from 11 metres, the Tesla combines light, glass and a flowing floorplan to optimise the feeling of space.
Glass doors and increased ceiling heights can be used to enhance the space illusion. With a free-flowing floor plan and integrated dining and living areas, including waterfall benches with concealed seating – many builders have optimised every square inch, ensuring width is never an issue!
Windows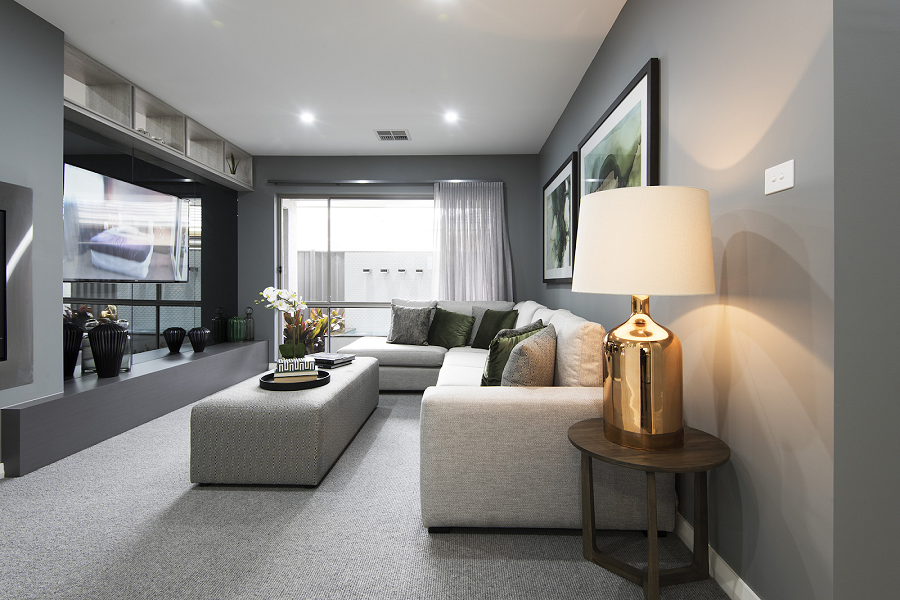 Large windows preserve valuable floor space, as seen in this entertainment room. 
Vertical gardens
The hottest trend in inner-city backyards are vertical gardens. Grow edible herbs, annuals or perennials in glorious colours. Set as features, they are low maintenance and require only a bare wall as a base. 
Expandable kits can be purchased from local hardware stores. Get a little adventurous and try a vertical veggie garden. A great way to keep the cats off the herbs!
Garage guidance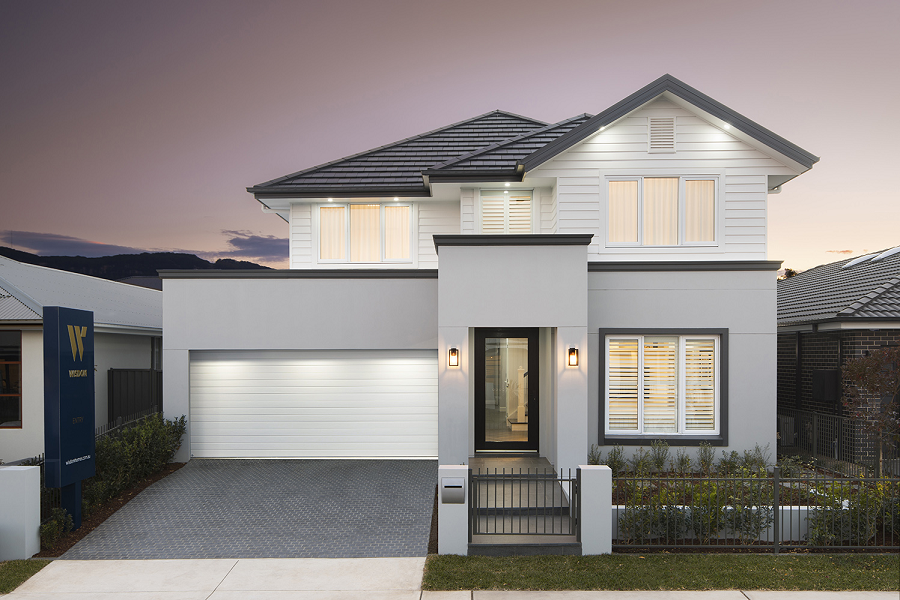 Opt for designs which bring the garage to the forefront of the facade and incorporate it as a feature – as seen in the Inspiration above. This stylish design requires 12.5m metre lot width yet contains a spacious interior boasting:
Four bedrooms

Two and a half bathrooms

Three spacious living zones

Study