Once treated as a perfunctory afterthought in the kitchen, splashbacks have now been recognised as one of the key components to add drama, colour, and style to the hub of the home. Industry-leading designers have their fingers on the pulse of the latest kitchen design trends. Creative design studios provide clients with the most powerful tools to create stunning interiors through cutting-edge technology. 
Today, we spotlight one of the hottest features in the modern kitchen – tiled splashbacks are back and they are sleek, chic and stunning!
Unlike glass sheets, tiled splashbacks allow far more scope to create unique and aesthetically beautiful effects. This versatility means a limitless array of ideas for those wishing to bring impact and beauty to their new kitchen.
Starting point
Before making the final decision on splashback tiles, it is worth considering the other components of your kitchen first. These include:
Benchtops
Tiles come in a vast range of colours and shapes compared to benchtops. By selecting the materials and colour for benchtops first, it makes tile selection just that much easier.
Cabinetry
Next select the type, style and colour of your cabinetry. This will also influence tile selection. Tiles can be used to add and reflect light in a dark colour scheme or conversely to act as a counterpoint to the fascia colours.
Materials
The type of finishes used will also influence the final effect. If your kitchen features natural materials such as timber flooring and finishes, continue this theme through the use of stone, neutral tones and rustic textures.
Placement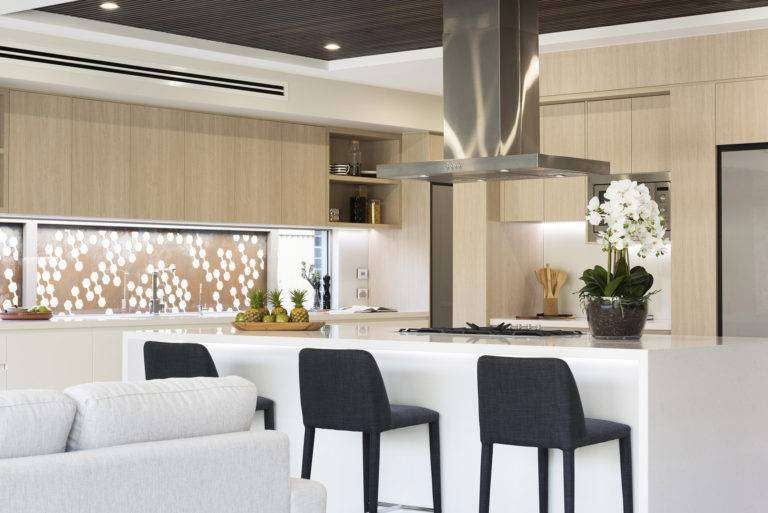 Don't underestimate the value of using a window as a splashback as evidenced in the display kitchen of the Inspiration (above). By creating a vibrant and verdant courtyard, or using strategically placed screens, your picture window splashback can be a sensational way to flood your kitchen with light and colour.
Utilising window splashbacks enables you to be a little more adventurous with smaller tiled feature splashbacks, such as those behind cooktops.
Considerations
The style of your kitchen must play a large role in determining the best tiles for the space. Is your kitchen french provincial, country classic, urban minimalist? In the long term, vivid colours may limit your selling market. Fortunately, as tastes or needs change – so too can your tiles.
Investors may do well to keep things neutral to appeal to the widest audience. Dark tiles and grout will have the longest life, as they will hide any colour changes which may occur over time.
Large areas are best suited to bigger tiles simply because smaller tiles may make the area look too 'busy'. If using small tiles in a large area try to keep them to a single colour. As a general guide, the distance between cabinets and benchtops is around 600mm.
Consider upkeep and maintenance, think about more grout lines with smaller tiles.  Dark colours will hide grime whilst white grout can become discoloured over time from cooking residue.
The Magic of Shape
The 'on trend' splashback choice for buyers is the stunning beauty of mosaic tiles. By combining vibrant mosaics with muted cabinetry colours, they can create a dynamic focal point in any kitchen.
Depth and impact can also be achieved through geometric shapes and patterns which give a '3D' effect. Options include:
Circles

Hexagon

Squares

Fans
Lighting the way…
Sensational tiles can be only a piece of the puzzle when creating a dramatic kitchen. Cabinetry lighting propels the wow factor to another level. Discuss lighting options with our design consultants to magnify the impact of your tile selection.