When I bought my 1980s duplex unit in mid-2019, my house inspection discovered that the cracked tiles in the shower were causing moisture damage in the walls. I knew that at the very least, I would need to patch up the shower, but as the entire bathroom was very dated, I wanted a full renovation.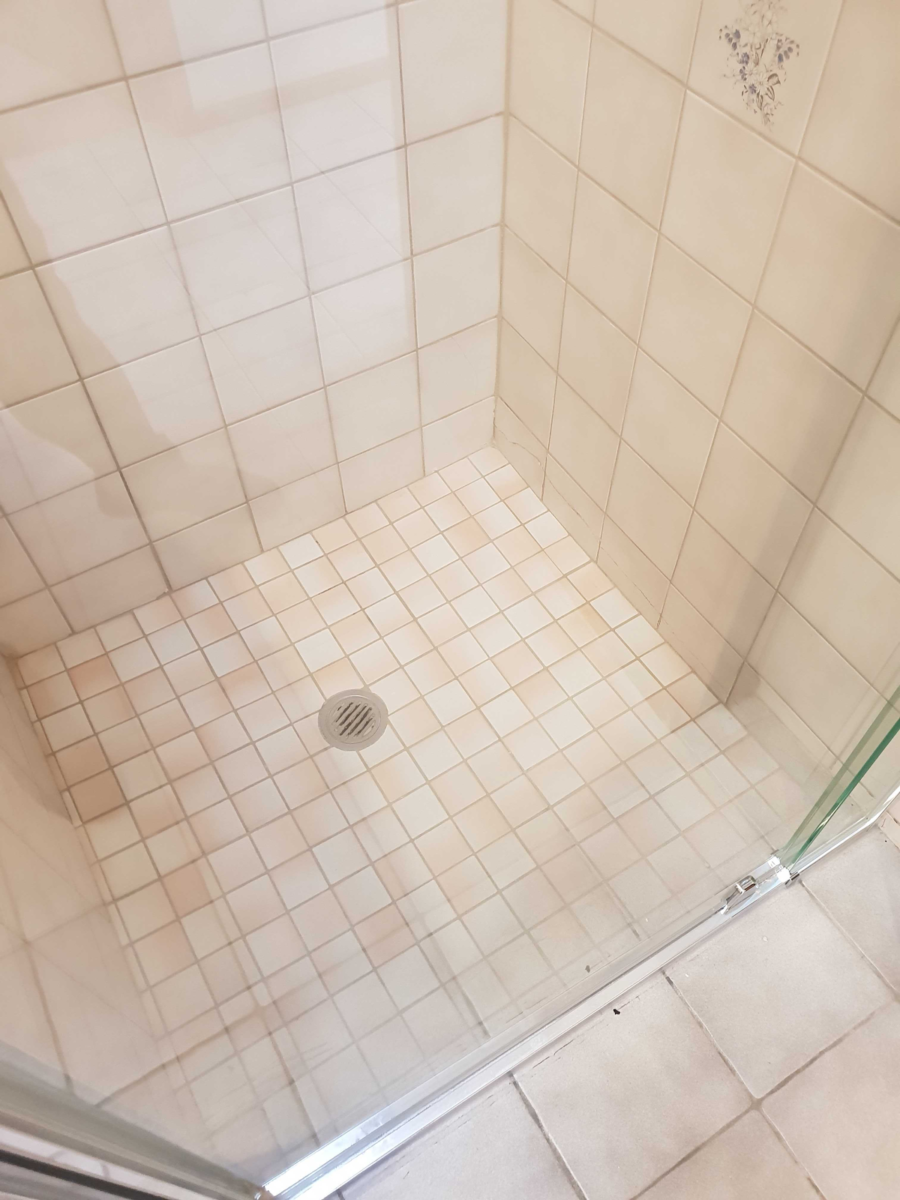 I enlisted the help of a friend who is studying interior design, as she was able to source trade discounts. She mocked up a design using a rectangular grey tile that I had my eye on at Signorino Tile Gallery. The mock-up was to correct scale using readily available items from Bunnings Warehouse (vanity), Kmart (mirror) and Ikea (shelves).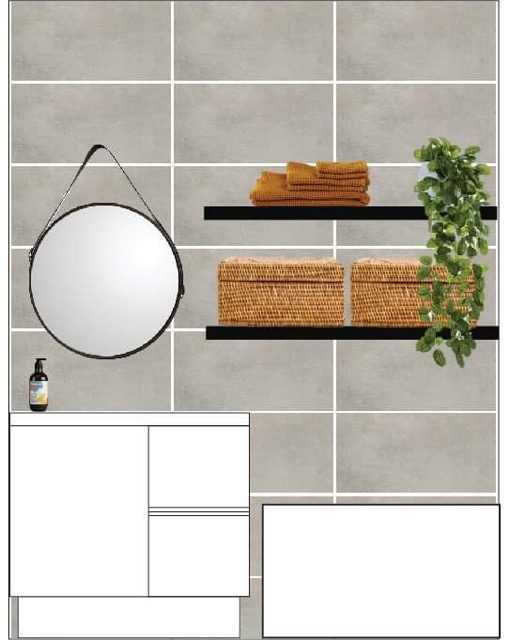 Signorino Tiles were able to provide a generously discounted quote for the tiles I had chosen, however they were not going to be in stock for 6-8 weeks. As this was the only bathroom in my unit and I wanted to move in as soon as possible, I wasn't able to wait that long. I was instead able to use that quote to get competitive quotes from the other major tile retailers, which helped me to secure more than 50% off the retail price at Beaumont Tiles for a similar tile.
Over several trips, I was able to source my vanity, grout, tapware, towel rails and handrails from Bunnings. I made multiple mistakes with these purchases. The first vanity was not deep enough to cover the floor tiles, however, Bunnings were fantastic as they picked up and delivered my new vanity free of charge. I also chose 900mm towel rails which would have nearly hit my vanity, so I had to swap those for the shorter 600mm length.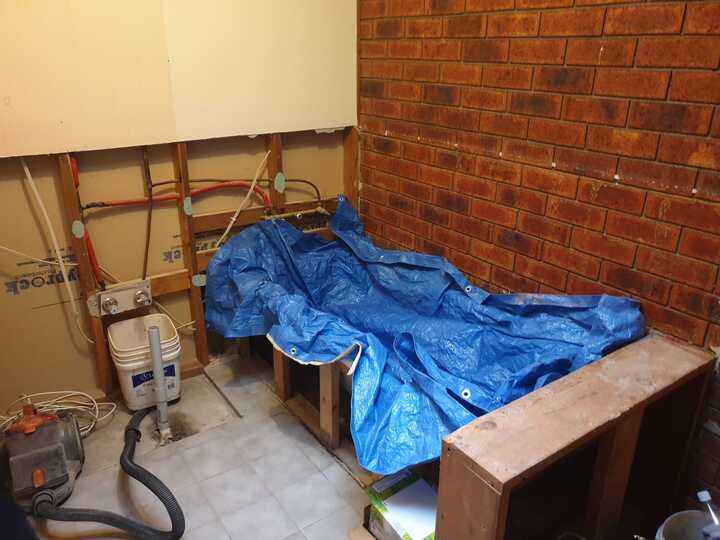 I sourced a handyman who completed all of the removal of the existing infrastructure, with the exception of the bath and shower screens which were carefully removed and re-used in the finished product. He completed all of the waterproofing, tiling, re-fitting and replaced the damaged cornices and skirting boards. He also placed the hand and towel rails for me.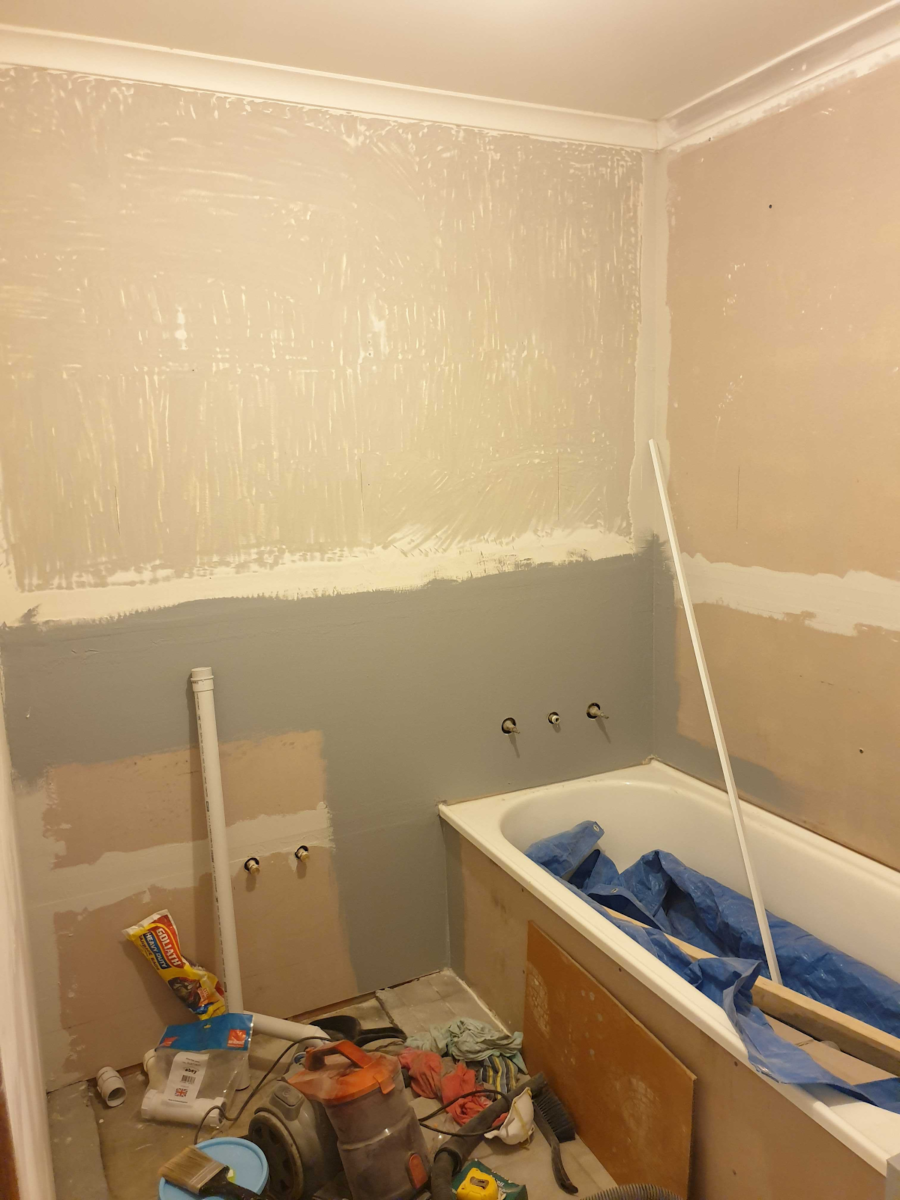 The jobs I left for myself were sealing the tiles, painting the untiled wall, attaching the mirror to the wall and installing some shelves above the bath.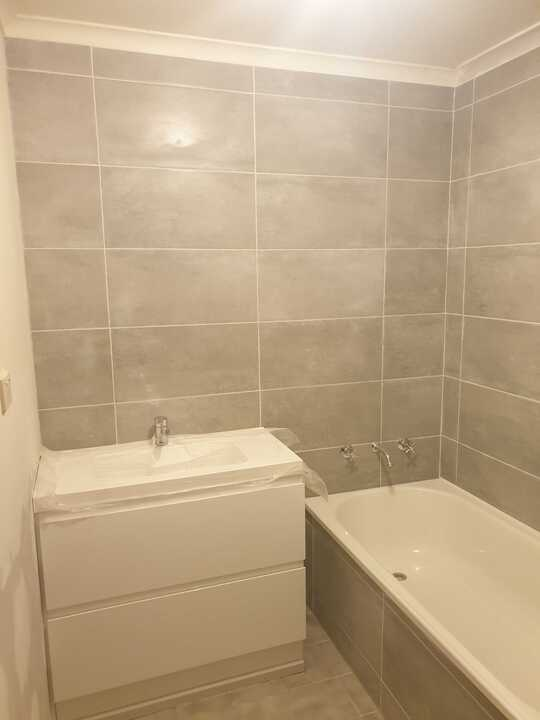 The shelves turned into a saga of their own, as my intention to have 2 simple wooden shelves ended up in turmoil. My handyman expressed concern about drilling holes into the tiles, and said it would be easier and safer to stick them on. This made purchasing the shelves a challenge, as most floating shelves are hollow and designed to be drilled to the wall.
I found a 600mm shelf at Bunnings that I thought could work with the aid of 3M tabs and liquid nails. I neatly attached it to the wall, and was confident that it would hold up very well. I then purchased the 900mm version of the same shelf, and tried the same method. The tabs failed, and I found that the only way it would stick was with a healthy amount of liquid nails. This caused a great deal of mess to the wall and to myself. It was only once it had dried that I realised the edge of the longer shelf was missing the laminate. The only part of the shelf that you could clearly see was faulty.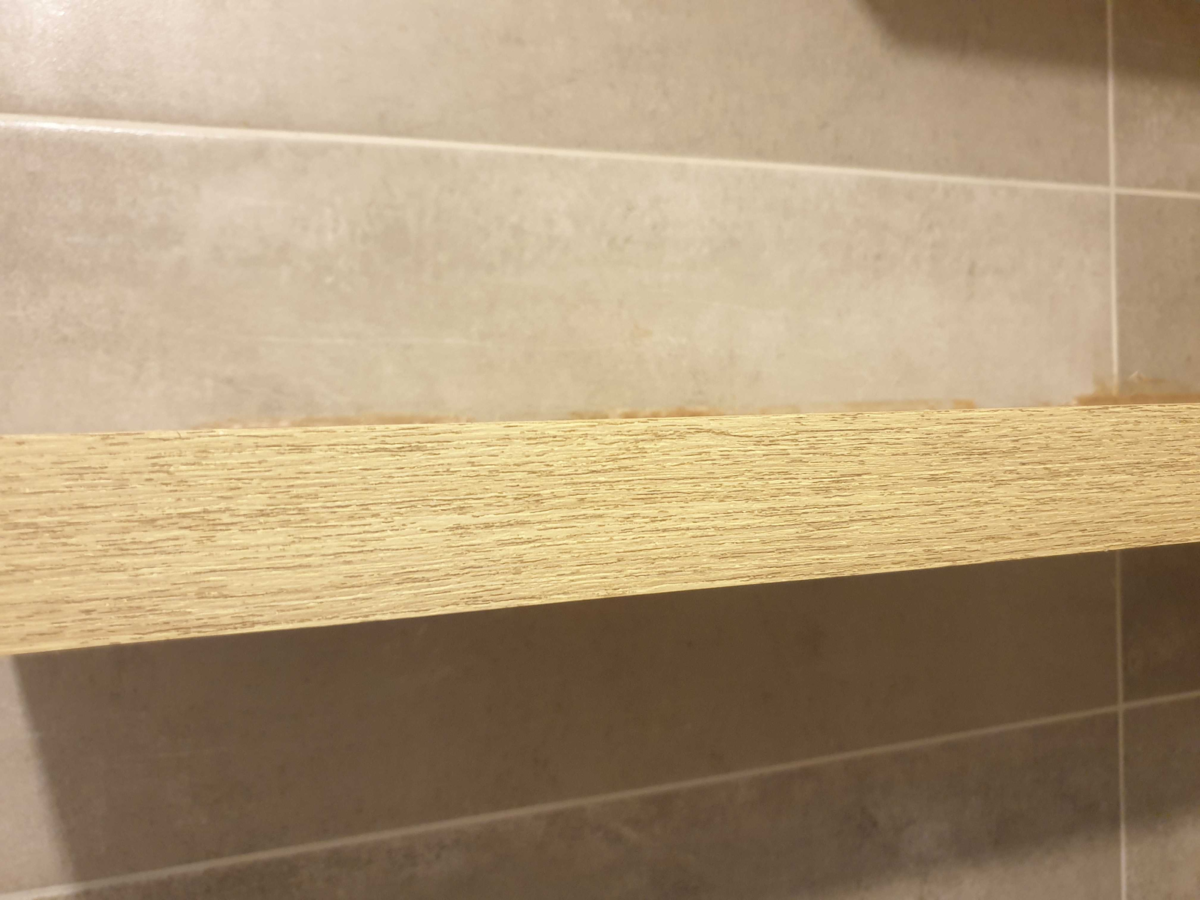 The shelf was stuck so well that I couldn't risk trying to remove it, but the rough unfinished edge really stuck out in comparison to the smaller shelf above. I decided that I'd be best to paint it white, as the mixture of white and timber would match the majority of the furniture in the rest of my house. I went back to Bunnings and showed them images of the faulty shelf, and that I couldn't return it due to it being attached to the wall. They agreed to refund the shelf, and I purchased some white paint to cover it up. I think I would have preferred for both shelves to have the timber finish, but I'm happy with the finished product.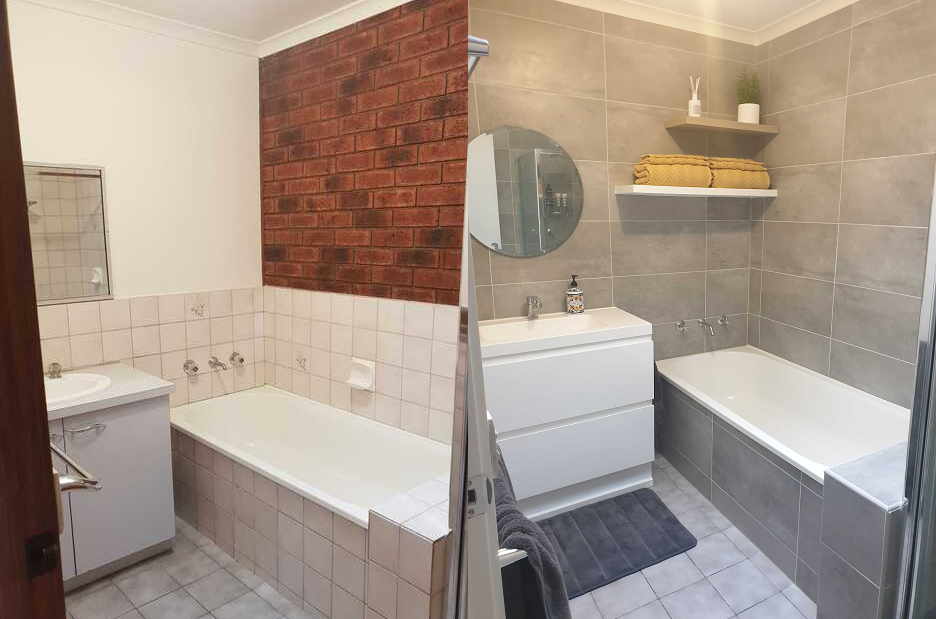 Major Costs 
Handyman: $3200
Belga Grey Tiles from Beaumont Tiles: $800
Cibo Design 900mm Soothe Vanity: $544
Estilo WELS 3 Star 9L/min Shower Set: $45
Dunlop 5kg Flexible Coloured Grout – Misty Grey: $25
2x Mondella Cadenza Towel Rails: $50
Mondella Cadenza Towel Ring: $17
Flexi Storage 900×240: $34 (refunded)
Riley Mirror: $29
Dulux Wash&Wear 1L Vivid White Low Sheen Paint: $42
My actual costs were a bit lower, as I was able to access the PowerPass discount at Bunnings Warehouse. The PowerPass discount provides up to 5% off most items, and is available to customers who hold an ABN for a professional trade.
Tips:
Don't be afraid to ask for a return or a refund, even if it involves delivery.

Ask your friends if they can help with trade discounts.

Work out what you can do yourself, but know your limitations.

When measuring, don't forget to measure depth as well as height and width.
And finally
Inspect your products before you permanently affix them to your walls