I must admit I've never had any interest in meal delivery programs. I haven't had a big interest in cooking and for most of my adult life, my work schedule meant my parents or girlfriend are usually the ones doing the cooking before I got home.
As we are currently under lockdown for Covid-19, my girlfriend who has used Hello Fresh in the past tried to check out the latest menu and accidentally reactivated her subscription and ended up getting 3 meals sent to us, but luckily they were all recipes we liked and we were probably going to start using the service again anyway, so we weren't too mad.
With all this extra time on our hands now seems like a good time to learn to cook.
What makes Hello Fresh different from other meal delivery services?
Most meal delivery services I've come across in the past such as Light N Easy and Weight Watchers involve frozen meals, or frozen meals plus a few other simple things like fresh fruit or toast. Hello Fresh delivers you the exact amount of ingredients required to make a wide range of reasonably healthy foods from scratch as well as simple instruction cards on how to make them. Whilst this requires a lot more effort than the frozen food companies, the quality of the final product will be much more impressive.
Marley Spoon and Dinnerly seem very similar and might be a little cheaper, but their menu items don't seem quite as good as Hello Fresh. If I get hooked enough on these meal kit services, I might try those as well and I'll post a comparison.
How does Hello Fresh work?
Hello Fresh works by offering you a menu to choose from via their app or website. You can select which meals you would like each week and if you forget to make your selection before the cutoff period, they will send you something similar to your past choices, ensuring you'll get something that you'll probably like. You get a selection of different meal options including a range of foods from around the world that you get to make from scratch in your own kitchen. Each week the menus are slightly different so that it doesn't get boring or repetitive. It all gets delivered to your door in a box with an ice block in it on your nominated day.
How much does Hello Fresh Cost?
The smallest plan you can get is for 2 people with 3 meals each for around $60 + $10 postage. There also packages for families that have kids and you can order more meals if you choose. Some premium meals that involve seafood or premium meats also have an additional cost per serving.
Choosing your Hello Fresh Meal Kits
When you set up an account, it will assume you want your selected number of meals every week, but you can skip weeks you do not want food for. If you do not specify what you want for a given week, they will guess for you like they did for us. I believe this is based on similar meals to what you've previously ordered.
When choosing meals you can see the full recipe online, this is important as most recipes will require additional everyday products from your pantry. You now have time to buy anything you are short on, such as cooking oil, eggs, salt, sugar, flour, honey etc. The same goes for any other kitchen supplies such as saucepans and measuring tools.
How to get a Hello Fresh discount
All the meal kit programs appear to have some sort of discount for introductory offers. You can use referral code HS-TYXXIS197 for $50 off your first box.
Which meals did we get?
The three meals we got were the following:
Honey Mustard Beef Burgers with Beetroot Relish & Sweet Potato Chips
Sage & Rosemary Crumbed Chicken with Creamy Potato & Green Bean Salad
Thai-Style Sweet Chilli Chicken with Coconut Rice & Pickled Onion
Honey Mustard Beef Burgers with Beetroot Relish & Sweet Potato Chips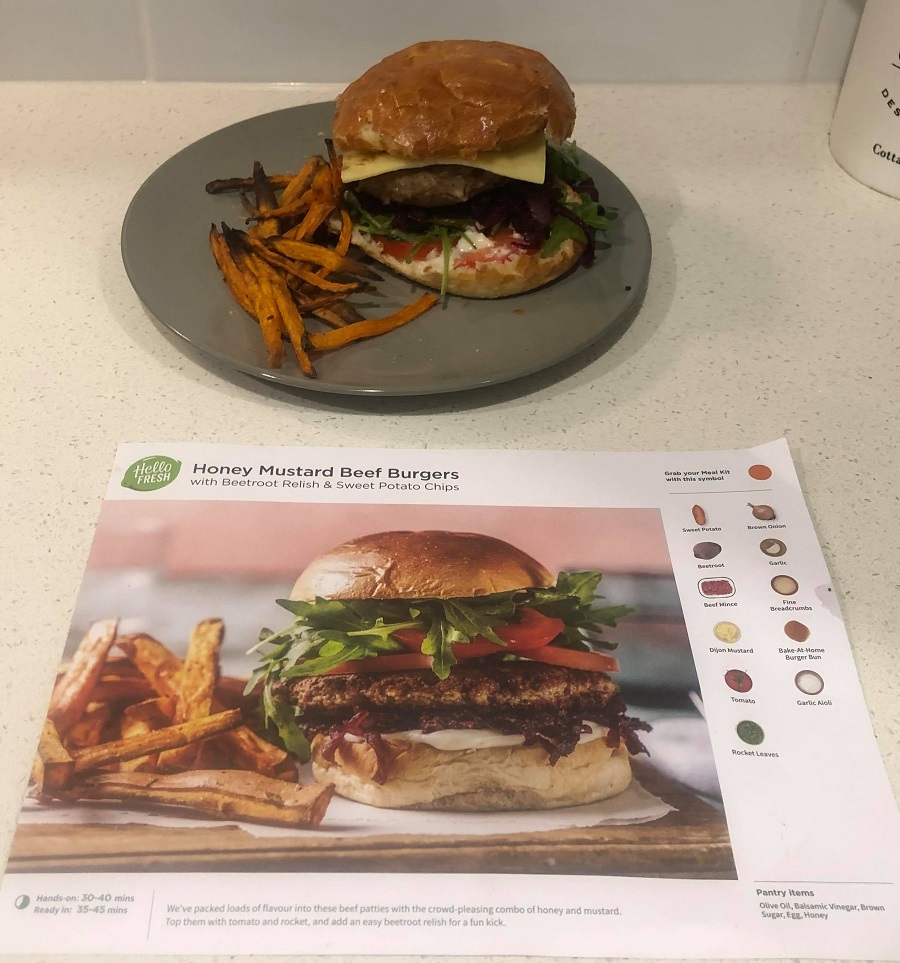 This is the first time in years that I've made a burger patty from scratch and wow, it was so much better frozen or premade ones from supermarkets. This was quite a fun first experience with Hello Fresh, as burgers are one of my favourite foods.
This recipe came with the following ingredients in the box: Sweet Potatoes, brown onion, beetroot, garlic, beef mince, fine breadcrumbs, Dijon mustard, bake-at-home burger bun, tomato, garlic aioli, rocket leaves.
It required the following pantry items: Olive oil, balsamic vinegar, brown sugar, water, egg, honey, salt.
Typing out the pantry items made me recall how difficult it was to actually find brown sugar (substituted with white sugar) as everyone has been panic-buying all the basic cooking ingredients due to Covid-19 lockdown. The only eggs we could find were the most expensive ones left in the store, which were organic and free-range etc. We also added sliced cheese to the burger.
Sage & Rosemary Crumbed Chicken with Creamy Potato & Green Bean Salad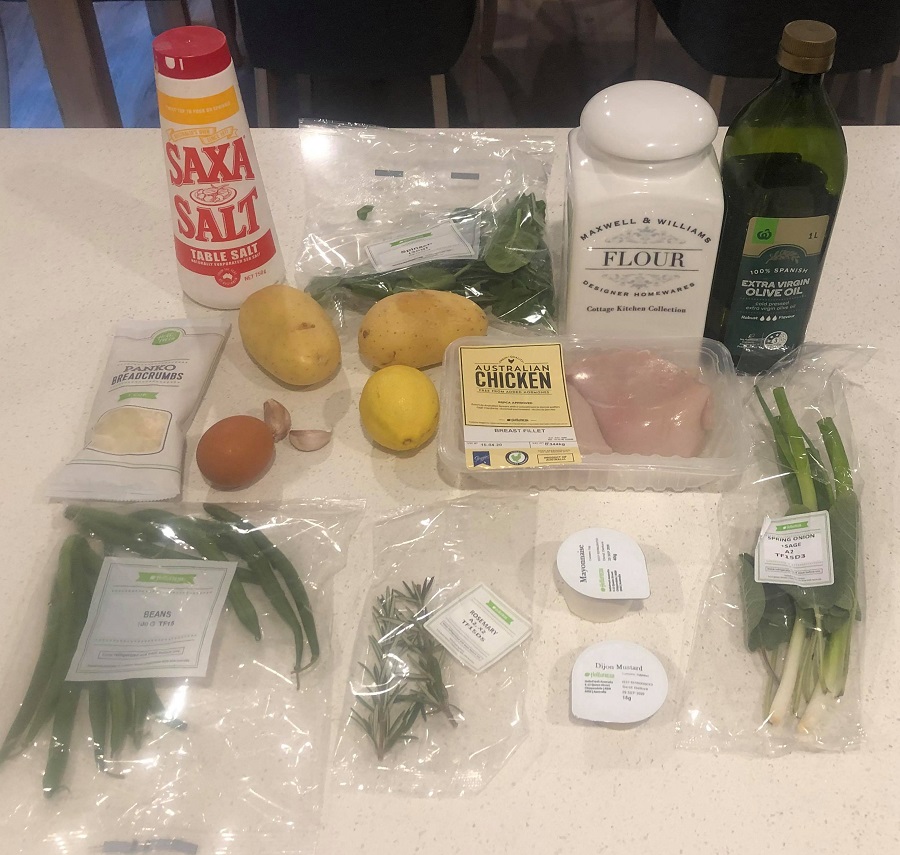 This time I decided to take a photo of the ingredients used in this recipe. The sheer volume of different ingredients here is what makes me think this is a good way to learn to cook. You are literally making everything from scratch with these recipes. The main thing I found interesting about this recipe is that it taught me how to turn a big chunky chicken breast into a flat schnitzel, something I had not given any thought to before.
The ingredients Hello Fresh provided were: Lemon, potato, green beans, garlic, sage, rosemary, spring onion, chicken breast, panko breadcrumbs, Dijon mustard, mayonnaise, baby spinach leaves.
The pantry items you had to supply were: Olive oil, salt, plain flour, egg, salt.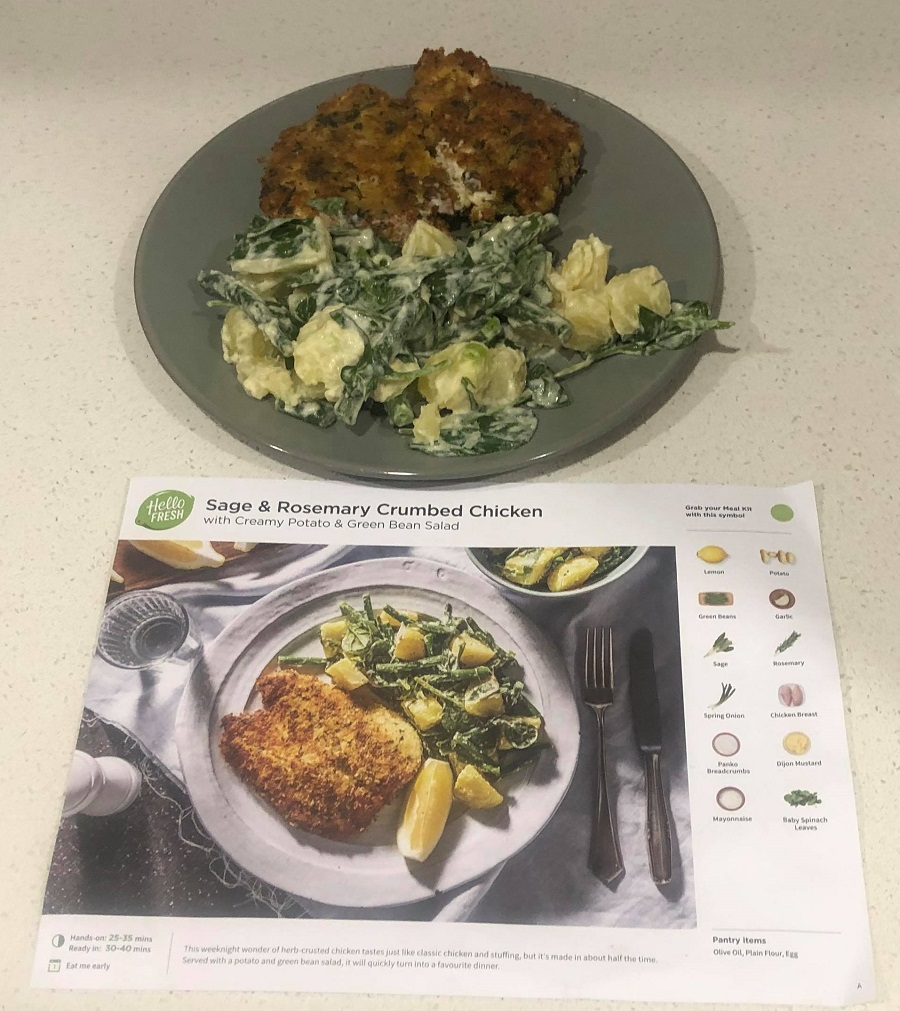 Again, we were really happy with how this turned out. Panko breadcrumbs really made the batter on the schnitzel crunchy. The salad was also good.
Thai-Style Sweet Chilli Chicken with Coconut Rice & Pickled Onion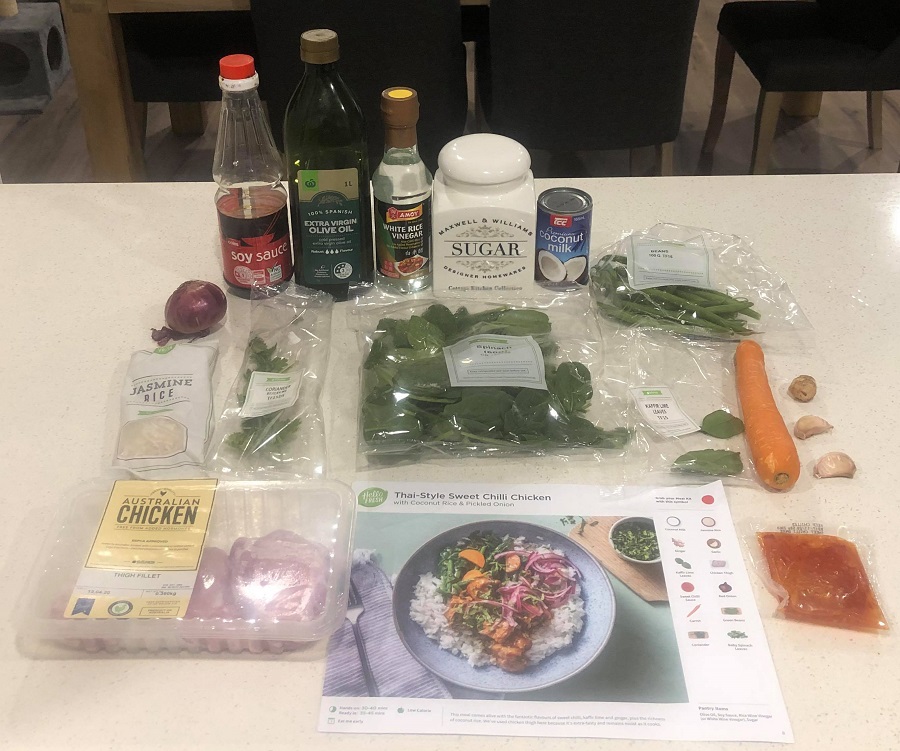 Given we didn't actually choose these meals ourselves, this recipe was slightly less appealing to me, but it actually turned out really good. I'm not a big fan of rice, but I do like coconut rice. Having never cooked rice before myself, I almost burnt it but it turned out fine.
The ingredients that it came with were: coconut milk, jasmine rice, ginger, garlic, kaffir lime leaves, chicken thigh, sweet chilli sauce, red onion, carrot, green beans, coriander and baby spinach.
The pantry items required were: olive oil, water, salt (not pictured), soy sauce, rice wine vinegar and sugar.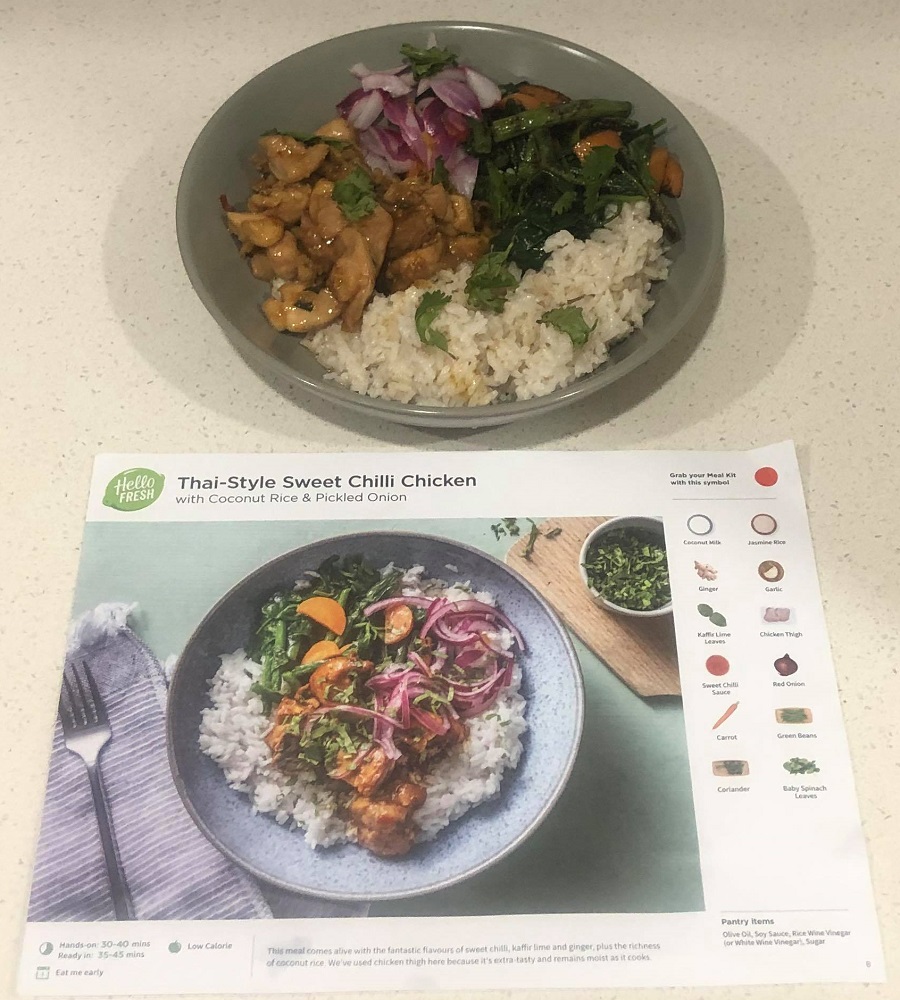 As you can see in the picture, my rice was a bit overcooked. The rest turned out great. Pickling the onion was definitely a new experience for me.
Conclusion
I really liked this experience and we have two more weeks booked. We missed the boat on booking for next week, but we will be getting more in the near future.