Congratulations! You are having a baby. Before you jump into decorating the nursery stop and visualise how you want it to look and function first.
Consider making a vision board of ideas for your future nursery so that you have an idea of what to buy. Here are some nursery ideas that you can implement in your home!
Disguise your nappy-changing supplies in nappy bins
This great hack was shared in the K-mart hacks and decor Facebook group. It is a crafty and sleek way to hide your nappy supplies. Nothing ruins the aesthetic of a room more than clutter. This is a cheap and easy solution for your nappy supplies so that you are not stuck looking for nappies and wipes when you most need them.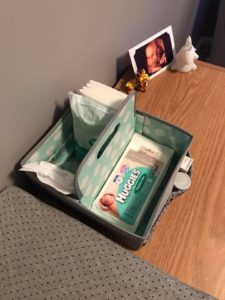 Hide your unsightly laundry and nappy bin in a stylish piece of furniture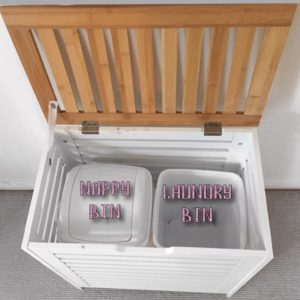 This bamboo laundry hamper is also from K-mart in Australia and was also shared in the K-mart hacks Australia Facebook page. This piece of furniture will look great in your nursery and will keep the room clutter-free and chic.
Keep the room as organised as possible
Having a new baby is stressful. It is even more stressful when you cannot find the things that you need. Find some useful storage solutions for your babies nursery. The best storage solutions for babies nurseries include drawer dividers, storage bins,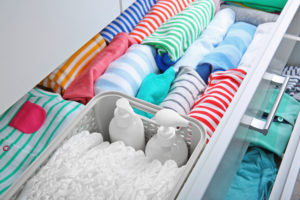 Use a crib skirt to hide clutter
If you have some small items that you can't find a place for, store them neatly under your crib with a carefully placed crib skirt! no one will notice and it will look great.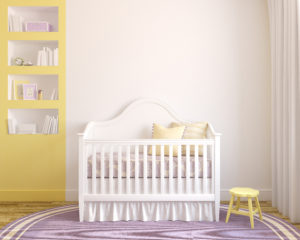 Don't skip having a rocking chair
Not only will a rocking chair look stylish but it will also come in handy.  During late-night feeds and you just want to sit down. The motion of the rocking chair will be soothing to you and it will rock your baby gently back to sleep.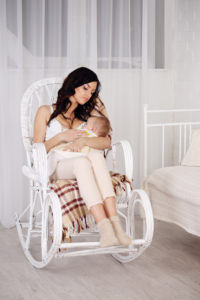 Instead of going over the top with the decor try adding some wall art
These days nurseries feature minimalism and are all about functionality.  There is such a thing as too many decorations. Keep the decor simple and instead opt for some wall art. The best part is, is that you can paint over when the wall art no longer suits your home. If you are renting there any many removable wall decals you can purchase.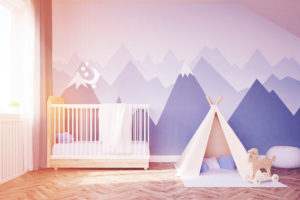 Use grey in a gender-neutral nursery
There are many reasons parents choose to have gender-neutral nurseries. Before you have your baby you may not know what you're having or you may not want to shower your baby with pink or blue.
If you want a gender-neutral nursery do not make it yellow. Yellow nurseries are out of style. A grey is a much softer and much more modern gender-neutral colour option.
 Finally, think of your nursery beyond the first year
As much as you want your baby to stay young they will not be a baby forever. Don't make their nursery a zone that is only suitable for a newborn. Instead, purchase furniture that they can use for years to come.  For example, have a changing table that can be converted to a dresser and a crib that can be converted into a toddler bed. Good luck!