We love Christmas but have never decorated our home before. Here's a guide we've put together for if we ever do it and for anyone who wants to try it themselves!
Christmas Lights
We all love a magnificent Christmas light display but it can be a bit daunting to know where to begin, after all, it isn't something one can go into half-hearted – it's a case of all or nothing.  
Begin by drawing up a simple map of your front garden and landscaping including trees and bushes.  This way you can incorporate planting and vegetation into the scene you wish to create.
Try to keep to a story or theme rather than just adding features higgledy-piggledy and include any animated figures or decorations in your mapping.
To install your Christmas lights:
If starting from scratch, take some measurements to calculate how many lengths of lights you expect to need for the job. Buying shorter lengths can save money if a bulb stops working, as they can be replaced more affordably.

Do some online research to select the type of look you prefer for your Christmas lights.  Icicle lights, as the name suggests, hang in tendrils or you may prefer string lights to trim eaves and window frames.  LED are a little more expensive but they last longer and use less electricity.

If you are using second-hand lights or ones from storage, plug in your lights prior to hanging, to ensure all your bulbs are working or invest in a cheap Christmas light tester.

Using some simple math and a long tape measure, calculate how many strands of lights you will require for each area.

Locate a power outlet to run heavy-duty extension cords from.  The outlet must be rated to handle the combined amps of all the light strings.  

Use an automatic timer to switch the lights on and off – remembering not to use an indoor timer, outdoors!

Set up a ladder on a secure, sturdy surface.

Begin attaching light string clips or plastic clips which are purpose made, along the mapped route.

Do not use nails or staples as they can pierce the wire and cause an electrical hazard.

Hook your lights onto the clips.
If your landscaping includes evergreen trees, adorn them with baubles to create an outdoor Christmas tree.
Grass Grazing Topiary Animals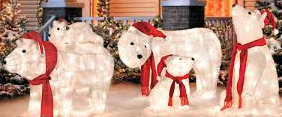 An old favourite for those with lush, green landscaping, is to incorporate grazing topiary reindeer, sheep and even polar bears (hey, Santa comes from the North Pole!)  Place the animals around trees or reindeer in rows to simulate Santa's sleigh pullers.
If you are fortunate enough to have landscaping which is particularly verdant and lush, you can introduce an array of animals to create a scene of nature visiting your home – delighting both young and old.  Animals can be adorned with lights or purchased in self-lit LED and animated versions.
I wanna build a snowman!
While Australia's summer weather is not really conducive to keeping a snowman more than a puddle of water with a carrot in the middle – there is one simple way to ensure Frosty is front and centre of your garden this Christmas – make a Christmas tree snowman.  You can purchase a simple white tree add some decorations and voila!