I was recently at Big W at Pacific Werribee and looking at the lolly and confectionery aisle, something I'd not looked at in a long time and was very surprised to see just how many different Allen's Lollies varieties were currently available in 2021. When compiling this, I realised they don't actually stock the entire Allen's range at Big W stores, where the ones that are more typically used in cake decorating seem to be exclusive to supermarkets such as Coles and Woolworths. The photos with the products sitting in their boxes were taken at Coles in Port Melbourne.
Given that packaging changes for food products every now and then and that Allen's will be changing the names of Redskins and Chicos soon, I thought now would be a good time to document all their current range in their current packaging style.
Allen's Jelly Beans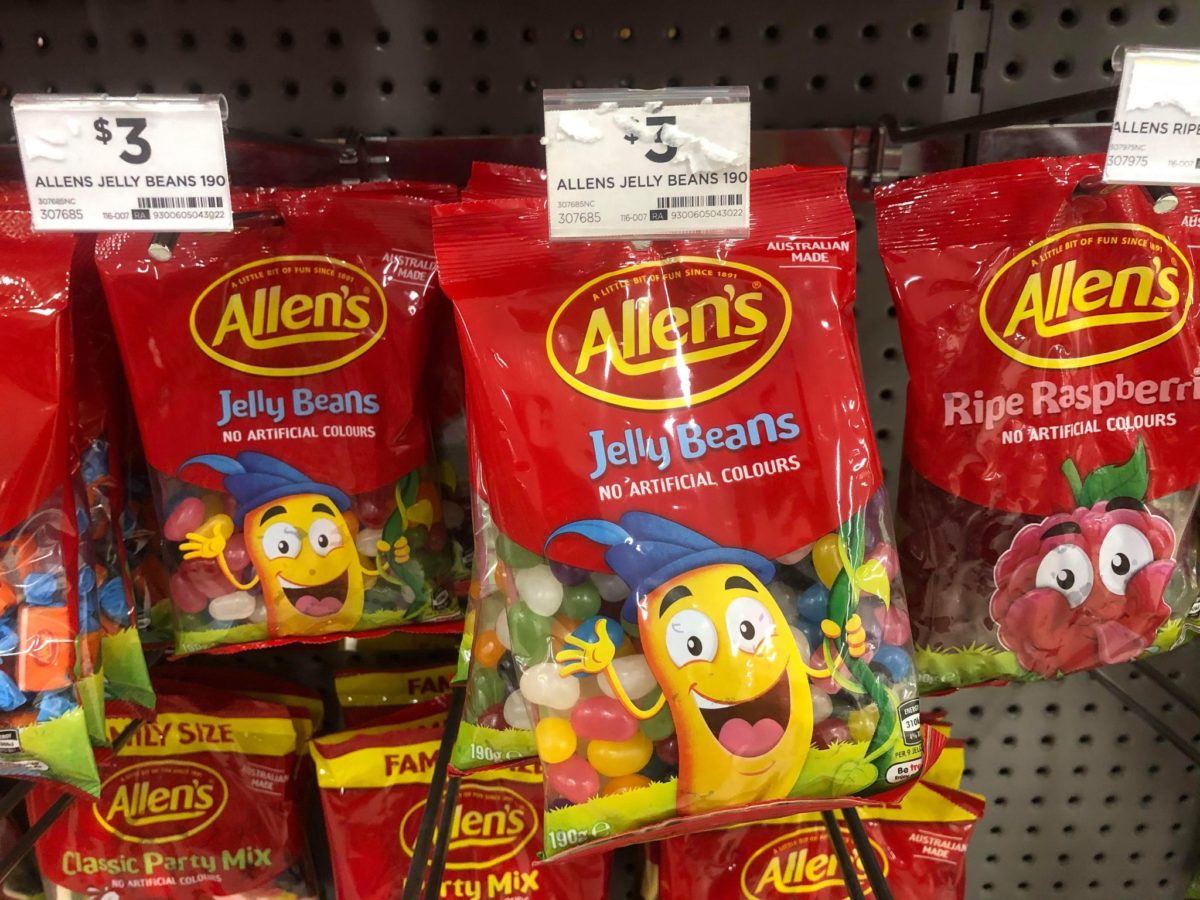 Perhaps the most boring lolly of all time, the jelly bean is not very interesting at all. Surely Allen's Jelly Beans are better than generic brand ones. But when there's so many options out there, I have no idea why you'd choose these unless you're making a cake or something that requires jelly beans for the design.
Allen's Retro Party Mix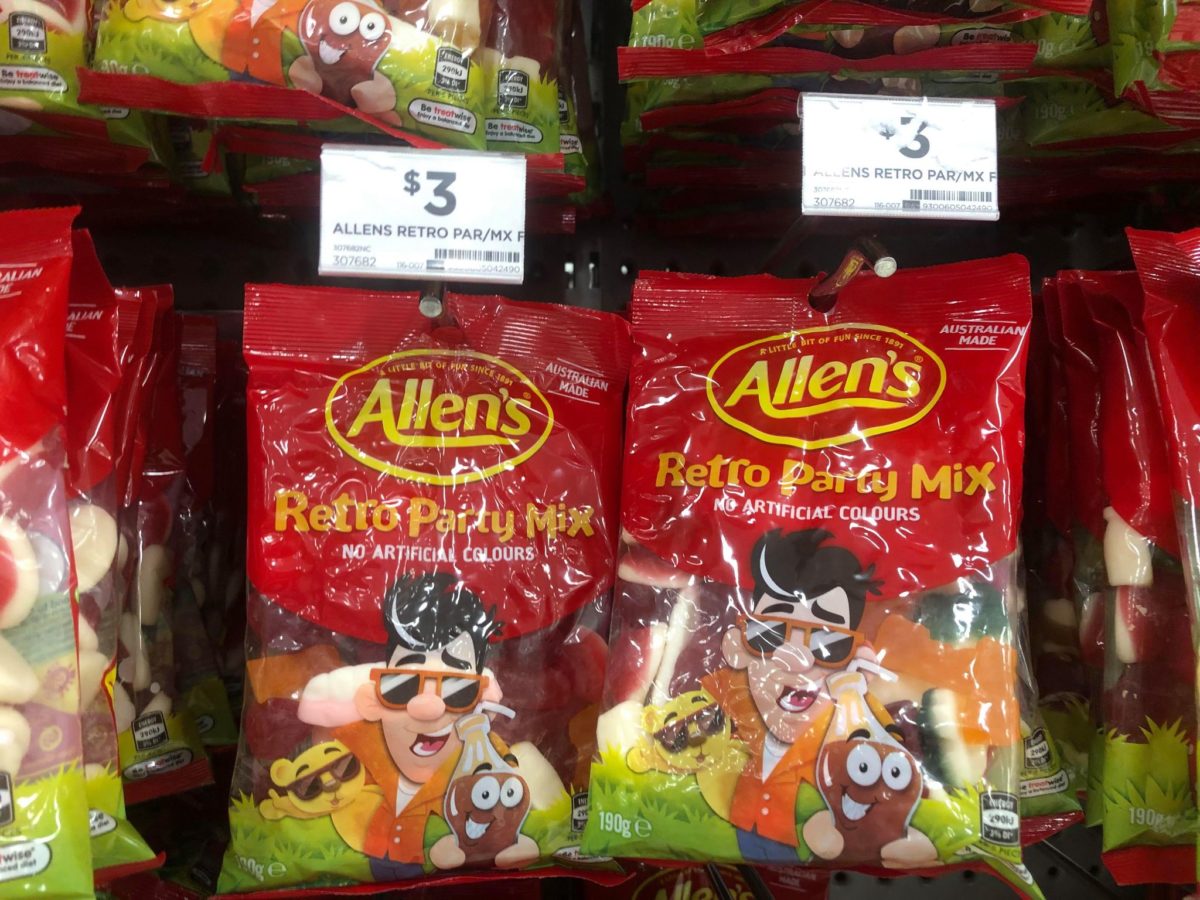 This mix of soft and gummy lollies include Allen's teeth, pineapples, green racing cars, strawberries and cream, milk bottles, raspberries, lips, honey bears, cola bottles and retro man. This bag is 190g and costs $3.
Allen's Strawberry & Cream Lollies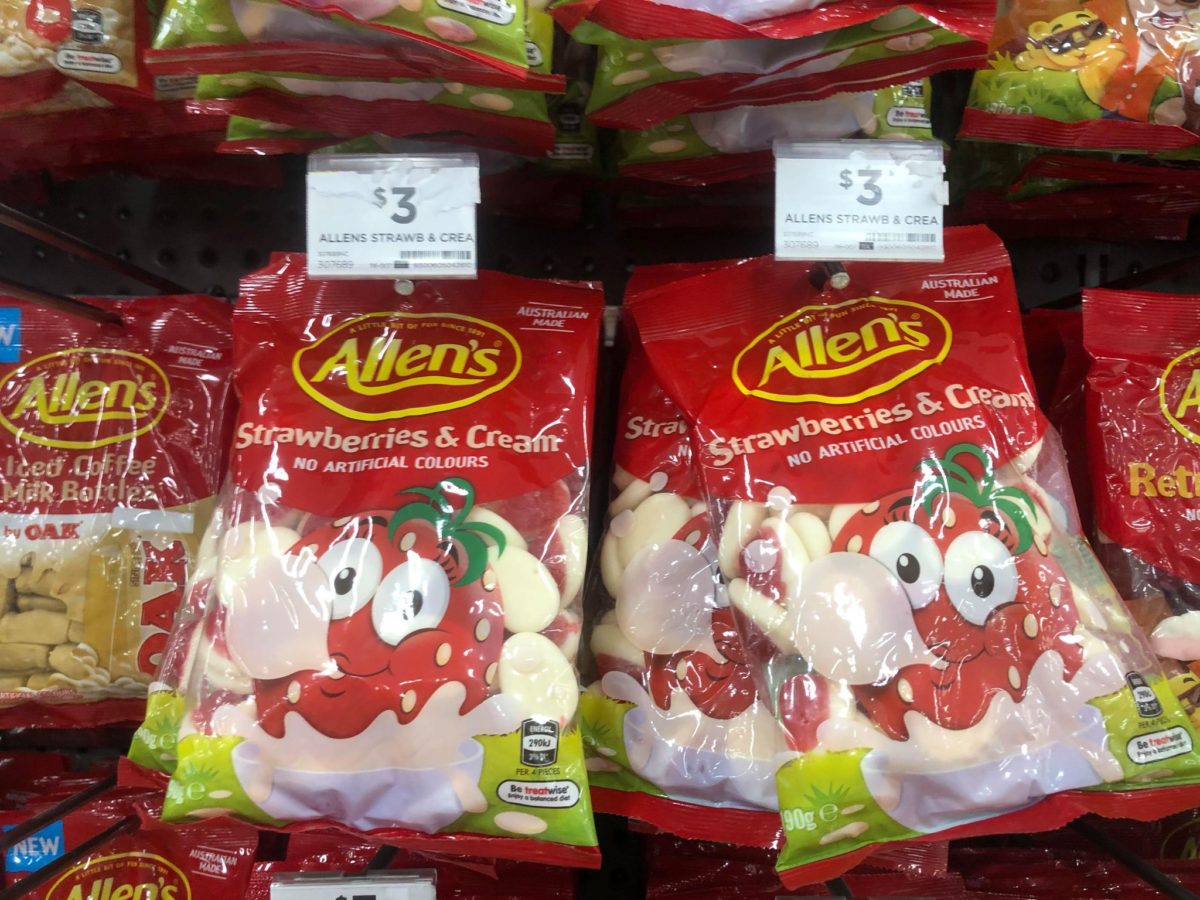 Strawberries & Cream lollies are decent. Allen's brand Strawberries & Cream are far superior to other cheaper brands. These are very soft and it's fun to nibble the cream from around the strawberry before eating it.
Allen's Classic Party Mix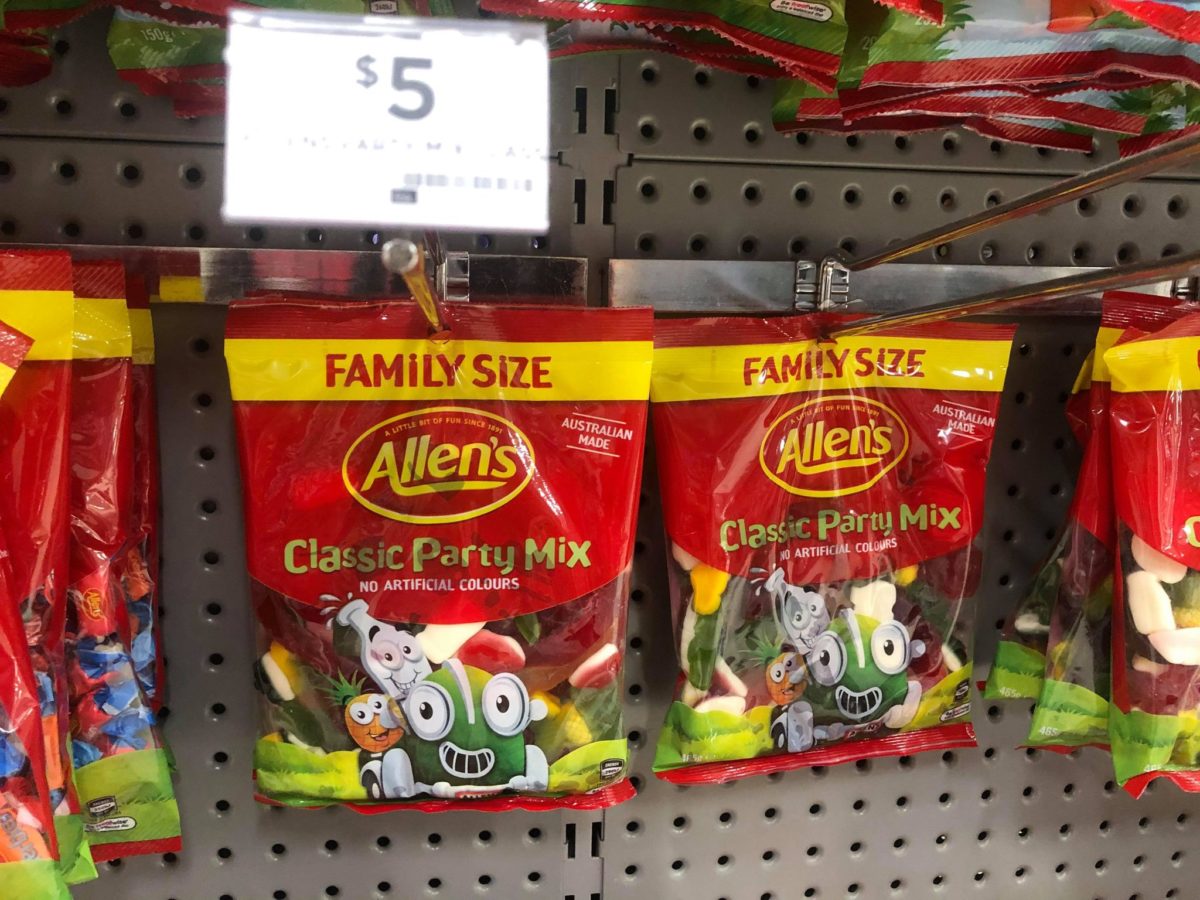 The Allen's Classic Party Mix is not the most interesting mix of lollies, but will always appear at any good party in Australia. This mix includes strawberries & cream, pineapples, racing cars, milk bottles, teeth, red frogs, snakes and jelly babies
Allen's Kool Mints & Kool Fruits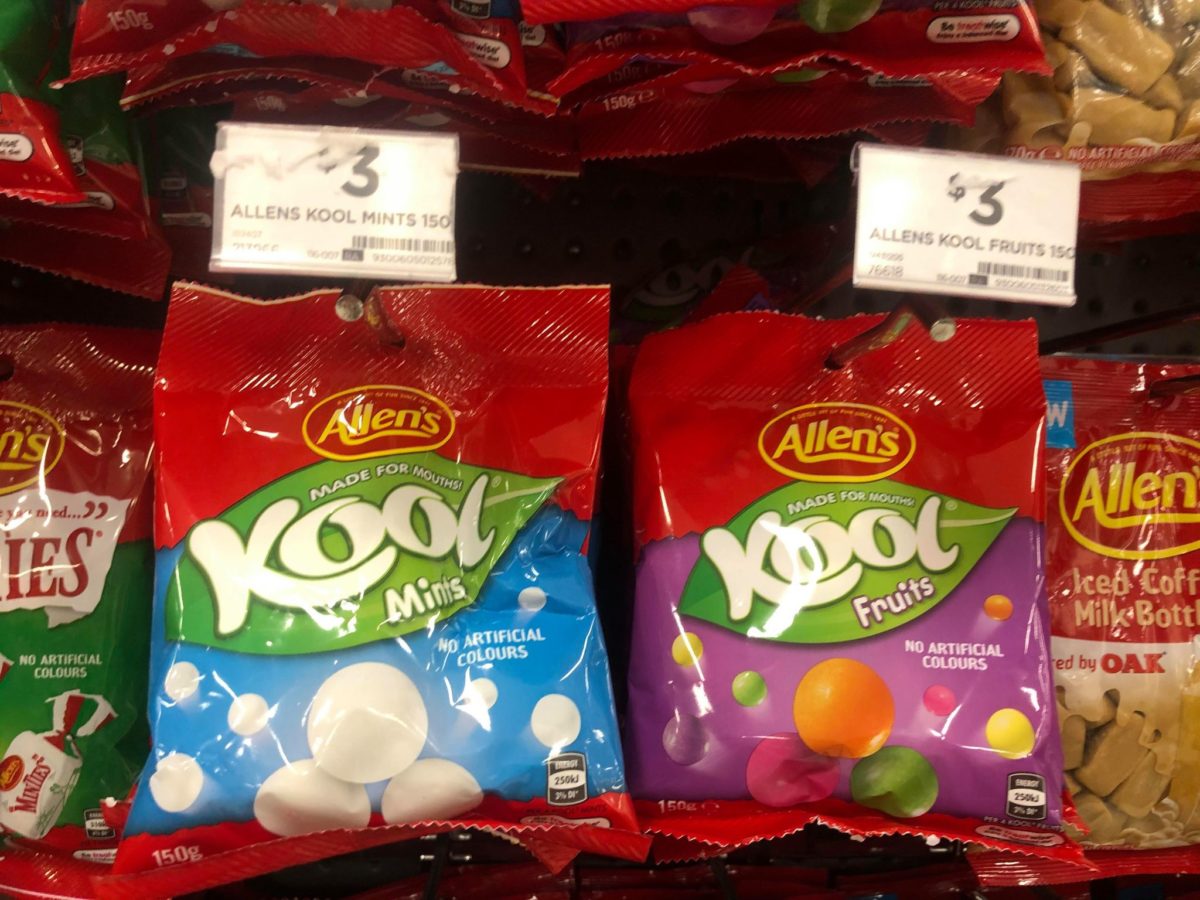 Kool Mints and Kool Fruits used to seem far more popular when I was younger. I don't buy these but it's good to see them still around.
Allen's Jaffas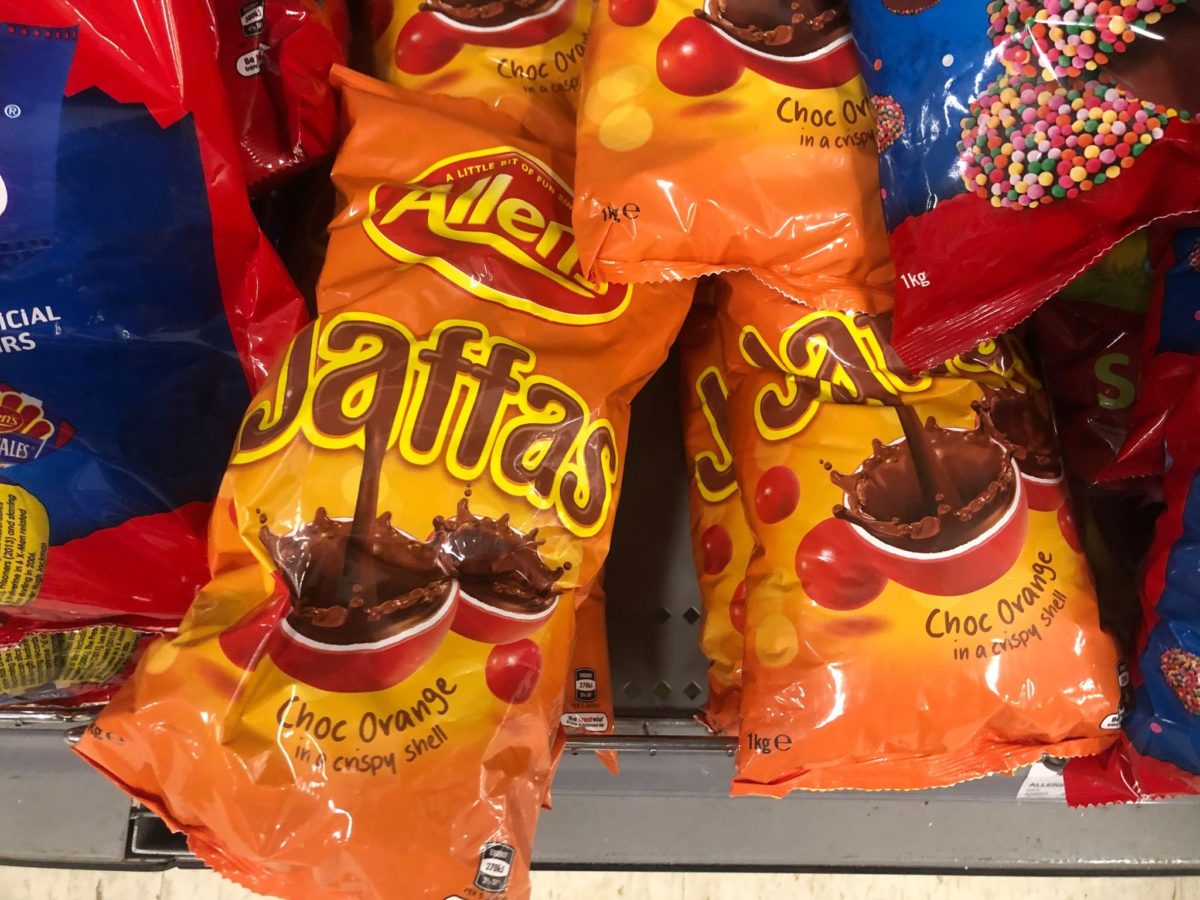 I don't like Jaffas. These have a crispy shell like an M&M and are the size of a Malteaser or Kool Mint. Inside is a ball of chocolate orange. The mix of chocolate and orange is not a flavour I enjoy, but some people sure seem to. if they're making 1KG bags of them.
Allen's Iced Coffee Milk Bottles Inspired by Oak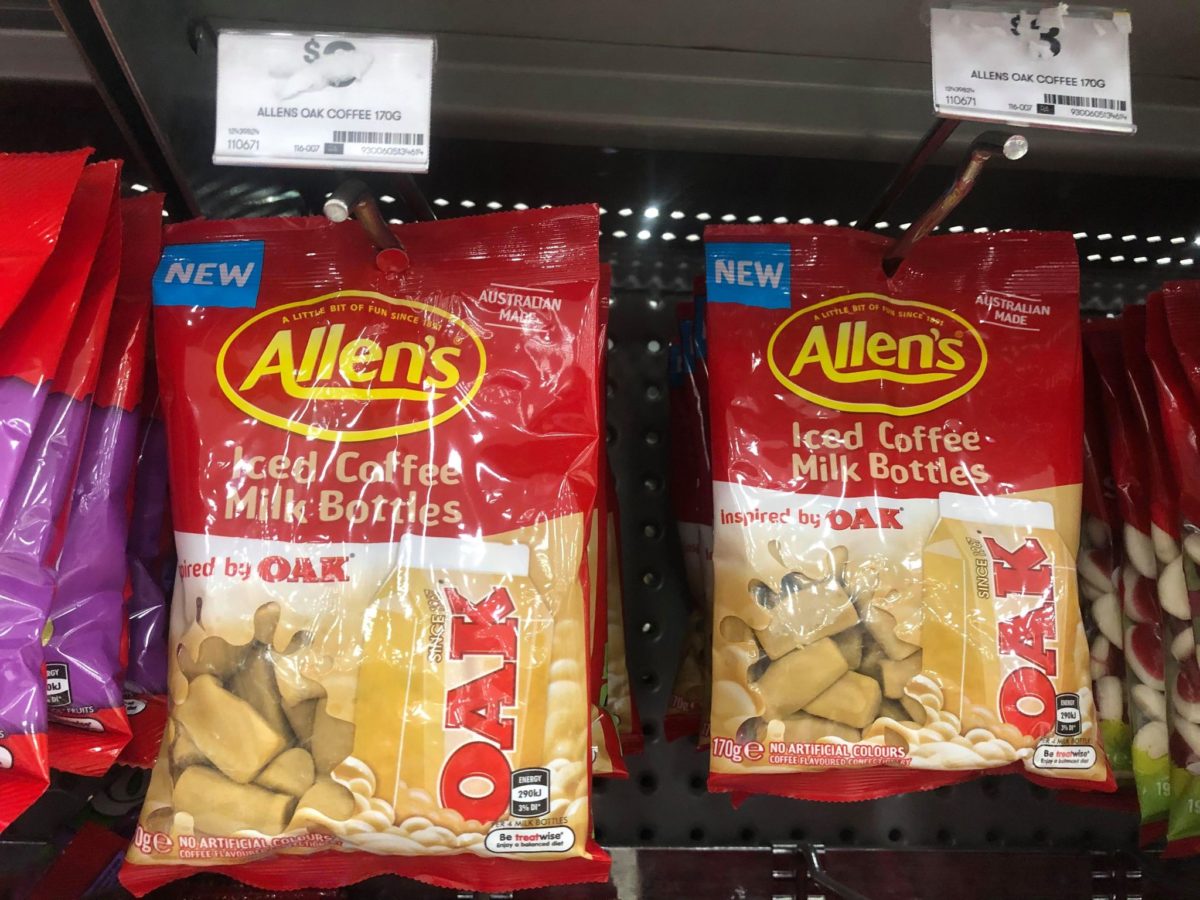 I never liked coffee as a kid. But I did like Allen's Milk Bottles. I've not tried Allen's Iced Coffee Milk Bottles Inspired by Oak, but they seem like a limited-time item. It's probably a good thing I got some photos. $3 for a 170g bag.
Allen's Flavoured Milk Bottles Inspired by Oak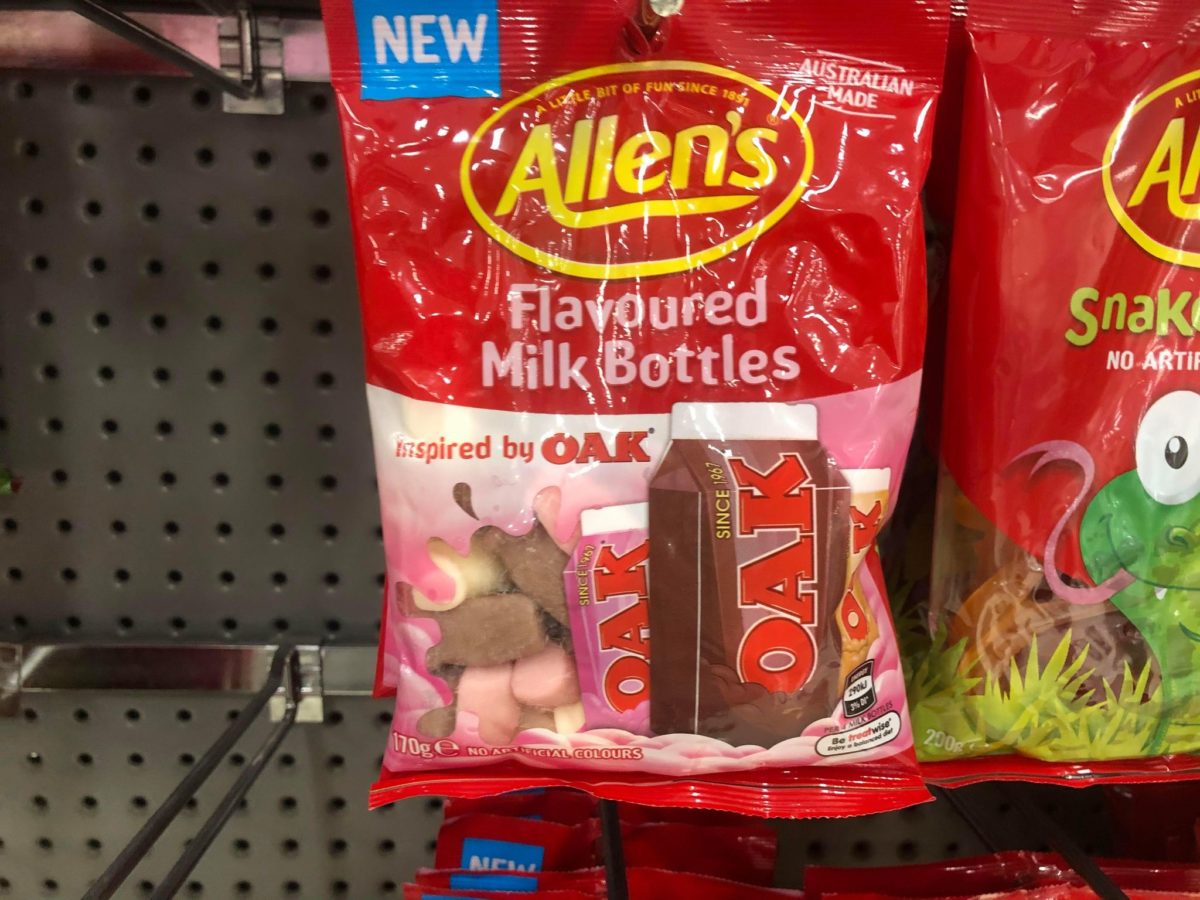 Now, these I'd have probably liked as a kid, Allen's Milk Bottles Inspired by Oak flavours of Chocolate, Strawberry and Vanilla Malt. If I wasn't on a strict diet currently, I'd definitely try these for $3 for a 170g bag.
Allen's Fantales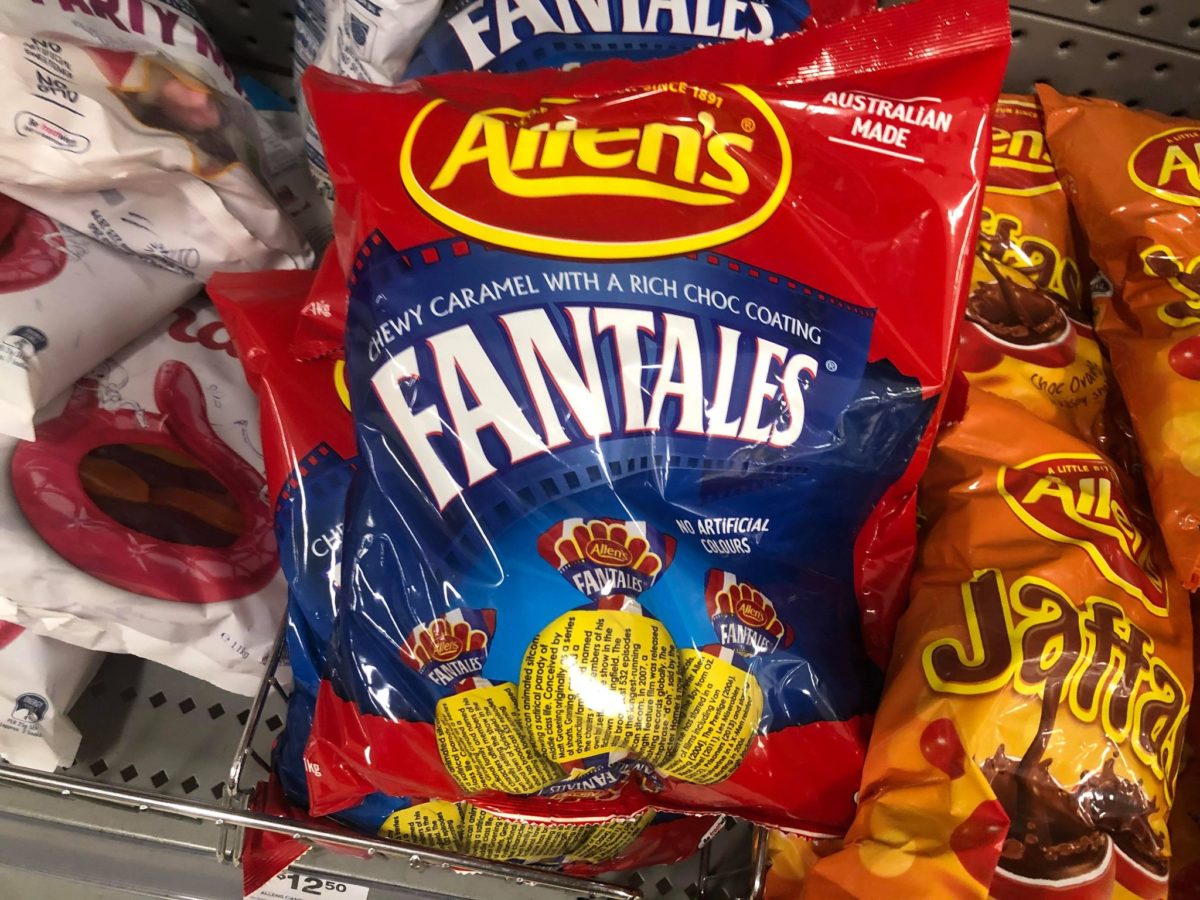 Fantales are an absolute classic. They are just lumps of caramel coated in chocolate, which in itself is not very interesting, but Fantales are wrapped in yellow wax paper with film trivia on them. This makes eating candy into a competitive competition, great fun.
Allen's Lollipops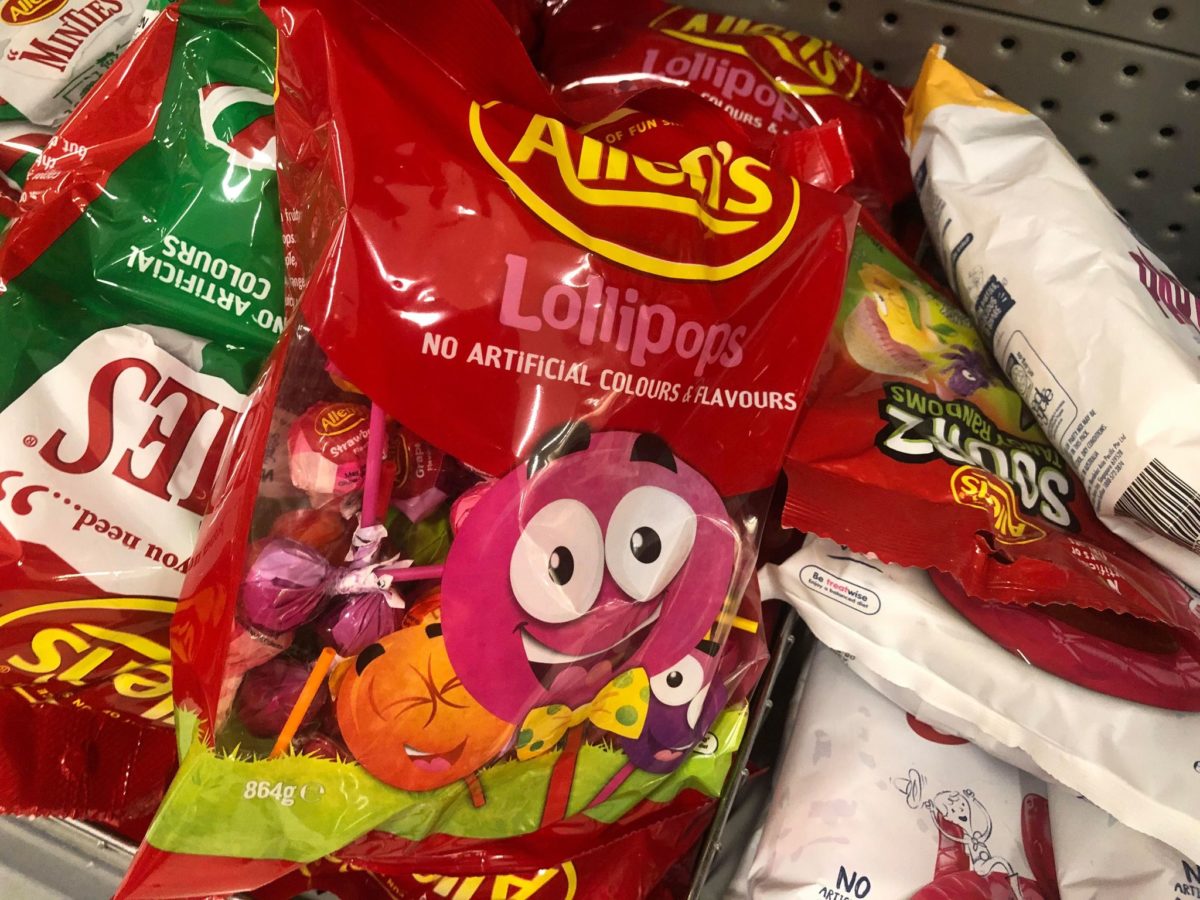 These appear to be like Chupa Chups in fruit flavours, I'd never really noticed these before.
Allen's Party Mix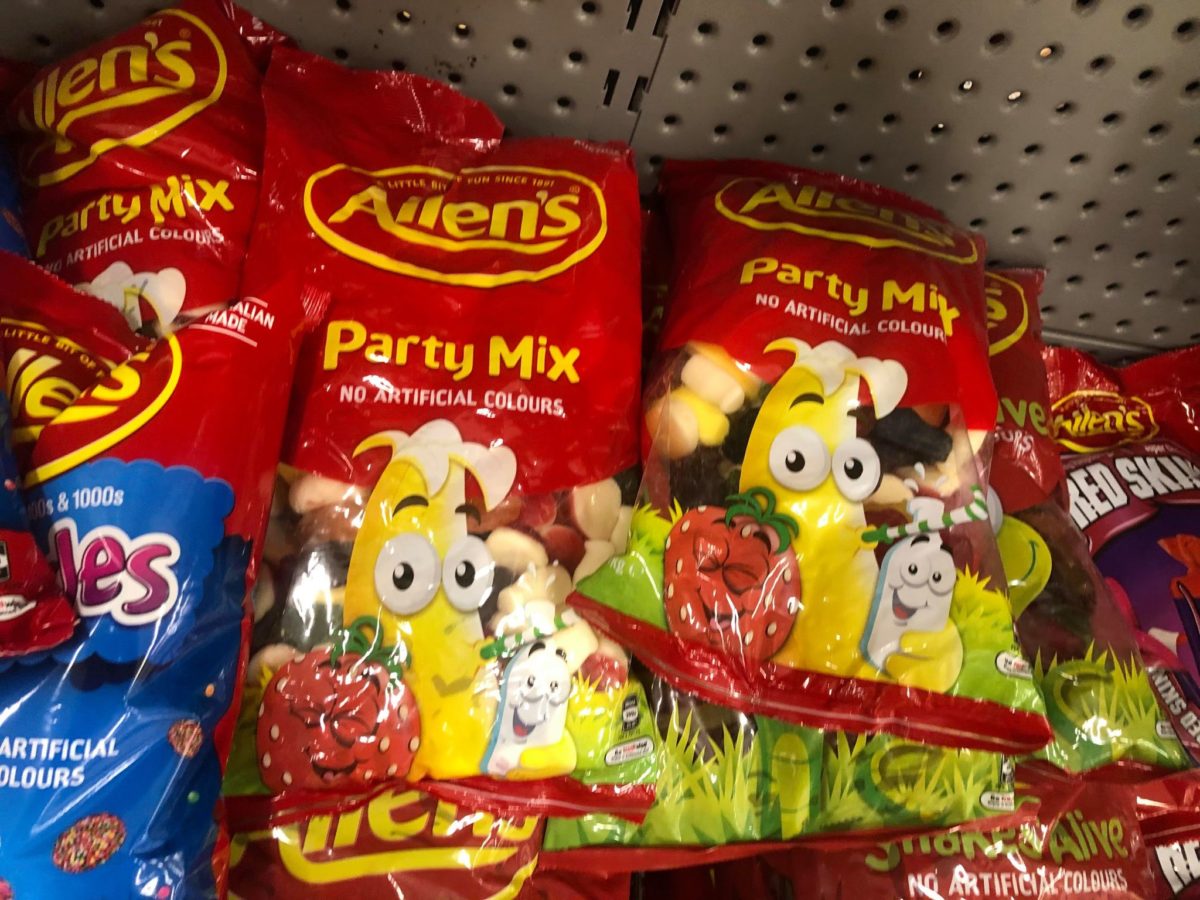 It includes bananas, milk bottles, strawberries and cream, snakes, peaches and cream, jelly babies, black cats and red frogs. This 190g bag is $3.  The 500g bags of Party Mix lollies are $5.
Allen's Minties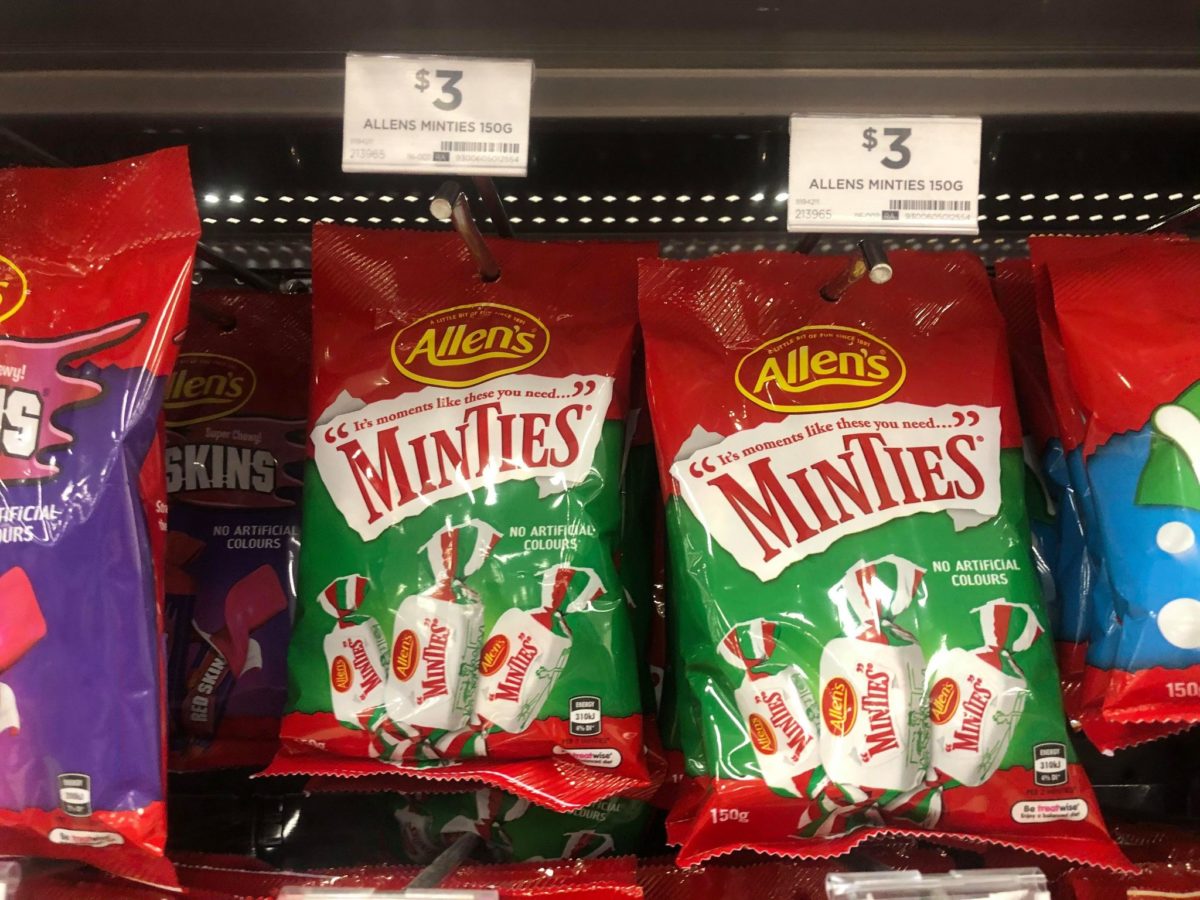 Being individually wrapped, Allen's Minties are a good lolly to give out to students at school when they are well behaved. Minties have the same wax-paper wrapping as Fantales, but instead of reading trivia on these, you are encouraged to see how long you can make a string of continuous paper with the Minties wrapper.
Allen's Chicos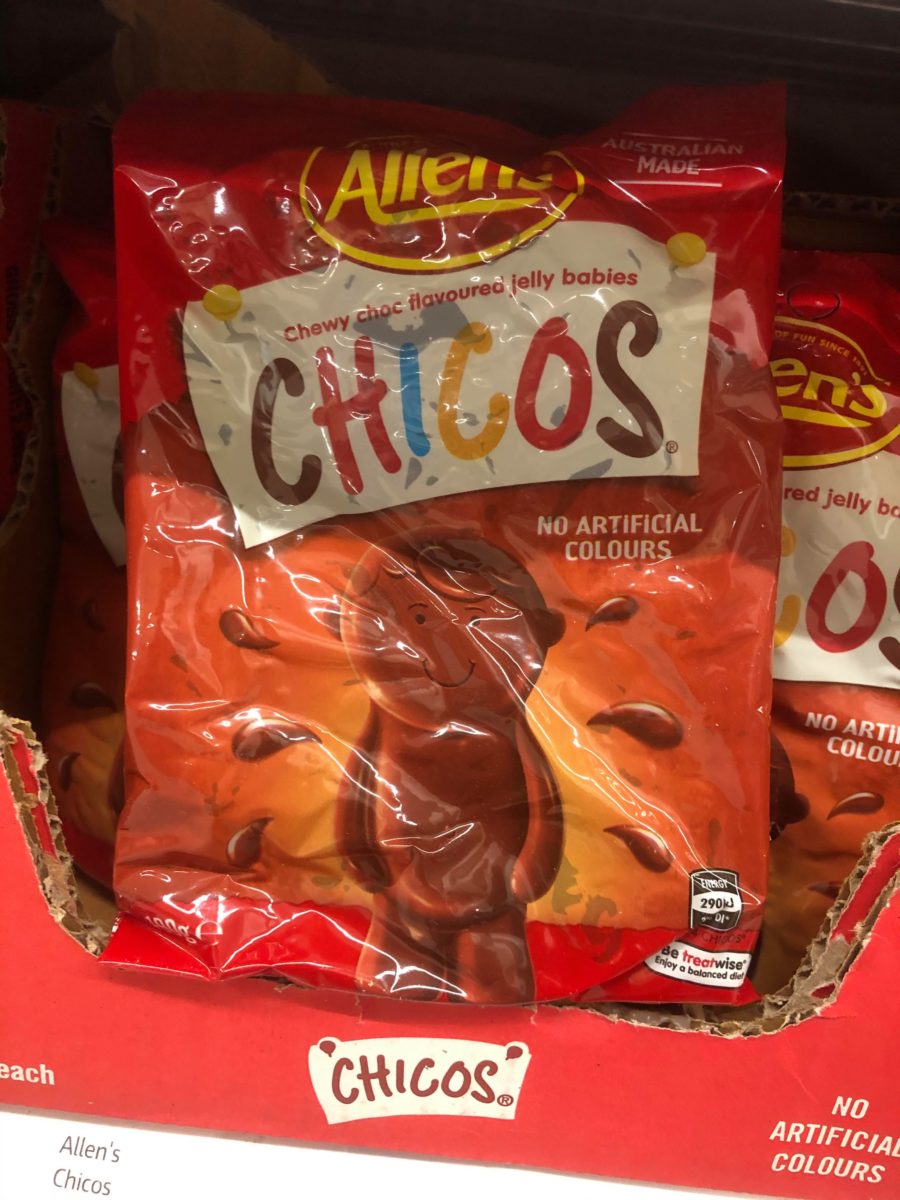 Allen's Chicos, will be changing their name due to the racist undertones. I'm surprised to see these are still here in 2021. They are chocolate flavoured jelly babies, which is a weird combination.
Allen's Sourz Tangy Randoms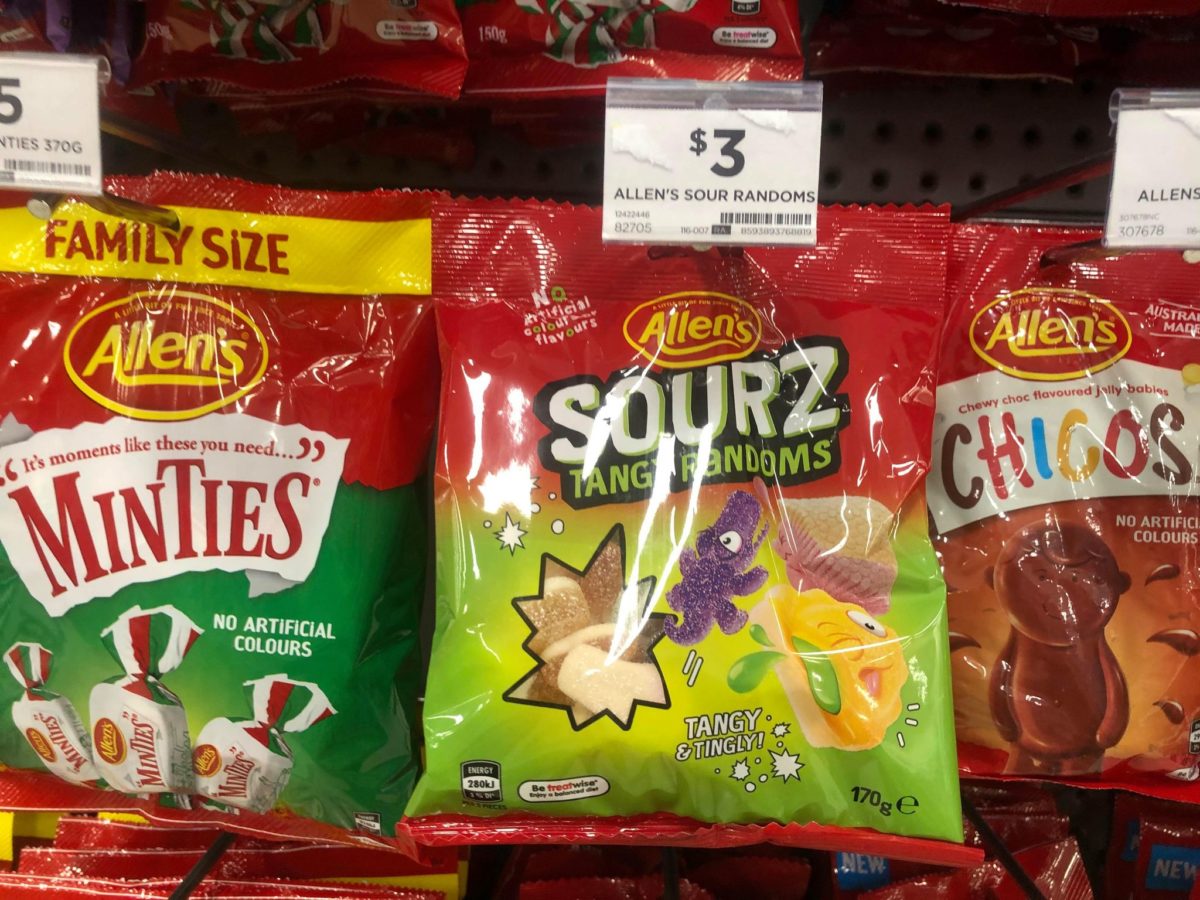 I've never had Allen's Sourz Tangy Randoms, but they seem like something I'd have liked as a kid if they were around back then. These are $3 for a 170g bag of sour fruit jelly lollies.
Allen's Snakes Alive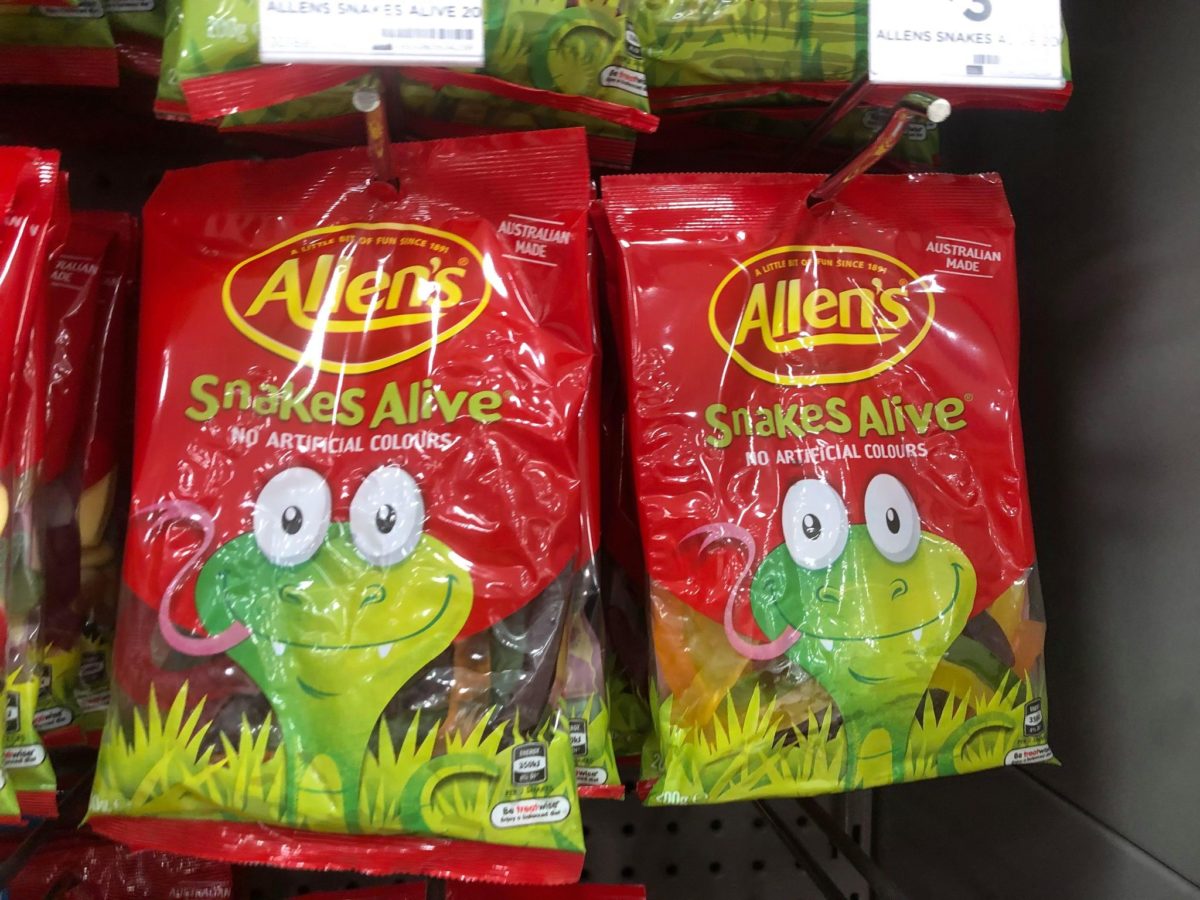 Allen's certainly does the best lolly snakes around. They call theirs "Snakes Alive".
Allen's Sherbies and Sherbies Sour Fizz Chews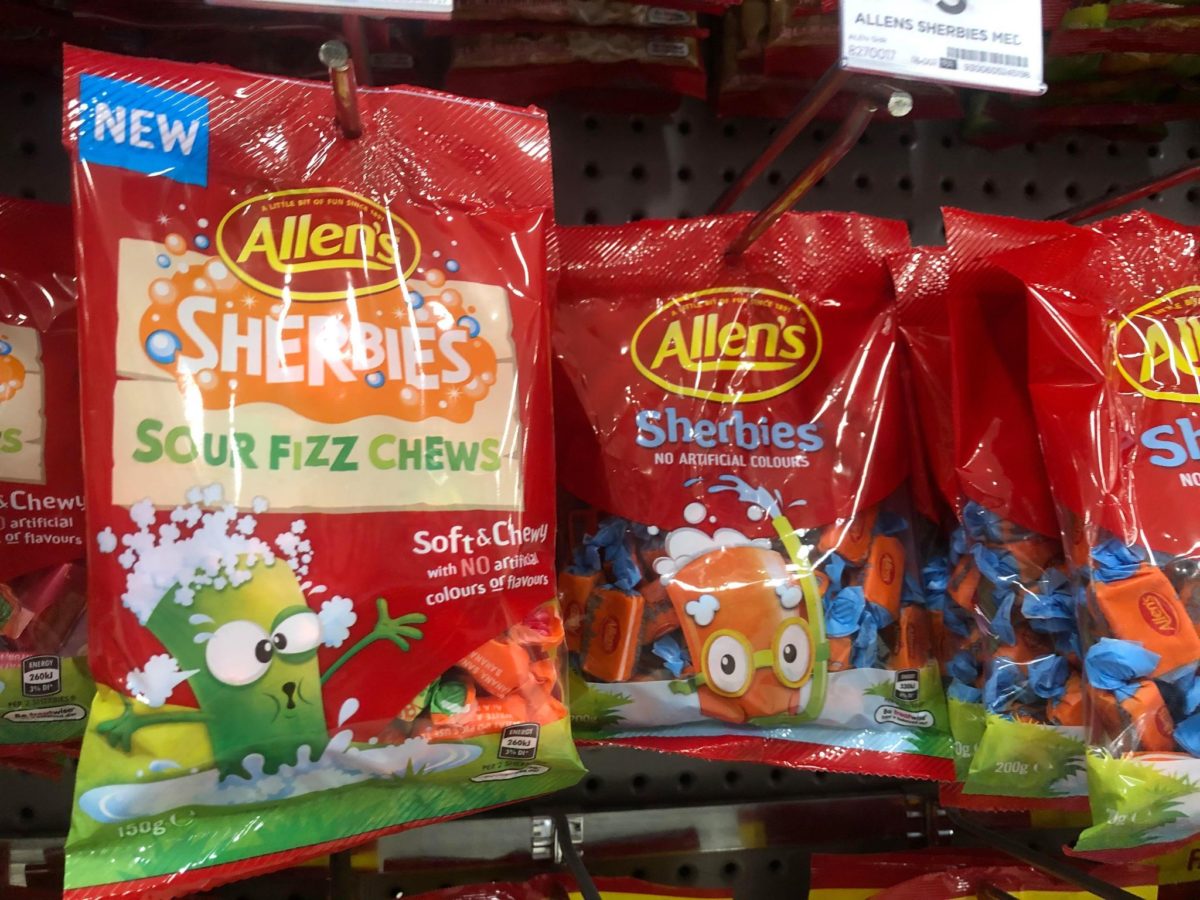 Sherbies are a soft and chewie orange candy with sherbert inside. They now also sell Sherbies Sour Fizz Chews. In the 1990s, we always had to take Sherbies to my cousins in New Zealand as you can't buy those there.
Allen's Freckles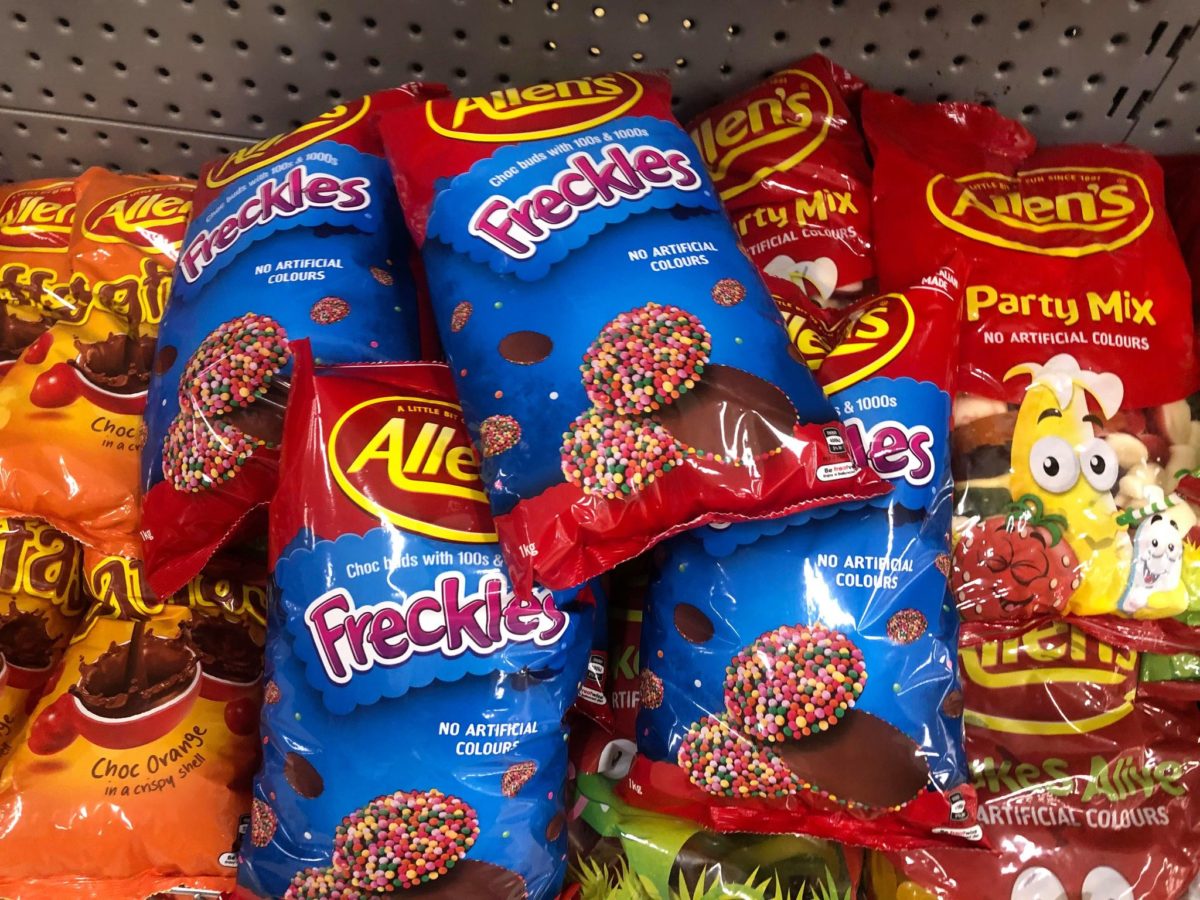 Freckles are another one of those classic lollies that lots of brands make. It's just a disc or button of chocolate with 100s & 1000s or hundreds and thousands stuck to one side. These are often used cake decorating as they are quite boring on their own.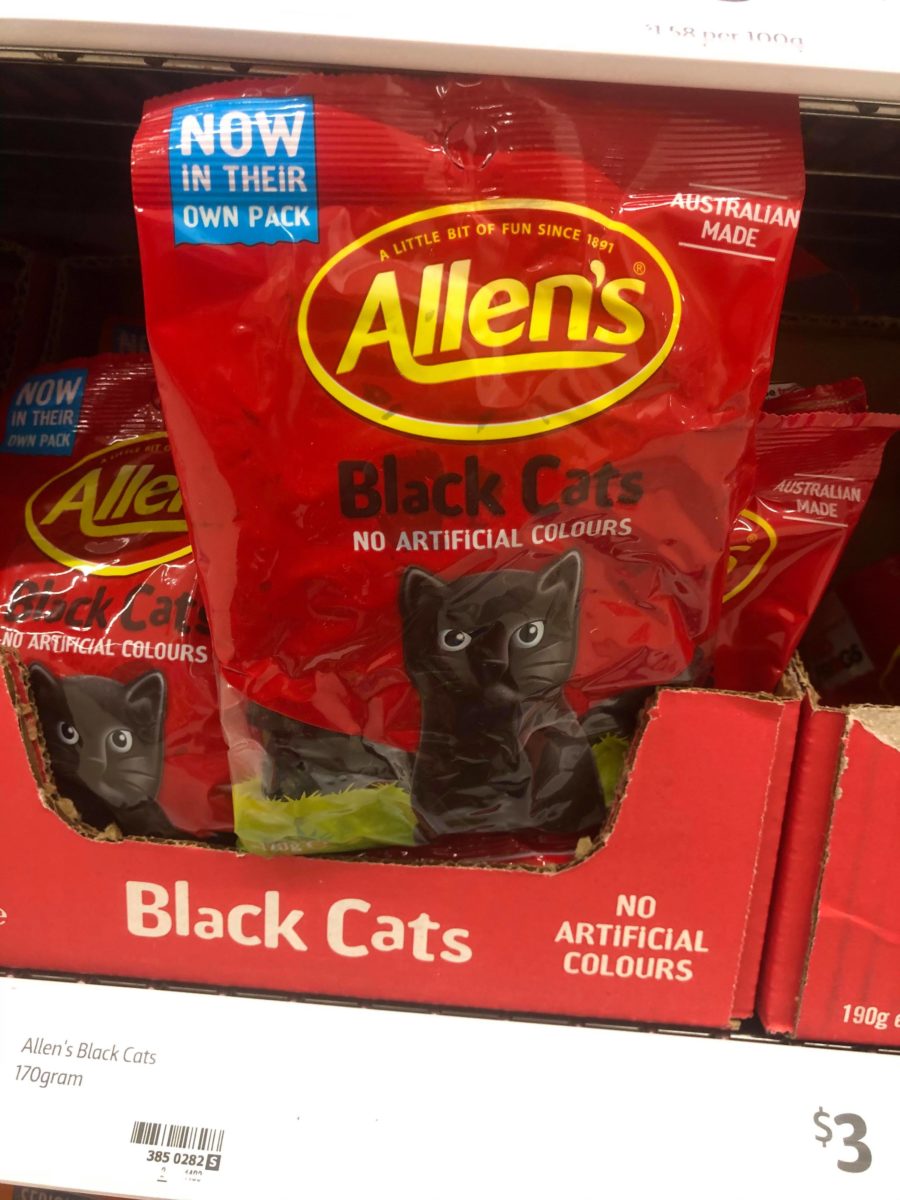 Allen's Black Cats are a licorice-flavoured cat-shaped jelly lolly. They used to appear only in Allen's Party Mix but are now available in their own 170g backs for $3 each.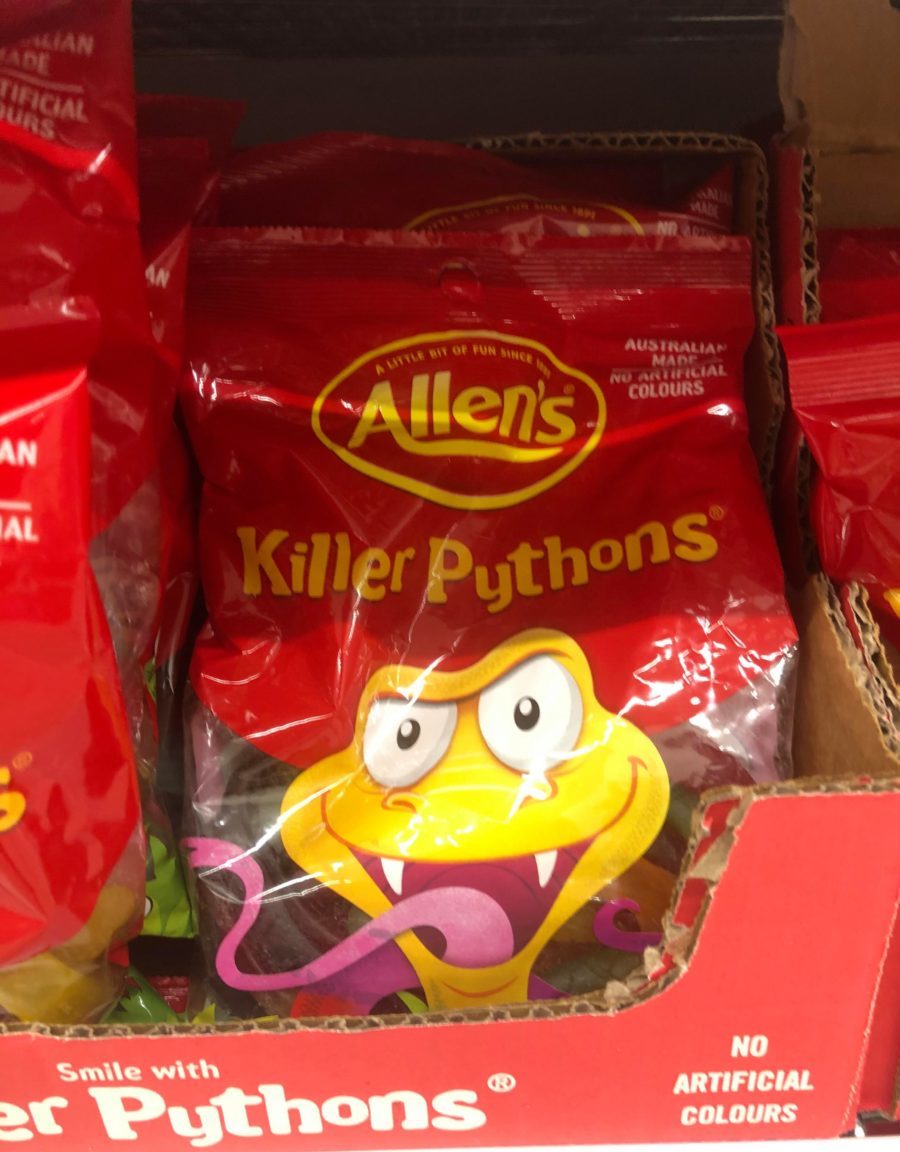 A giant version of the Allen's Snakes Alive, Killer Pythons are best remembered as lolly you could buy individually from a big jar at school canteens or milk bars in the 1990s. Now you can buy them in a big bag for yourself and enjoy ripping their heads off in the comfort of your own home.
Allen's Spearmint Leaves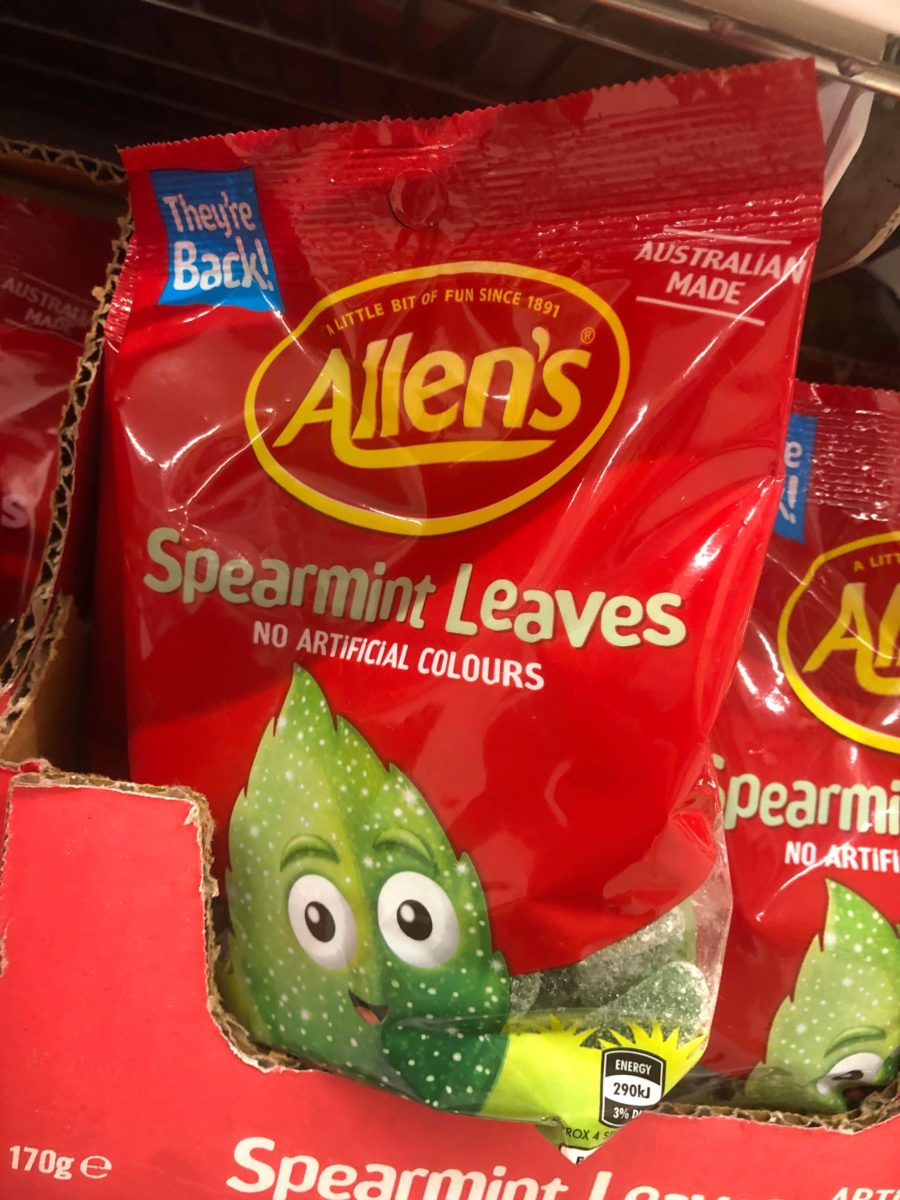 Spearmint is a strange flavour for a jelly lolly, I believe generic versions also exist but are obviously inferior. These are mostly used in cake decorating and appear to have recently come out of retirement.
Allen's Ripe Raspberries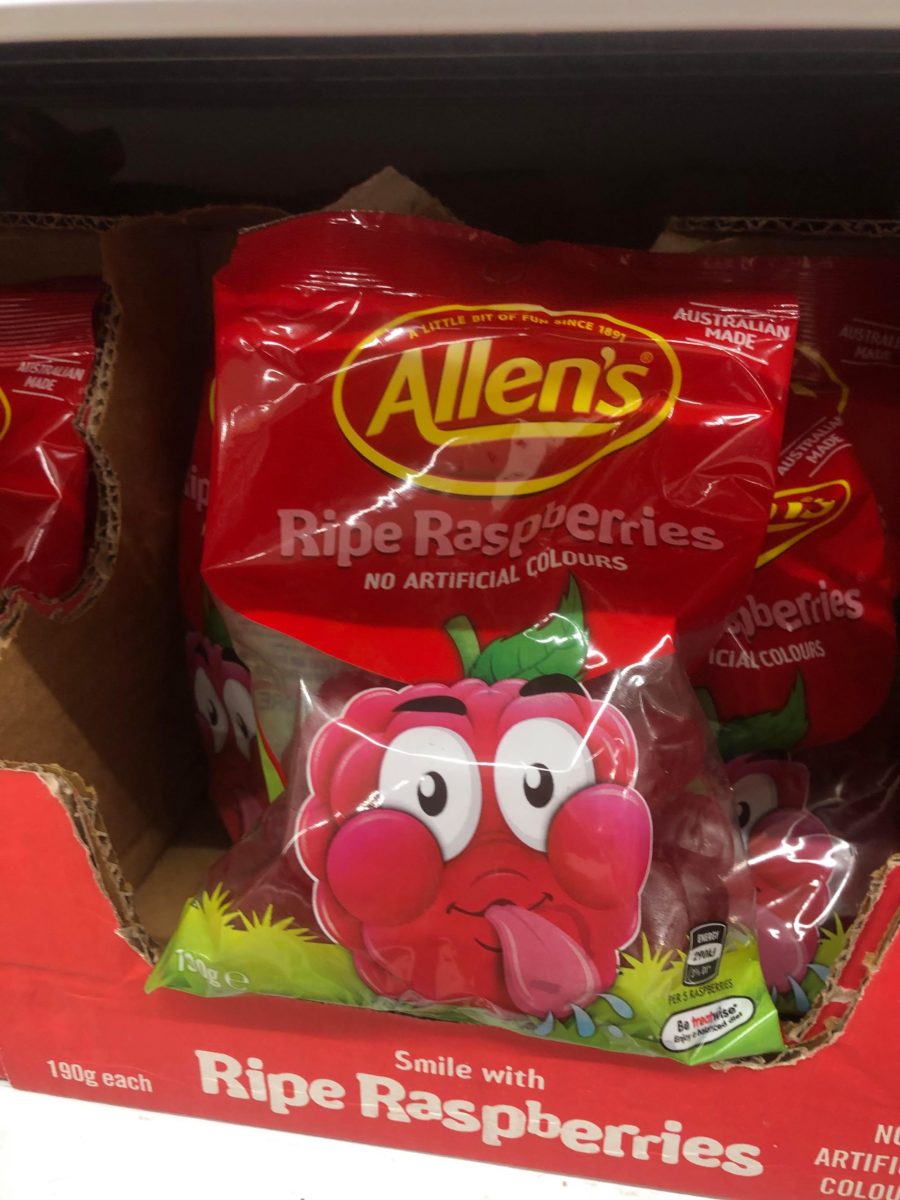 Ripe Raspberries are a raspberry flavoured jelly lolly. There are generic products like this, but again Allen's has the best product. These are used in cake decorating a lot, but are also great on their own.
Allen's Frogs Alive
Allen's Frogs Alive are another generic lolly that they do better than others. Much softer and red is definitely the best flavour for their jelly lollies. These support the Red Frogs program which promotes educating teenagers about alcohol and the importance of designated drivers, especially at Schoolies week.
Allen's Pineapples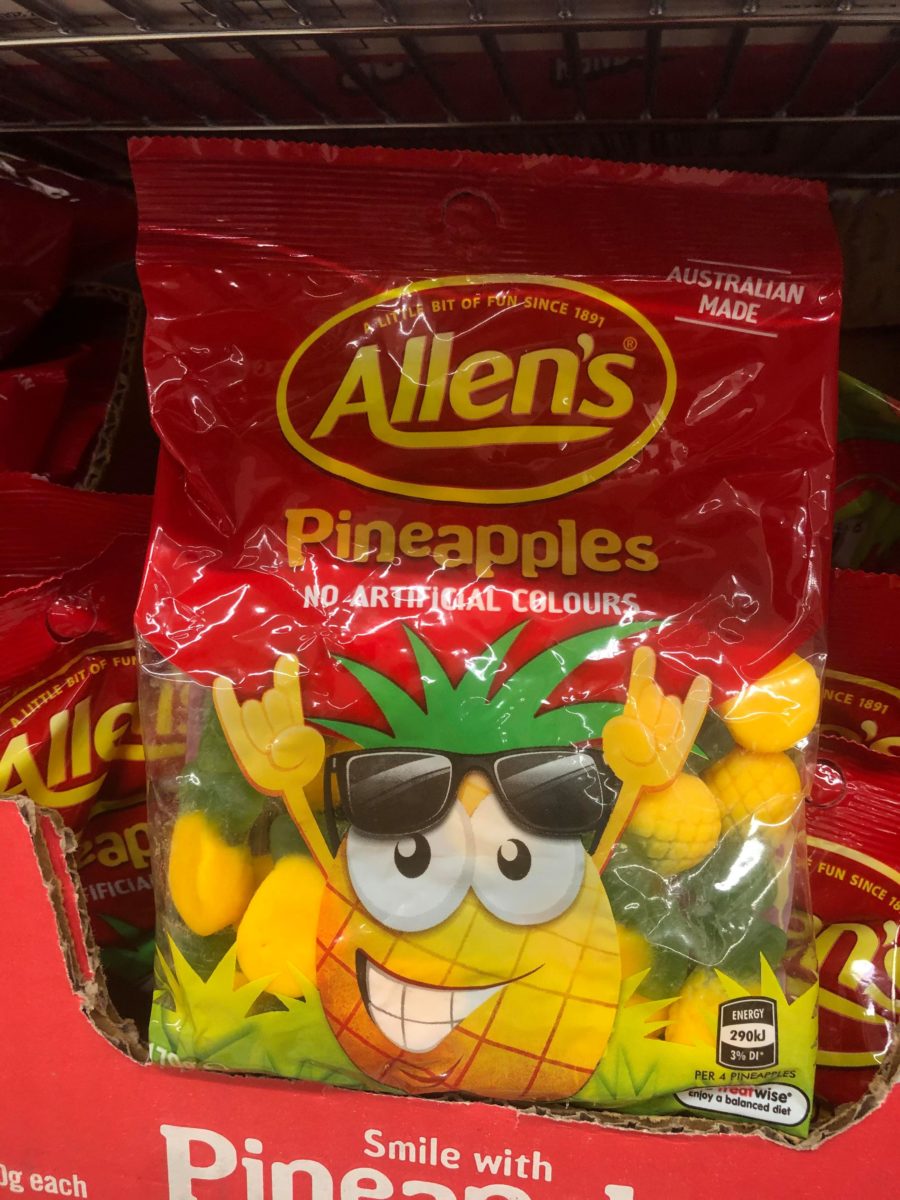 Another classic, Pineapple lollies are ok. I believe I've had inferior non-Allen's ones before as part of generic party mixes.
Allen's Bites Mini Chocolate Black Cats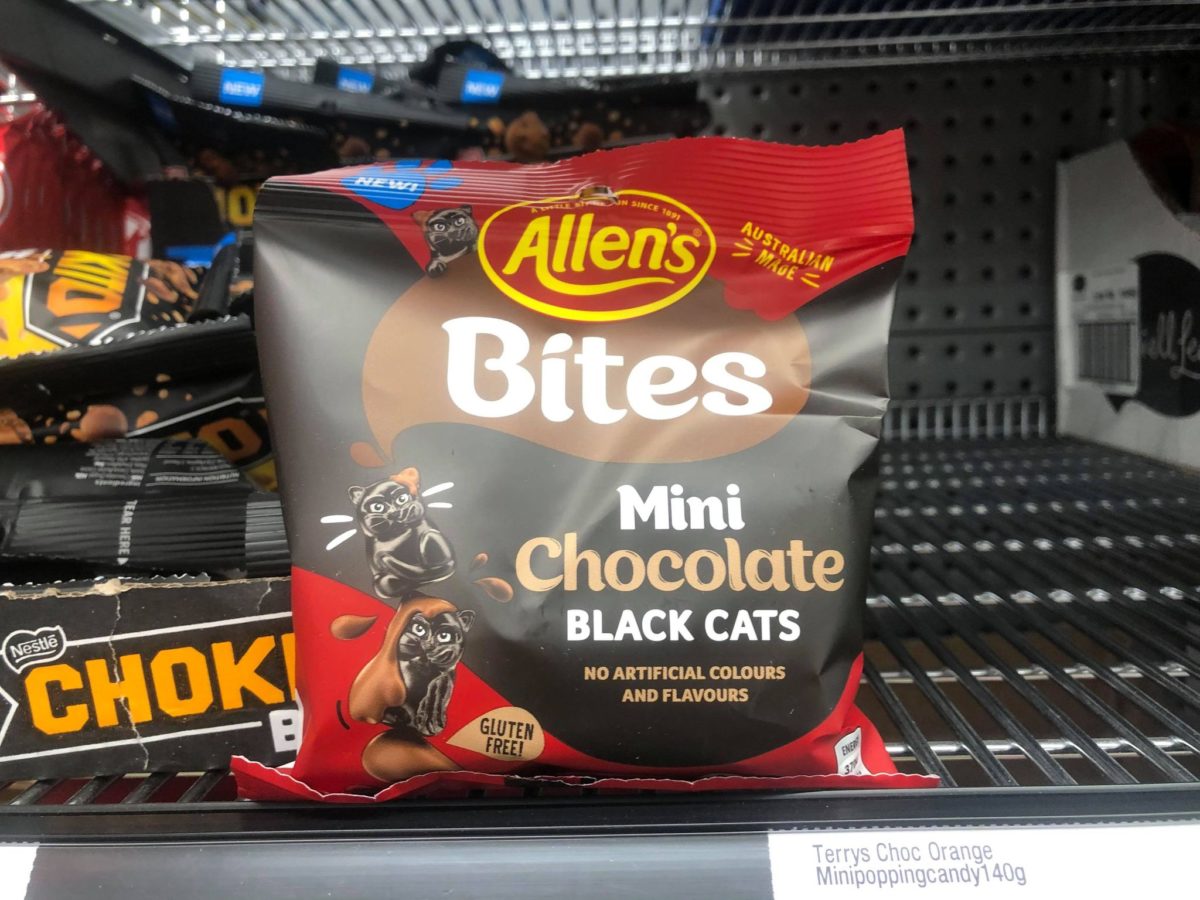 These are new in 2021, miniature versions of the Allen's Black Cats lollies coated in chocolate. I bought these to try and they were actually really good. As I write this I notice that the packaging doesn't make it clear that they're an aniseed flavour. Aniseed and licorice are quite polarising flavours you either love or hate.
Allen's Bites Mini Chocolate Raspberries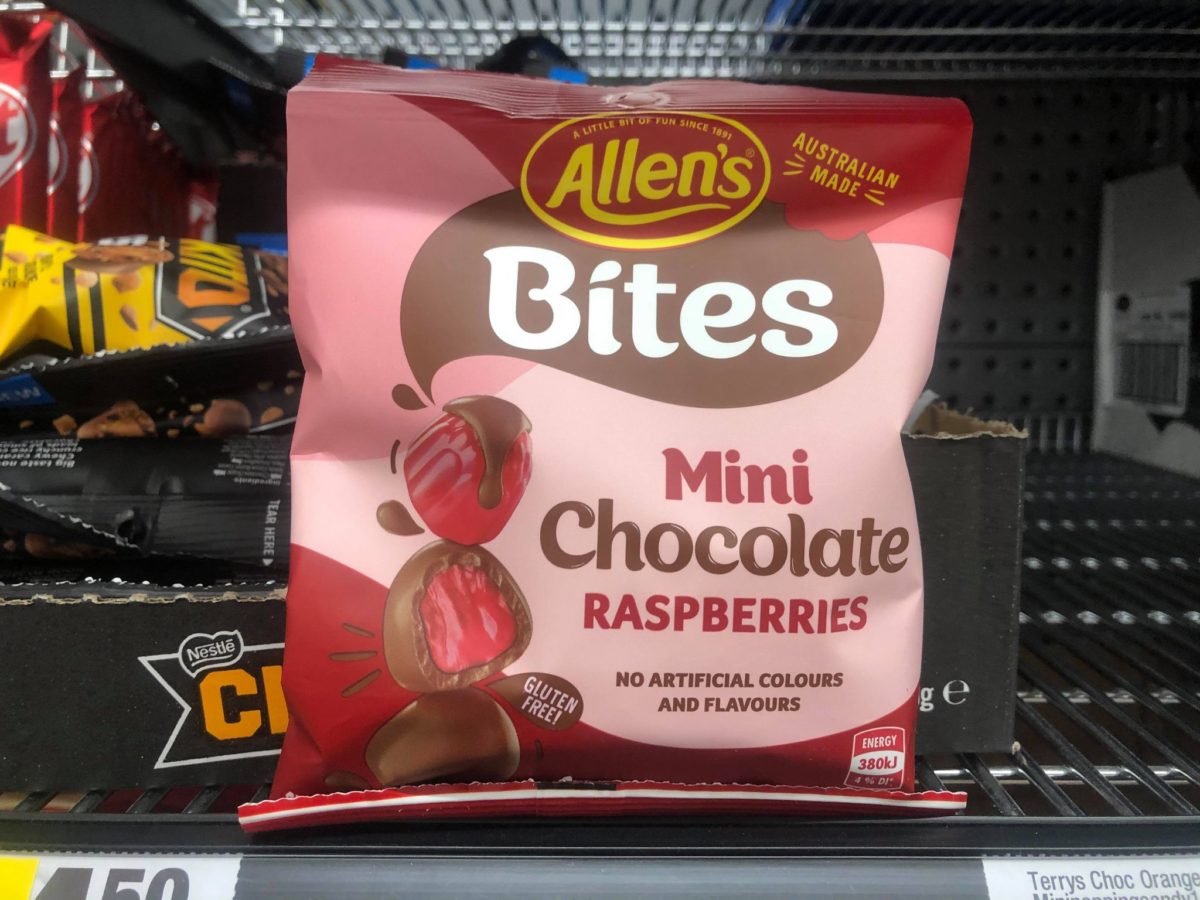 Like the Black Cats above, these are smaller versions of Allen's Chocolate Raspberries coated in chocolate. These are great.
Allen's Bites Mini White Chocolate Raspberries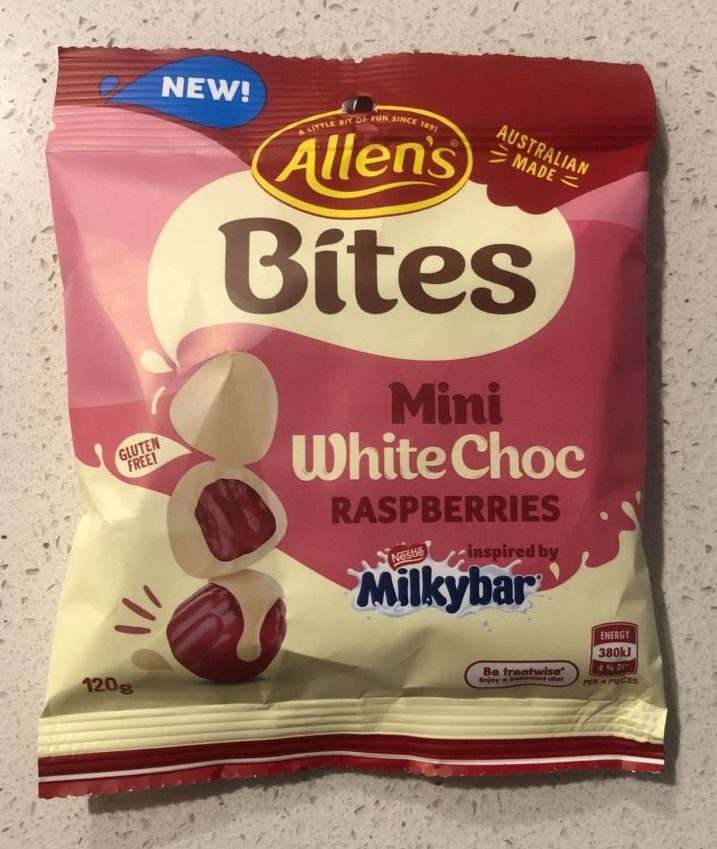 This is the same as the above but with white chocolate inspired by Nestle Milkybar. I haven't seen these in stores yet, but got this as part of a Coles online order.
Conclusion
I don't really know what to say except Allen's has the best jelly lollies in Australia. This article is mostly just for archival reasons. Maybe one day decades from now when some of these have disappeared you will stumble across this article and look back at the current range that was available at Big W, Coles, Woolworths and other major retailers in early 2021.