Over the past few years, I've gained a growing interest in various dried and smoked meats. I've even been making my own biltong, but I've found that I prefer to just buy it from companies that make it well. Most of the jerky sold at Australian supermarkets near me are pretty average. I much prefer the dry jerky to the rubbery kind such as Jack Link's Beef Jerky (but I always buy that if it's on special).
After doing a few orders from The Jerky Co, which sells big bulk orders, I thought I'd try The Original Beef Chief as they have a lot of interesting flavours of jerky and I'm currently on a bit of a jerky binge. They sell lots of smaller sized bags such as 30g, 50g, 100g and 250g, which is great for sampling.
PS. if you are looking for a trick to get a discount code for The Original Beef Chief jerky website, I've got a good tip for getting a discount at the end of the article.
My Original Beef Chief Order
My order was The Chief's Pack 400g – 8x 50g packets for $65.99 which contains Smokey BBQ, Bourbon BBQ, Honey Soy Drizzle, Cracked Black Pepper, Loaded Gunpowder, Ragin' Cajun, Chargrilled Chilli BBQ and Creeping Reaper jerky flavours. I also ordered a packet of Salt and Vinegar jerky
When it arrived, it came with an Original Beef Chief bumper sticker and a letter from the owner, which was a nice touch. Unfortunately, a few products were out of stock – the 50g bag of Chargrilled Chilli BBQ jerky, which was replaced with 2x 30g bags, which means I actually profited 10g of jerky for free.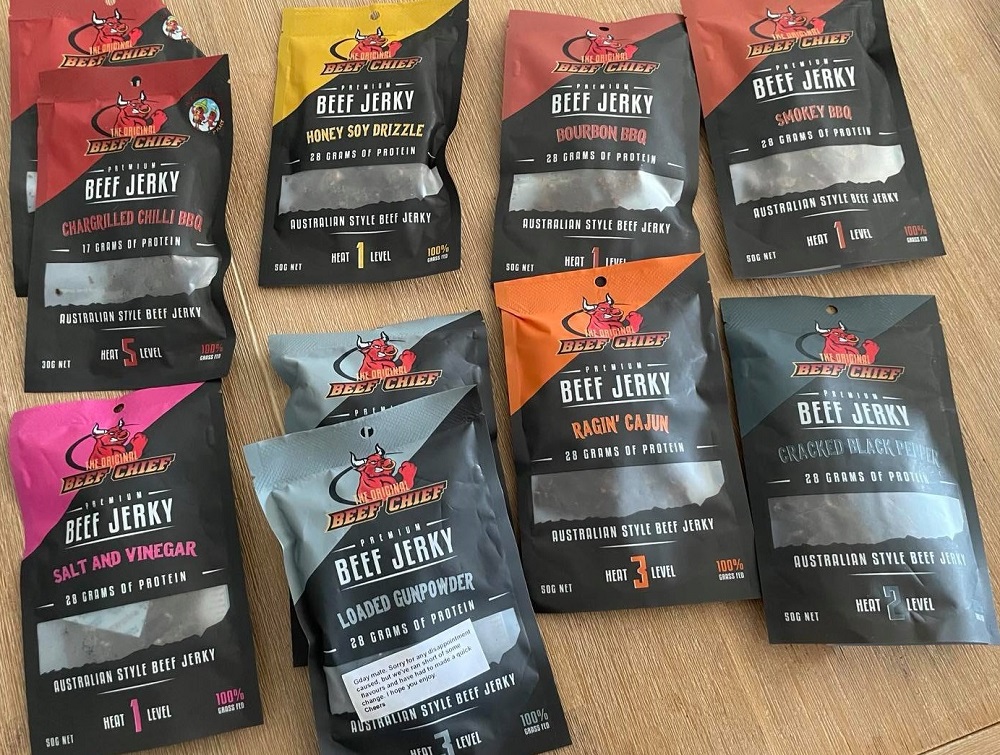 The disappointing part was that they were sold out of the Creeping Reaper (level 8 heat), which is the hottest they have, and as they were also out of the 50g Chargrilled Chilli BBQ (level 5 heat), they substituted with one of their level 3 heat flavours – Loaded Gunpowder. I'm still glad they substituted something and didn't just reduce my order or delay it. The fact that they appear to be having trouble keeping things in stock is a good sign of the quality and popularity of the product!
My Second Order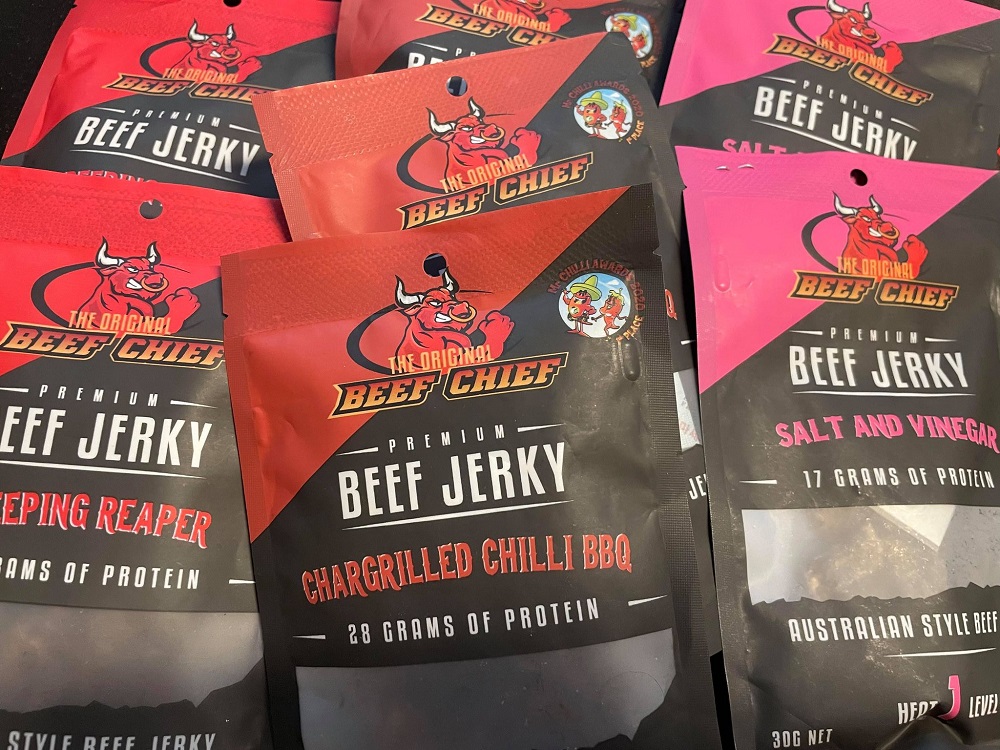 The fact that I did a second order is a good indication that I liked these, this time with a good discount code. I got the Chargrilled Chilli BBQ and Salt and Vinegar again being my favourites. I was now able to get my hands on the Creeping Reaper (Carolina Reaper) jerky. Interestingly the Salt and Vinegar packets had little baggies of extra flavour you could add, which was pretty cool.
Honey Soy Drizzle Beef Jerky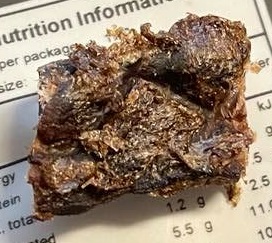 I opened this one first, which was a random selection. As a fan of spicy jerky, I found this very boring. It didn't really taste like much, but I suppose, it's not meant to! I can see that it's definitely got a coating and seasoning on it. There's a very faint sweetness, but not very noticeable. It is not unpleasant by any means, but not something I'd buy again.
Bourbon BBQ Beef Jerky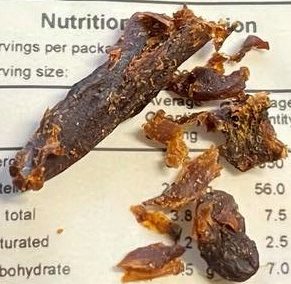 This had a stronger flavour than the Honey Soy Drizzle, I'd recommend this over it for anyone looking for a non-spicy beef jerky from The Original Beef Chief. I actually ate this so fast that I almost forgot to take a photo of a piece, so that's why they are so small in the photo. This is not the best representation of the product! The flavour was still fairly subtle still compared to other brands, but the quality of the beef was definitely there. Unlike the previous one, it also leaves a noticeable aftertaste in your mouth.
Chargrilled Chilli BBQ Beef Jerky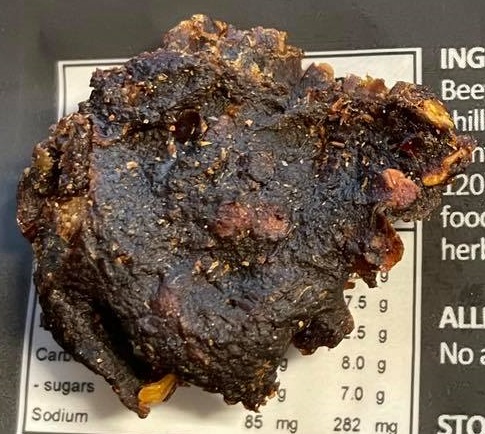 Now, this is where I really should have started. I fished around for a spicy one to try next. After just 3 pieces I could already feel my face start to sweat a little. This is definitely my favourite so far. It, it really has a strong flavour, mostly the hot chilli but there's definitely a hint of barbeque here. This demonstrates well what the manufacturer said about how the more you chew the jerky, the more the flavour is released.  Like reverse bubble gum.  I'd never thought about jerky this way and it is a very different experience to eating other spicy foods where the heat will hit you as soon as it touches your tongue, with this you chew to release it.
Cracked Black Pepper Beef Jerky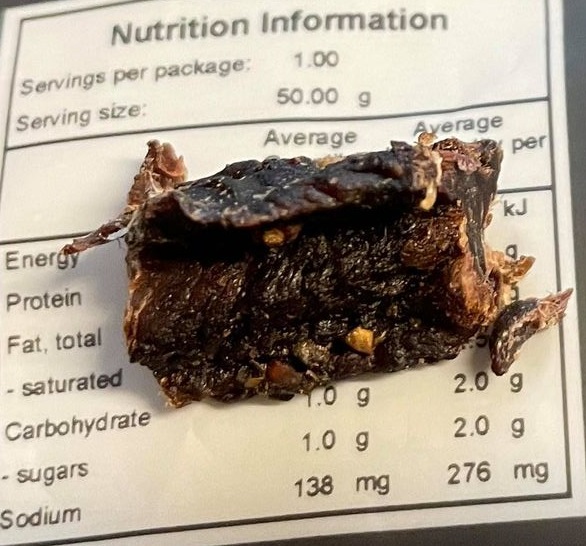 This is not a flavour I'd have chosen to buy given so many spicier options. Black pepper is not my favourite source of spiciness, but for a milder spicy flavour for other people, it seemed good. I don't have a whole lot to say about it except it wasn't bad and that it seemed to have more crumbs at the bottom of the packet than other flavours. I guess cracked pepper is kind of heavy and lots of pieces fall off.
Salt And Vinegar Beef Jerky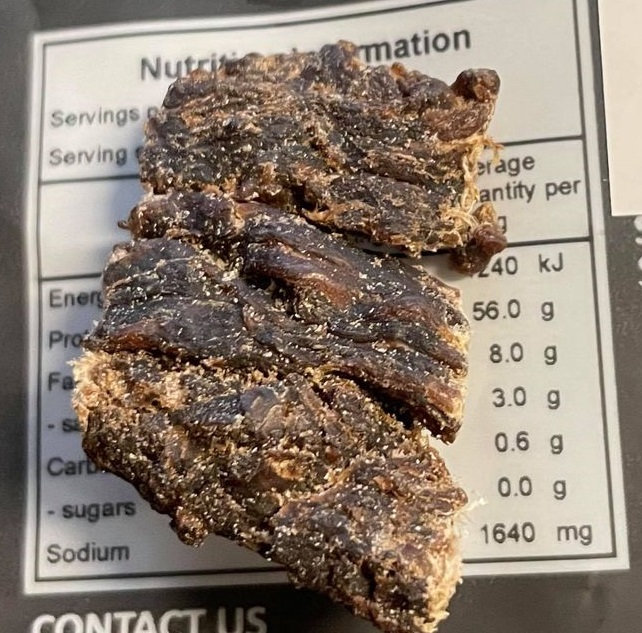 This was not part of the bundle that I had bought, I ordered this on the side as it sounded really fun. Given that I've never seen anyone do salt and vinegar jerky before, I couldn't wait to try this one. Since many dried meat products are a salty, savoury flavour and that some form of vinegar is used in making biltong, this tasted a lot like my homemade biltong, but better. Whilst the flavour is not as overpowering as a typical potato chip, this is still just as addictive. I'm going to tear through this bag really fast. I
Ragin' Cajun Beef Jerky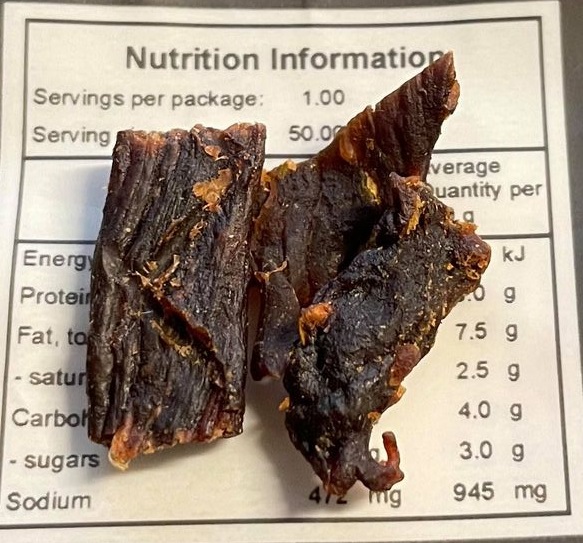 wow, this one has the strongest immediate tastes so far. The Cajun flavour is good and there is some medium spice to it. I think I prefer the Chargrilled Chilli BBQ better though. So whilst this is not my favourite so far, I wish they all had the stronger immediate taste like this jerky did.
Loaded Gunpowder Beef Jerky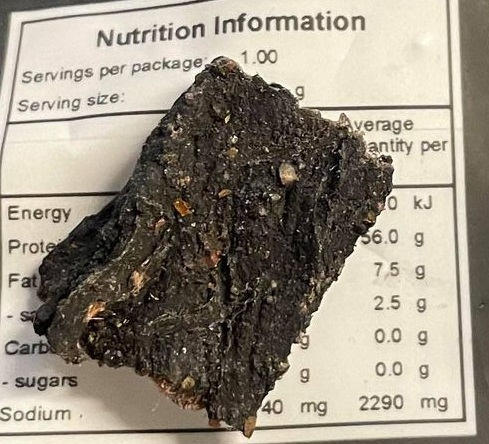 At first, I wasn't sure why they thought "gunpowder" is a flavour for food items, that doesn't sound pleasant at all. This is why this is one of the last I tried. This is basically just a salt and pepper jerky with smoked charcoal. After eating it, the name certainly makes sense. The charcoal definitely adds a smokey taste and the pepper makes it mildly spicy. It is is a bit too salty for me though. When it comes to the heat, pepper will never beat chilli as a spice for me. I don't really recommend this compared to others, but that's because I don't really like charcoal. The black colour does make it look cool though.
Smokey BBQ Beef Jerky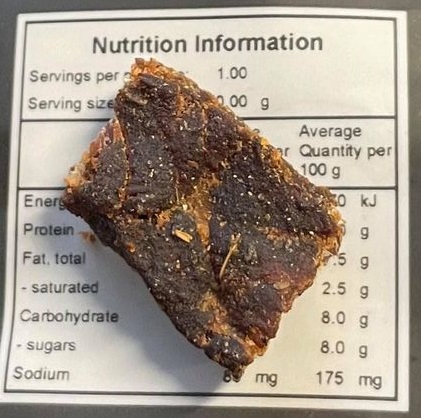 This is a very nice smokey bbq flavoured jerky. Whilst there is no particularly strong flavour, it has the high-quality beef jerky texture you'd expect and a very mild smokey taste. I ate this on a different day to the Bourbon BBQ flavour, so I'm not sure which of these were better.
Creeping Reaper Carolina Reaper Jerky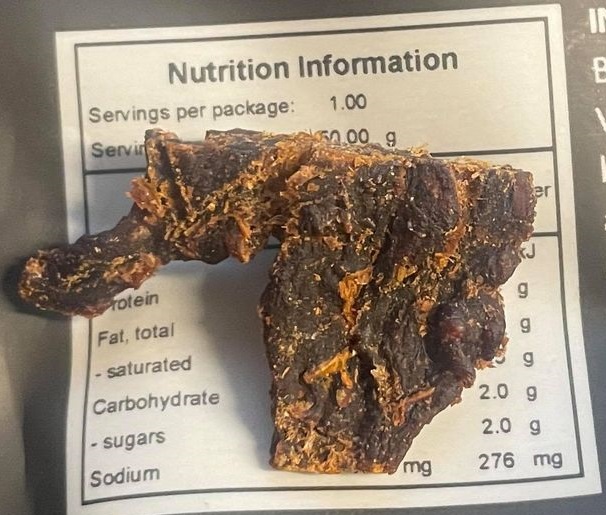 This was unreal, it got hot very fast and it took me all day to finish the packet. I like that its heat forced me to eat this slowly. I sure drank a lot of water that day. I then had really bad heartburn and thought I was going to vomit when the last of it started to digest. This really messed up my insides and now I still have another packet that I'm scared to eat. I will get the courage sooner or later, but this time I'll make sure I pace myself, eating it over a few days. Whilst I did enjoy the Carolina Reaper spice at the time, the after-effects kind of ruined my evening. I suggest buying this only in the smallest bag possible for safety reasons.
Which Original Beef Chief Jerky is Best?
The Chargrilled Chilli BBQ and Salt and Vinegar were my standout favourites. The Smokey Beef and Bourbon BBQ were also good, but I can't recall which was better out of them.
The Original Beef Chief Discount Codes
Since paying full price for this order like a sucker (and I did Google for discount codes) I have since found several ways to get discount codes such as 10% off, 15% off and free shipping. Given I am not planning to regularly update the coupon codes in this article, here's a list of ways to get a discount since the codes are always changing.
Discount Method 1 – Prize Wheel 
Their home page has a popup where you can spin a wheel for prizes if you enter your email address. It doesn't look like you have to be a first-time buyer, so give it a shot as I did this and I've actually been signed up to this company for a year or more before I made a purchase. If you can't get anything good out of this, there's plenty of other ways to get a coupon.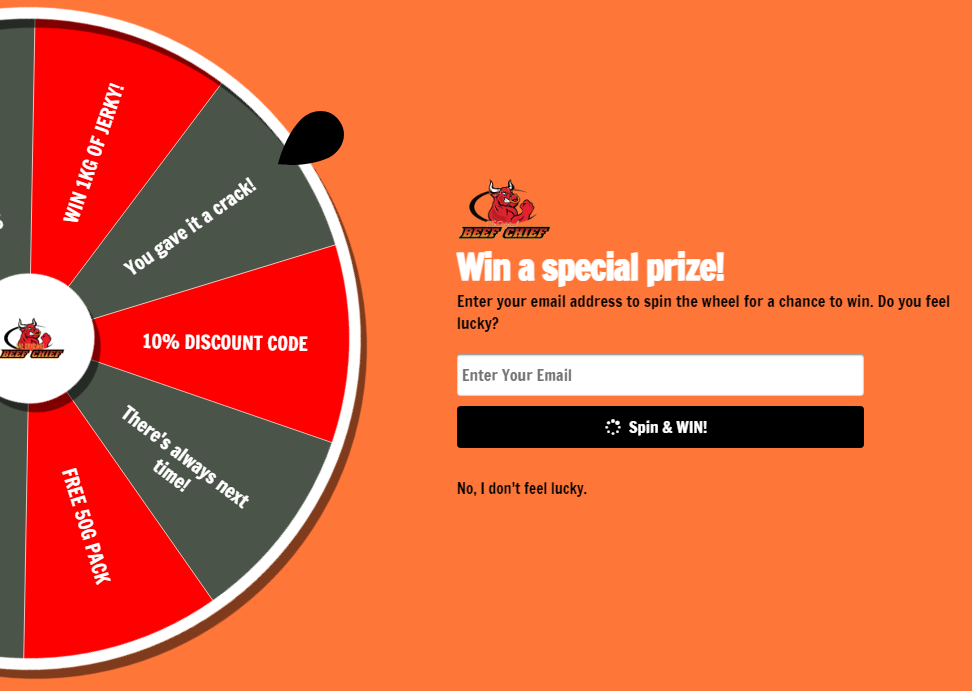 If you have already been on their website, you might not get the wheel to load, so try again in a private or incognito browser window, which will clear your cookies and let it load again.
Discount Method 2 – Email List
Yes if you play the prize wheel, you will get occasional emails from this company in the future. Every few weeks they send an email but a lot of them relate to contest and discounts, so it's a decent mailing list to be a part of if you love Jerky.  I've not been watching my emails, but they recently gave out free sample packs of 4x 35g packs (just pay to ship). I wish I'd gotten in on that!
Discount Method 3 – Beef Chief Facebook Page
Go and Like their Facebook page here – https://www.facebook.com/OriginalBeefChief they are often giving out discount codes on here. At the time of writing this, there's a 15% off discount for Father's Day. I'll probably make use of that soon… I am a father after all.
Discount Method 4 – Beef Chief Facebook Group
Join the Beef Chief Jerky Facebook group. The owner of the company appears to do live streams on Thursday nights at 8.30 AEST where exclusive discount codes are given out.  I've also seen influencers in the group handing out 15% off discount codes as well, so that's pretty cool.
Discount Method 5 – @OriginalBeefChief on Instagram
A lot of their promotions are also shared on Instagram, you can also win prizes by sharing photos with their products there.  https://www.instagram.com/originalbeefchief/