This article was originally published on my old review blog that I forgot to renew the domain name for. Here it is back in its original glory thanks to archive.org's Wayback Machine.
I've seen a lot of co-branded marketing campaigns in Australia throughout 2014 – 2015.
Pizza Hut has been on the forefront with this, having had Doritos Crust pizza and also Vegemite pizza. Vegemite Chocolate by Cadbury and KFC Zinger chips also happened, and probably many others.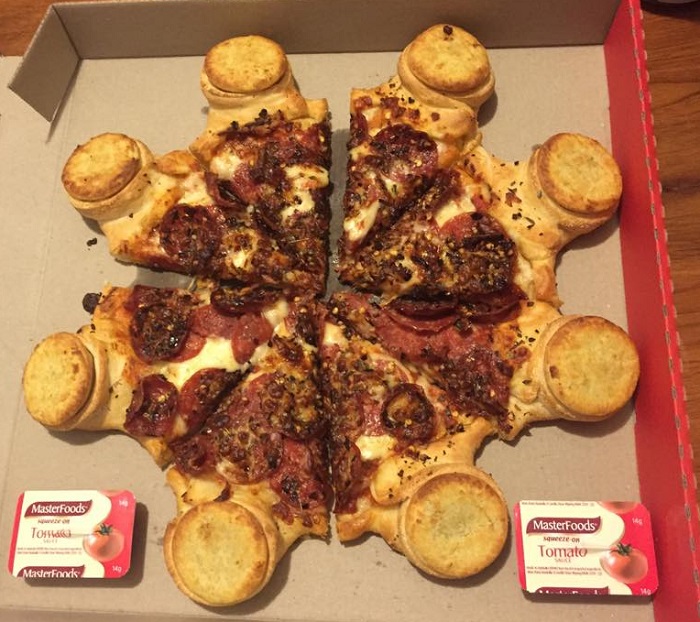 I'd have to say that this one was my least favourite. All my life I've disliked pizza crusts. I've always thought of it as the flavourless disposable handle that I would use as a utensil rather than part of the food. Growing up, I now eat my crusts more often but my thought process is often "why fill up on the part that tastes like nothing when there's another slice in the box?"
I think Pizza Hut has been doing a great job of keeping the crust interesting, with all their promotional editions, as well as their constant cheesy stuffed crust option. I think their interesting crusts are one of the few differentiators that give this company any kind of edge here, as I'm positive this company is a shadow of its former self.
What is the Four N Twenty Crust pizza like?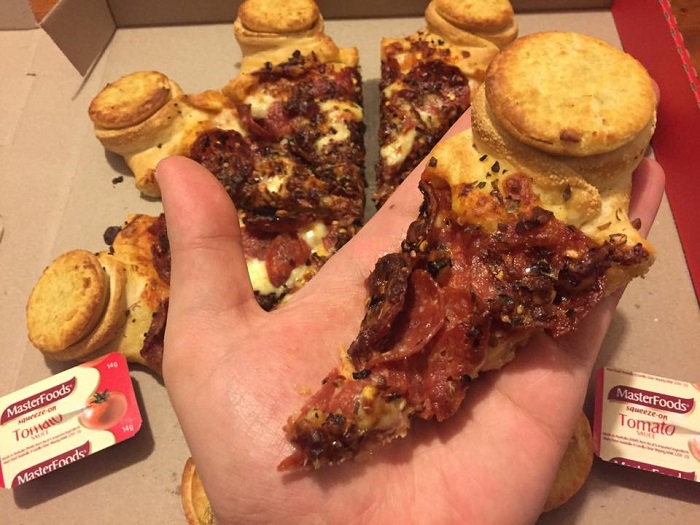 Basically, 1/3 of the pizza is now crust. Rather than making the crust more enjoyable, they added more to it. The pizza now has less topping because of this monster crust. This is not an advancement in pizza crust technology.
There are now little tiny pies that are sitting in this curvy folded pastry trays. These pies are much smaller than regular party pies. These are tiny little things with a sprinkle of minced meat in them.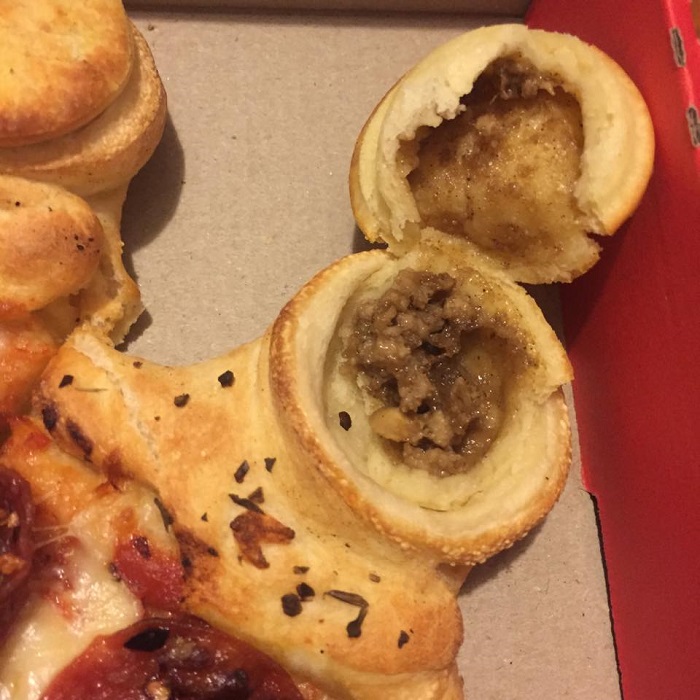 Whilst these tiny Four N Twenty pies are not terrible, the meat content is so little that I don't think it is really worthwhile at all. The extra pastry from the pie-holding-compartments in the crust and the pie itself is just too much.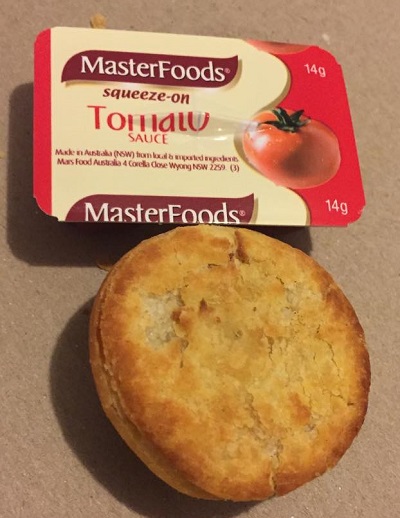 Here's one of the pies that I've removed and compared to the sauce that came with it. These are really quite tiny.
What topping is that?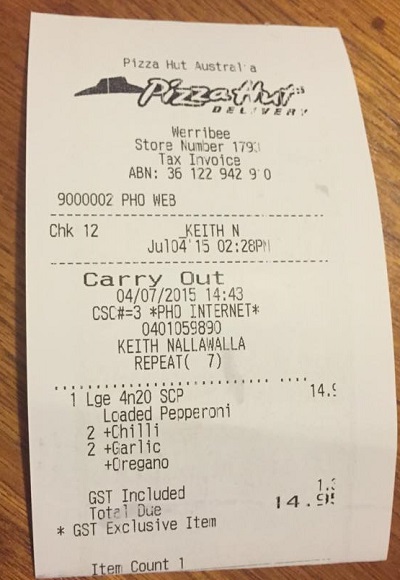 The pizza I ordered is my usual loaded pepperoni, with 2x garlic, 2x chilli flakes and some oregano (these are all free to add). I have to say this topping is great. I know a lot of people don't like Pizza Hut and say their toppings are bad quality, and whilst I think some of their meat seems super processed and ambiguous, the safest bet is always a pepperoni pizza. Their loaded pepperoni is double cheese and double pepperoni, so it's a bit more interesting than regular pepperoni.
Pizza Hut's Four N Twenty Meat Pie Pizza Verdict
Whilst this crust is a little disappointing, I think it's still worth trying for the novelty of it. It seems like something that will never happen again, so get it whilst you can. But I'm pretty sure once will be more than enough and that you're probably gonna complain about it online, but at least you'll know for sure instead of wondering.