The 1990s was a magical time when all kinds of chocolate, snacks and junk food was freely marketed to kids on Australian TV. These old, and mostly now discontinued snacks were always welcome in a child's lunchbox at school. I believe nowadays in Australia, junk food for morning tea and lunch is frowned upon. In fact, I think some schools don't allow it at all or have at least stopped selling it in their canteens.
Attending primary school in Werribee, Victoria between 1994 and 2000 I'd typically have 2 junk food snacks for morning tea at recess, then a sandwich at lunch, or maybe a lunch order from the canteen once a week. This article is about the old-school Australian snacks we would buy at Safeway (Woolworths), BI-LO or Coles which I used to bring from home or other snacks my friends would often have in the 1990s. The snacks available in the school canteen are a totally different story. Now sit back, relax and jump into my time-travelling lunchbox and travel back to the mid-late 90s (presented in no particular order)…
Bega Cheese Stringers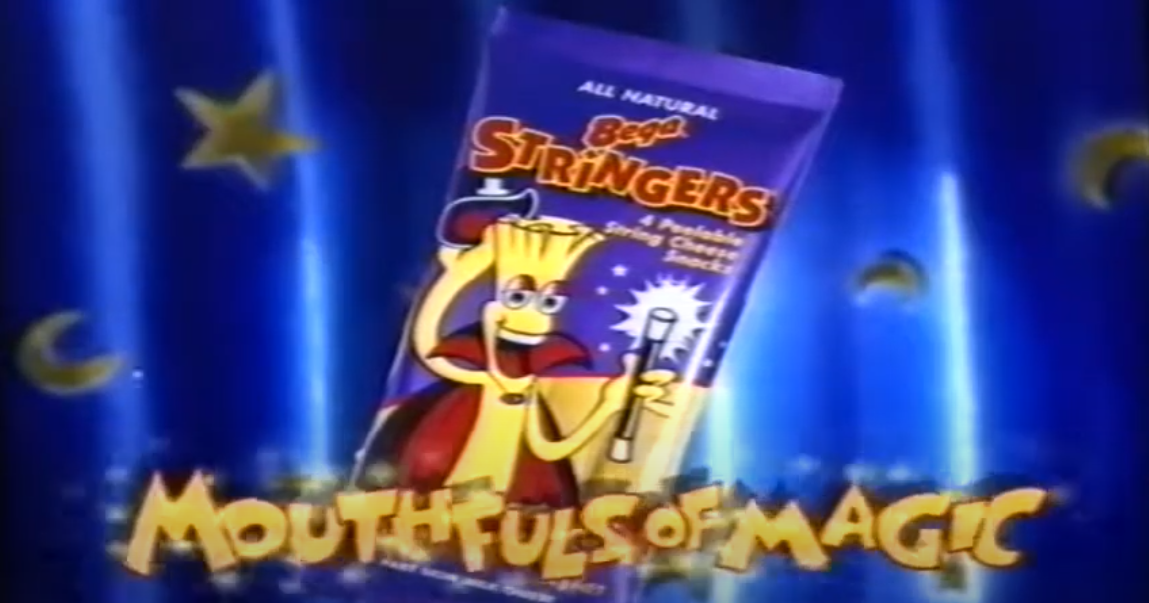 Whilst it's still possible to buy Bega Cheese Stringers, they still remind me of being a kid. I had some at my friend's house in 2019 and found it kind of gross. I try not to handle my food too much, it seems like a weird way to trick kids into getting some calcium.
Weston Wagon Wheels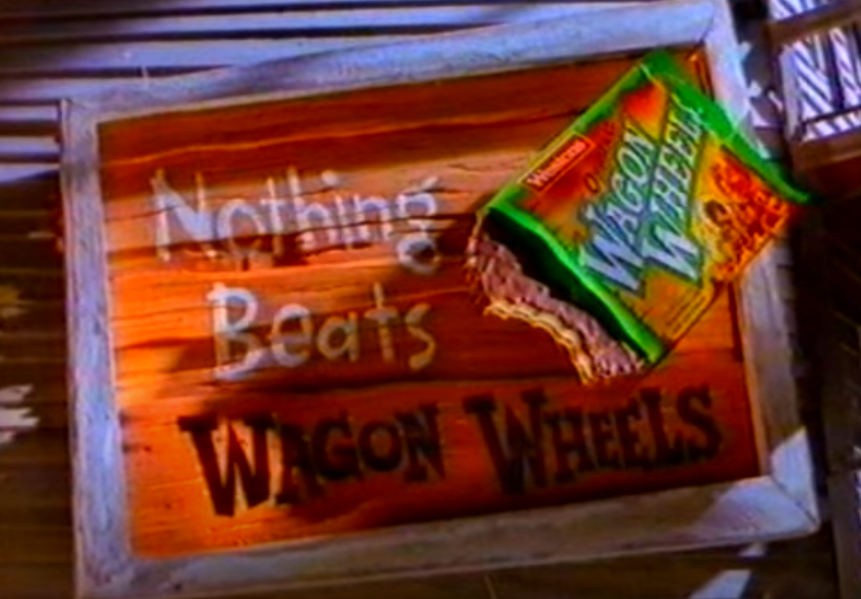 Wagon Wheels are still available in 2020 but are now made by Arnott's. These were made by putting marshmallows between two Marie biscuits and covering it in chocolate.
Ovalteenies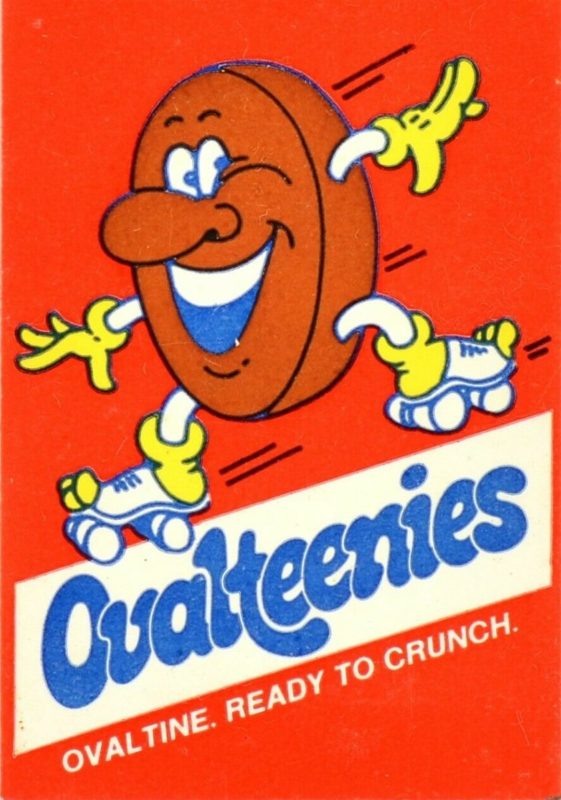 These are another item that's still around today. Ovalteenies are a malt & chocolatey flavoured chewable tablet-like snack that is made from compacted Ovaltine, which is kind of similar to Milo. I never really notice Ovaltine at supermarkets anymore, but these Ovalteenies are definitely still around.
This picture is actually of a sticker I found on eBay and looks to be from the 80s or early 90s. The packaging today for Ovalteenies still seems similar to how I remember them as a kid. Fun fact – in the early 2000s, Ovalteenies were changed from circles to egg-shaped and have since returned to the original shape due to public backlash.
Uncle Tobys Museli Bars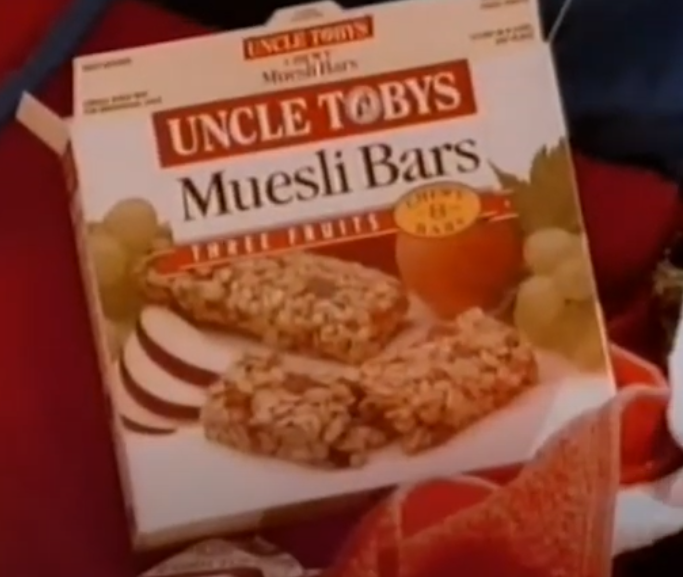 An absolute staple in my childhood lunchbox in the 90s, Uncle Tobys muesli bars.

Whilst chewy chocolate was one of the most popular among other kids, I typically had fruit yoghurt top ones. Which were probably healthier, or at least pretending to be healthy.
Uncle Tobys Dunkaroos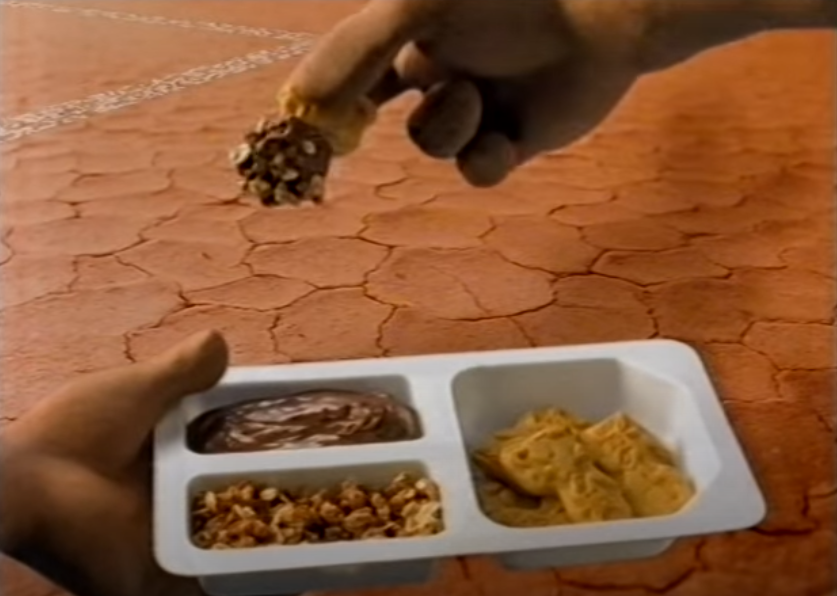 This is a confusing one, as originally Dunkaroos in the 1990s had 3 sections of the tub, you'd grab a kangaroo-shaped biscuit, dip it in the chocolate dip then into the third container of muesli crumbs. Today they are made by Nestlé in Australia and only contain biscuits and dip. Originally there were 4 flavours available, I believe they were choc-hazelnut, strawberry, vanilla and banana, I think there may have also been a honeycomb one as well for a bit.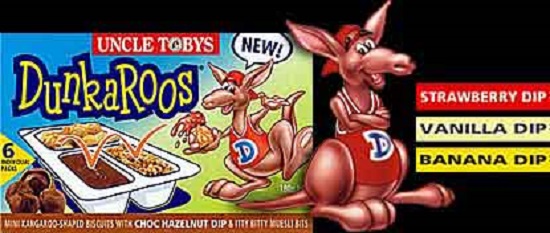 The Woolworths website only appears to have the choc-hazelnut flavour, but it's a bit hard to tell as they incorrectly spell it as "Dunkeroos". It seems typical that over the years, only the most popular flavours survive.
Why did they remove the muesli crumbs? I'm guessing it was due to the mess they could cause. I recall it being quite easy to accidentally flick the crumbs everywhere as the flat part between the biscuit container and the dips acted a bit like a spring if you applied too much pressure to one side. I suppose it was just easy for kids to spill them by other means as well. I believe the modern Dunkaroos might have the muesli crumbs baked into the kangaroo-shaped biscuit instead now, rather than being plain cookies.
Maggi 2 Minute Noodles (uncooked)
As a kid in the 90s, a packet of Maggie chicken noodles with its powder tipped inside the bag, crushed up and eaten like chips or even as a brick of noodles was far more common than actually cooking them. This was quite popular and probably continues on today. This is definitely a cheap snack for kids.
Noodles Mamee Monster Noodle Snacks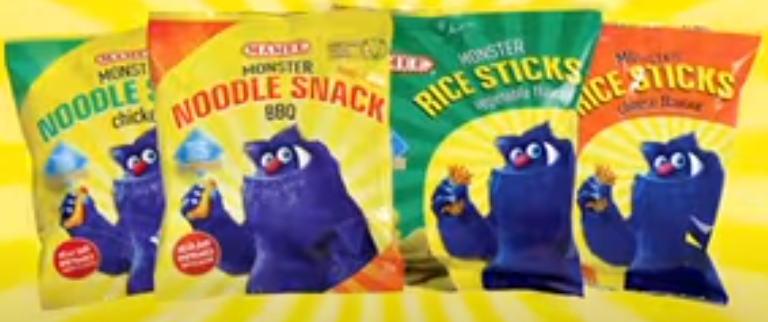 I'm not sure if this was a response to the trend of eating Maggi noodles dry without cooking it but the Mamee Monster Noodle Snacks actually market themselves as a noodle product to be eaten dry. It always seemed like a cheap knock-off of Maggi 2 Minute Noodles to me as a kid, but now that I think of it, both are incredibly cheap. I think I only had these once or twice ever, but many others look back on these fondly. You can still buy them today.
Uncle Tobys Fruit Roll-Ups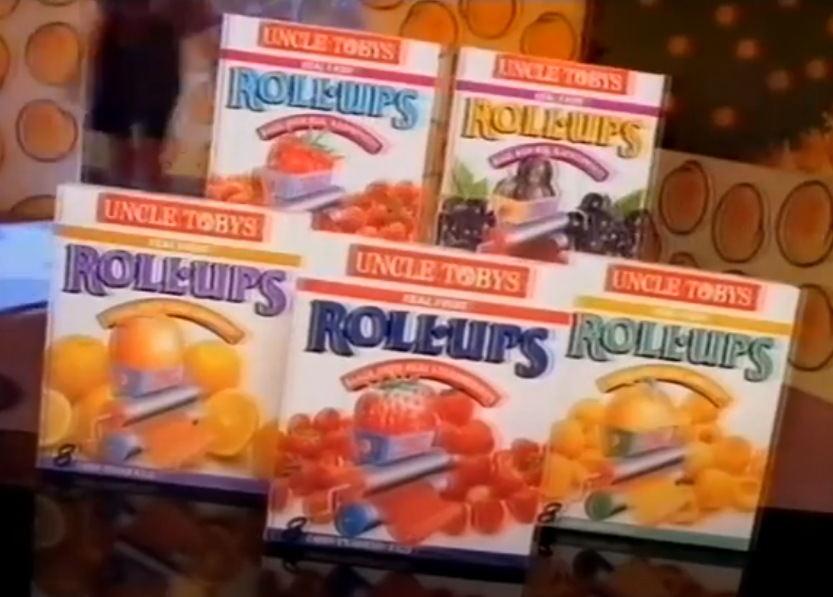 Uncle Tobys Fruit Roll-Ups were fun. It was like eating a sheet of flavoured plastic.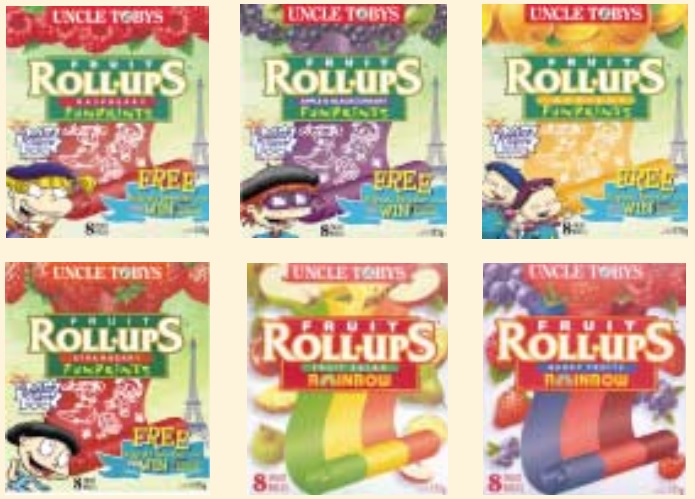 There were a lot of promotional variations releases with popular cartoon characters printed onto them with a white outline. I imagine these were meant to sound healthy and without investigating the nutritional information, I highly doubt it. It was like candy. I doubt it even filled you up at all either.
Space Food Sticks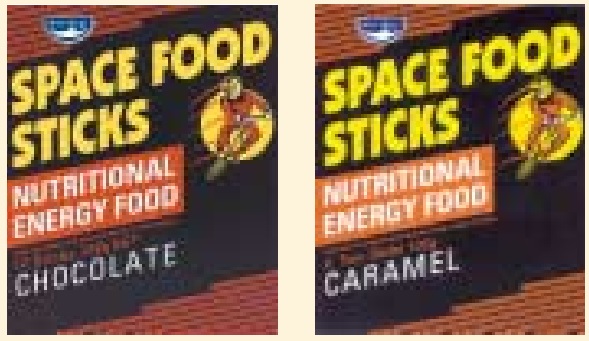 Space Food Sticks were these sticks that looked a bit like a Kit-Kat bar but were bendy, unlike chocolate. I'd love to try one of these again. They always seemed healthy if astronauts were eating them.
YoGo Dairy Snack Packs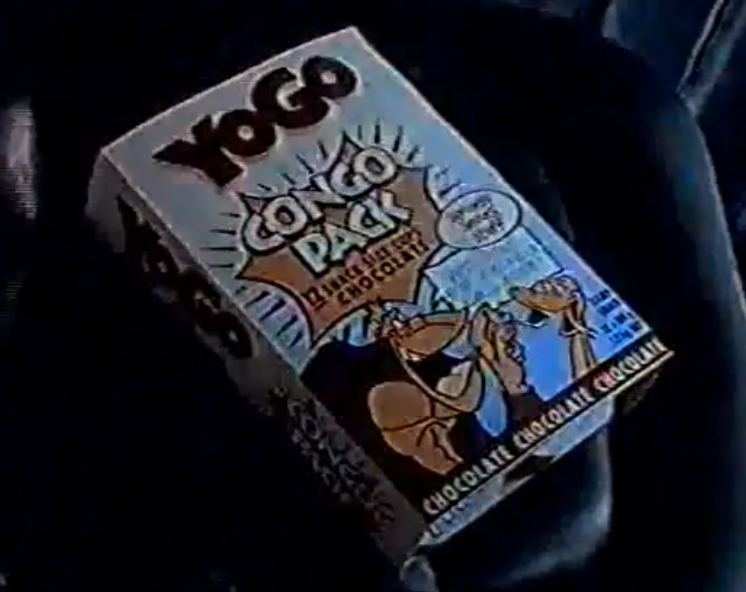 I wouldn't say that YoGo was the best chocolate yoghurt, custard or pudding type product, but it definitely had the best TV commercials featuring a stop-motion gorilla and snake. These always tasted kind of plastic-like and slimy to me, but I'd sure as heck eat them instead of something healthier. Whilst this multipack was popular at schools, if you were really lucky, you'd get a YoGo Mix container which would include choc chips or M&Ms that you could mix into your snack and mix up with the supplied folding spoon.
Uncle Tobys Le Snak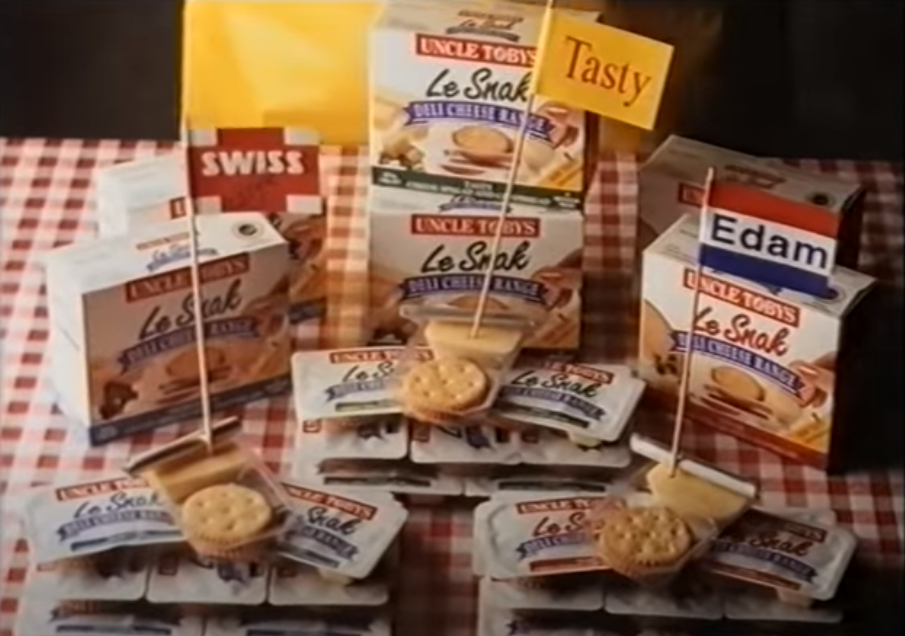 The ads for Uncle Tobys Le Snack sure made me think these were fancy and french as a kid. 3 biscuits with a different flavoured cheese dip was a great snack and I'll still buy these and demolish half a box as a snack at work sometimes. The flavour selection seems to have changed over the years, but these would surely remain a popular lunchbox snack for kids today.
Kraft Vegemite or Cheese Snack Abouts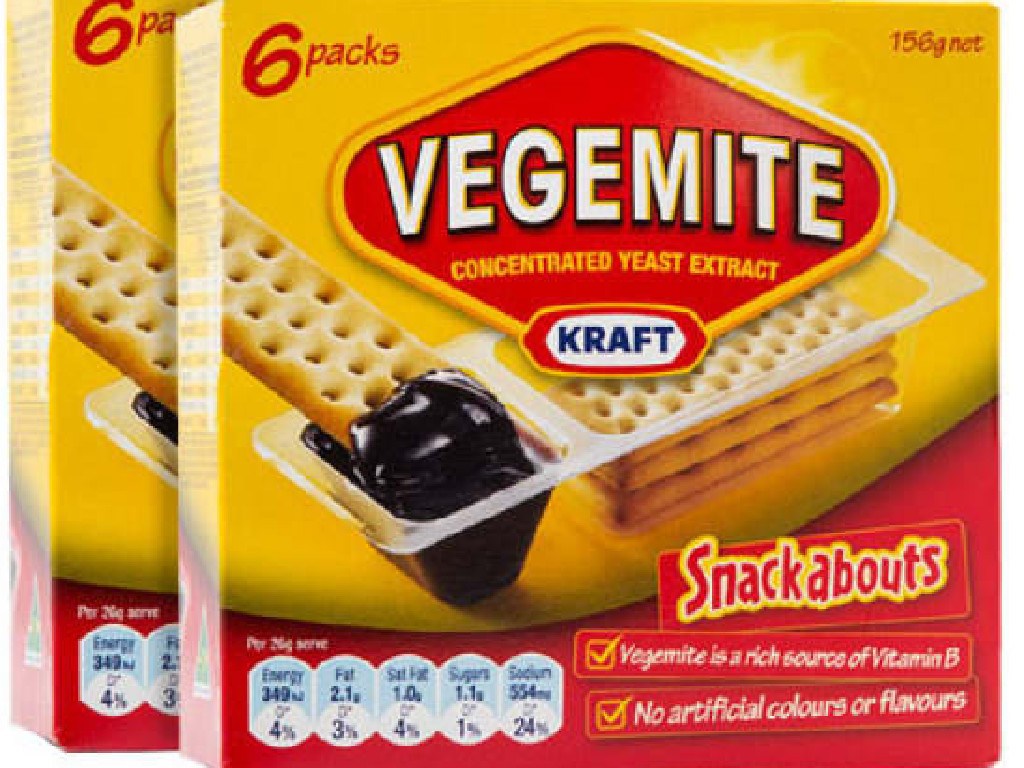 Similar to a LeSnack or modern Dunkaroo, Kraft had their own cracker dipping series of Snackabouts, which included either Kraft Vegemite or a Kraft cheese spread that you could dip the crackers into. These don't appear to be available anymore.
Fun-Size Chips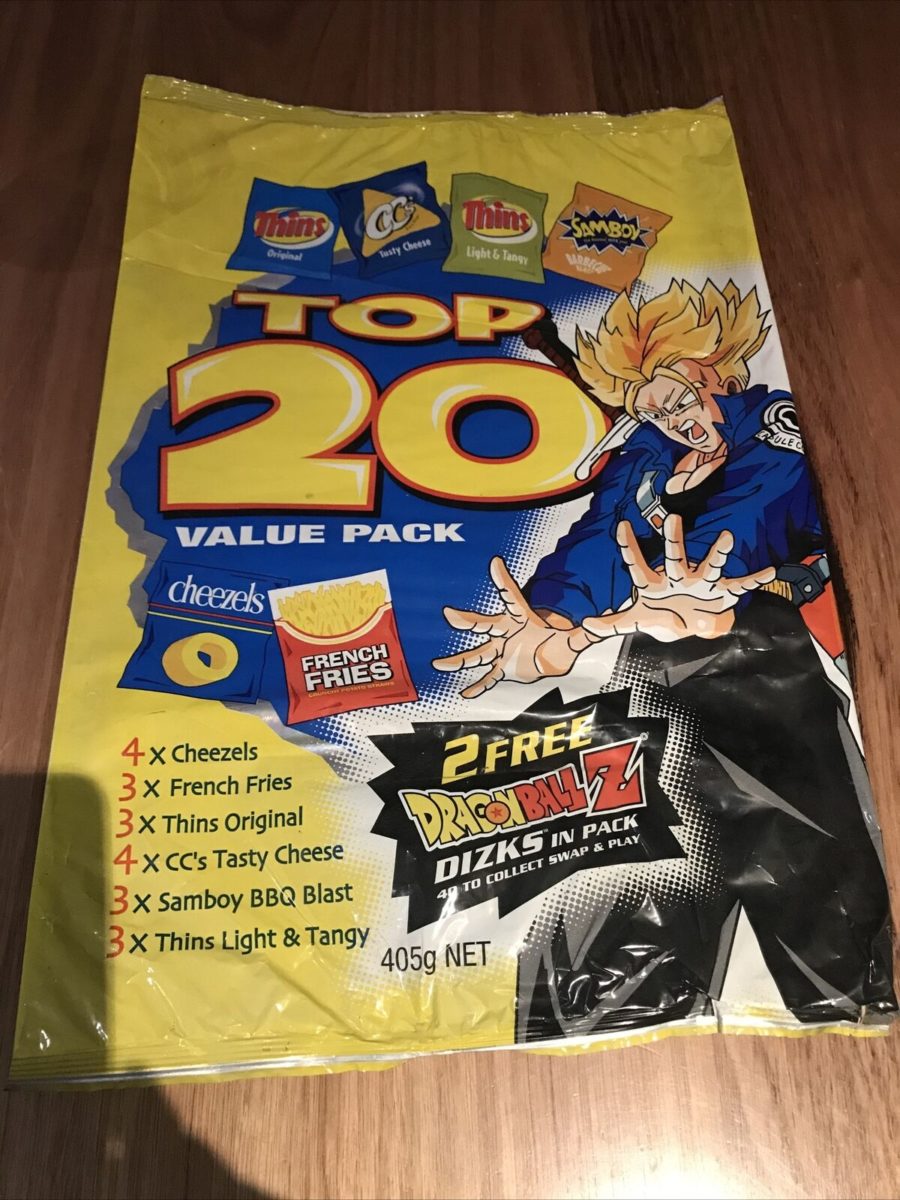 Giant bags of up to  20 little packets of potato chips (or crisps or whatever you want to call them) were also a staple of almost every morning tea for me in the 1990s and probably all the way through high school in the early 2000s as well. This could include various brands including Smiths, Lays, Thins, Ruffles, Samboy, Doritos, Cheezels, Tasty Toobs, French Fries, Twisties and more. It's really too hard to find individual photos of these old multipacks so they can all be grouped together for now. These were also a way to get Tazos or Dragon Ball Z Dizks and other promotional collectables which were all the rage in Australia in the 1990s and early 2000s.
Tiny Teddy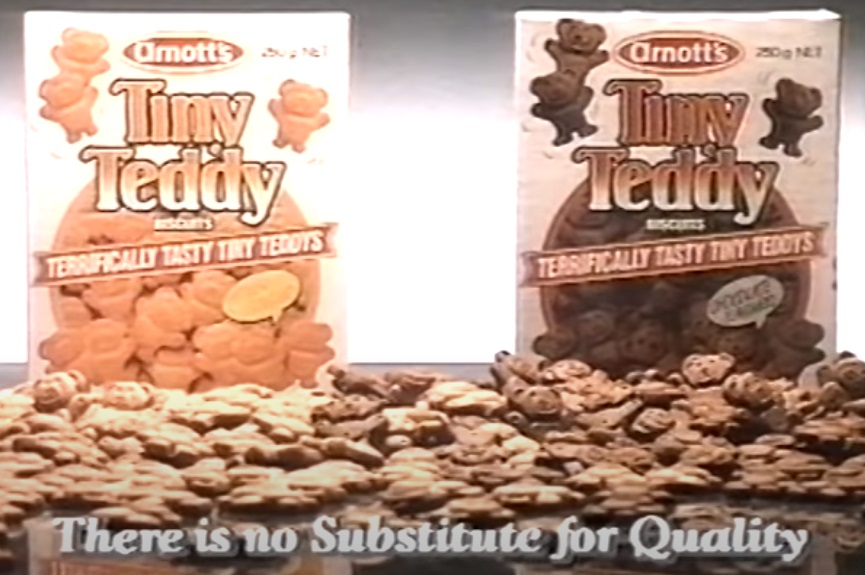 Tiny Teddy biscuits, or "Tiny Teddies" as I always called them are still around today. Whilst a box is pictured here, kids take them in little kid-size bags. There's nothing more satisfying than biting the arms, legs and ears off of a Tiny Teddy before then eating the head and finally the body. Looking at this old 90s packaging is very nostalgic.
15 g Nutella Mini Packs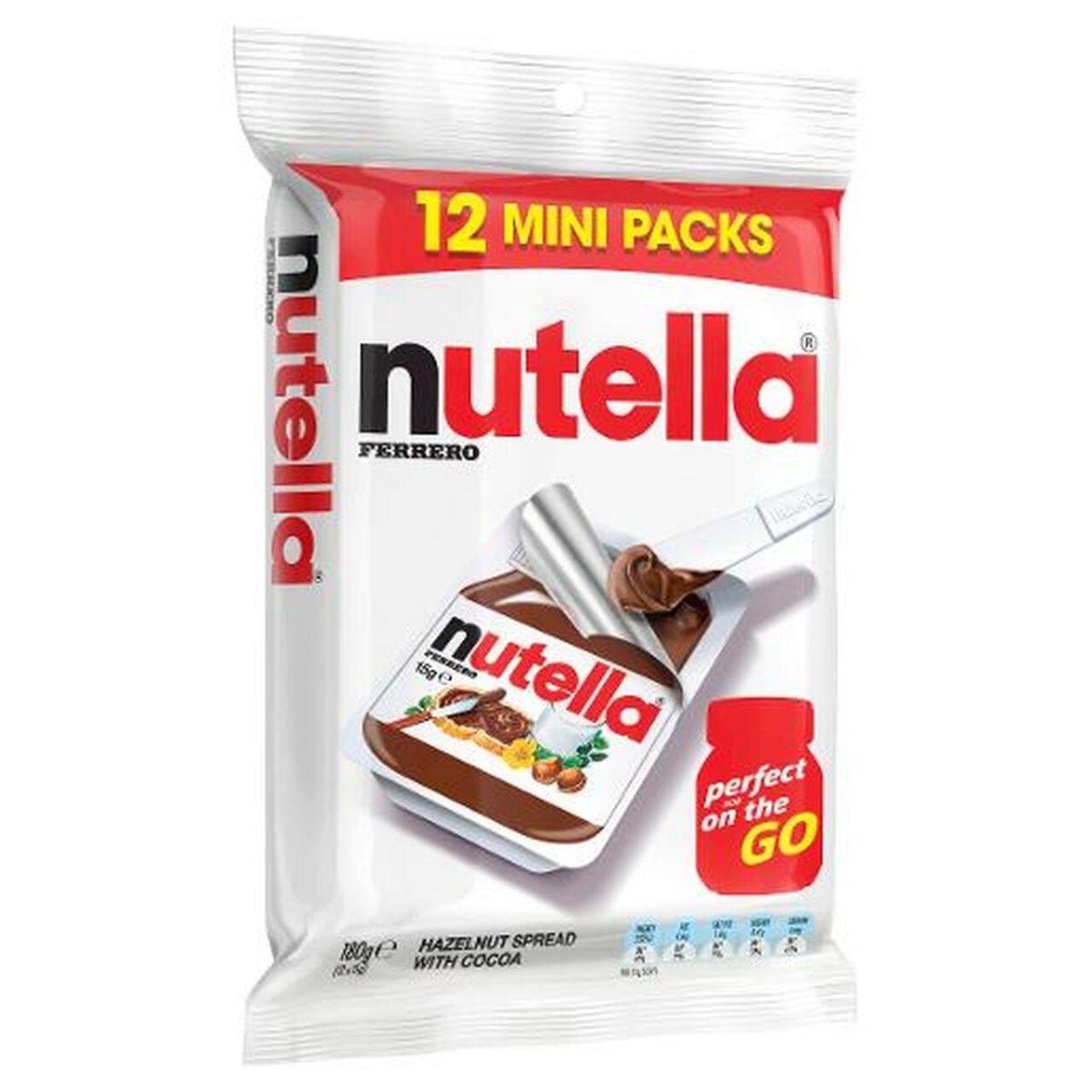 Little white containers with little white spoon/knife spreading sticks full of Nutella. Very basic and simple and were probably designed to be used on Airplanes or in Hotels but somehow became a snack food. I'm pretty sure our school canteen also sold these in the 1990s and early 2000s.
Uncle Tobys Fruity Metres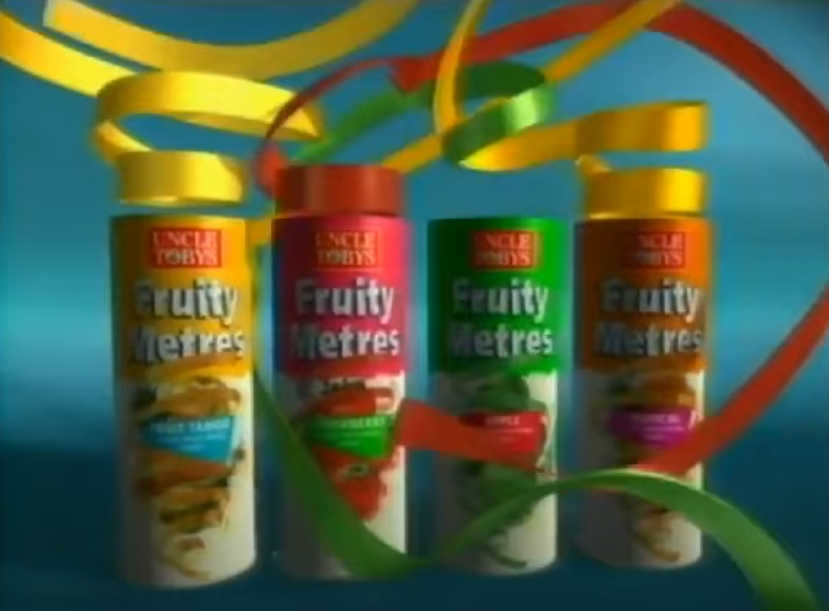 Whilst Uncle Tobys already had the market for plastic-like fruit-like lunch box snacks corned in the 90s, they also created this electrical-tape-looking snack.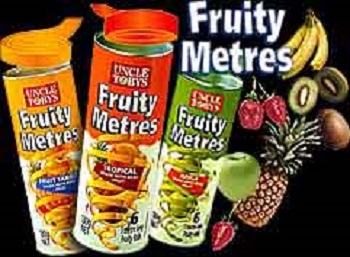 Fruity Metres were 1-metre coils of Roll-Ups-like product that I believe had a layer of baking paper between the layers so that they didn't stick together, kind of like the backing to double-sided tape. These must have been a lot of fun if your dad was an electrician. These have been discontinued for years.
In-Cred-I-Bites / Incredibites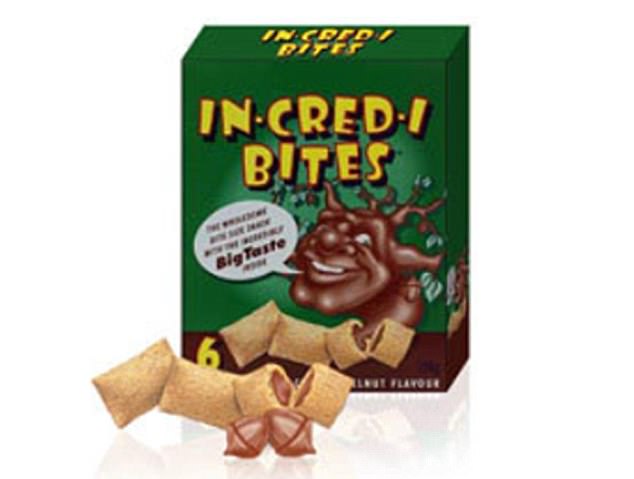 These were great but the spelling was so confusing I guess they didn't last into the digital age and have long been discontinued. They had a crispy shell with a Nutella-like centre. They were available in a few flavours with different characters on the box. Here is a description from an old website.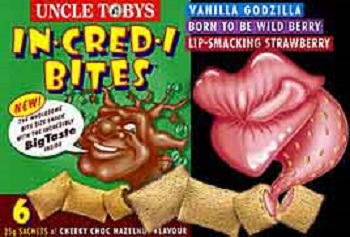 Hello, what is it?
The ground is vibrating beneath your feet, a loud roaring fills your ears…you start to run, but there is no escaping…Born to be Wildberry is on your heels. You can't say no, or can you? You lock on to Vanilla Godzilla IN-CRED-I-BITE – your favourite, you throw down a few crispy cereal-covered shells, filled with creamy vanilla hidden inside, and yet, you know that you still want Lip Smacking Strawberry and Cheeky Choc-Hazlenut!
OK, so Incredibites are made from a crunchy shell of oven-baked cereal filled with a smooth creamy centre, that has a BIG TASTE!
Oh yeah, and they come in four great flavours:
Born to be Wildberry
Cheeky Choc Hazlenut
Lip-Smacking Strawberry
Vanilla Godzilla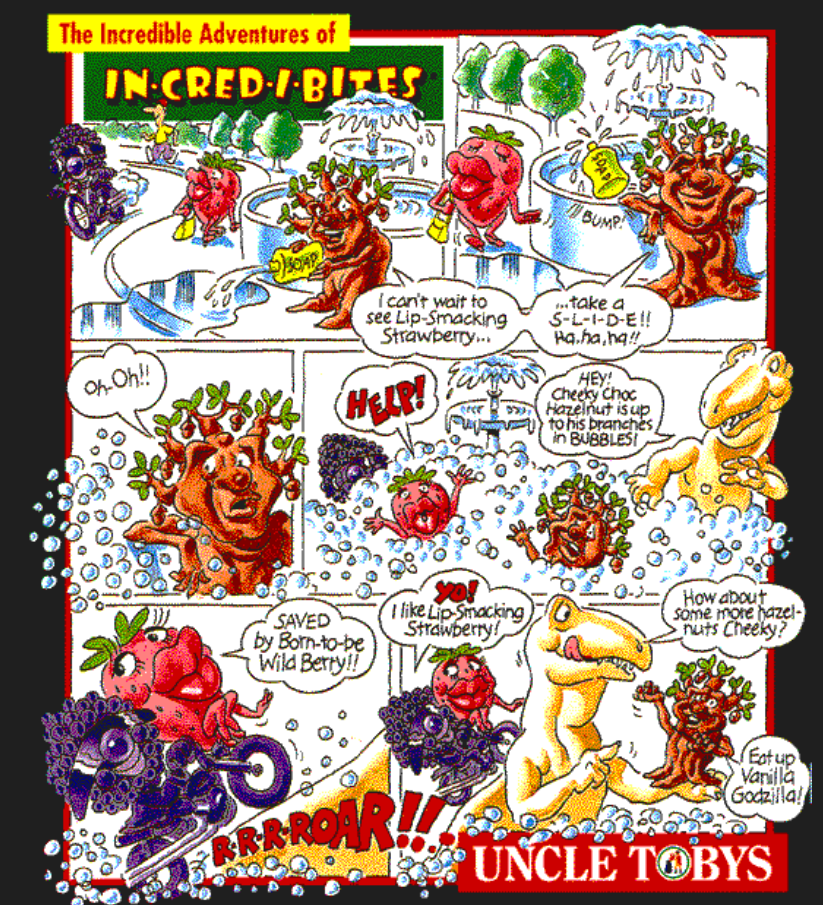 Milo Bars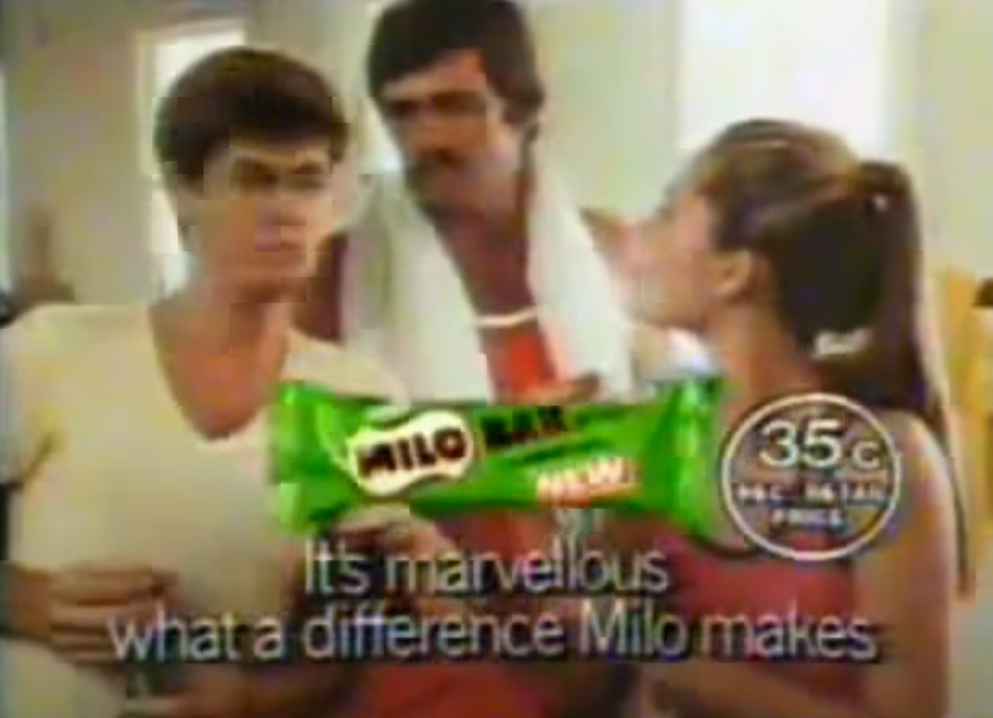 Excuse the potato-quality image above, but these were almost like eating a chocolate bar, but with slightly less guilt. They were bars of Milo cereal with the bases dipped in white chocolate. They were pretty good and you can still buy these today. According to the Woolworths website, the ones that are dipped in white chocolate are only 3/5 in the Health Star rating, whilst the ones without it are 4/5. I certainly always had the least healthy option.
M&Ms Bars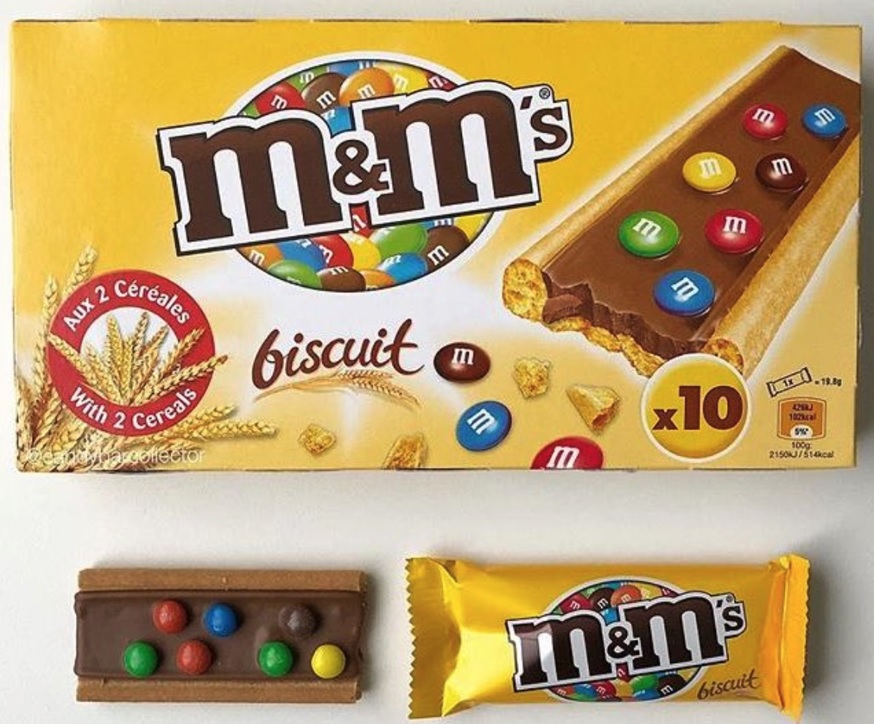 I think this image might be from overseas but the ones we had looked pretty similar to this. I don't know if I've just grown a lot, but I feel like these used to be bigger. These were quite good. It mentions that it's made with "2 cereals", but I don't think anyone eating these were kidding themselves that these are healthy.
Kellogg's Rice Krispies Treats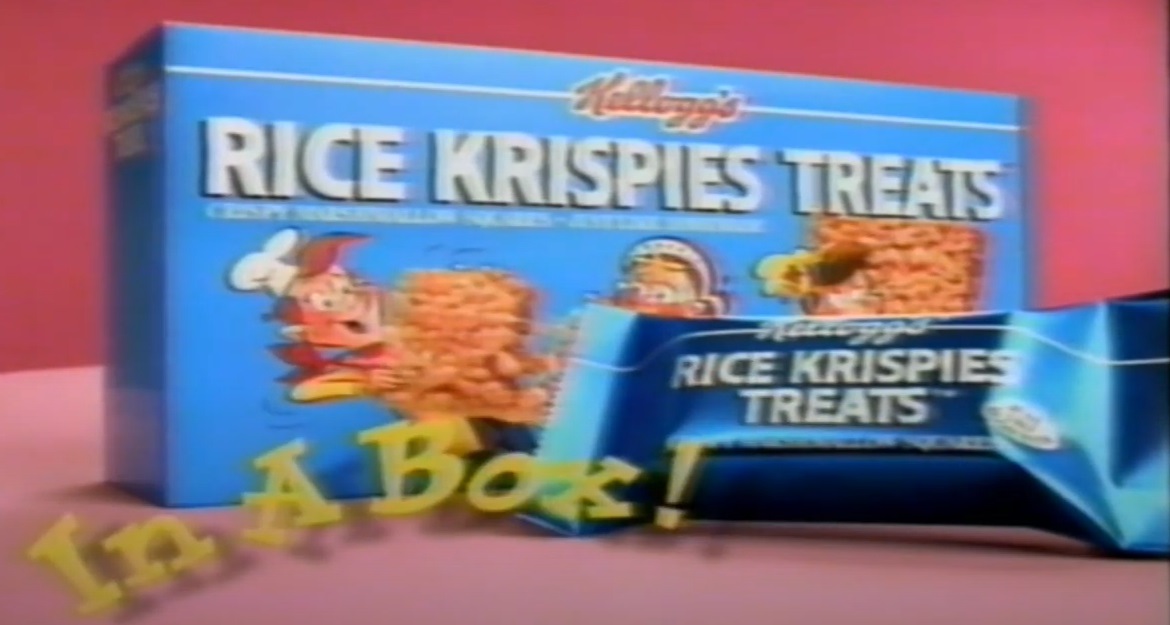 I totally forgot about Kellogg's long-discontinued Rice Krispies Treats. I assume these came about due to people making this marshmallow and Rice Bubble recipe as a party or bake sale snack and Kellogg's realised they could package this and sell it themselves for presumably more than the price of a box of Kellogg's Rice Bubbles. This is why the TV commercial makes a big deal about these coming in a box.
LCMs Bars

Kellogg's LCM Bars totally superseded Kellogg's Rice Krispies Treats. They were basically the same thing, but with multiple flavours and extra chocolate pieces and whatnot. What does LCM stand for? According to the Kellogg's website, it doesn't stand for anything, it just sounded cool at the time.
"We've heard it could be Little Crunchy Munchies or Light Crispy Morsels. The truth is it doesn't actually stand for anything at all. We wanted to find a name that was catchy and a bit different and LCMs seemed to hit the mark."
Mainland Munchables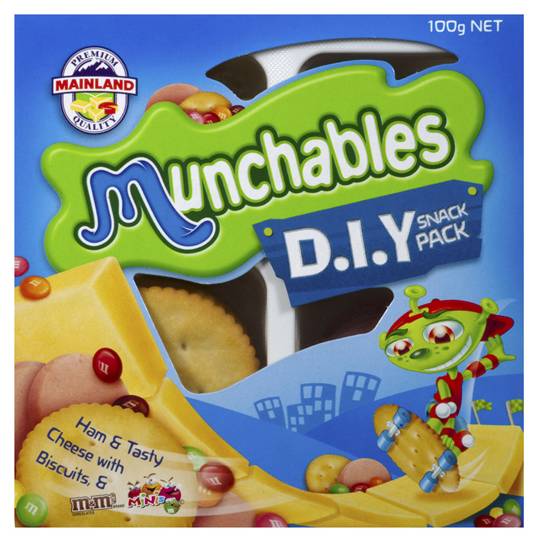 I think this packaging is quite modern, but the concept of having little boxes with cheese, ham and crackers is something I very rarely had as a kid, as they were quite expensive. This Munchables pack comes with M&Ms Minis as a dessert. I like to think that kids eating these get dared to eat all 4 ingredients at once.
Westons Pigs in Mud Biscuits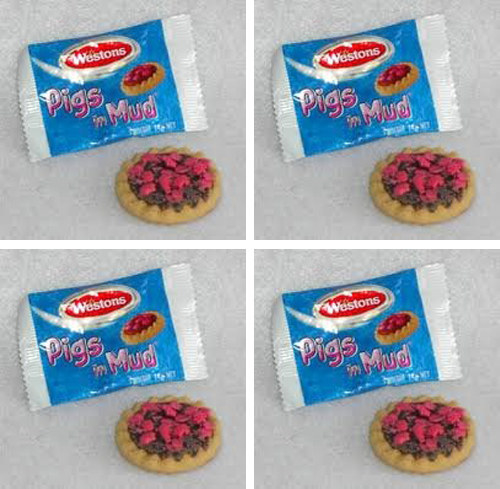 Westons Pigs in Mud biscuits were a plain biscuits with a chocolate fondant as the "mud" with little pink candy pigs sprinkled on top. These weren't particularly amazing to eat, but dang were they cute. Pigs in Mud biscuits have been gone for so long that images of them are incredibly hard to find on the internet everyone is just using this same image, so I don't even know who to credit for it.
Danone Dany Chocolate Yogurt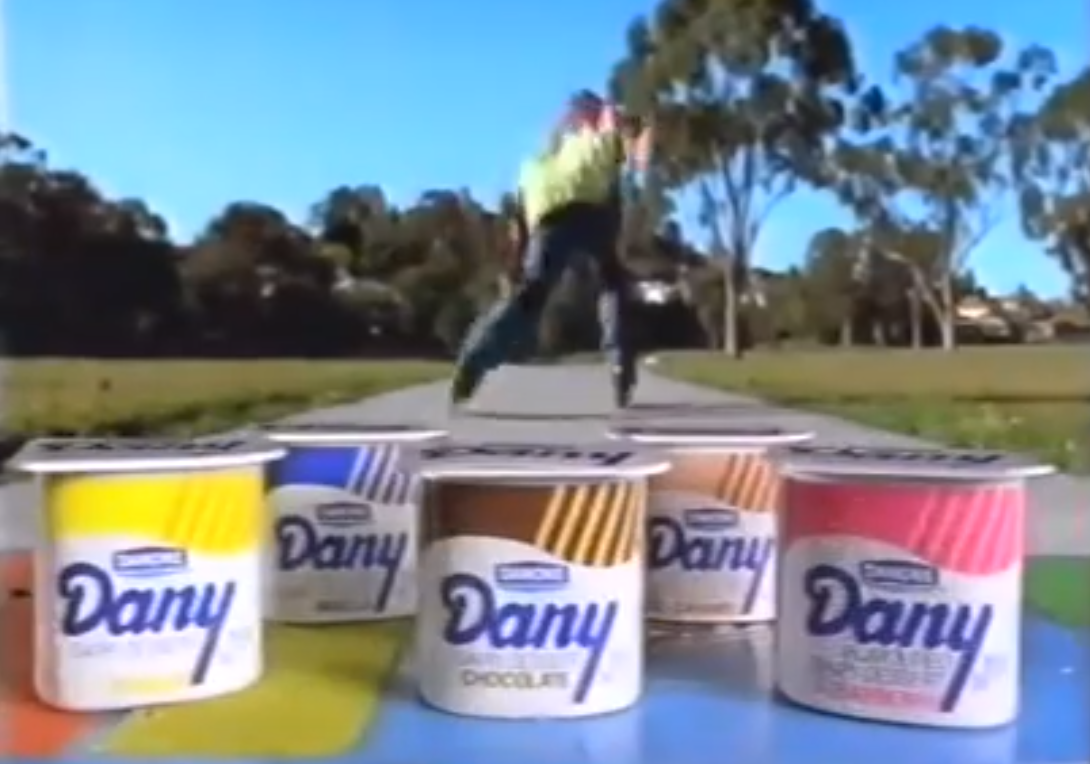 Dany chocolate yogurts were far better than Yogo. It was less plasticy and more like mousse, but without the air bubbles? It's hard to recall. I believe this brand also made variations that came with little plastic bags of sprinkles on top during the 1990s. After they stopped doing that, I used to add sprinkles to my own Danone Dany yogurts at home to replicate it. I used to have these for breakfast, but if I took it to school I'd have to take a spoon.
Arnotts Shapes Variety Packs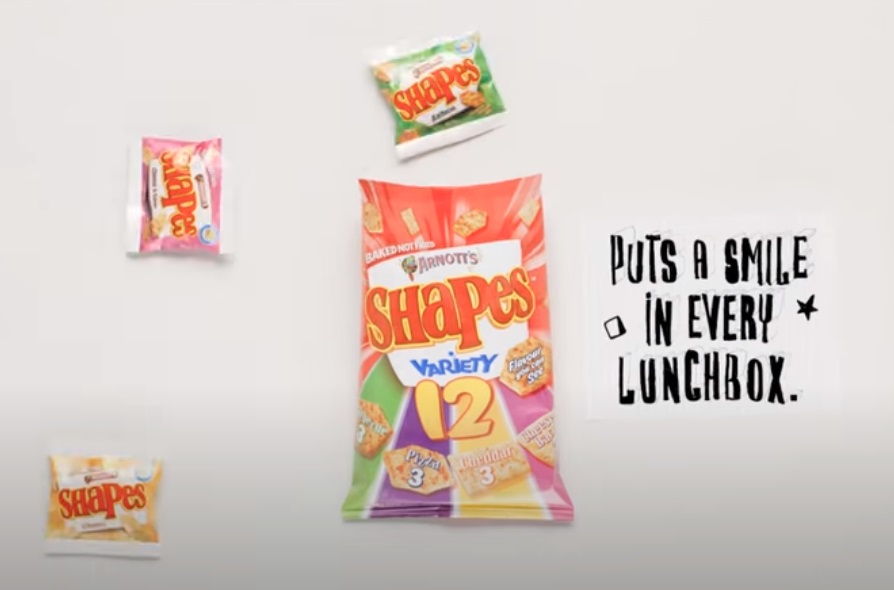 These multipacks of kid-sized savoury biscuits were great and are still great today. We'd always eat the Cheddar and Cheese & Bacon ones first, then Pizza Shapes, then finally Barbeque Shapes were always the leftover ones at the end of the packet. For some reason, Barbeque Shapes are the most iconic flavour, but the others are all better. I believe in the 1990s there was also a miniature version of the Chicken Crimpy Shapes as well, but perhaps that's just wishful thinking.
Kraft DigIts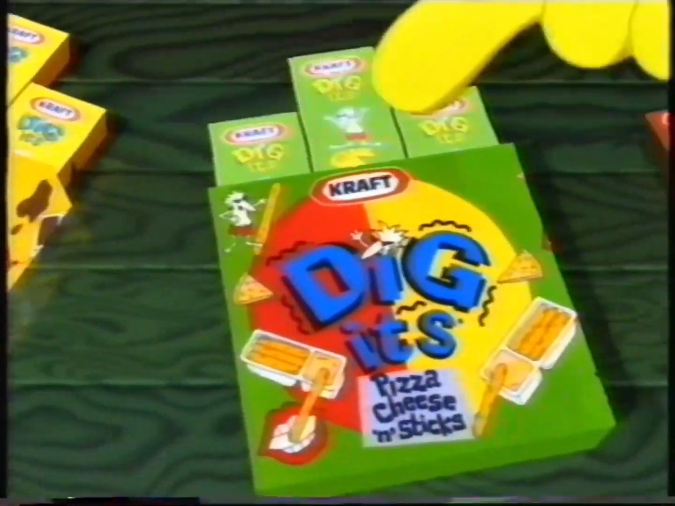 Kraft's DigIts (or Dig-Its) were their answer to Le Snak and Dunkeroos at the same time as there was a mix of sweet and savoury flavours. I'm not sure what they all were but 3 of the flavours were Peanut chocolate, Pizza Cheese and Hazelnut Chocolate. The commercials for these were a lot of fun, starting with a fake promotion for something kids would dislike like Boiled Cabbage or something with broccoli. These were around in 1996 and two of the flavours included peanut in some capacity as they were part of Kraft's big peanut salmonella outbreak of that year.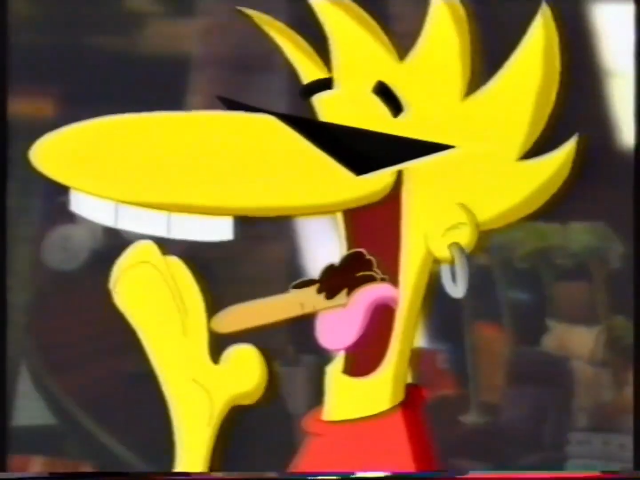 They had a mascot who seemed like a wannabe Bart Simpson saying things like "Hey Man, I just ate the cutlery, wicked!"
Mars Bisc& Biscuits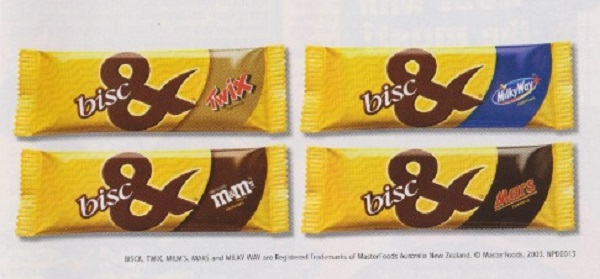 Around the same time that Pods came out, Mars also released Bisc& biscuits, a great lunchbox snack that was similar to the M&M's bars, in fact, M&M's was one of the four flavours along with Mars Bar, Twix and Milky Bar. These are long gone, but Aldi has a similar alternative available.
How many of these old-school kids' snacks did you try in the 1990s? Did I miss anything important?