Yesterday, I saw ads for a Pork Belly burger at Hungry Jack's. This was a pretty big deal for me. I love pork belly but none of Australia's big burger chains ever use it on burgers. I've not had a pork belly burger in years just in general. As far as I can think, the pork burgers at McDonald's and Hungry Jack's are rare in general, with only the McRib at McDonald's popping up every few years. So yeah, basically I had to try the Pork Belly Deluxe as soon as possible.
Luckily for me, Hungry Jack's offers typical lunch and dinner menus all day long, unlike McDonald's where only limited burgers are available in the morning, or KFC which isn't even open for breakfast. I'm not a breakfast food guy. If I'm eating before work, it has to be a regular meal. I went past two Hungry Jack's restaurants on my way to work and gave in at the second one, the one near Todd Road off the Westgate.
I pulled over in the servo car park and used the App to order a small Pork Belly Deluxe burger in a small meal. Ordering through the app is better than the drive-thru even if it takes you a little longer, but you get access to exclusive app discounts and deals. Today I used a 20% off coupon, for example.
What Is On The Pork Belly Deluxe Burger?
According to the Hungry Jack's Website, this burger contains 2 x flame-grilled 100% Aussie beef patties topped with melted cheese, Pork Belly Strips, Signature Spicy Sauce, tomato and lettuce on a toasted sesame seed bun.
How Much Does The Pork Belly Deluxe at Hungry Jack's Cost?
The tricky thing with menu pricing at Hungry Jack's and McDonald's, in particular, is that the pricing varies slightly for many menu items store by store. This is why you always have to select a restaurant before viewing a menu on their apps and websites. At Hungry Jack's Westgate location, the single burger is $8.85, slightly more than a Bacon Deluxe which is $7.90 on its own. This is to be expected given the fancier ingredient.
My Pork Belly Deluxe Burger Review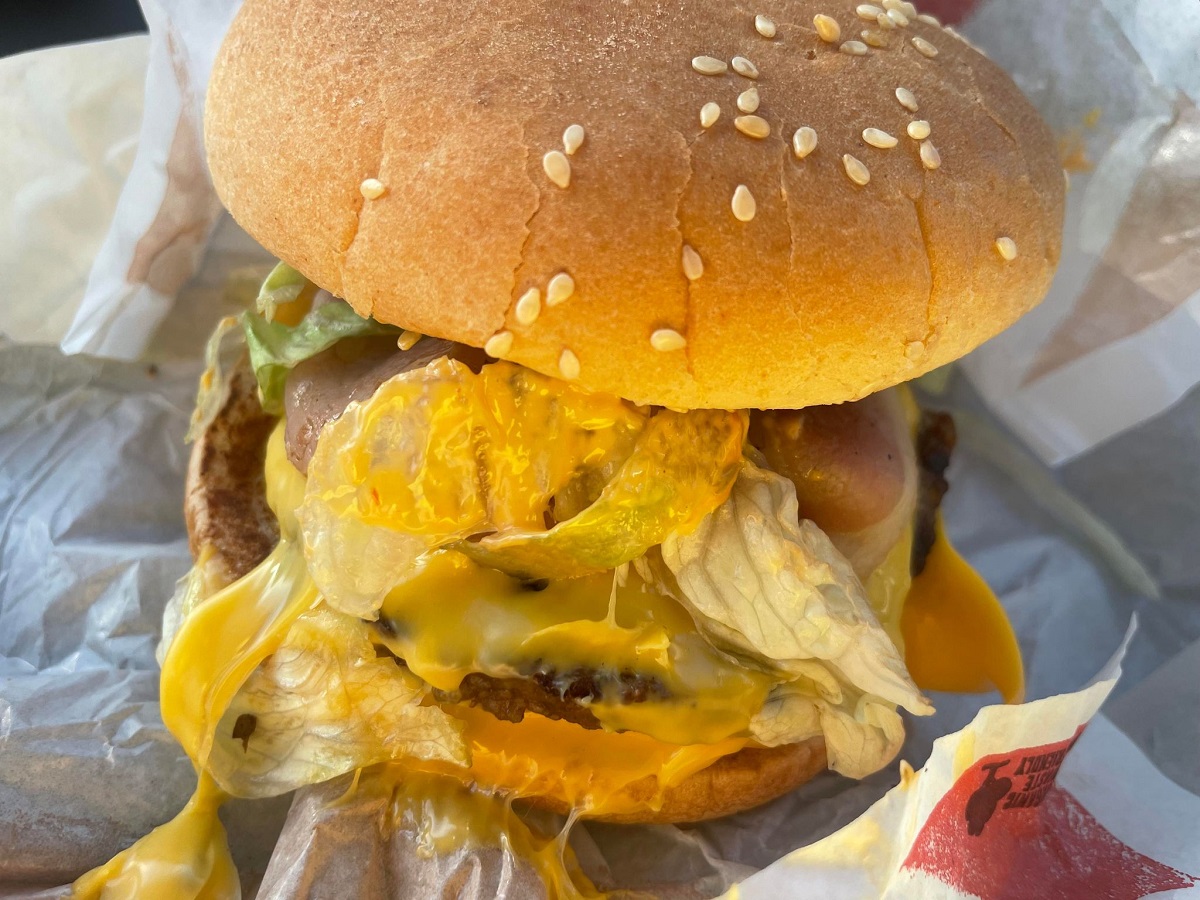 Now, this review didn't quite go to plan. You see, this was on one of the first few days of the promotion and I don't think the staff quite knew the recipe yet. I was both pleasantly surprised and also slightly disappointed when I saw my burger. I'd forgotten exactly what was meant to be in it, but the pork belly didn't really look like what was in the picture. It just looked like a few grey balls of pork meat, not the crispy looking strips I saw on the picture the night before. I kind of figured it was due to being around 8am in the morning and being the first batch of the day. Normally, you don't want something that's been sitting around cooking for ages at a fast food place, such as the last lot of chips I had from this location, but I think if you get some slightly dried and overcooked pork belly in your burger, it'll probably taste good.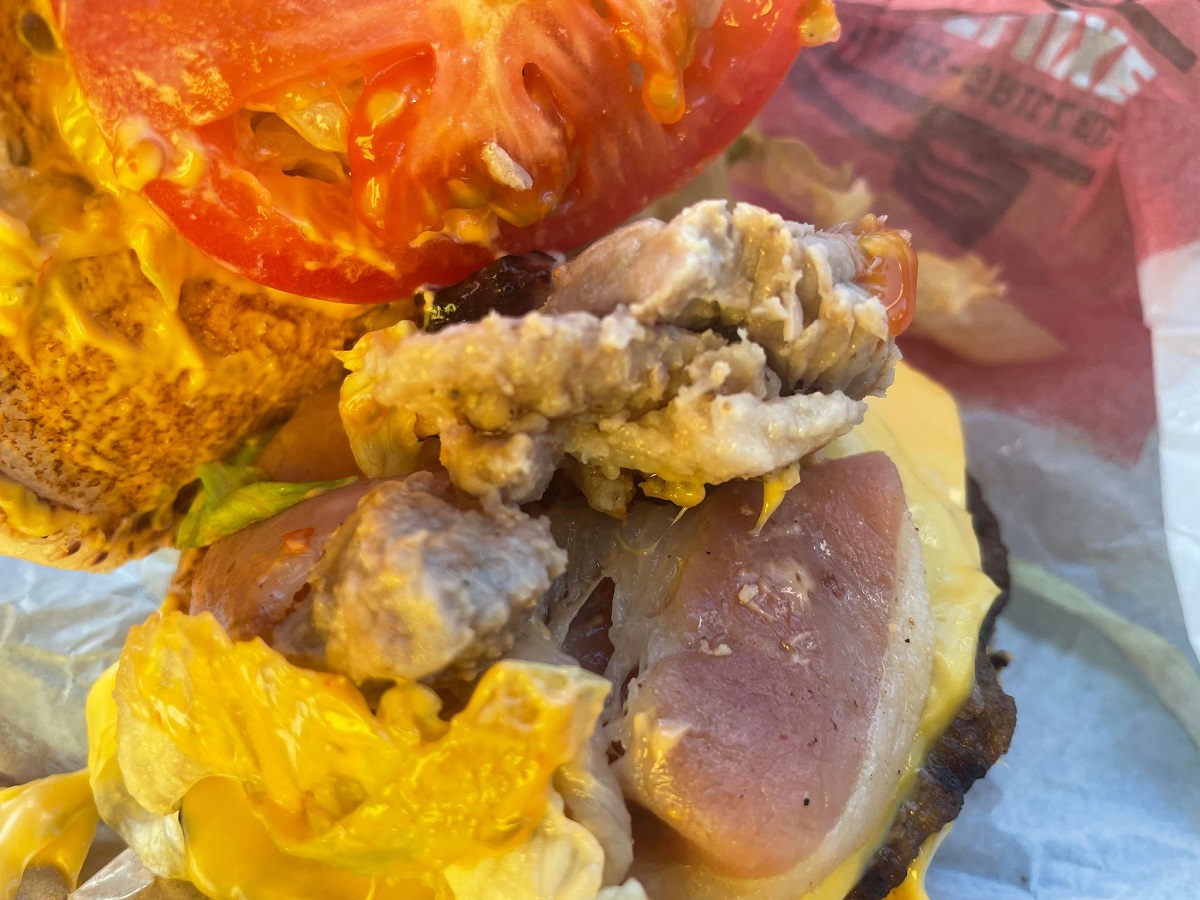 What really surprised me was to see bacon on there. This wasn't meant to be there, but I wasn't sure at the time. I figured maybe that's why it had "Deluxe" in the name, thinking it was literally a Bacon Deluxe with added pork belly. But really, it's the same burger with the mayonnaise swapped with Signature Spicy Sauce and the bacon swapped for pork belly. I guess stacking the pork belly on the bacon was part of why it also looked abnormally tall, with too many ingredients.
I wasn't sure if the bacon was meant to be there at the time and whilst eating it, I was actually quite happy with it, granted I was thinking it was just my favourite Hungry Jack's burger, the Bacon Deluxe but with extra pork belly. I'll have to try one again without the bacon, and not in the morning to get a better sense of the real product. At the time, I was impressed with the slight spicy aftertaste from it, which may have been from the sauce rather than the meat. I was also pleasantly surprised that after initially thinking I'd eaten most of the pork belly in the first few bites, I found a few more bits in the burger in later bites.
The pork belly itself still tasted better than I expected after seeing how grey and mushy it looked.
Verdict
It was pretty good, but given the extra bacon I received and having it so early in the morning, I think trying one later in the day and with the default, ingredients will give me a better idea of quality. I still think it's worth checking out. Go grab one soon, as I don't know if it will join the menu permanently.