Pizza Haven was a large Australian takeaway Pizza Chain in the late 1980s and 1990s which also had locations in New Zealand. I remember it being pretty similar in style and presentation as Pizza Hut did at the time and from memory and I don't personally remember having a preference for one or the other in terms of quality. I suppose as a kid, I'd have chosen Pizza Hut as it often had promotional toys and I also loved the dine-in Pizza Hut locations.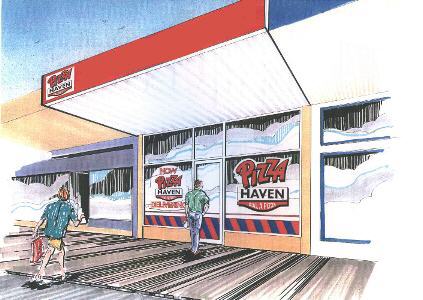 What Happened to Pizza Haven in Australia and New Zealand?
In January 2005, the New Zealand Pizza Haven stores were bought out by Domino's Pizza. Many of them were not rebranded for a while, but eventually, they all became Domino's Pizza. In Australia, they were bought out by Eagle Boys Pizza in 2008 and then later Pizza Hut bought out Eagle Boys in 2016. Now it's really just Domino's and Pizza Hut as the massive players in the Australian Pizza market.
How Pizza Haven Described Itself on Its Website in 1997
Pizza Haven's business is predominantly home-delivered pizzas, supported by a variety of side dishes. The Pizza Haven stores also incorporate a takeaway facility for customers.
Pizza Haven opened its first store in the Beachside suburb of Glenelg in Adelaide, the state of South Australia on the 23rd day of October 1986.
Today Pizza Haven has a comprehensive network of over 200 outlets throughout Australia, New Zealand and Thailand.
Each Pizza Haven pizza consists of freshly-made dough, topped with the customer's choice of fresh toppings, fresh vegetables, and cooked to order.
How Pizza Haven described itself to investors or franchisees in 2001

Pizza Haven has always stood out for being at the cutting edge of the industry and has pioneered many of the innovations that are commonplace in the pizza business today, including:
Cheesy Crust Pizza
2 for 1 meals
Family meal deals
The "131-241" phone number
Large pizza as standard
Benefits for franchise owners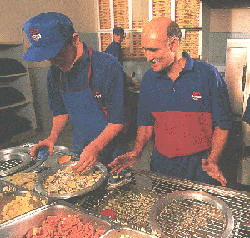 Today, Pizza Haven has one of the most advanced marketing programs in the pizza industry.
Franchise owners enjoy excellent brand recognition, a comprehensive market research program, extensive advertising support, constant product development and a national public relations program.
Recently Pizza Haven has stepped up its marketing, implementing an aggressive three-pronged campaign incorporating a new national advertising strategy, a strong local marketing program and the rollout of state-based public relations programs.
Advertising
Pizza Haven spends over five million dollars per year on its Advertising Program and is determined to keep the Pizza Haven brand at the top of the consumers' minds.
Pizza Haven's advertising is based upon an innovative TV campaign, challenging the boundaries of traditional fast food advertising and actively targeting the younger market through humour and the unexpected.
Pizza Haven backs up its television commercials with a range of other successful advertising activities, designed to make Pizza Haven stand out from the crowd.
These include:
Print advertisements
Radio advertisements
Website banners
Local Marketing
Transit advertisements & metrolites
TV Guide coupons
Leaflets
Direct Mail
Unlike the advertising of its competitors, Pizza Haven thinks out of the square, a strategy that has seen the chain develop as one of the most recognisable brands in the fast-food industry.
Pizza Haven Locations in 1998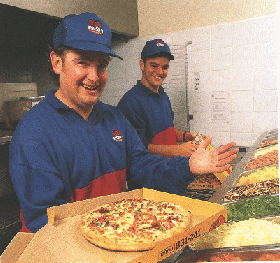 ACT Pizza Haven Locations
Belconnen 5/97 Nettleford Street, Belconnen
Calwell 5 Webber Crescent, Calwell
Chifley Shop 7, Chifley Shopping Ctr, Chifley
Dickson 3/15 Badham Street, Dickson
Erindale 3/20 Gartside Street, Wanniassa
Kingston 12/62 Jardine Street, Kingston
Queanbeyan 132 Monaro Street, Queanbeyan
NSW Pizza Haven Locations
Albury 600 Dean Street, Albury
Asquith Shop 3, 403 Pacific Highway, Asquith
Auburn 117 Auburn Road, Auburn
Bankstown 165 Wattle Street, Bankstown
Bathurst 116 Keppel Street, Bathurst
Blacktown 47 Richmond Road, Blacktown
Bondi Junction 53a Spring Street, Bondi Junction
Campbelltown Shop 7, 116 Queen Street, Campbelltown
Canley Heights 1/219 Canley Vale Road, Canley Heights
Caringbah 1-2/38 President Avenue, Caringbah
Castle Hill 301 Old Northern Road, Castle Hill
Charlestown Shop 3, 168 Pacific Highway, Charlestown
Coffs Harbour Shop 1, Cnr Grafton & High Streets, Coffs Harbour
Dee Why 9 the Strand, Dee Why
Dubbo 43 Talbragar Street, Dubbo
Dulwich Hill 530 Marrickville Road, Dulwich Hill
Earlwood 247 Homer Street, Earlwood
Eastwood 251 Rowe Street, Eastwood
Engadine Shop 4, 1015-1023 Old Princes H'Way, Engadine
Entrance 2/217 Entrance Road, Entrance
Fairy Meadow 122-126 Princess Highway, Fairy Meadow
Gosford 3/475 Pacific Highway, Gosford
Hurstville 2/163-165 Forest Road, Hurstville
Ingleburn 54 Oxford Road, Ingleburn
Kirrawee 157 Oak Road, Kirawee
Maitland 363 High Street, Maitland
Manly 6/93-95 North Steyne, Manly
Maroubra 167a Maroubra Road, Maroubra
Merrylands 250 Merrylands Road, Merrylands
Minto 7/14 Redfern Street, Minto
Mosman 584 Military Road, Mosman
MT Druitt 35 MT Druitt Road, MT. Druitt
Narellan 4b/296 Camden Valley Way, Camden
Newcastle 500 Hunter Street, Newcastle
Newtown 2-4 King Street, Newtown
North Strathfield 223 Concord Road, Nth. Strathfield
North Sydney 297 Pacific Highway, North Sydney
Nowra 3/71 Kinghorne Street, Nowra
Orange 295 Summer Street, Orange
Parramatta 5/449 Church Street, Nth Parramatta
Pennant Hills Shop 2, 550 Pennant Hills Road, West Pennant Hills
Penrith 5/51 York Road, Penrith
Port Macquarie Shop 5 & 6, 163 Gordon Street, Port Macquarie
Ramsgate 29 Rocky Point Road, Ramsgate
Revesby 2/37 Selems Parade, Revesby
Riverwood 225 Belmore Road, Riverwood
Roseville 100 Pacific Highway, Roseville
Rozelle 744 Darling Street, Rozelle
Rushcutters Bay 90 Bayswater Road, Rushcutters Bay
Seven Hills 227 Prospect Highway, Seven Hills
Sth Windsor 501 George Street, South Windsor
St Marys 5/211-217 Queen Street, St. Marys
Tamworth 297 Peel Street, Tamworth
Toukley 3/266 Main Road, Toukley
Umina 346 West Street, Umina
Wagga Wagga 41-43 Baylis Road, Wagga Wagga
Warrawong Shop 1, 32-40 King Street, Warrawong
Warwick Farm 3/8 Hume Highway, Warwick Farm
Wetherill Park 5/1185 Horsley Drive, Wetherill Park
Yagoona 483 Hume Highway, Yagoona
Victoria
Altona 94 Millers Road, Altona
Armadale 239 Glenferrie Road, Malvern
Ballarat 620 Sturt Street, Ballarat
Balwyn 292 Whitehorse Road, Balwyn
Bell Park Shop 3, 71 Separation Street, Nth. Geelong
Belmont 182 High Street, Belmont
Bendigo 46-48 Eaglehawk Road, Bendigo
Blackburn Shop 9, 96 Canterbury Road, Blackburn
Campbellfield 6/315 Barry Road, Campbellfield
Carrum 622 Nepean Highway, Carrum
Collingwood 1-3 Smith Street, Collingwood
Croydon 15/401 Maroondah Highway, Croydon North
Dandenong 12, 30/32 Langhorne Street, Dandenong
Doncaster 745 Doncaster Road, Doncaster
Elsternwick 4 Horne Street, Elsternwick
Footscray 285 Geelong Road, West Footscray
Frankston 50 Playne Street, Frankston
Knox 18 Manuka Drive, Knoxfield
Mentone 126 Balcombe Road, Mentone
Montmorency 7 Were Street, Montmorency
Narre Warren 18-22 Webb Street, Narre Warren
Niddrie 77 Hoffmans Road, Niddrie
Noble Park 7/49-52 Douglas Street, Noble Park
Oakleigh 1261 North Road, Oakleigh
Ormond 636 North Road, Ormond
Ringwood 108a Maroondah Highway, Ringwood
Rosebud 1615 Point Nepean Road, Rosebud
Shepparton 336 Wyndham Street, Shepparton
Springvale 135 Springvale Road, Springvale
St Albans 8, 16-20 Victoria Crescent, Elaine Street, St. Albans
Sunbury Shops 8 & 9 Coles Arcade, Evans Street, Sunbury
Syndal 266 Blackburn Road, Syndal
Thomastown 22 Wood Street, Thomastown
Thornbury 779 High Street, Thornbury
Warrnambool 3/137-145 Timor Street, Warrnambool
Werribee 82 Watton Street, Werribee
The Pizza Haven story (From their website in 2001)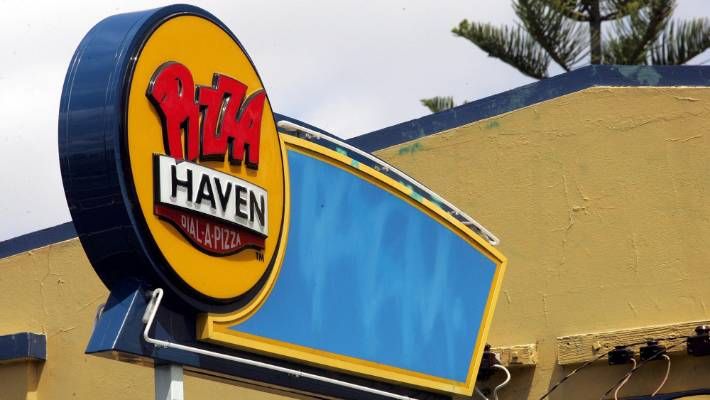 A Family Concern
The Pizza Haven story began in 1984 when brothers Evan, Louis, Bill and Gabriel Christou started their own business. With little more than the desire to succeed and the energy to work hard, the four brothers embarked on what was to become one of Australia's greatest fast food success stories.
With the aid of a $24 000 mortgage over their parents' home, the brothers opened the doors to their first Pizza Haven outlet at Glenelg in Adelaide. Employing 12 people, the four brothers were active in the running of the business. From day one, each took turns to clean, serve and make the pizzas.
Coming from a strong family background, working hard and working together came naturally and to this day it is these values on which they base their company philosophy and attribute their success.
Taking on the big boys
The brothers knew it wouldn't be easy. At the end of day one a quick glance in the till was all that was required to count the takings for the day – a total of $57. For some, this would have been disheartening, but not for the Christou brothers. Despite their backgrounds (Gabriel and Bill had experience in fast food but Evan and Louis were schoolteachers) they were budding entrepreneurs and were not afraid of taking on the big boys of pizza.
Their $57 grew quickly as they explored new ways of improving the business – introducing delivery as well as pick-up, pioneering a computerised fast-food delivery system and developing and perfecting the dough used to make all of Pizza Haven's pizzas today. The result – a proven, successful business formula. A formula that has transformed a small pizza restaurant into one of the largest pizza chains in the Australasian region. Today Pizza Haven employs more than 6000 people and generates over $120m in gross sales per annum.
What's in store for Pizza Haven?
New Product development. New selling opportunities. New markets. Enhanced service.
Pizza Haven won't be resting on its laurels. Operating in a fiercely competitive market, the company refuses to compete on price alone and is setting about introducing new standards to the Pizza Industry focusing on quality and service – the individual values that have made Pizza Haven what it is today.
New initiatives such as Pizza Haven to Go, the Certificate of Excellence Training Program and the Cosmo 2000 Store Refurbishment Plan are indicative of Pizza Haven's commitment to growth as well as to its franchise owners, employees and customers.
Take a slice of the action
The Christou brothers, Evan, Louis, Bill and Gabriel and their achievements are an inspiration to small business owners. It's possible for you too to be a part of this success. Pizza Haven is always on the lookout for new franchise owners, and offers real opportunities for developing your own business according to the proven formula developed by the Christou brothers.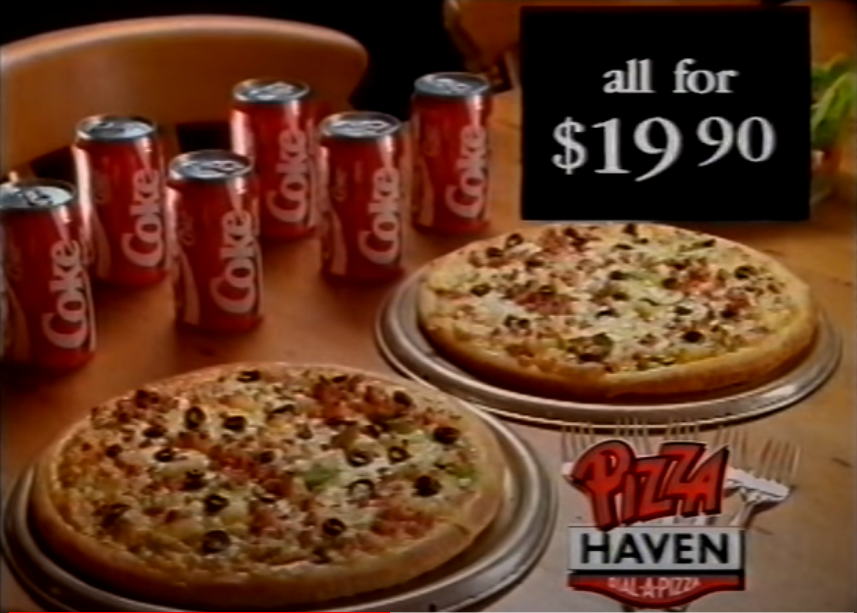 Australian Pizza Haven Menu from 2003
Aussie Outback
Onion Beef Cheese
BBQ Roast Chicken
Cheese Onion Capsicum Chicken Bacon
Capricciosa
Cheese Pepperoni Mushrooms Ham Olives
Create Your Own
Cheese
Extra Supreme
Cheese Pepperoni Onion Capsicum Mushrooms Pineapple Ham Cabanossi Bacon
Fisherman's Catch
Cheese Marinara Mix Lemon Pepper
Haven Chicken Supreme
Cheese Onion Capsicum Pepperoni Mushrooms Chicken
Hawaiian
Cheese Pineapple Ham
Hot & Spicy Chicken
Cheese Onion Capsicum Chicken Jalapeno Peppers Fresh Tomato
Italian Classic
Cheese Pepperoni Capsicum Onion Mushrooms Cabanossi Oregano Olives Fresh Tomato
Margherita
Cheese Oregano Fresh Tomato
Meat Supreme
Cheese Pepperoni Cabanossi Ham Beef Bacon
Mexican Fiesta
Cheese Pepperoni Jalapeno Peppers Onion Capsicum Beef Fresh Tomato
Pepperoni
Cheese Pepperoni
Satay Chicken (Swirl)
Cheese Onion Capsicum Chicken Fresh Tomato Satay Sauce
Supa Hawaiian
Cheese Pineapple Ham Fresh Tomato
Vegetarians Choice
Cheese Onion Capsicum Mushrooms Fresh Tomato Oregano Olives
Hand Stretched only.
All pizzas are topped with Mozzarella Cheese.
Choose from Traditional Tomato, BBQ or Chilli Sauce.
Buy two or more pizzas and receive a discount on your Perfect Pizza Partners
DRINKS
600ml or 1.25litre
OVEN-BAKED
CHIPS
GARLIC
BREAD
LASAGNA