In his otherwise excellent article titled "The Coming Technology Boom", New York Times columnist David Brooks wrote this week the following infuriatingly incorrect line:
"If you were born in 1960 and lived until today, the driving and flying experience would be safer, but otherwise the same, and your kitchen, aside from the microwave, is basically unchanged."
Not true! Okay, I'll admit the kitchen experience hasn't had a world-shattering, game-changer akin to the introduction of the steam engine, TV or mobile phone, but just because you don't see or know about innovations, doesn't mean these incremental changes aren't there.
So, hot on the heels of my massive ultimate kitchen guide, here's my list of real kitchen technological innovations your grandparents would have only dreamed of, that you may not have known about, but can certainly appreciate today.
Themes to look out for include:
Kitchen Safety
Durability
Price
Energy efficiency
Choice/aesthetics
Features/convenience
No "why does it have Bluetooth?" malarky here (YouTube links from The Checkout: 1, 2). These are real innovations. Let me know in the comments if you have your own.
Modern Improvements to Kitchen Appliances
Induction Stoves – Fast, Safe and Efficient
Safer than electric or gas, induction cooktops cool down in seconds after use.
Graduated temperature control, unlike electric which merely turn on and off for an average temperature over time. This becomes an issue when you're cooking a small amount or using a thin pan.
Fast and responsive. Much faster than electric at turning up and turning down.
No gas fuel fumes, just cooking fumes, requiring less hood fan ventilation (see below).
No risk of gas explosions.
No need for a gas connection. With some municipalities banning gas heating on new constructions, the expense of connecting a new house to the gas just for cooking has become a lot less justifiable.
Energy-efficient. Heat the base of the pot or pan. Don't waste heat going around, like with gas, or have inefficient conduction like with electric. Induction causes the pot or pan to heat itself using magnets.
Range Hood Fan – Quiet and Convenient
Dishwasher safe filters
Commercial-grade baffle filters are also available to the home cook at a higher cost, requiring less frequent cleaning, and generating less noise.
Quieter fans than ever before. You can further halve the noise if you install a unit with an in-line or external blower (where the motor is in the ceiling or on the external wall or roof).
Automatic damper control for return air. This becomes a necessity when you have a powerful fan. Not that they even had such powerful fans in the 60s. Building codes now require make up air if you have a powerful enough fan.
Remote controls, timer off, automatic running if the stove is turned on or heat is detected, and smart control (effectively for remote control from your phone or voice assistant).
Modern design choices.
Refrigerator
Bigger sizes, less energy use, lower purchase price.


U.S. refrigerator energy use between 1947–2002. Mid-1950s models consumed the same (kWh/year) as an average fridge of mid-2000s. However, average cabinet volume has doubled. Source.

Much more usable space, thanks to miniaturisation of the machinery and better insulation.


Observe how much front front is unusable due to cooling machinery.

Integrated filtered water, automated ice, automated spherical craft ice (as a whiskey drinker, appreciated).

Better cooling through ventilation. No more worrying about over-stuffing the fridge or strategically placing items in the right place. The internal ducting on my current era fridge is amazing. 

Dual evaporators – separate fridge and freezer cooling, so your ice doesn't taste like your refrigerator food, and your fridge can remain more humid, for better food freshness. Read more about this feature at

Consumer Reports

.

Air filters. No more need to store open baking powder in the fridge.

Frost-free technology which only really came in in the 1970s. No more defrosting.

Smart grid technology, to temporarily delay turning on until electricity is cheaper and greener.
4 door refrigerators allow a separate drawer with a custom temperature which you can make an extra freezer space, or the perfect temperature for meat (-1°C/29°F), drinks (1°C/33°F), deli snacks like cheese (3°C/37°F), or wine (5°C/42°F).

Coolants that are more environmentally friendly. The shrinking hole in the o-zone layer thanks you. However, not all are equal. 
Dishwasher
Quiet – Our dishwasher from the 90s was so loud, you couldn't watch TV or sleep with it on. After much research, both online and in big box stores, we replaced it with a Bosch model when it died. It frequently leaves us wondering if it's even on. According to independent tests, Thermador ($$$), Bosch ($) and Meile ($$$) lead the pack with the quietest on the market. Read more

Consumer Reports

and

Designer Appliances

.

Energy-efficient, gentler on your dishes (no more needing to place plastic on the top rack only for fear that they will melt), and more effective at cleaning.

3rd rack. Now that Meile's 25-year patent ended, you can fit more in the standard 30" dishwasher with an additional top 3rd rack, such as those offered by Bosch. 

Advanced drying technology in the Bosch 800 series uses crystals to catalyse water absorption. (I'm sure other brands offer this too). No more waiting for water to evaporate off plastic Tupperware at the end of a cycle.
Drawer Microwave – Buy Some Counter Space
No longer sacrifice counter space to an appliance, by having it under a cabinet.
Ergonomic, especially for the elderly & less mobile. Easier and safer to put and take out heavy dishes into. Just remember to put a cover on food, as you'll be on your knees if you need to clean it.
Con: Price. ~$1400USD at time of writing, though they'll drop with wider adoption.
Speed Oven – Your microwave on steroids
Cook up to 8x faster by combining a halogen lamp, ceramic heater, and microwave energy at the same time. It can replace your mini oven and air fryer. Check out

this comparison article

.

Con: Price. $2000USD to $5000. This is a new technology, so prices are still coming down.
Steam Oven – Delicious and Nutritious
This one replaces your oven, but adds steam and microwave energy to it. For healthier, more nutrient-dense food that is moist and tender on the inside, crisp and flaky on the outside. Read more.
Con: Price. Again, thousands of dollars as its a new technology, so prices are still coming down.
Garbage Disposal – Quiet, Powerful & Long-Lasting
Bucking the (justified) stereotype that modern appliances don't last as long (see bottom of this article), modern higher-end consumer-grade garbage disposals now:
Use steel grinding chambers for longer life
Auto-reverse if jammed, resulting in fewer jams
Alternate grinder direction with every use for 50% less wear
Grind food much smaller, for fewer pipe blockages (via multiple grinding stages)
Are quieter, with sound dampening padding
Higher horsepower, stronger, with more torque for grinding even bones.
Come with long warranties, up to 10 years or more
Cabinetry & Counters
Countertop Material – No More Laminate!
Granite is tough and has plummeted in price to become more accessible to most and

extremely popular

 (How granite countertops took over American kitchens | Vox | YouTube) although it needs resurfacing every 5 years.
Likewise, quartz, an 

engineered stone can be made in a vast array of design choices, without the need to resurface.

Sintered stone (brand name "Dekton") is maintenance-free and the toughest product on the market. It won't stain like quartz or granite, is one of the very few materials on the market that experts say you can put a hot pot on without fear of it cracking.
Cabinets and Door Hardware
Soft-close door hardware
Push to open technology, if you want a clean look with no handles
Lower maintenance, longer-lasting hinges, sliders, etc.
Cabinet and Door Surfaces
More beautiful choices, like modern, cheap TSS Cleaf, which is a textured laminate made of moulded paper and plastic. Get the look of a continuing grain across multiple doors or panels, that is easy to clean, and costs a fraction of real wood, with far less environmental impact.
Cabinet and Door Panels
Modern wood glues and composite woods (plywood, laminated wood, and particleboard continue to improve in price, strength, quality, durability and sustainability.

Read more

.

Computer-controlled precision cutting machines enable custom cabinetry designs to fit your kitchen at a fraction of the cost. 
Plumbing
Sinks with Features
Choice of material (metal alloy, ceramics, stone, earthenware, cast iron, etc), sizes and designs. Rare in the 20th century, >30" sinks are surprisingly common today.
Mounting options, including undermount, for easy countertop, wiping into the sink and less silicone sealant wear and maintenance.
Thicker steel – up to 16 gauge. Quieter, less likely to dent with impact, make a sound as you drop things into it, or flex when hot water is strained into it, which makes that loud pop sound.
Acoustic padding on the under and outer sides of sinks.
Alloys that are stronger, with improved rust, acid and stain resistance. Today we use T-304 stainless steel though if needed, even better T-316 sinks are also available.
Sinks with ledges for suspending cutting boards, strainers/collanders and more. You can even get double-ledge sinks, like Ruvati's Roma series ($$) and Kraus ($$$), which are quite impressive!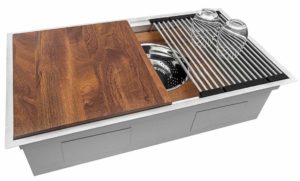 Smart Faucets – Not Just A Gimmick
Turn on a tap with a tap, wave, or voice command. Great for when you have messy hands.
Colour LED indicators indicate water temperature for safer usage.
Temperature limit settings prevent scalds. (Check out our article on kitchen safety.)
Instant Hot Water
Do you hate waiting for hot water to reach your tap? We have the technology! Solutions include
Instant hot water tap heated under your sink with a dedicated tap.
Reciprocal hot water system so your normal hot tap is hot. This runs cold water back to the heater until the hot water reaches the faucet.
Smart faucets can be asked to run until the desired temperature is reached, then turn off, ready for you to use it. While wasteful, it's no more wasteful than you manually running the hot water tap until it gets hot.
The Kitchen as a Room
Lighting: Incandescent and Halogen Upgraded to LED
Use 10% of the power.

Last 10x as long. No more struggling with underneath your stovetop hood and inside fridge bulb replacement.

LED strip lighting under and inside cabinets 

Get beautiful soft lighting and practical task lights 

No longer an expensive luxury item for the few. They are a fraction of the price, and no longer require difficult bulb replacement.

Dimmable, colour changing from brilliant white to soft orange, and smart for convenience

Smart switches and bulbs enable automation, granular control, security, and more.
Paint – Lovely Latex
Lead-free. Safer, but

not as sweet tasting

.

Low fume while drying.

Much easier to clean. So much so, you don't even need a backsplash any more.

More colour and sheen choices.

Longer-lasting, especially when exposed to sunlight.
Flooring – No More Linoleum! Luxury Premium Vinyl is King!
Modern Luxury-Premium Vinyl (LPV) is not only more durable (it's the same stuff used in supermarkets for years), but advances in the last 3 years will impress, I promise. Real wood textures and looks, in a maintenance-free, durable and water-proof package, warrantied for 25 years.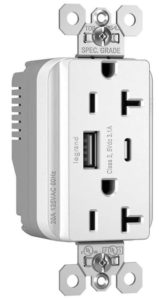 Electrical Outlets
Safer GFCI surge protecting outlets weren't invented until 1961, and only became code in 1987.
Safer wires and insulation. No more asbestos wire insulation in appliances or room wiring (health hazard), no more aluminium wiring (fire hazard), and no more cheap, plastic insulation that colour-fades or fails in other ways.
Buy commercial grade for long-lasting, tight-fitting appliances. I highly recommend this video which includes a disassembly of these units to see why you should install these for frequently used outlets.
Included USB A and USB C ports. A small but significant convenience for countertop outlets.
Electrical Demand – Smart Grid
Save money and reduce your carbon footprint by using a smart fridge and dishwasher that delay their use and turn on when electricity is cheaper.
Smoke Alarms Got Smart
A smoke alarm in the kitchen? Well, modern smart smoke alarms claim they can differentiate between steam and smoke. Though to be honest, we left ours in the hallway.
Easily silenced. Smart smoke alarms can be silenced from your phone. No more hopping on chairs, or stabbing at the ceiling with broomsticks.
Networked. All modern alarms will set off all the alarms in the house as a safety feature.
Smart notifications – Get an alert on your phone while you're out. If you have a dumb smoke alarm, but you're out and you set your Amazon Echos to "away" mode, they'll notify your phone if they hear a smoke alarm.
Cooking
Nonstick Pots and Pans – Hardier and safer
Yes, your ancestors have had naturally non-stick cast iron, but at a fraction of the weight, and much easier to clean, we now have other alternatives:
Safer Teflon. These pans contained perfluorooctanoic acid (PFOA) until 2013 when they switched to the safer polytetrafluoroethylene (PTFE).
Anodized aluminium pots and pans. Hardier and safer than Teflon. This is our go-to when we're not using cast iron.
Carbon steel. Lighter than traditional cast iron, but using the same concept of developing a non-stick patina over time.
Glassware – Tougher and Safer
This is not your grandmother's Pyrex. In the 80s, US Pyrex changed its composition to be more mechanically tough, at the expense of being more susceptible to thermal shock if used incorrectly. Considering dropping is more common an issue, I side with pyrex on this. For more details see Wikipedia.
Silicone Utensils
Melt-free, soft-touch, nonstick-safe silicone utensils replace plastic spatulas, tongs and spoons. I tend to use silicone three-quarters of the time and wood the remaining quarter.
Your Grandparents One Advantage – Longer Lasting Appliances
The only advantage I can think the 60s had over modern kitchens is that appliances were much more expensive, and thus were designed to last much longer due to market demand. Contrived durability and planned obsolescence are absolutely a thing. US warranties last a paltry 1 year! (Superior Australian consumer law has "reasonable time" requirements). Despite this, even with frequent replacement, modern appliances are a fraction of the price they were, and consumers are still financially better off than consumers in the 60s. 
---
The Kitchen of the Future
Kitchen innovation has resulted in cheaper, safer, greener, longer-lasting (often), more energy efficient, task efficient, and prettier kitchens. On the horizon we can expect new technologies like speed and steam ovens to come down in price and be more common, and more devices to become smart, or use their smart technology better to our advantage. This includes more sensors for movement, temperature, states (e.g. door open), automatic food detection/inventories, and even food freshness. Wouldn't that be something – getting a notification about some food getting old before my spouse informs me. Anything that reduces waste, saves me money or increases relationship bliss is worth it in my books.
Fridgidaire did get one thing right when it predicted the kitchen of the future back in the 1956 – I can blast upbeat jazz music in my kitchen at any time I want to cook.
Further reading
Where's That Kitchen of the Future We Were Promised? | Treehugger – more old videos here.
The Kitchen of the Future May Look Like This Kitchen From the Past | Treehugger
Where Our Kitchens Came From and Where They Are Going | Treehugger