Has your outdoor living space looked the same for years? Have you lost interest to invite friends over as this area looks dull and unkempt? There are many ways to upgrade your current outdoor living space. And the best part is that most of these hacks are very easy.
Having a well-maintained outdoor living space can increase the value of your property and leave a positive impression among guests and passersby. Your outdoor living space is important for many reasons, which is why you should make sure that it remains functional and appealing.
Spruce up your current outdoor living space by following any (or all) of these tips:
Work On Your Landscape
The condition of your landscape can make or break your mood to spend time outdoors. You'll likely choose to spend time indoors if your landscape is full of dead plants or diseased trees.
One way to spruce up your outdoor living space is to work on your landscape. You can accomplish this task on your own by following landscaping tips available online or hiring professionals. Deciding between the two options should depend on the existing condition of your landscape and the look you want to achieve with it.
If you have diseased or dead trees in your landscape, make sure to hire tree services Northern Beaches or similar companies in your area. Never attempt to remove or cut trees on your own, as this is a recipe for disaster.
Add Outdoor Heating
The temperature usually drops in the evening, preventing you and your guests from spending time outdoors. This can be a buzzkill, especially if everyone is still having a good time outdoors.
Make your outdoor living space comfortable even at night by adding a fire pit, outdoor fireplace, or outdoor heater near seating areas. These can effectively warm up your guests, so they can spend more time outdoors.
With a source of heat outdoors, you and your guests can roast marshmallows, tell spooky stories, or play card games. The fun will never stop when you have a fire pit, outdoor fireplace, or outdoor heater in your outdoor living space!
Invest In Weatherproof Furniture
No one will choose to stay in your outdoor living space if there's nowhere to be seated. Additionally, you won't be able to throw the best parties if there are no tables in the area.
Turn your dream of becoming the best party host into reality by investing in weatherproof furniture. Adding tables, chairs, and swings to your outdoor living space is a great way to make the space functional and fun. Plus, these pieces will ensure the comfort of your guests.
When choosing weatherproof furniture, pick pieces made from teak, powder-coated steel, or polyresin wicker from a reliable furniture store. These materials are known to withstand harsh weather conditions and are built to last through different seasons.
Create An Outdoor Kitchen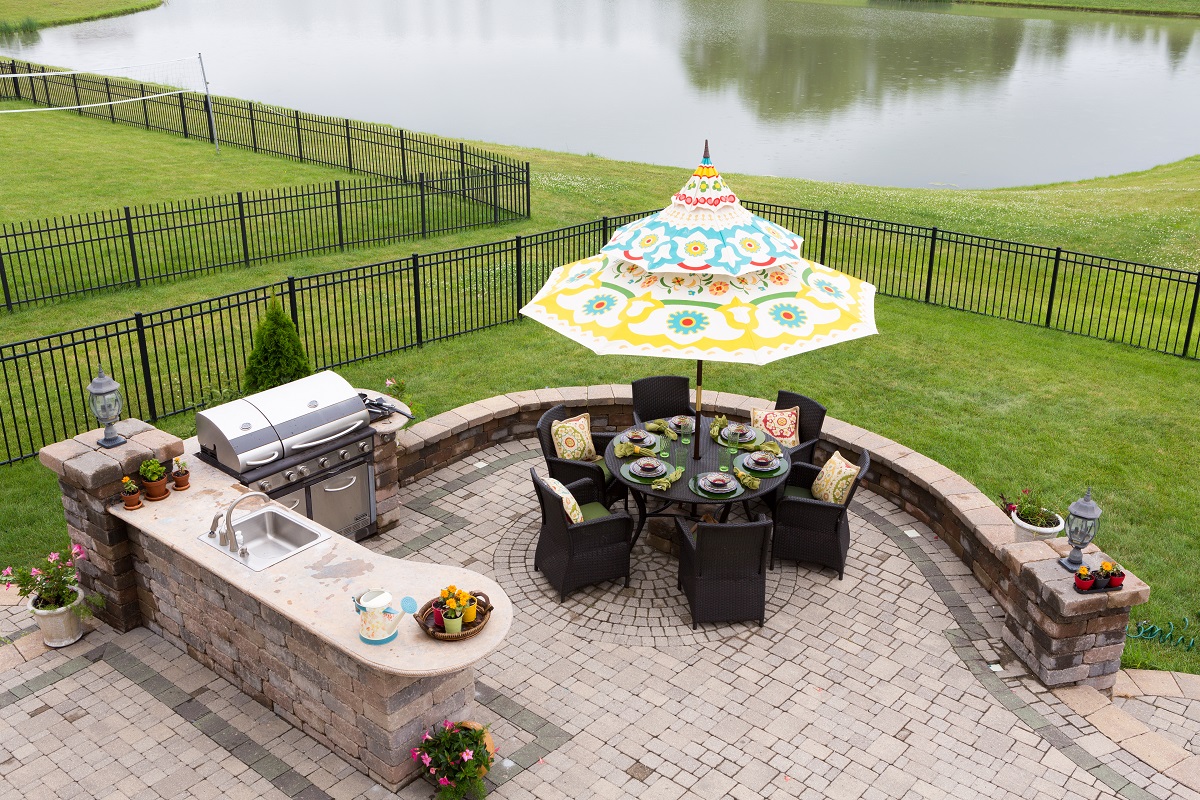 The idea of cooking food indoors and then bringing them out for guests is time-consuming and stressful. This might even cause you to miss out on conversations with friends and family.
Another way to spruce up your current outdoor living space is to create an outdoor kitchen. With an outdoor kitchen, you can prepare different meals without being cooped up in the house for hours. This area will also make cooking a breeze as you'll have access to plenty of helping hands.
Some of the most important accessories and appliances your outdoor kitchen should have are an outdoor grill, compact refrigerator, trash bin, and vent hoods. If you have enough budget, add a pizza oven, power burner, and wine cooler.
Install A Water Feature
Aside from making your outdoor living space appealing, do you know that you can also transform it to impact your overall health? Adding a water feature is an excellent way of sprucing up your outdoor living space, as water sounds can lower stress and improve mood.
Moreover, hearing and seeing water features also create a peaceful and serene sanctuary. This will allow you to relax outdoors after a stressful day at work.
You can incorporate water features in your outdoor living space in many ways. For one, you can mix water into your landscaping by installing a waterfall with stacked rocks.
You can also add a small stream, swimming pool, or pond to your outdoor living space.
Add Potted Plants With Fragrance
Who says plants should also be seen on your lawn? You can actually use potted plants as decors for your outdoor living space. Depending on the size of the plants, you can use them as centrepieces or place them in the corners to create a focal point.
When choosing which plants to add to your outdoor living space, pick ones that are fragrant as these can repel insects. For this purpose, you can use citronella grass, lavender, and lemon balm. Rosemary is also an excellent option as its flower adds a pop of colour to the space.
Create Outdoor Shade
The sun can be unforgiving during the day. You'll likely want to avoid spending time outdoors from 10 AM to 3 PM as the sun's rays can be uncomfortable. In worse cases, being out during these times of the day can cause sunburn.
If you want to lounge in your outdoor living space all day, create shade. This is one of the easiest ways to ensure your comfort when being outside. Once your outdoor living space is properly shaded, you can read a book, take a nap, or invite friends over regardless of the time of the day.
When adding shade to your outdoor living space, you have several options to choose from. If you want an eco-friendly solution, plant trees near your seating area. If you have sufficient space, consider installing a gazebo. Investing in patio umbrellas, installing a pavilion, and hanging curtains, are also great options.
Work On One Project At A Time
When working on your outdoor living space, make sure to focus on completing one project at a time. Never attempt to start several projects at once, as this will only cause a lot of stress and might even prevent you from completing a single project.
By following one tip at a time, you can have fun doing the project and have sufficient resources to complete it. Plus, this will also give you the opportunity to carefully plan your project, so you can personalize the outcome.