I recently published an article about this awesome local play centre called Rainbow Park in Werribee in the mid-90s, which my local friends got a real kick out of. This led to a lot of people mentioning they have a lot of fond memories of McDonald's birthday parties in the 90s, so here's a collection of photos mostly from the Werribee McDonald's throughout the 1990s, covering multiple versions of the playground that existed over the years!
McDonald's Birthday Parties were such a big deal for kids, any excuse for McDonald's always got kids fired up. I recall someone once told me that as a kid, their parents didn't allow them to eat fast food, so whenever they asked about McDonald's their mum said you can't go there unless you've been invited.
The McDonald's Birthday Party Room
Back in the 1990s, just about every McDonald's and Hungry Jack's restaurant in Australia had a party room. A closed-off space for hyped-up children to run around and be noisy without bothering the other patrons. Based on more recent information from 2014, these lasted 1.5 hours and had a dedicated host who took care of everything so that the parents could relax or go out for a smoke.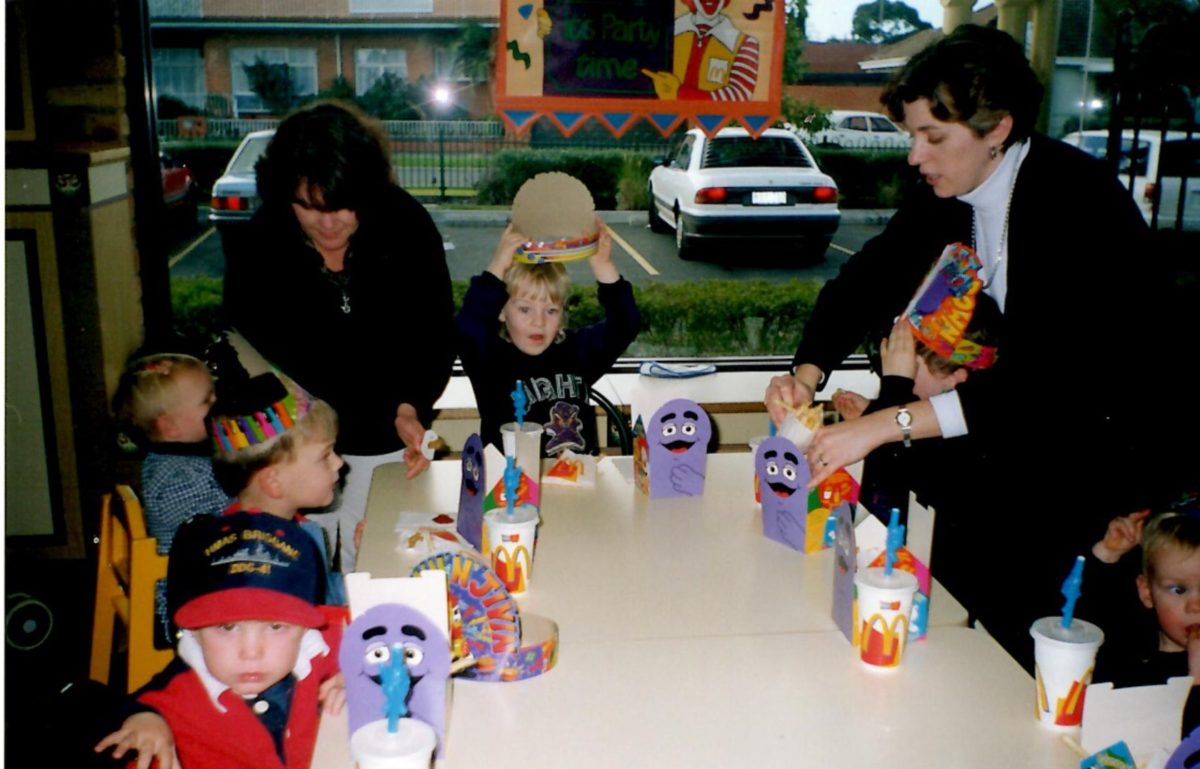 It was a very low-maintenance, turnkey birthday party solution that was super cheap and easy for parents to organise and kids loved it. It was amazing how simple and easy this was compared to hosting something at home that you need to cater for yourself and clean up afterwards.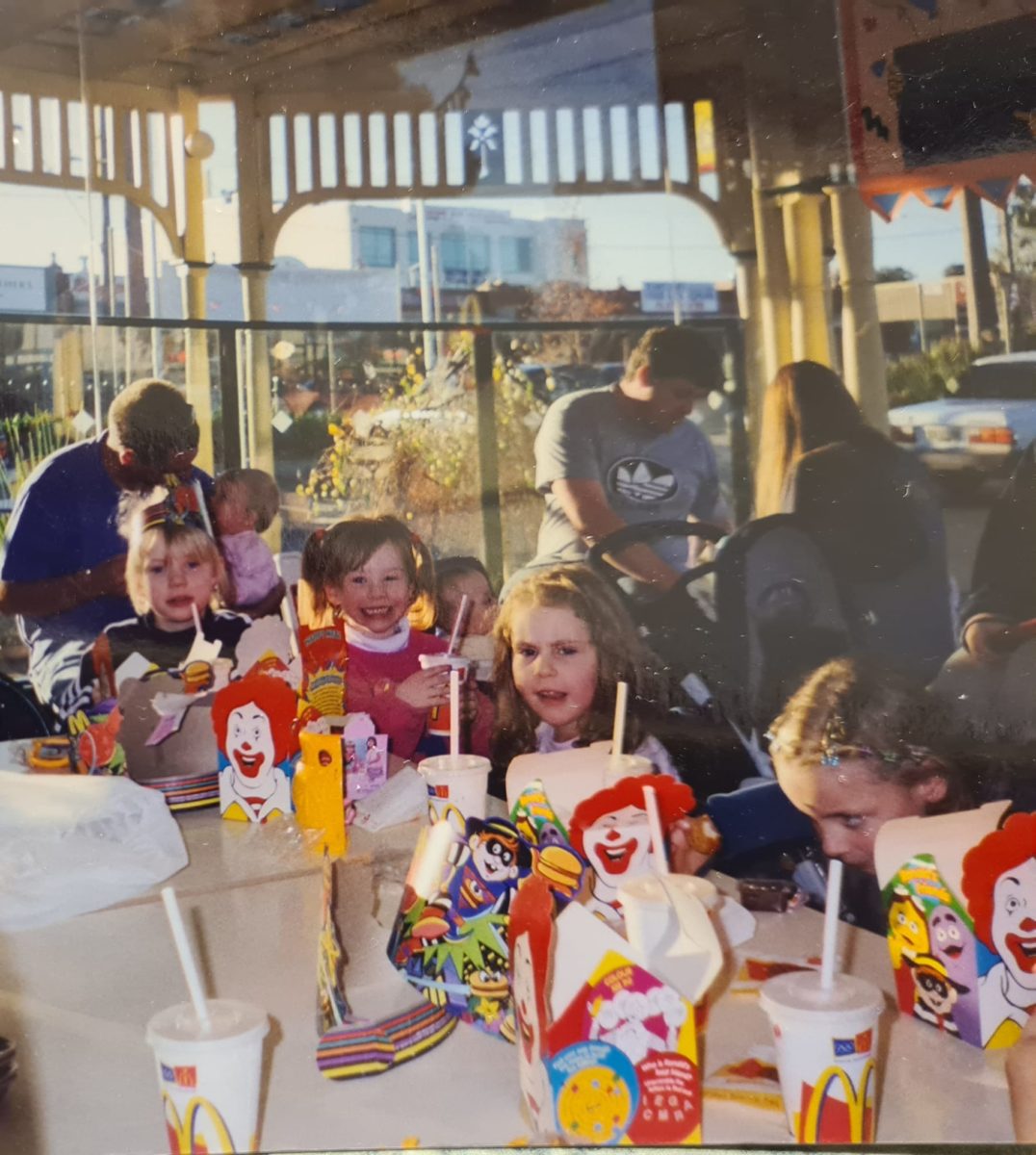 The old architecture of the Werribee McDonald's really takes me back.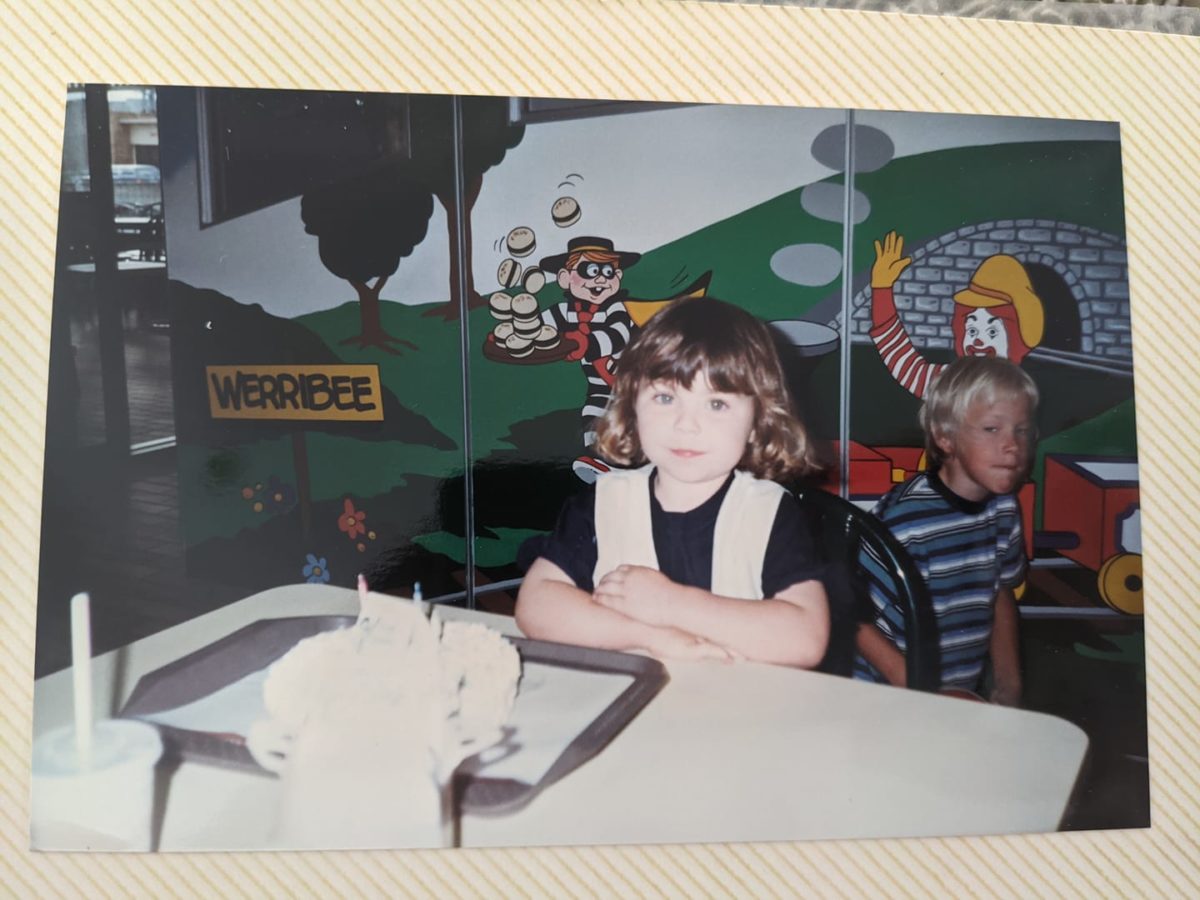 Seeing my hometown Werribee mentioned in part of McDonald's Party Room mural is pretty wild.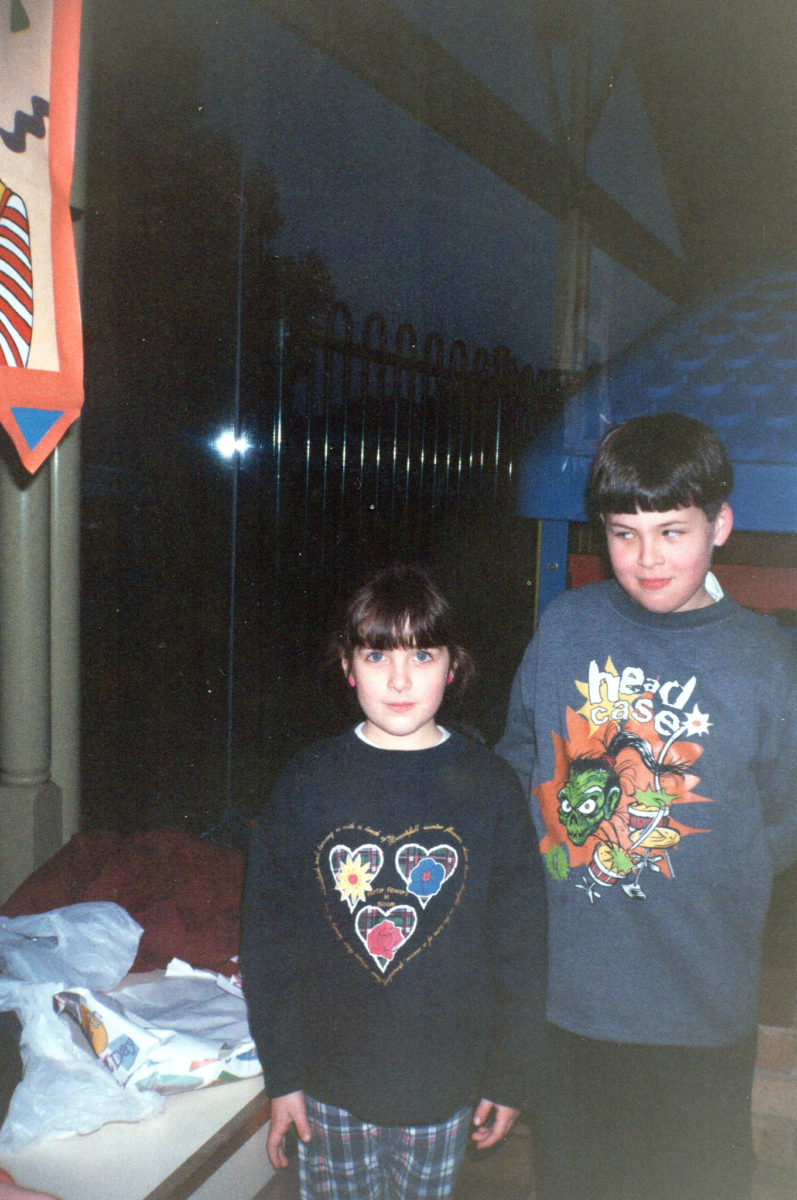 Above is myself and my younger sister at her birthday party at the Werribee location. It had a window to the playground so you could supervise the kids.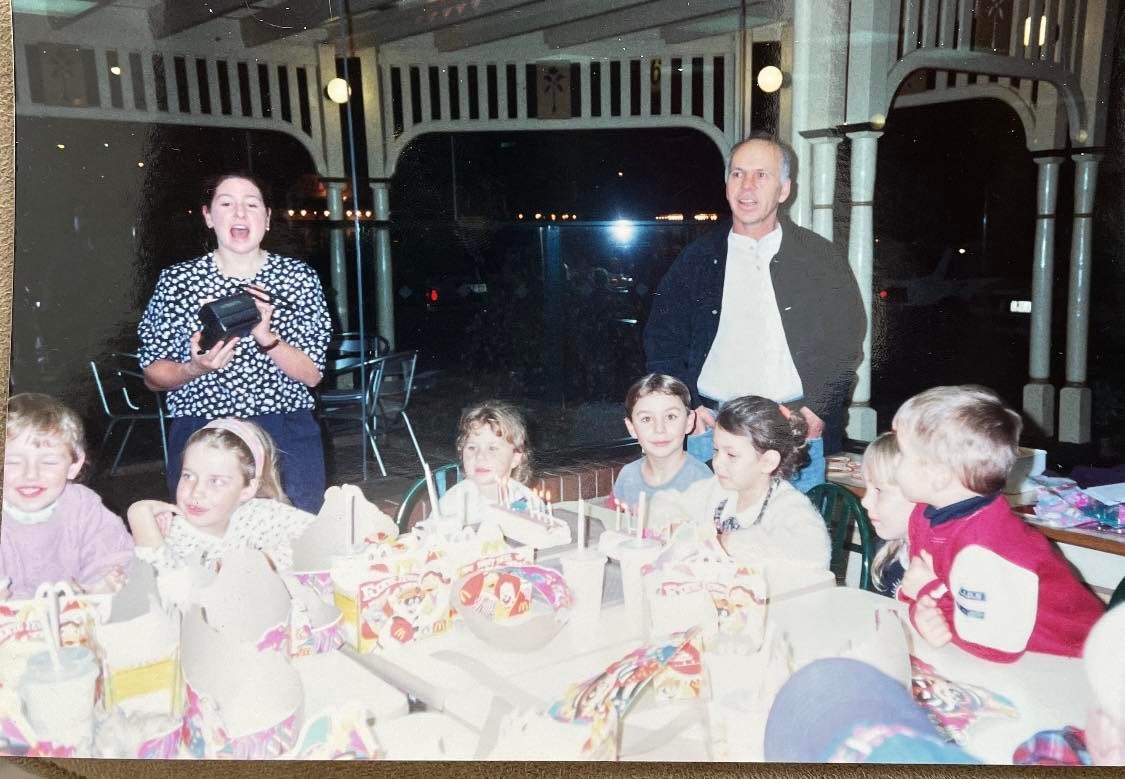 Here you can see the old seating outside and get a better look at the old-style wooden pergola some locations used to have around Australia. You can also see the polaroid camera the host is holding and the old McDonald's host uniform.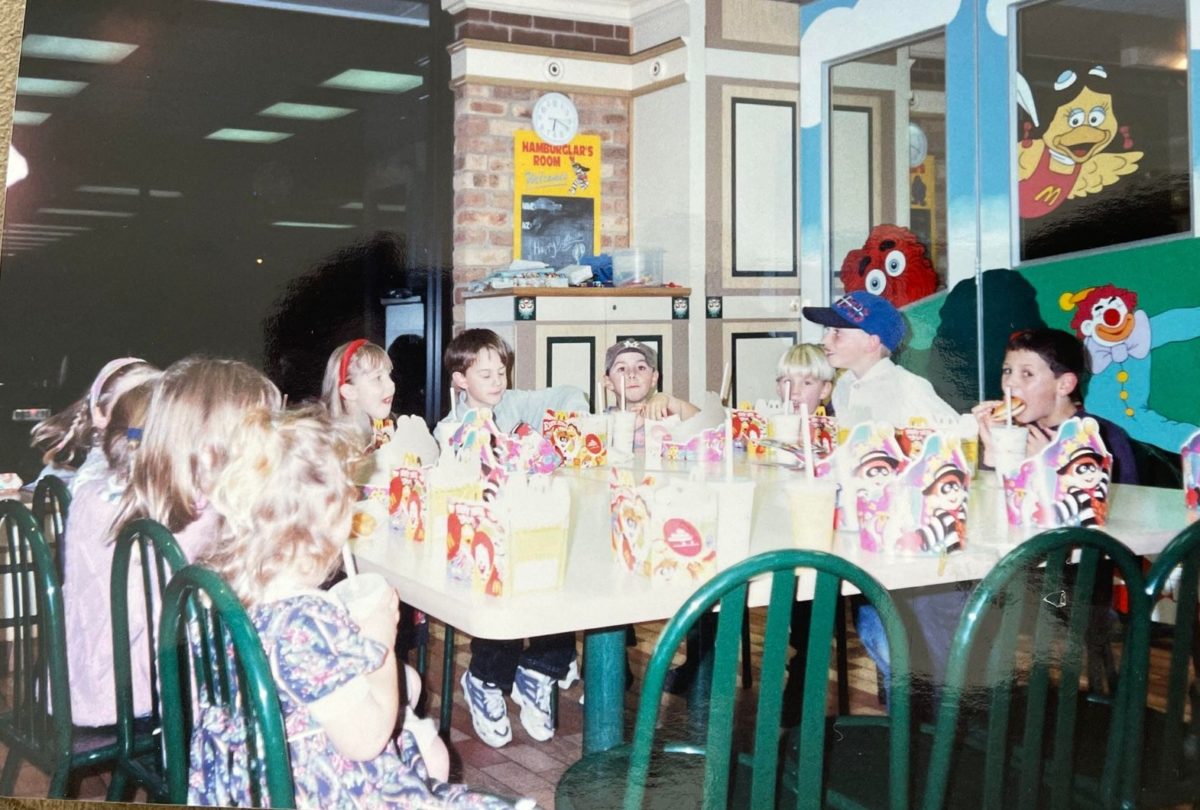 Actually, I think the Werribee location had two rooms with a fold-up divider that could allow two smaller groups to party separately at the same time!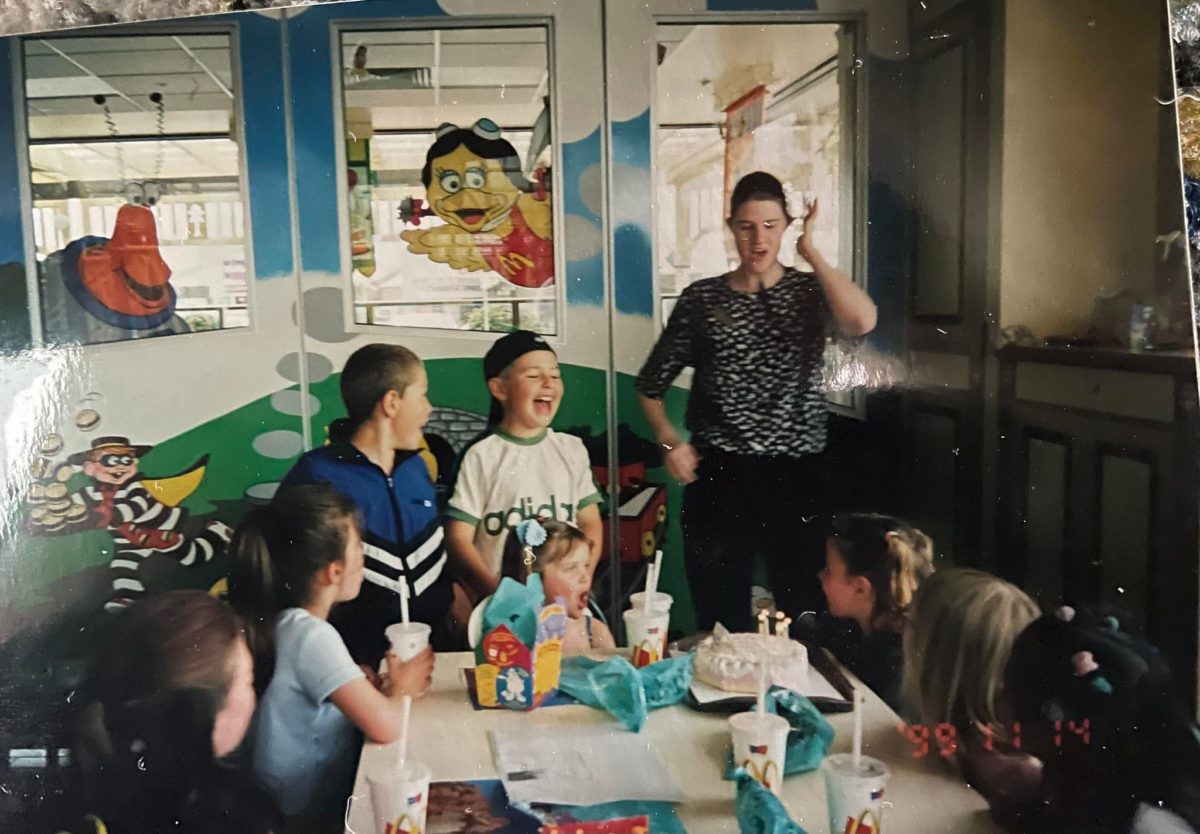 Another photo with a host.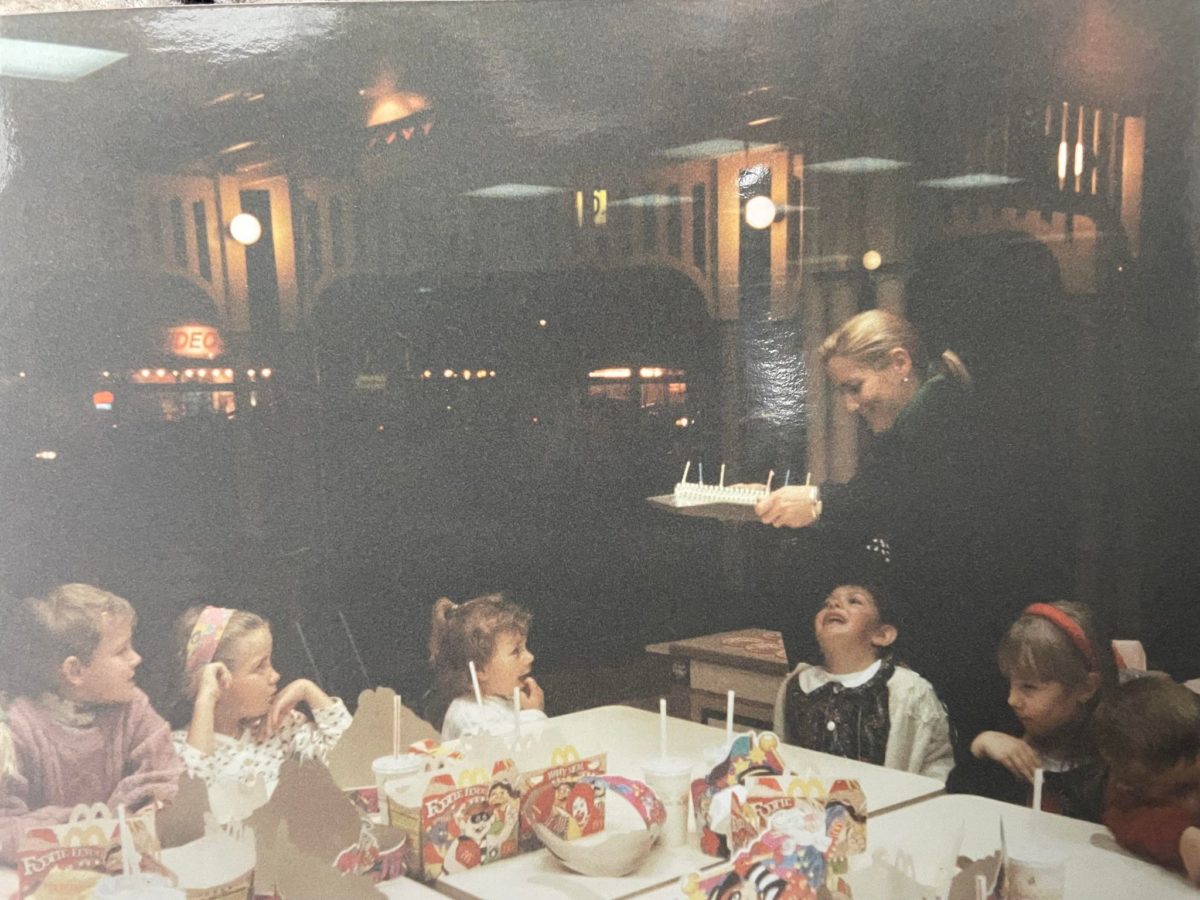 I'm confused as to what the sign in the background is. Was there a video store? I recall Futuristic Games here in Werribee, but not sure what this could have been.
McDonald's Birthday Party Packages
The oldest details I can find for this is from 2011 due to McDonald's using Flash websites prior to this which could not be archived properly. I doubt the format changed too much over the years but perhaps the per-head price has increased since the 1990s. Still good value though! Below is how McDonald's used to describe their parties and their packages.
McDonald's® Birthday Parties
Relax and let us take care of the preparation, entertainment and food. We run the entire Birthday Party to ensure the Birthday Child feels special on their big day.
The benefits of having a McDonald's Party:
Heaps of fun games
Variety of food options
Friendly trained party host
Choice of party packages to suit your needs
Convenient locations
On-site parking
Safe and clean environment
Party Host
All our Party Hosts are trained and equipped with all the tools required to make your child's party one they'll never forget.
From the set up of games and activities to organising prizes and food, the party host will manage the entire party for you! Sit back and enjoy the party.
I've gotta say, they were certainly not wrong about children not forgetting their birthday parties at Mcdonald's.
McDonald's® offers a choice of two party packages
Minimum number of party guests is 10. Check your local restaurant information for specials and promotions!
Party Classic – $9.95 per child
Package includes:
Dedicated party host for 1.5 hours
Fun games and activities
Selection of food from our Party Menu
Loot Bags for party guests
Complimentary Invitations (for pick up at chosen restaurant after booking)
Gift for Birthday Child
Prize for every game
Party Extra – $12.95 per child*
Package includes:
Dedicated party host for 1.5 hours
Fun games and activities
Selection of food from our Party Menu
Loot Bags for party guests
Complimentary Invitations (for pick up at chosen restaurant after booking)
Premium Gift for Birthday Child
Large message board signed by party guests
Prize for every child
McDonald's Classic Music Party Packages from 2013
They later split the packages up by gender, I think this was around the time they were starting to really phase out the McDonaldland characters so they had to go with these other generic options.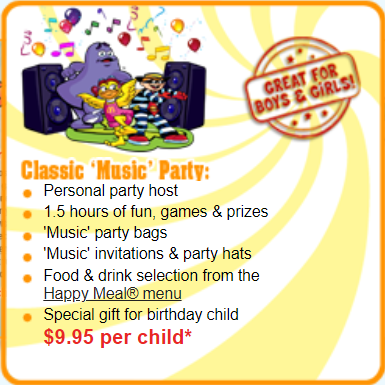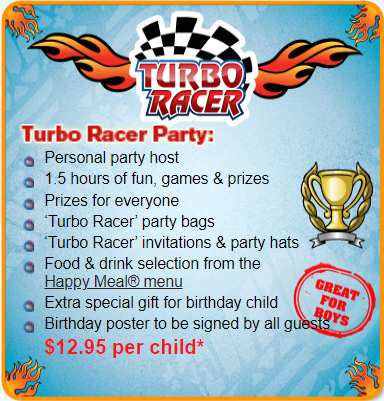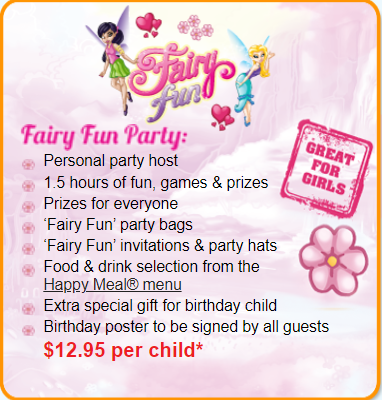 McDonald's Birthday Invitations
Making this whole experience dead-easy for parents, they even gave you birthday invitation postcards that you could send in the mail or hand out at school or kindergarten. Below is an Australian McDonald's birthday invite from 1996-1997 from the Berwick store that I found on eBay (it's $17 if anyone wants to buy it).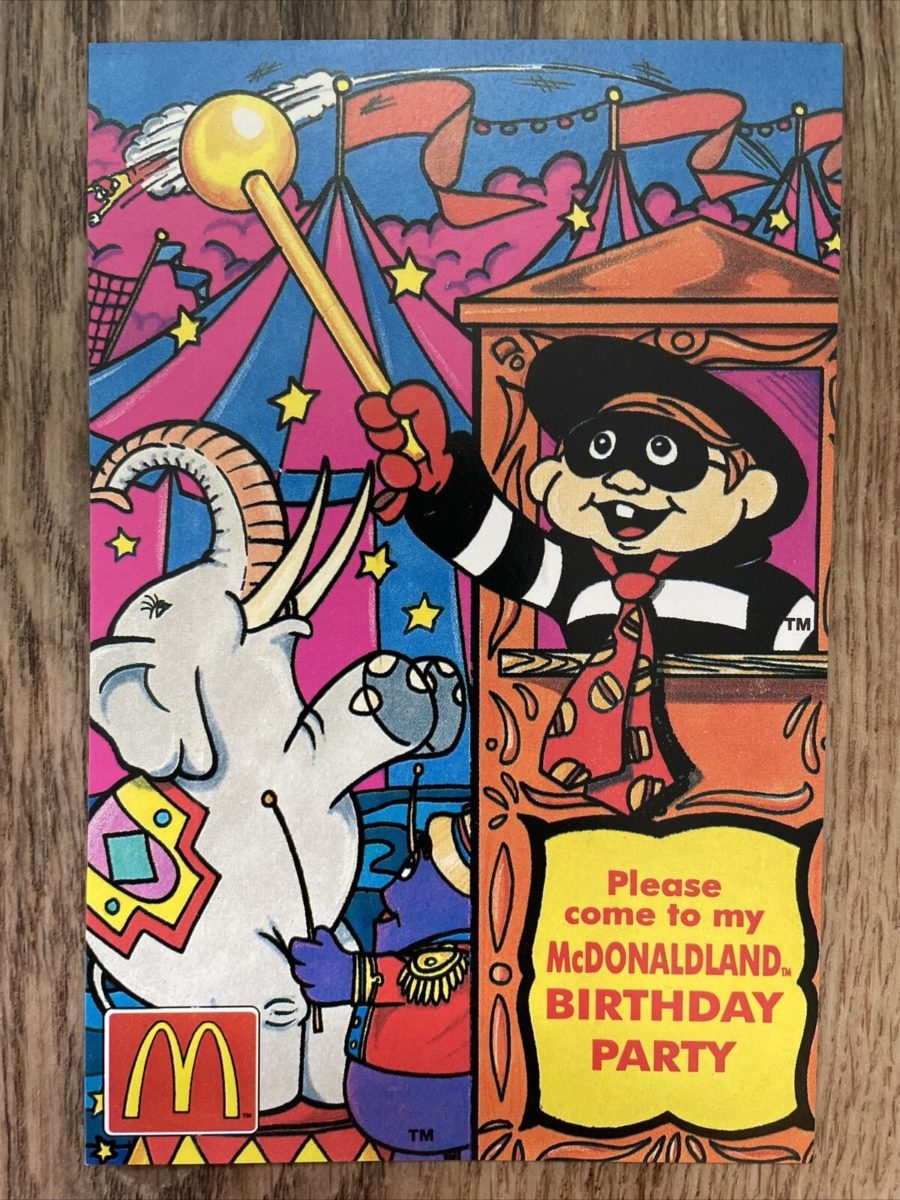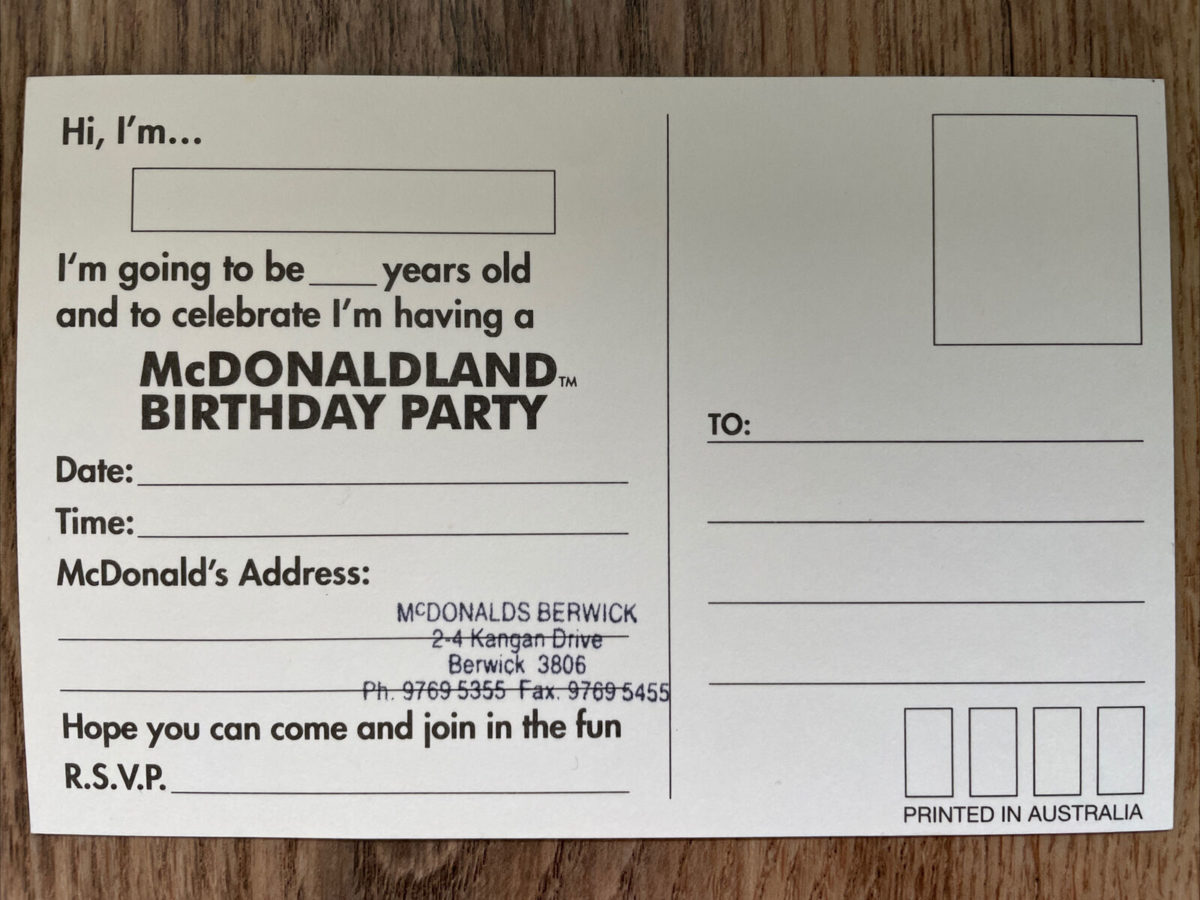 McDonald's Birthday Party Hats
Each kid got a McDonald's Party hat which was basically an advertisement for Mcdonald's stuck to their heads. These were probably helpful for when they were in the playground you could easily identify which kids are part of the party group, so you don't lose any.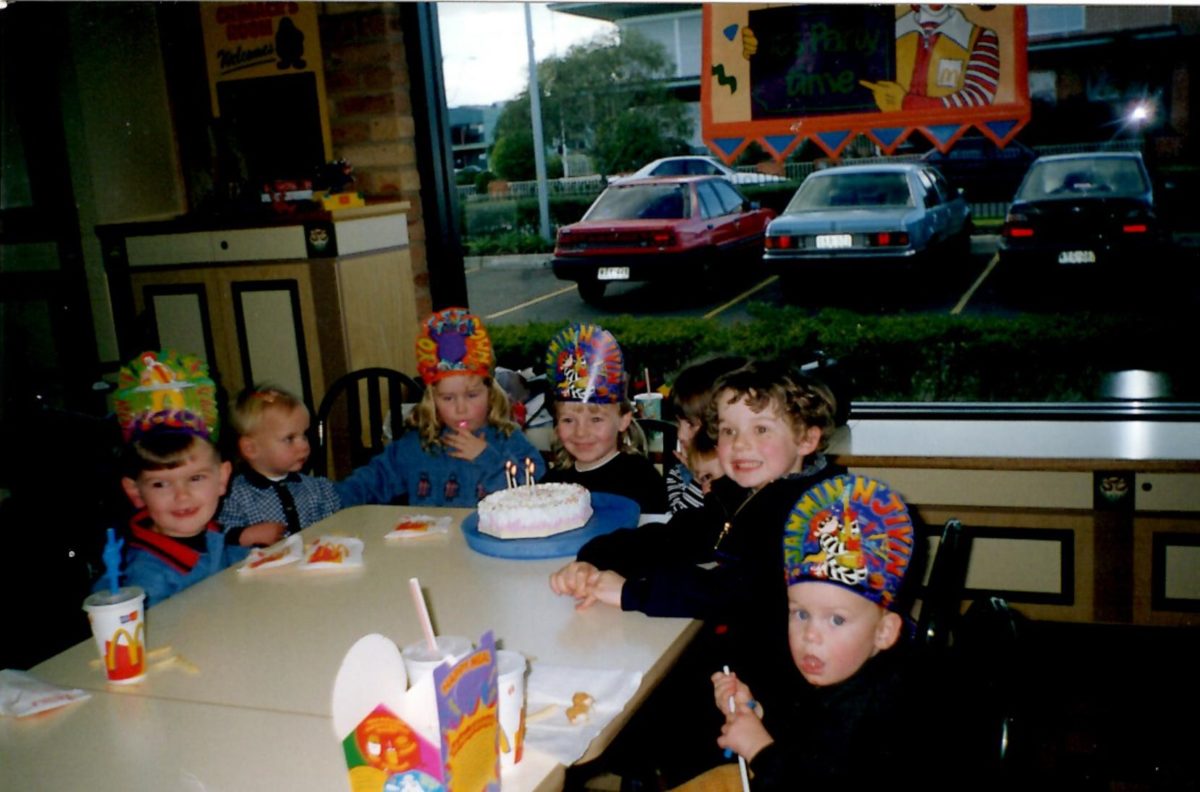 At some point, they introduced a choice of themes, which were cars for boys, fairies for girls or a unisex generic option.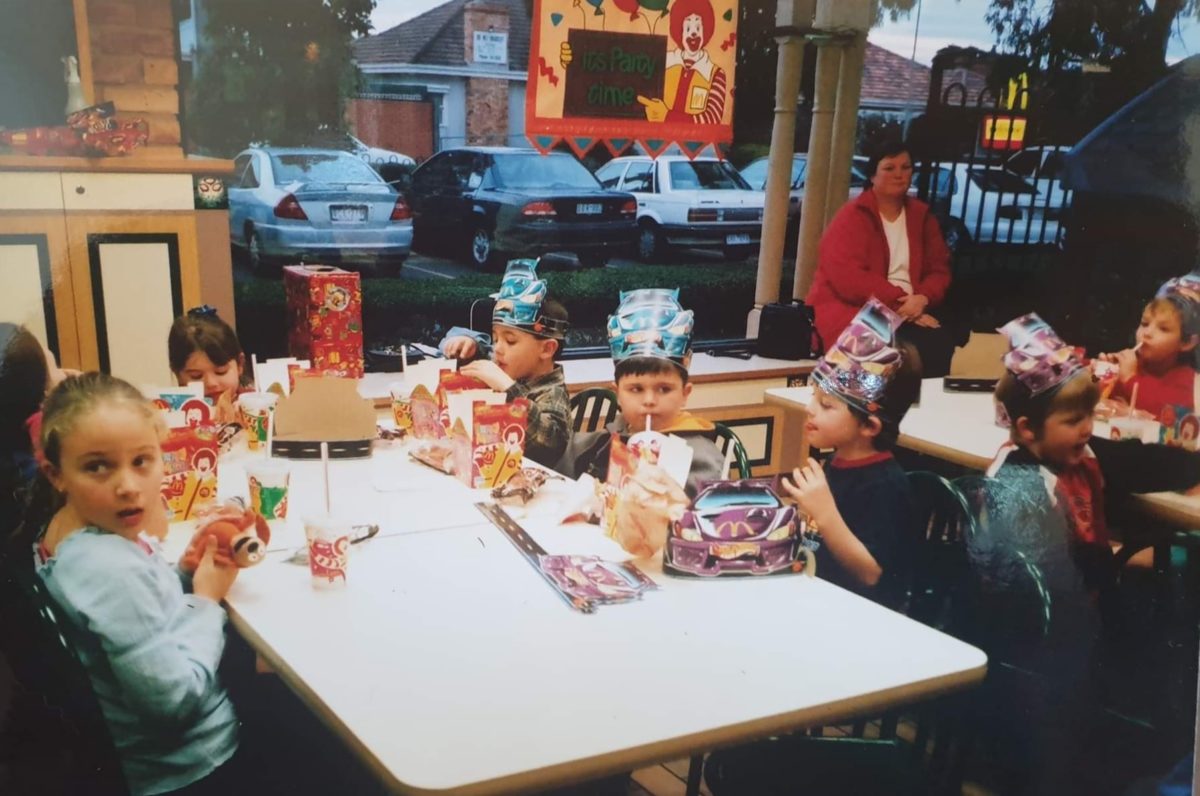 The party above was probably for a boy as they all have car party hats.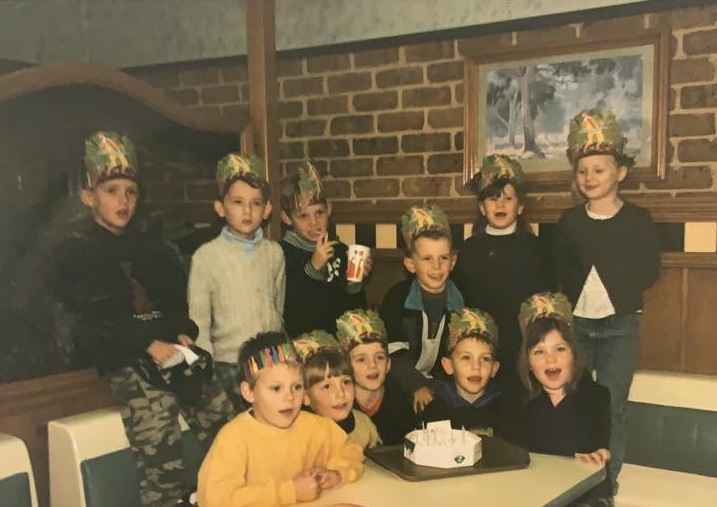 Damn, for a moment I thought the painting had Ronald McDonald doing some gardening in it. Handpainted bush scenes with cartoon McDonald characters on them is definitely an aesthetic I support.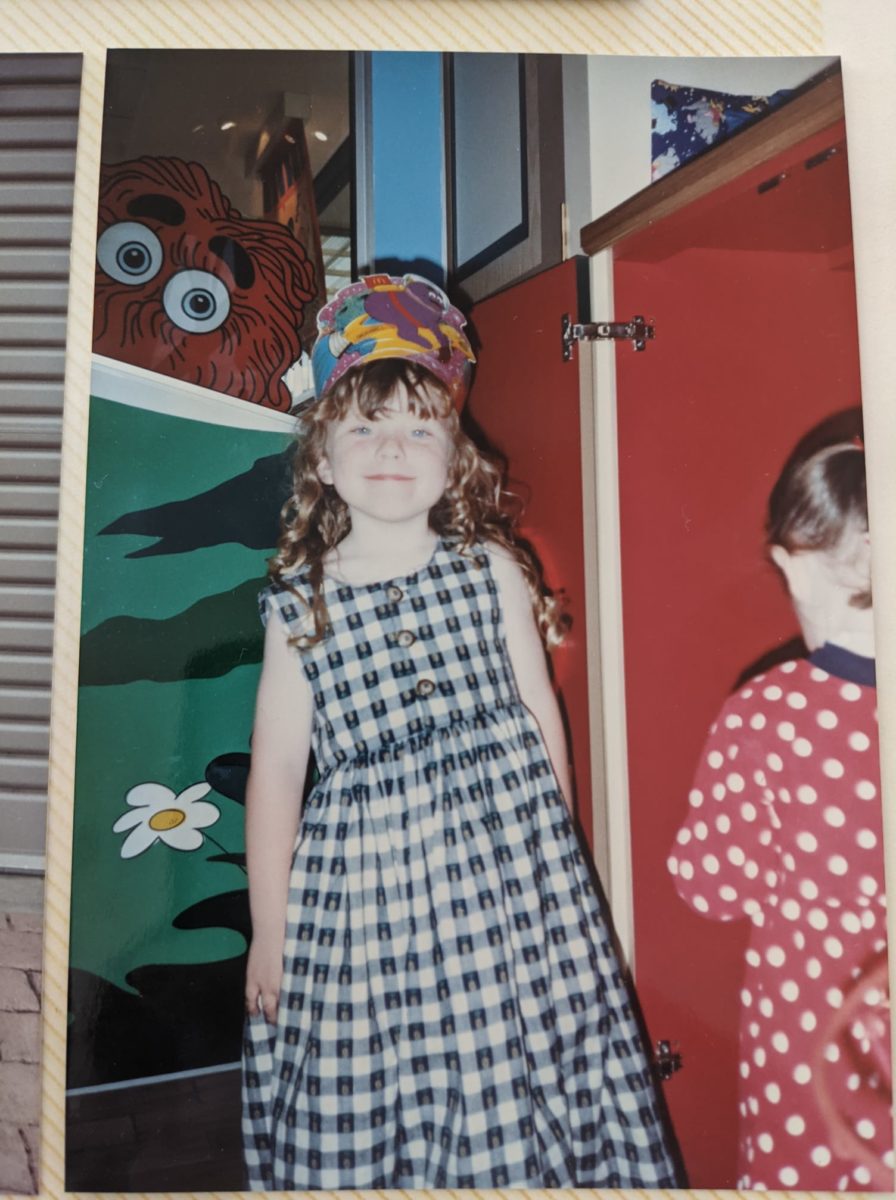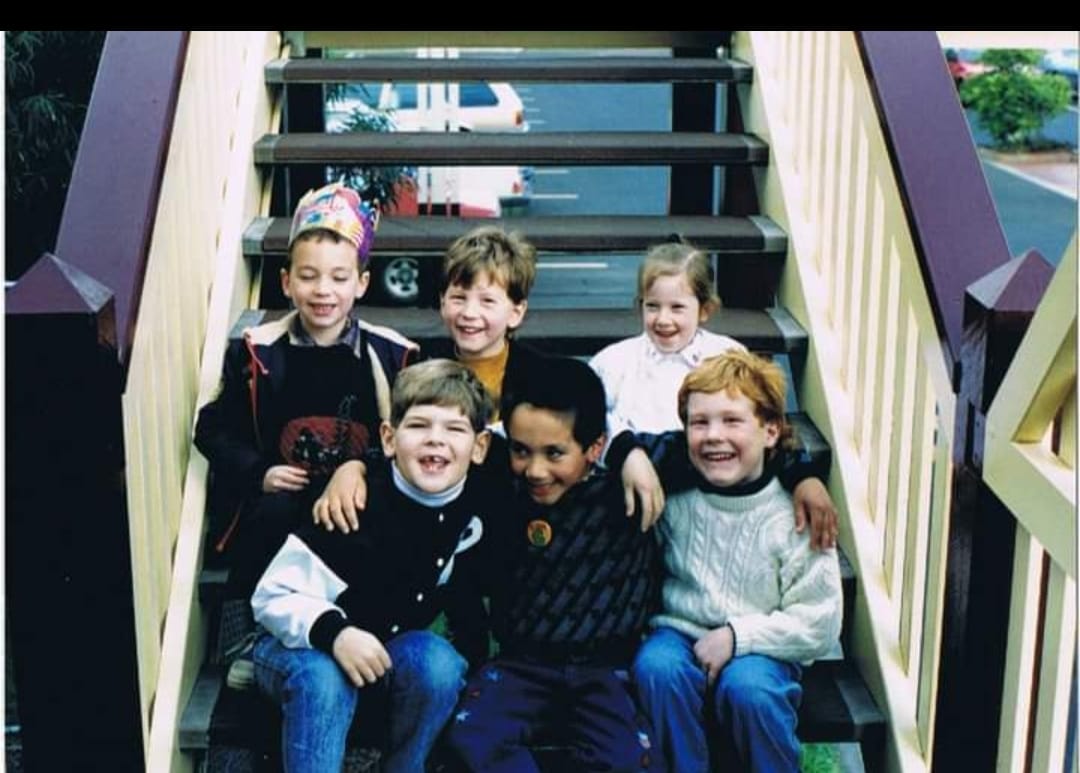 The photo above was taken at the Train at the Melton McDonald's.
McDonald's Birthday Ice Cream Cake
So, apparently, there were two cake options back in 2011. I'm not sure if this was always the case or if it's still the case today, but there is no way anyone would be choosing that chocolate cake over the ice cream cake.

In the 90s everyone was all about the ice cream cakes.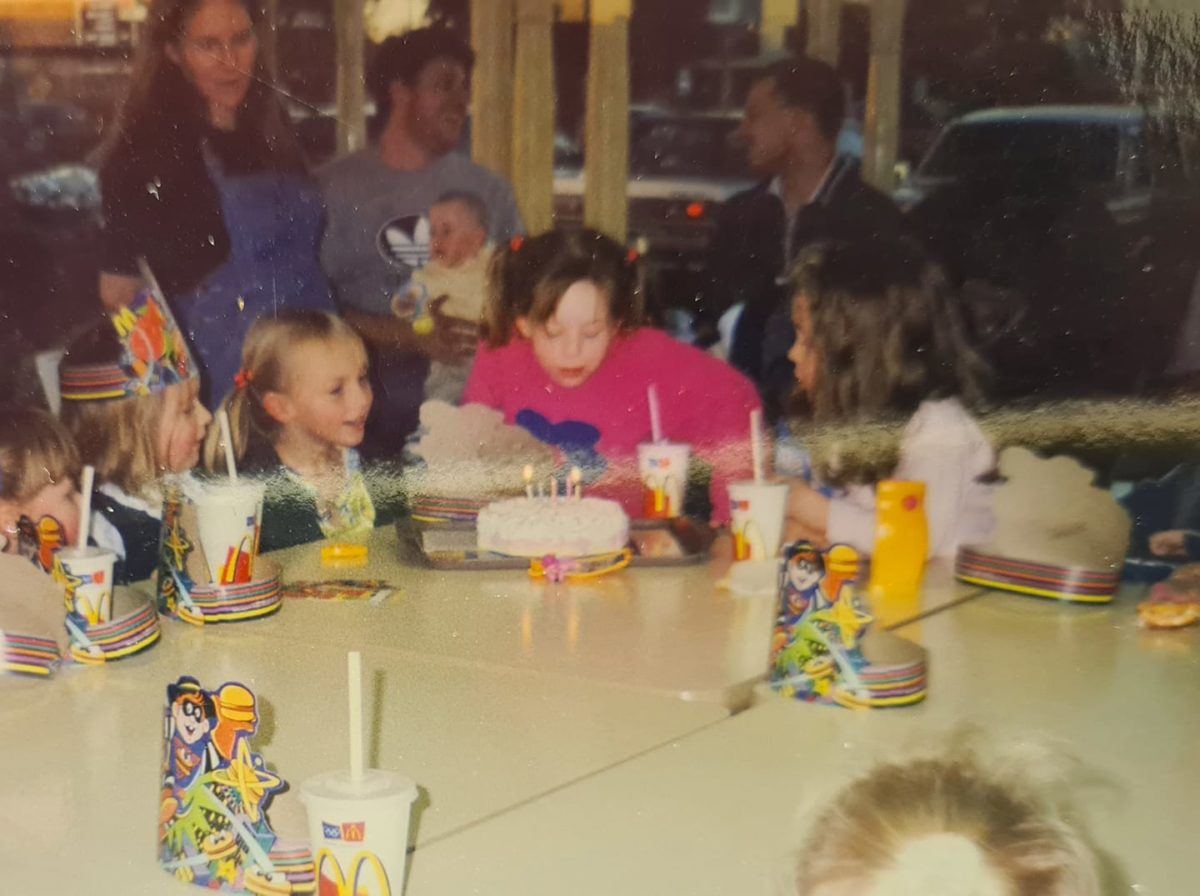 The staff used to eat these afterwards as the kids rarely ate the whole thing.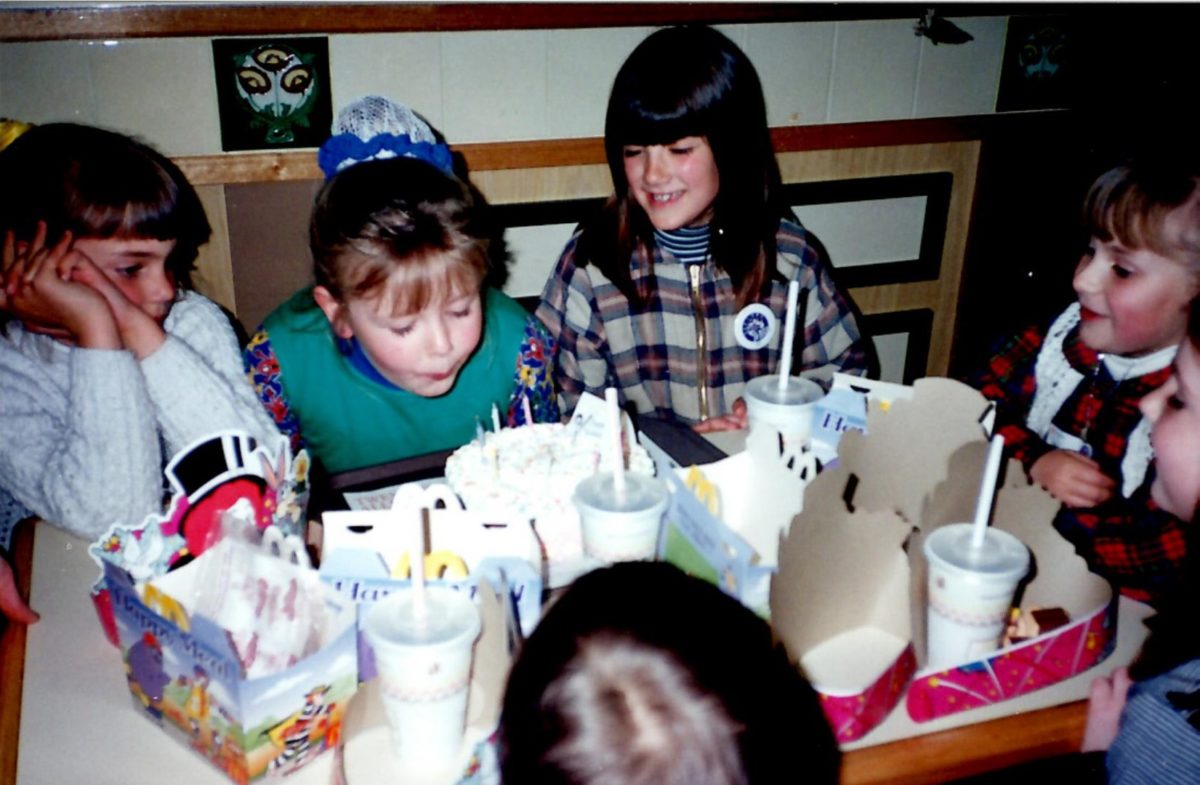 McDonald's Birthday Party Polaroids
Above shows an old wooden McDonald's playground from the Morris Road McDonald's in Hoppers Crossing, Victoria in 1995.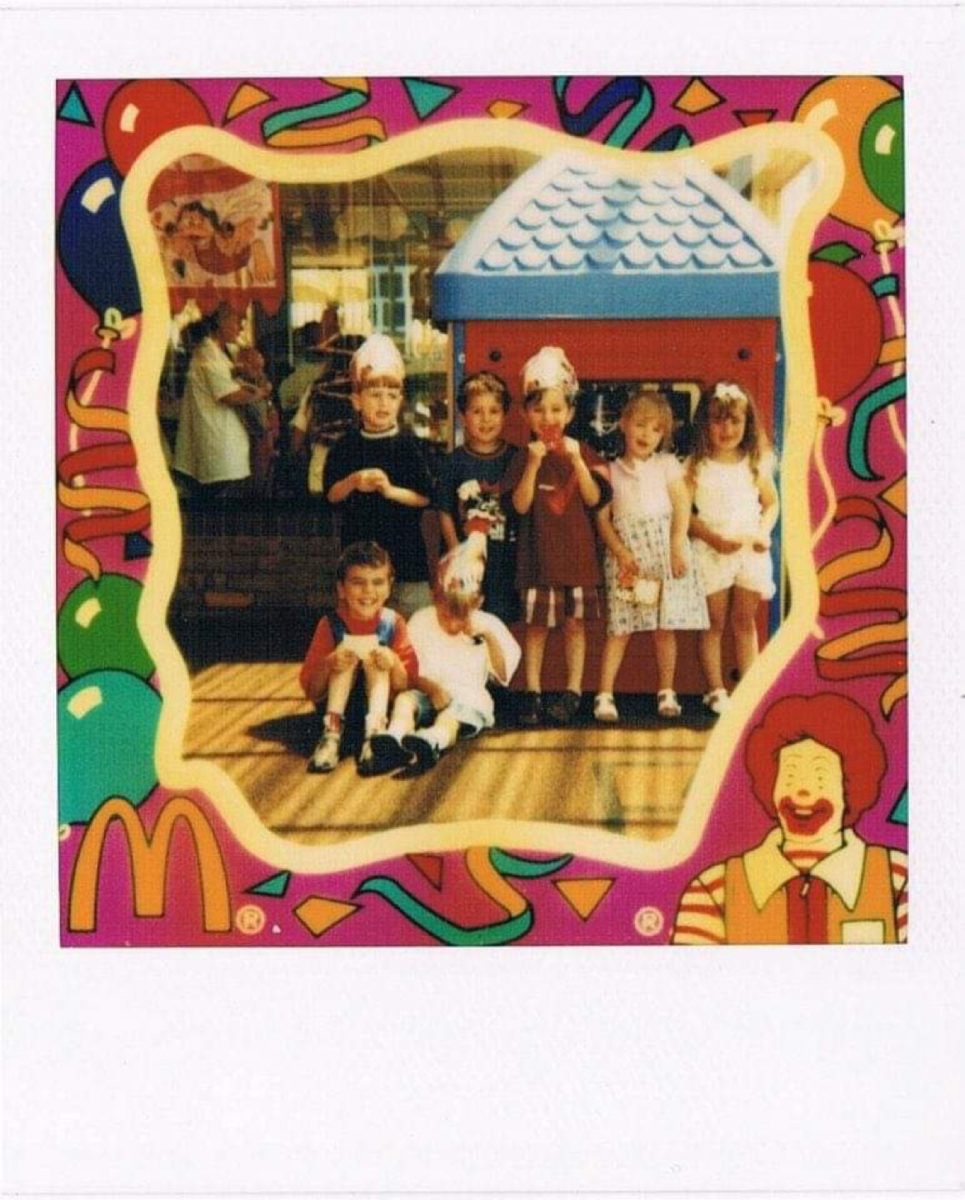 At some point, the polaroids had this image printed around them which was really cool, but I think I've seen instances where it covered up some of the people in the photo. This was at the Werribee McDonald's on Synnot street.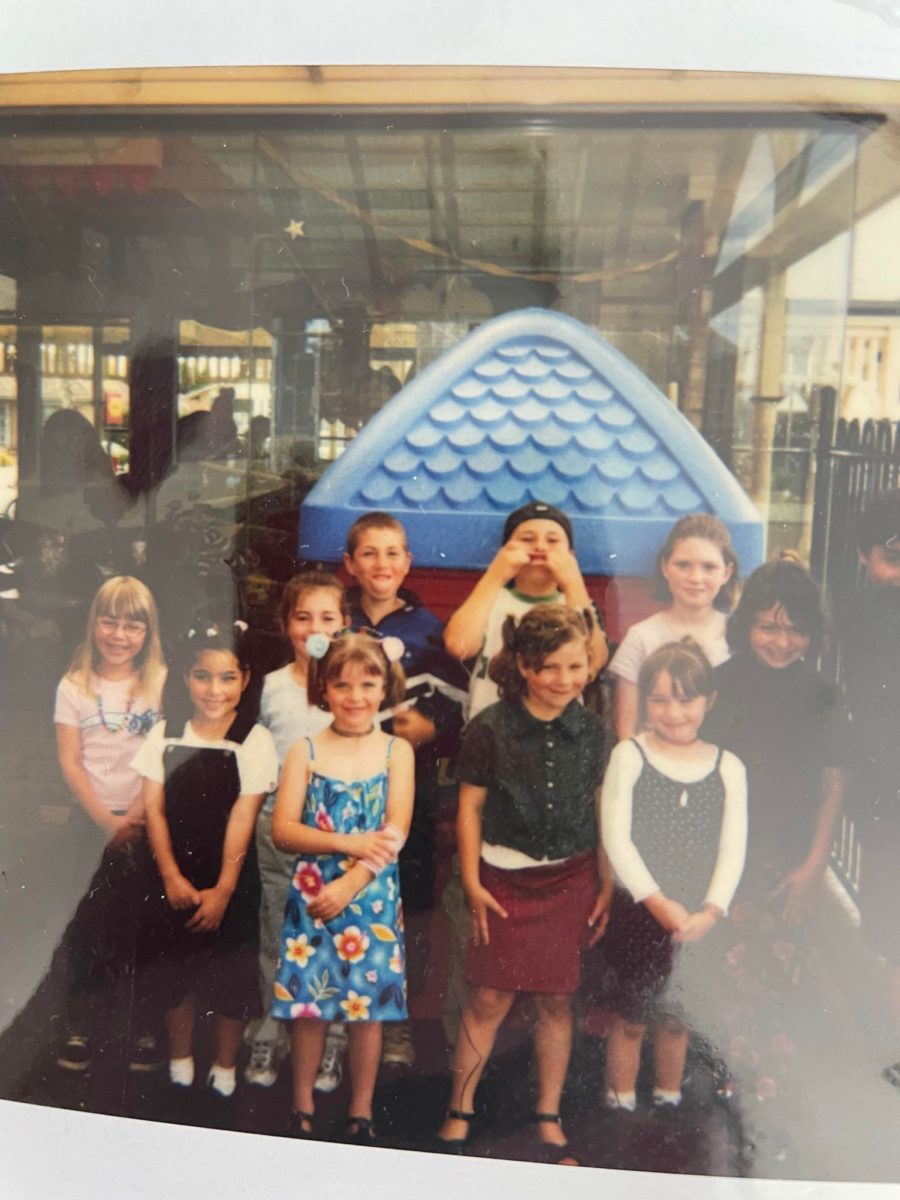 That little plastic house was surely iconic to anyone in Werribee in the 90s.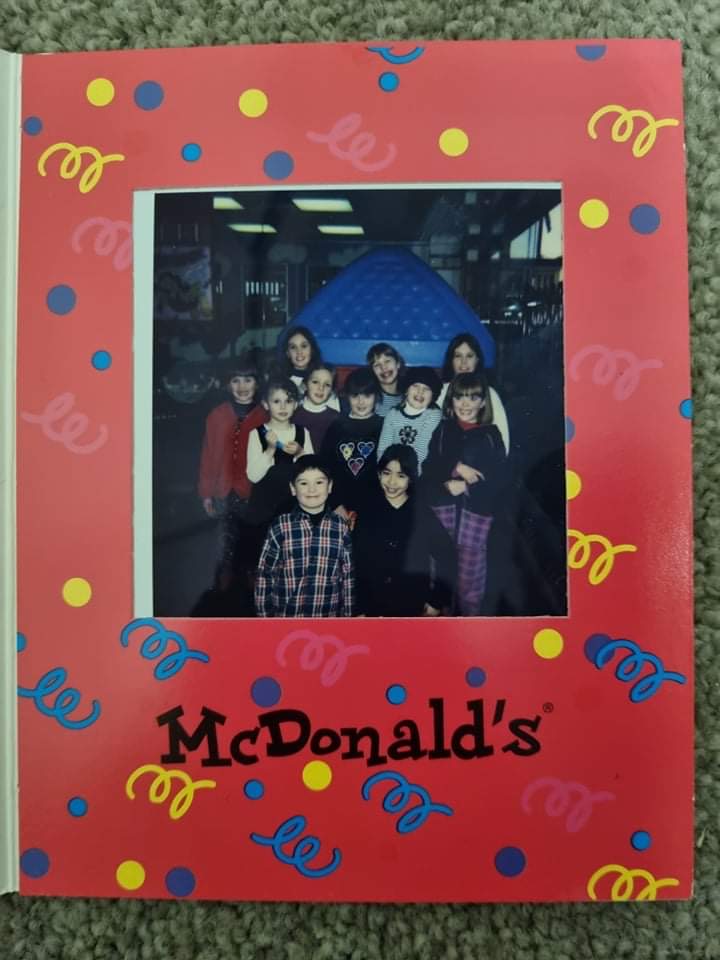 They later did these cardholders around a standard Polaroid.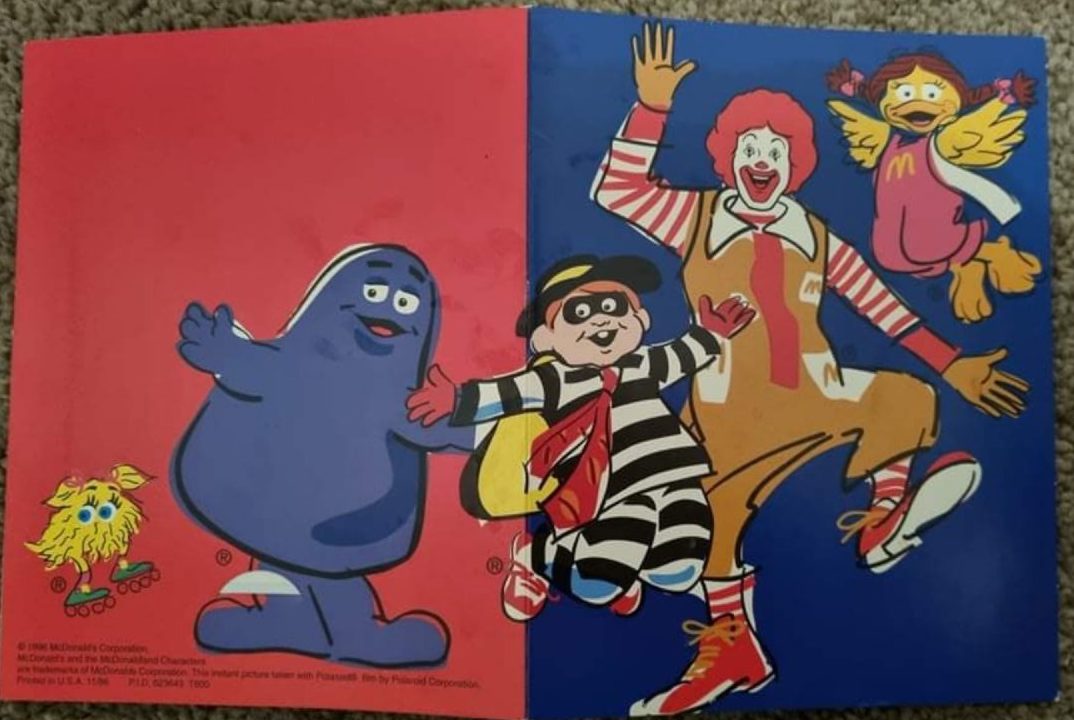 Here's the back of it.
McDonald's Birthday Party Menu
Below is the oldest Australian McDonald's Party Menu I could find, which is from 2011. When we were kids in the 90s, quite a few of these menu items didn't exist, so it was basically a choice of a hamburger, cheeseburger or 3 nuggets plus a small chips and a small soft drink. Just the standard Happy Meal at the time. You could not get milkshakes back then as part of the party menu. One of my friends told me that they had never felt more shame than when they were asked which drink they wanted and were denied a milkshake.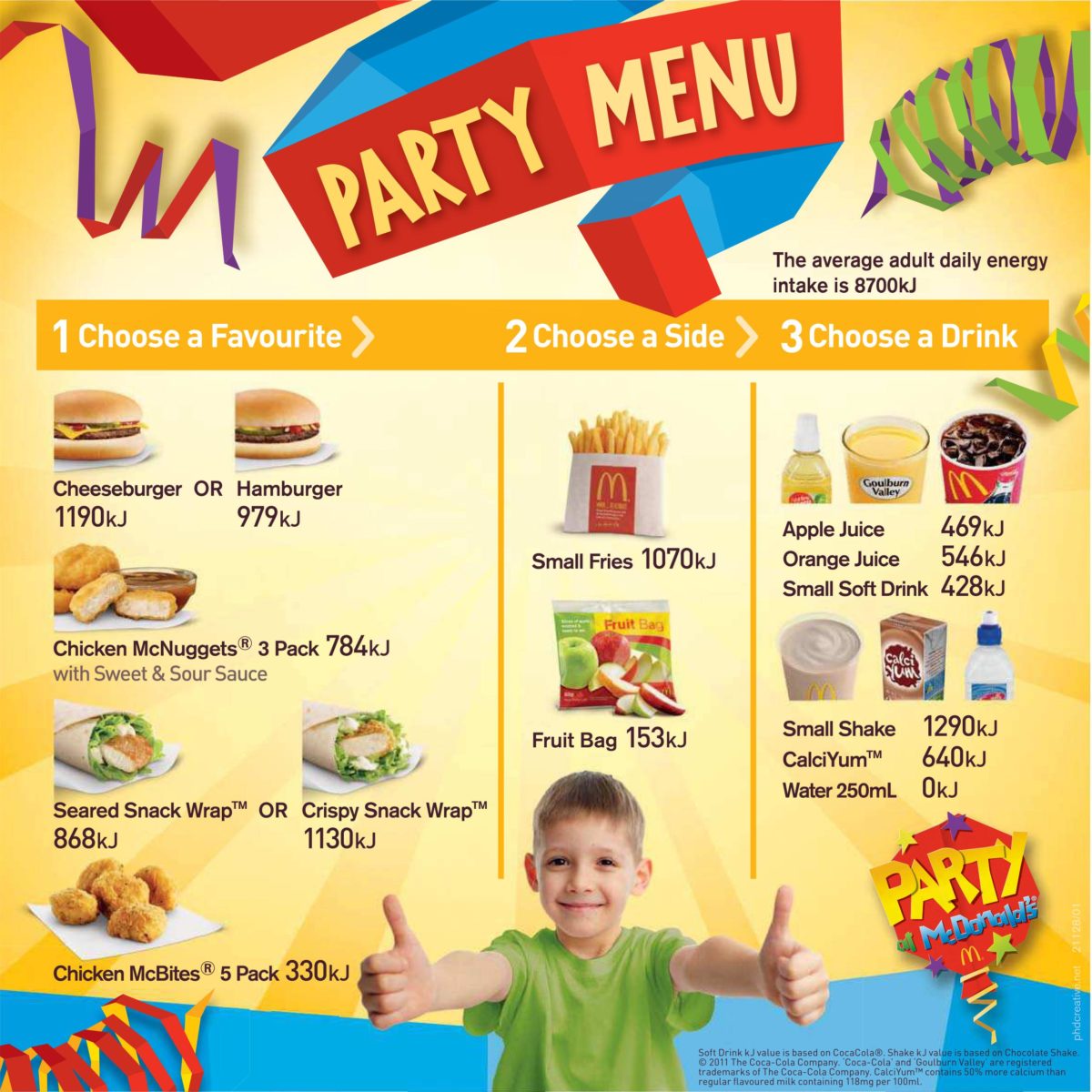 McDonald's Birthday Party Games
The party host would usually play 2 games with the kids. Often it was What's the Time Mr Wolf and Pass the Parcel. Sometimes face-painting was also involved.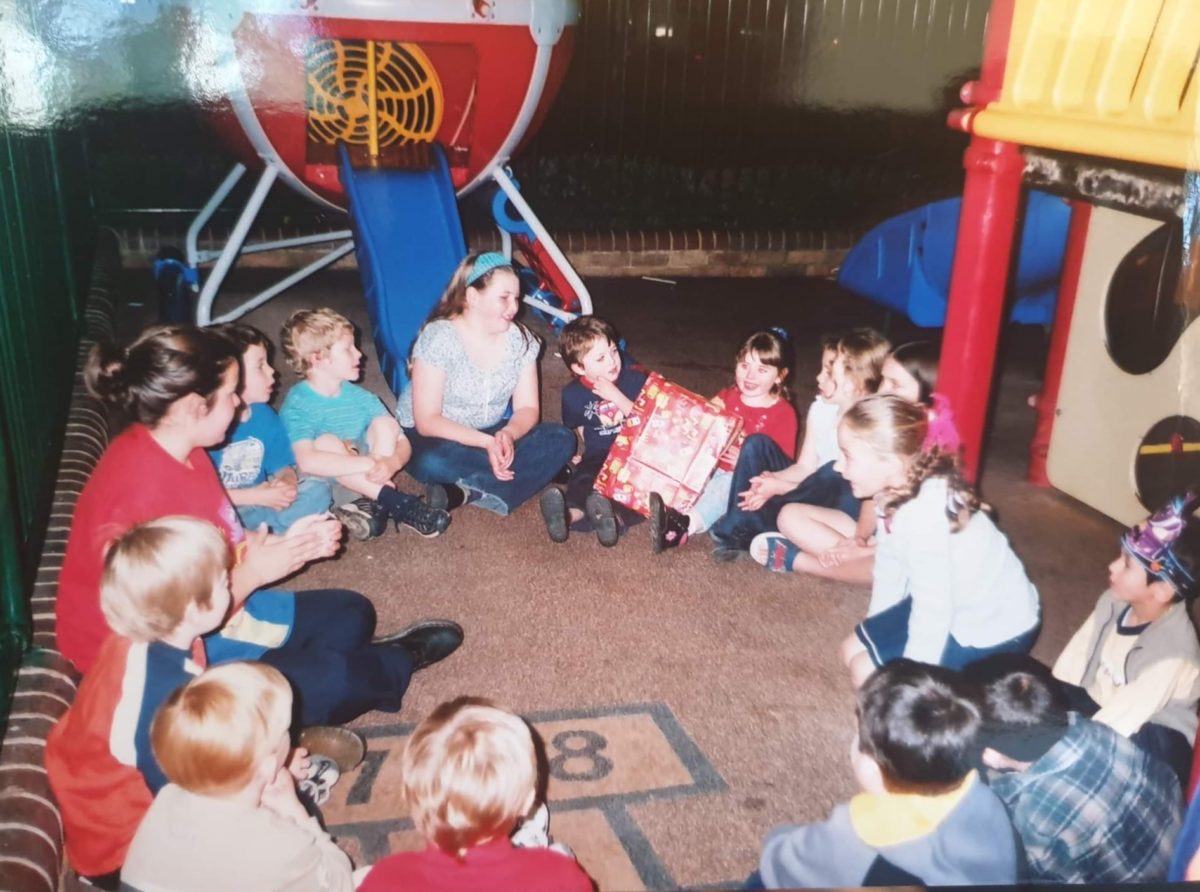 Above is a game of pass the parcel, where the prizes were usually old stock Happy Meal toys (so that you didn't get the same toy you got with your meal) or boxes of McDonald's Cookies. Werribee McDonald's is pictured.
Photos of 90s McDonald's Playgrounds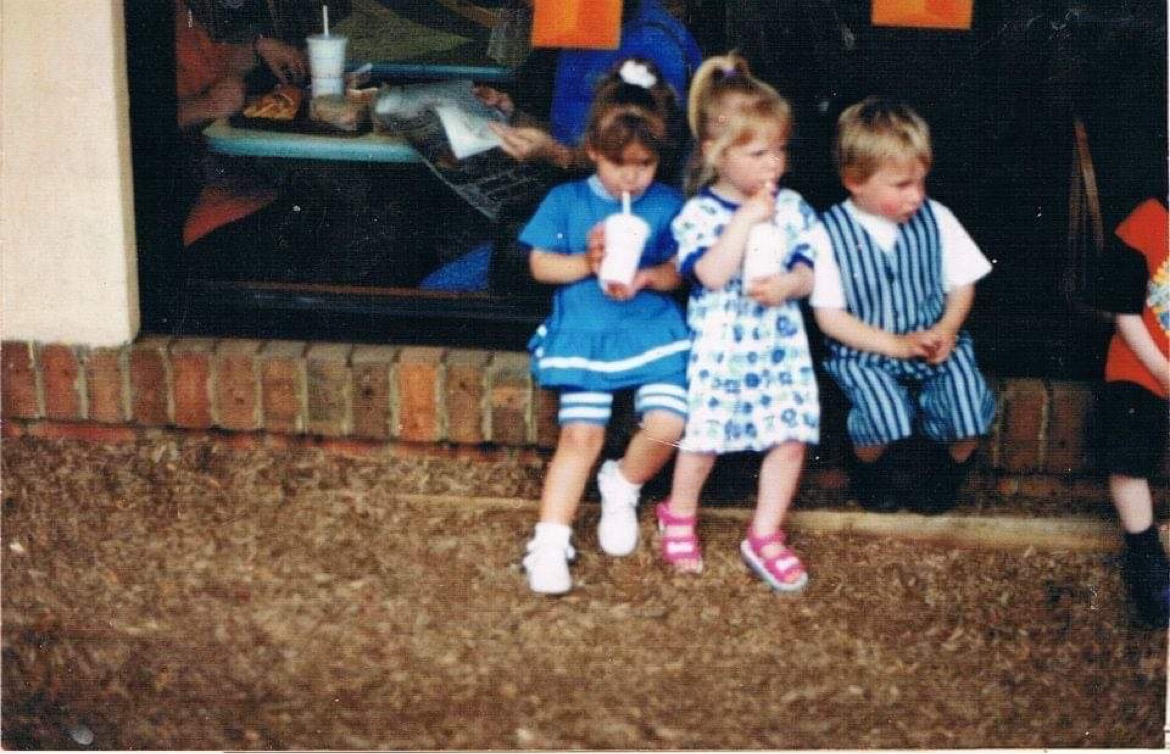 Before the soft rubbery floors that were introduced in the 90s that you can see in some other pictures here, there was bark on the ground. I bet that got all through the restaurant.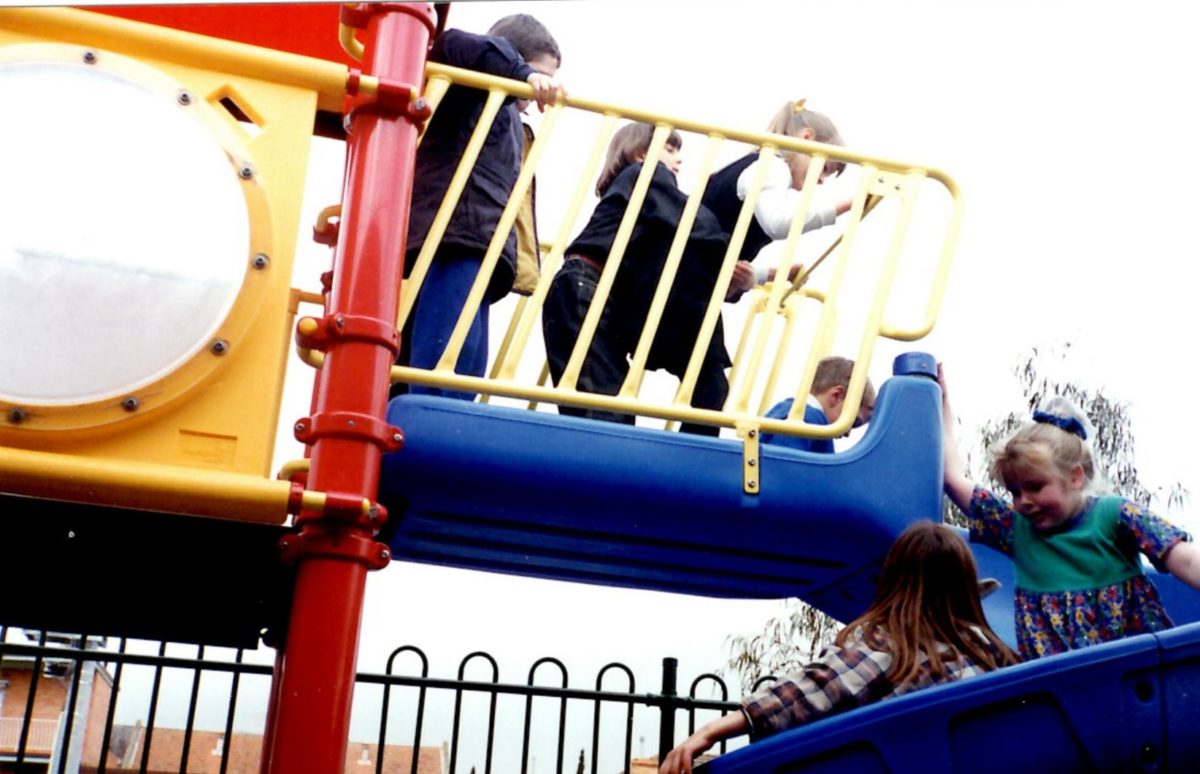 I used to love trying to climb up this slide (Werribee).
How to Book a Mcdonald's Birthday Party
If you want to book a McDonald's Birthday Party in 2021 or beyond you can find out about them here:
https://mcdonalds.com.au/celebrate/parties