I've been writing about a lot of places I liked going to as a kid lately, particularly for birthday parties. If you were a kid in my town, Werribee, Victoria there was a great selection of places to have your birthday, from Rainbow Park at the Plaza or the various McDonald's, Hungry Jack's locations and then of course there was the Plaster Fun House. Our local Werribee Plaster Fun House was on Synnot Street next to Master Wok in that little spot between where Officeworks and Quest Serviced Apartments are. It's been gone since the 90s.
Whilst discussing these nostalgic birthday party locations I found out that Plaster Fun House is actually a franchise of some sorts and there were lots of them around that my friends from all over the country have memories of. I always just thought it was something local, but no, there were lots of them! And even better, they're still around today! Unfortunately, there's none left in Victoria, with the Ballarat Plaster Fun House closing down recently, but if you follow them on Facebook, you'll find they still do pop-up events periodically.
What is Plaster Fun House?
Plaster Fun House is an Australian franchise that specialises in allowing children to paint plaster moulded objects. They are best known for hosting birthday parties, but you could take your kids to one of these any day for a bit of fun. Kids loved making presents for their parents and extended family here. I recall my grandparents had a clown face and a dog that some of their grandchildren painted for them that they had on display for a good 20+ years.
All the photos below are from the now-defunct Melton Plaster Fun House in Victoria.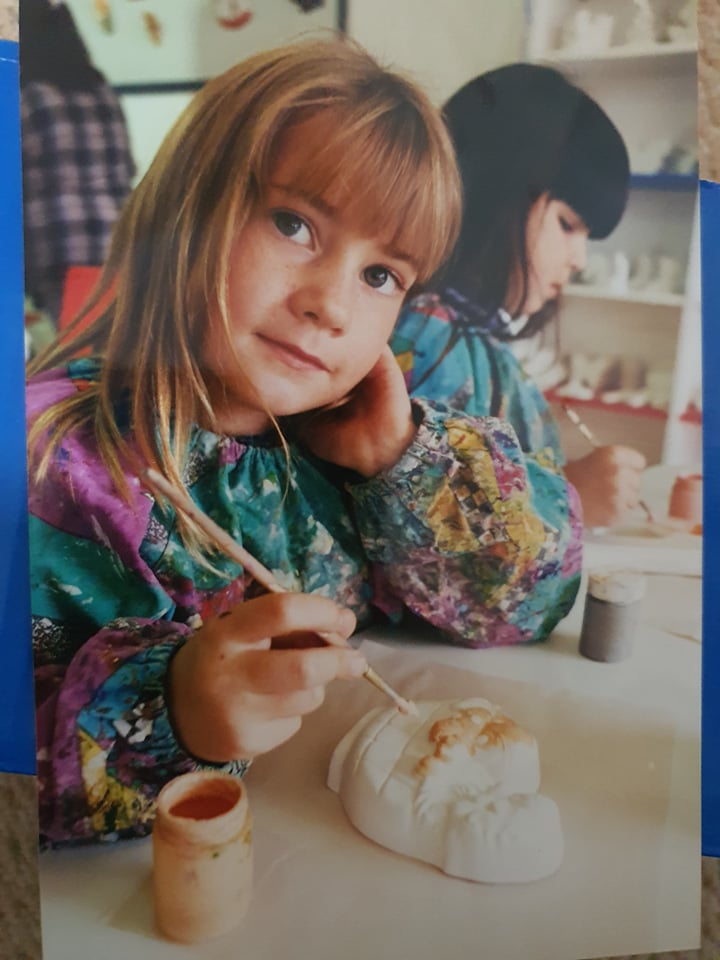 Parties at Plaster Fun House
Below is a photo from my friend Lauren at her 6th birthday party. You can see that the layout of the venue was designed for big groups such as birthday parties. I'm going to guess that kids all got a choice from a certain price range of plaster decorations that they could paint. It was quite cheap and quite an easy way to keep a group of kids quiet and entertained for an hour or so.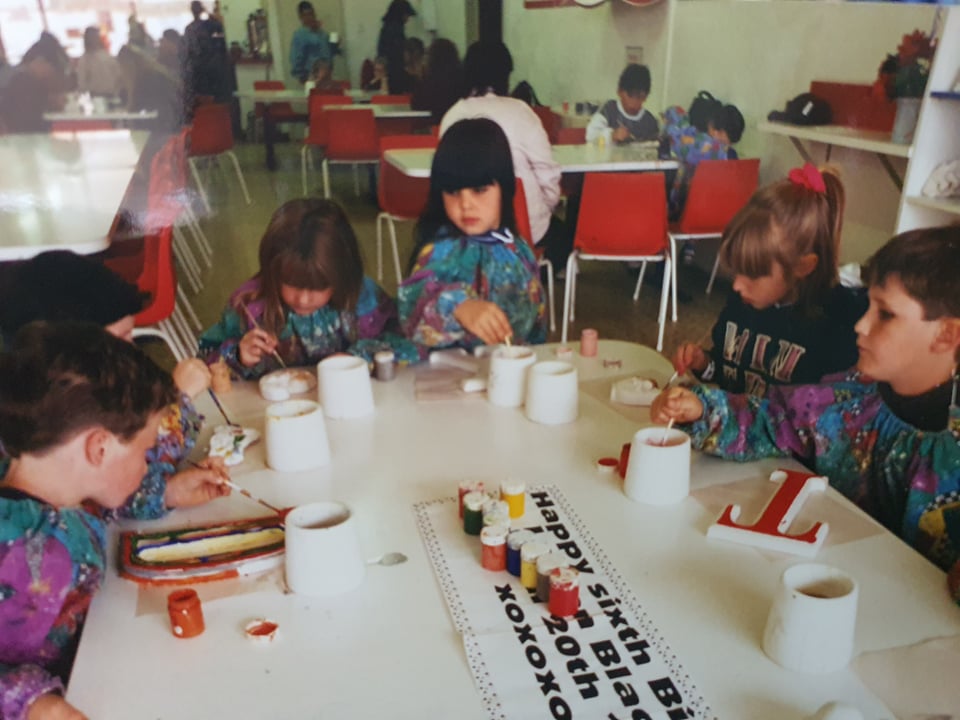 In terms of catering, it appeared to be BYO.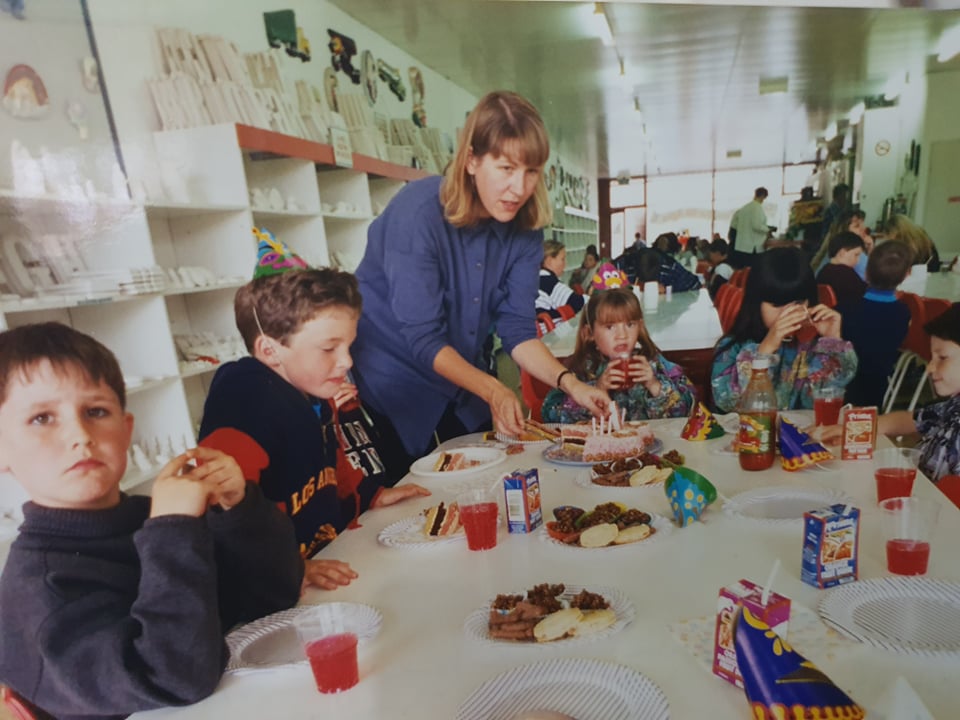 Those vintage 90s Prima boxes really bring back.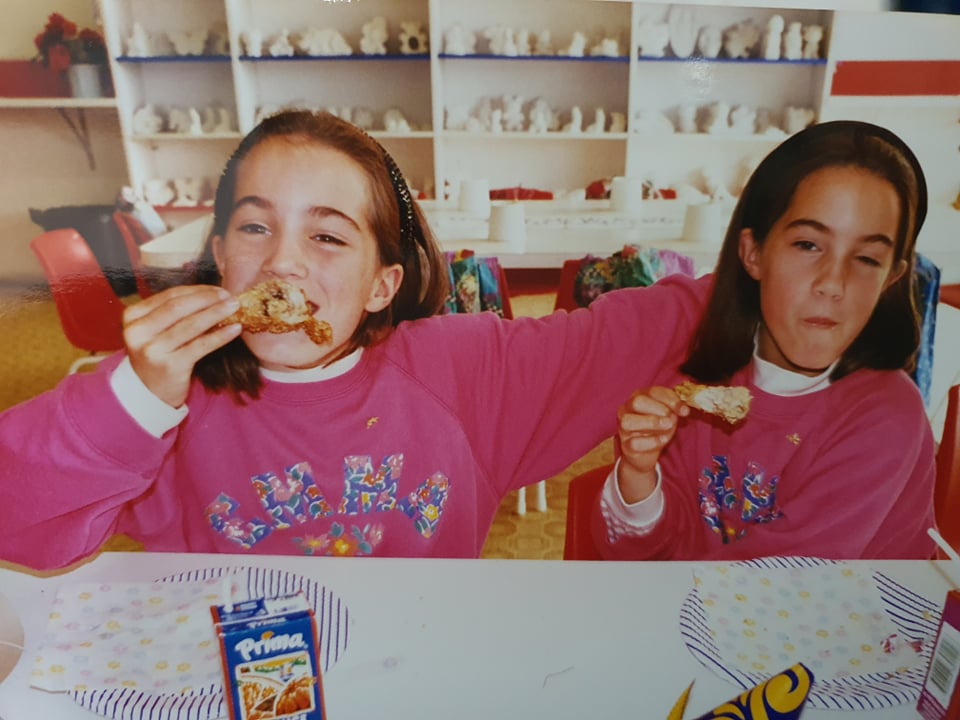 I'm pretty sure these twins are eating fried chicken. I'm sure that was brought in from elsewhere. I can't picture them deep frying chicken and plaster in the same place.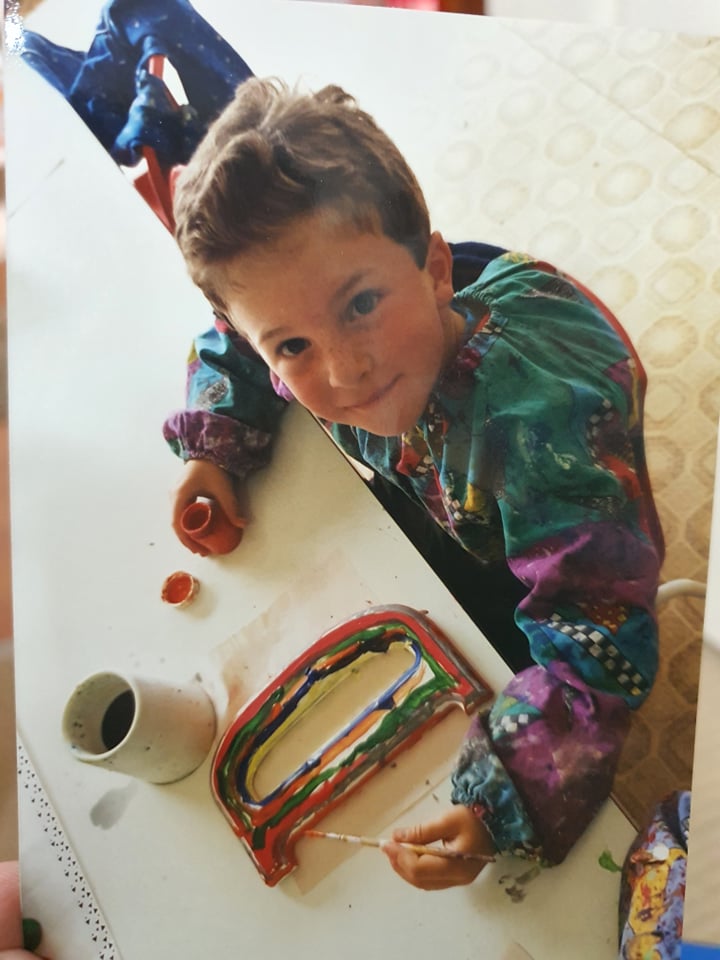 If you didn't want any of their usual designs, the letter your name starts with was always a safe bet. I assume this guy's name started with D, anyway.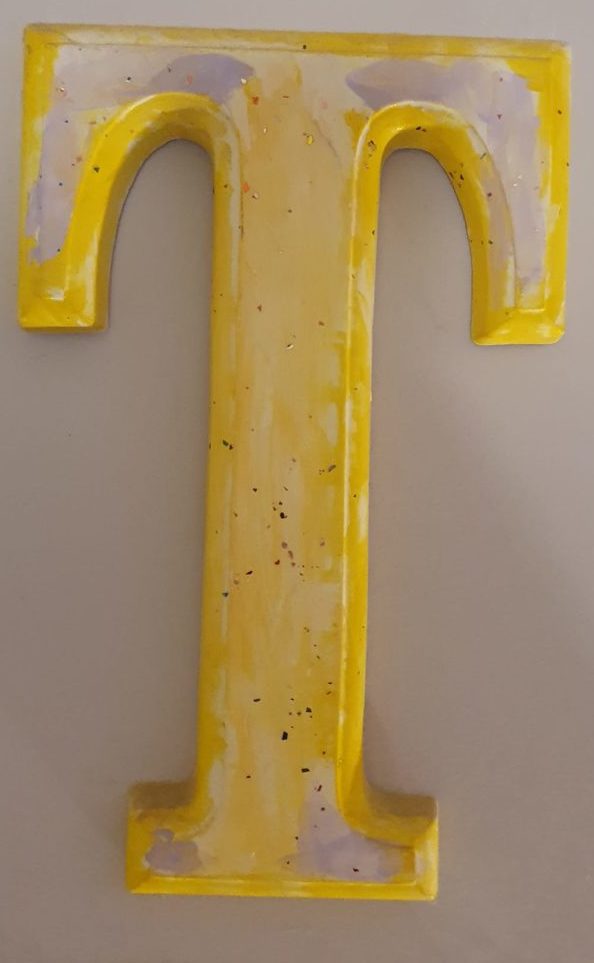 Tara sent me this picture of her well-loved Plaster Fun House letter T.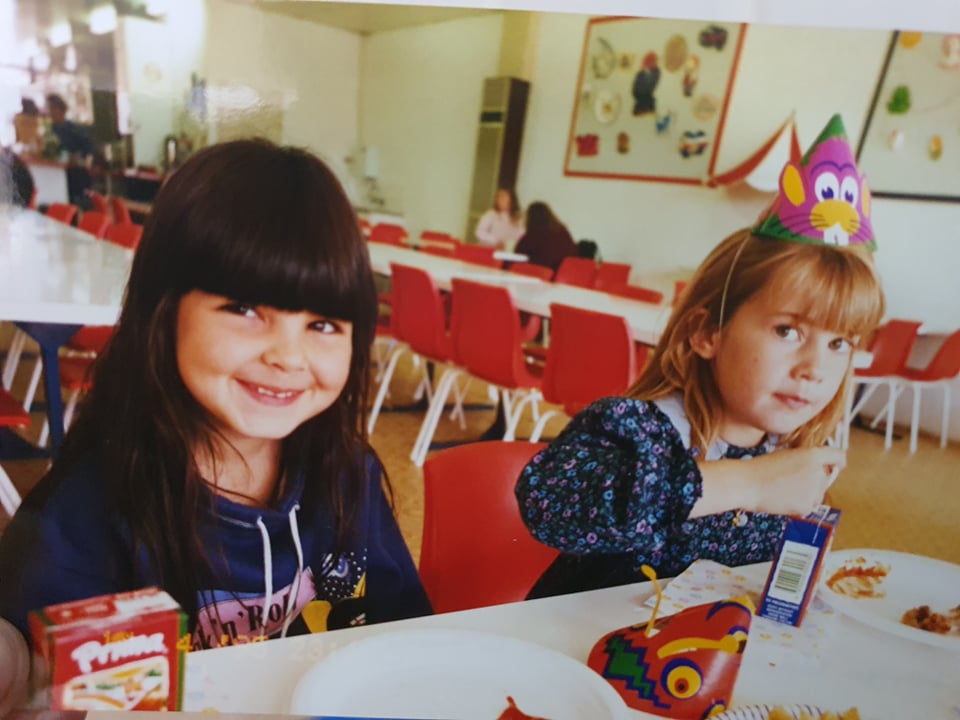 Look at how much fun these kids are having. Great place.
Glitter Blast Your Work at Plaster Fun House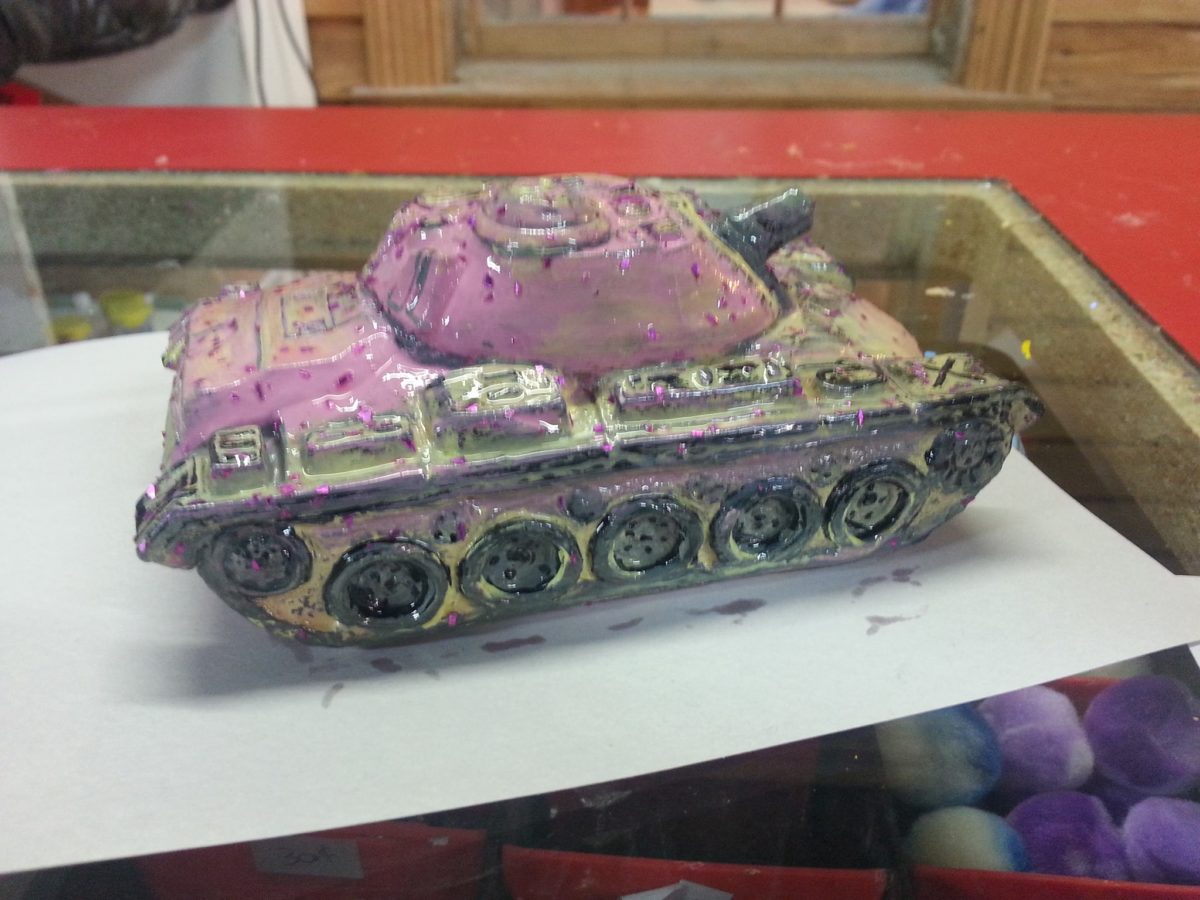 The best part of Plaster Fun House was getting a blast of glitter all over your work. I believe that this cost extra and my memory of this is like a hairdryer blast with glitter and then maybe some spray glue to make it stick? I'm not really sure but above is a picture of a pink tank with glitter that was submitted by Australia's favourite insect expert Caitlin Henderson.
The Coolest Plaster Fun House Piece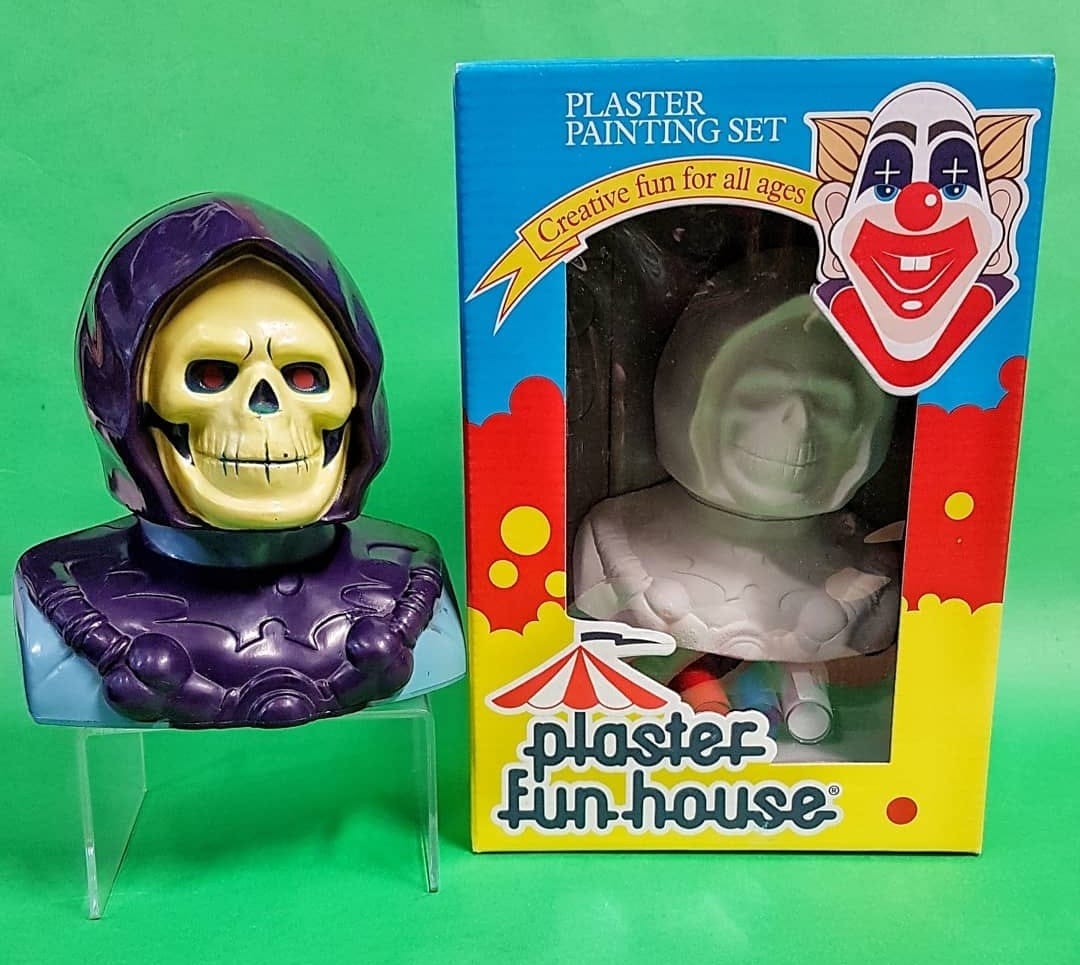 I'm a massive Masters of the Universe fan. Ben Sache from The Toy Power Podcast sent me this photo of his Plaster Fun House Skeletor kit. It's cast from the 80s Skeletor Bust Moneybox on the left. You can actually order this online from the Plaster Fun House website, but I think it's Click and Collect only from two particular stores Brahma Lodge and Wayville, both in South Australia where Ben is located. I suppose they don't do online postal orders because their products are too fragile.
If you happen to be in South Australia, you can order them here: https://www.plasterfunhouse.com.au/product/pack-2 (select Skeletor in the dropdown menu)
Plaster Fun House Locations
Here are the remaining locations in Australia.
Plaster Fun House Wayville, South Australia
This location does Adults Only events on the last Friday of every month. Pretty cool for the millennials who grew up with it!
Address – 41 Goodwood Road, Wayville (cnr Young Street) Wayville South Australia, 5034
Phone – 0405104433
Email – wayvilleplasterfunhouse@gmail.com
Website – plasterfunhousewayville.com
Plaster Fun House Brighton, South Australia
Address – 505D Brighton Road, Brighton South Australia 5048
Phone – 08 8296 3046
Email – pfhbrighton@live.com.au
Website – plasterfunhouse.com.au
Plaster Fun House Brahma Lodge, South Australia
Address – 14 Clayson Road Brahma Lodge, South Australia 5109
Phone – 08 8285 8689
Email – andypfh@adam.com.au
Website – plasterfunhouse.com.au
Plaster Fun House Waitara, New South Wales
This is a factory only and not a store.
Address – 1 James Lane Waitara New South Wales 2077
Phone – 0411112344
Email – plasterfunhouse@internode.on.net
Website – plasterfunhouse.com.au
Plaster Fun House Carina, Queensland
Address – 5/1396 Creek Road, Carina Queensland 4152
Phone – 07 38434441
Email – admin@pfhbrisbaneeast.com.au
Website – pfhbrisbaneeast.com.au