After the success of Pizza Hut and Nickelodeon's Teenage Mutant Ninja Turtles pizza sauce promotion earlier this year, it looks like it's SpongeBob SquarePants' turn to lend his colour and theming to their pizza and hot wings.
They are offering the same deals as the TMNT promotion, including winning prizes which seemed to be added later in the promotion last time. They appear to have taken feedback on board as a lot of people were disappointed with the previous promotion as it did not include anything collectable. Remember when Pizza Hut used to have toys occasionally? Well, this time, if you buy the SpongeBob sauce pizzas you get them in a SpongeBob themed pizza box. As someone who has collected a few cool fast-food packagings in the past, this is a pretty exciting time to be alive.
SpongeBob SquarePants Pizza Hut Box Art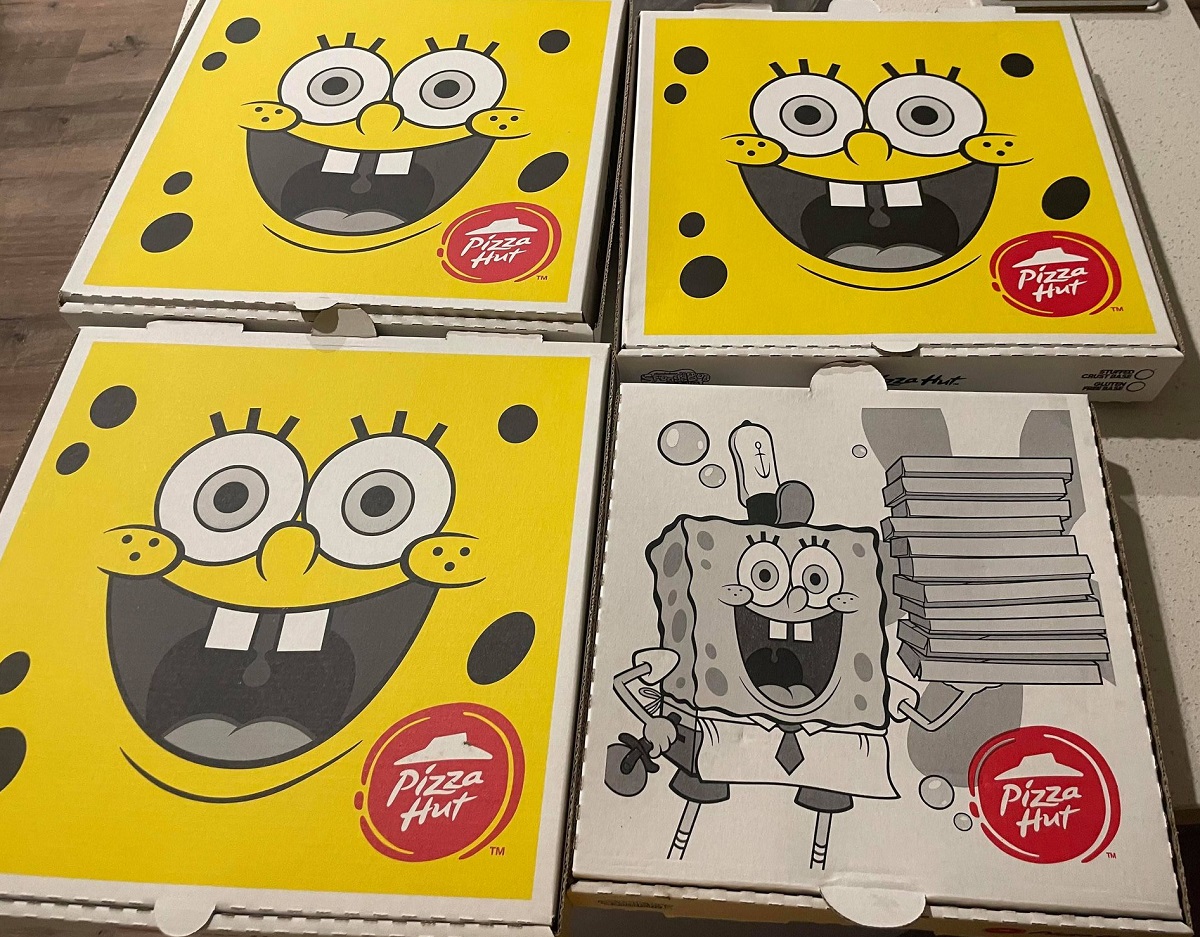 #SpongeBoxPizzaPants
Oh, and the back of the box has SpongeBob's arms and legs so you can cut up your greasy box and tape these to the sides.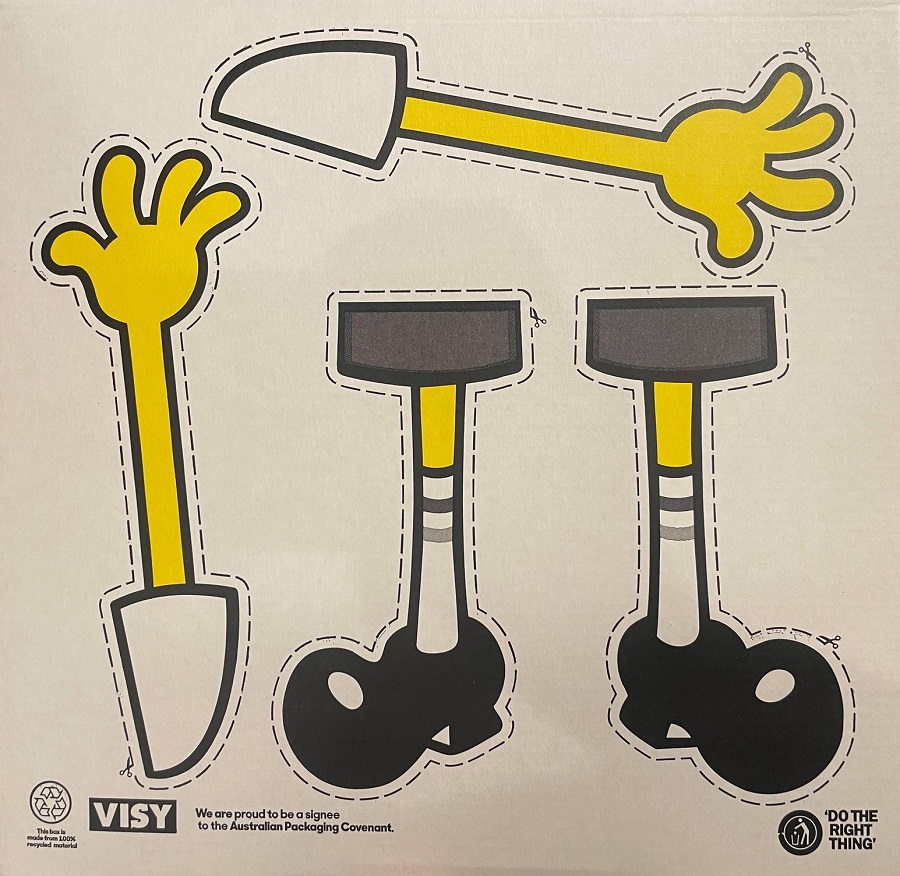 The side of the box has a hashtag for #SpongeBoxPizzaPants so I guess they're hoping for people to post pictures of their little box sponges. I've gotta say I'd have much preferred a decorative box for TMNT though, though apparently there was an episode where the Krusty Krab sold pizza.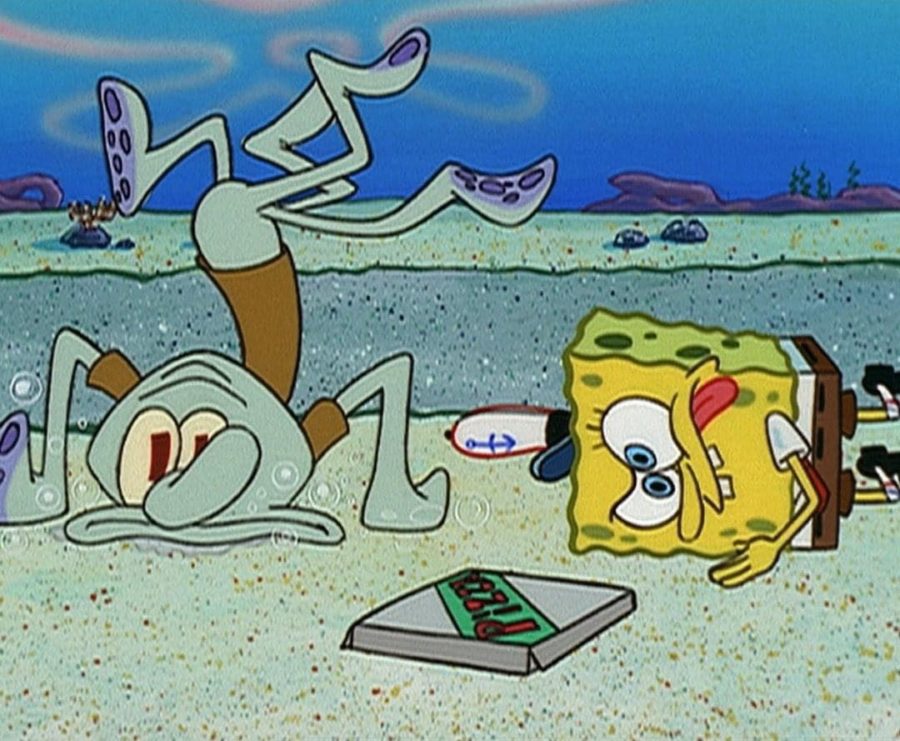 Pizza Hut Australia Website – SpongeBob Edition
As usual, I've saved lots of the graphics from the website and Instagram so that we can look back fondly on this fun looking promotion years from now.
The main offer is 3 Pizzas + 3 Sides for $33.95 pick up or $36.95 delivered.

SpongeBob's Australian Pizza Hut Deals
Pizza Hut Australia has also rethemed all their deals (except for the beer) to include SpongeBob characters again, which is a nice touch by their web or marketing teams. Most of these don't actually relate to the promotion at all but the theming is nice.

Here we have Squidward promoting Pizza Hut's regular pasta, 3754ML can for $12.95 pick up or delivery. Mr Krabs has a similar deal $17.95 or $19.95 for either pickup or delivery for a regular pasta, can + 3 wings deal. Patrick is promoting jalapeno cheese bites for $5.95 / $6.95. It seems those prices do not include the delivery fee itself, but you have to pay more for it if you add it to a delivery.

Patrick promotes the $1 Wing Wednesdays. SpongeBob promotes the $5.95 personal pan combo.

Squidward promotes cheap pizzas if you order Americano, Hawaiian or Margherita.

SpongeBob promotes the 2 Plus 2, 3 Plus 3 and 4 Plus 4 deals. We ordered the 3 Plus 3 with several upgrades to cheesy garlic bread and also to my pizza. It ended up around $50 in the end including delivery.
Adding this graphic to the ordering screen was also a nice touch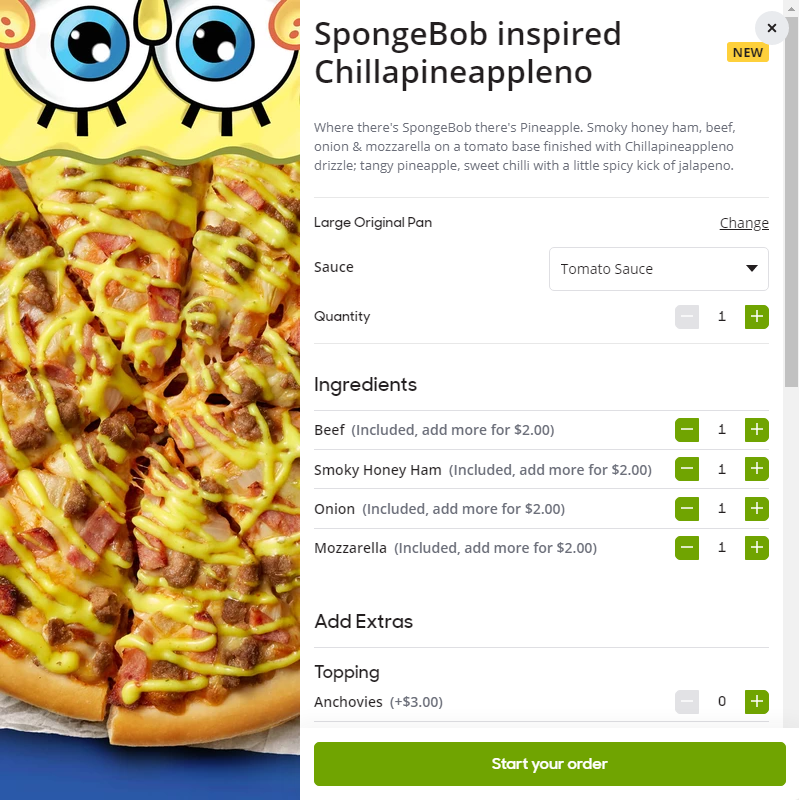 Where there's SpongeBob there's Pineapple. Smoky honey ham, beef, onion & mozzarella on a tomato base finished with Chillapineappleno drizzle; tangy pineapple, sweet chilli with a little spicy kick of jalapeno.
SpongeBob's Pizza Hut Pizza Review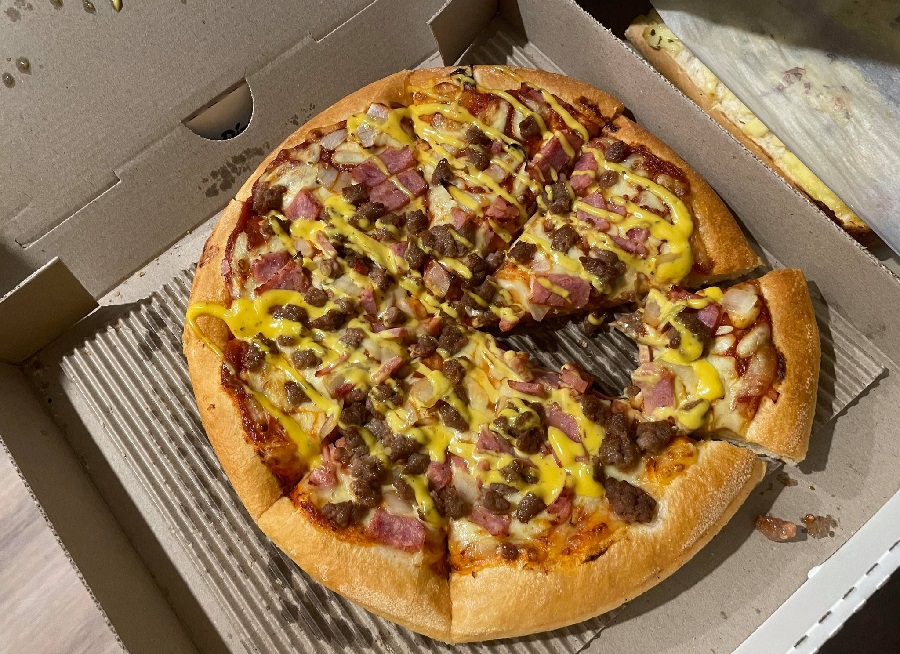 To make reviewing this fair, we ordered the default configuration of the SpongeBob Inspired Chillapineappleno pizza without any changes. I've gotta say, I actually really liked this pizza. The sauce was slightly sweet and slightly spicy, I think most kids would like it. The smoked ham really complimented it, kind of how it is usually paired with pineapple on a Hawaiin pizza. My partner did not like the onions on here, she said they were not cooked enough. Whilst I love onion on pizza, I think it would be better to order it without it if you have kids who don't like onion. Overall, this pizza was quite good and I'd give it another go.
One thing that is a bit sad, but probably hard to avoid is that due to the sauce on the top of the pizza, it meant the 2 pizzas we ordered with this sauce had left wet patches on the inside of the lid, so if you want to keep a box, order something without a sauce. Luckily my partner ordered a basic margarita pizza, so I kept that box.
I also added the Chillapineappleno drizzle to my go-to custom pizza.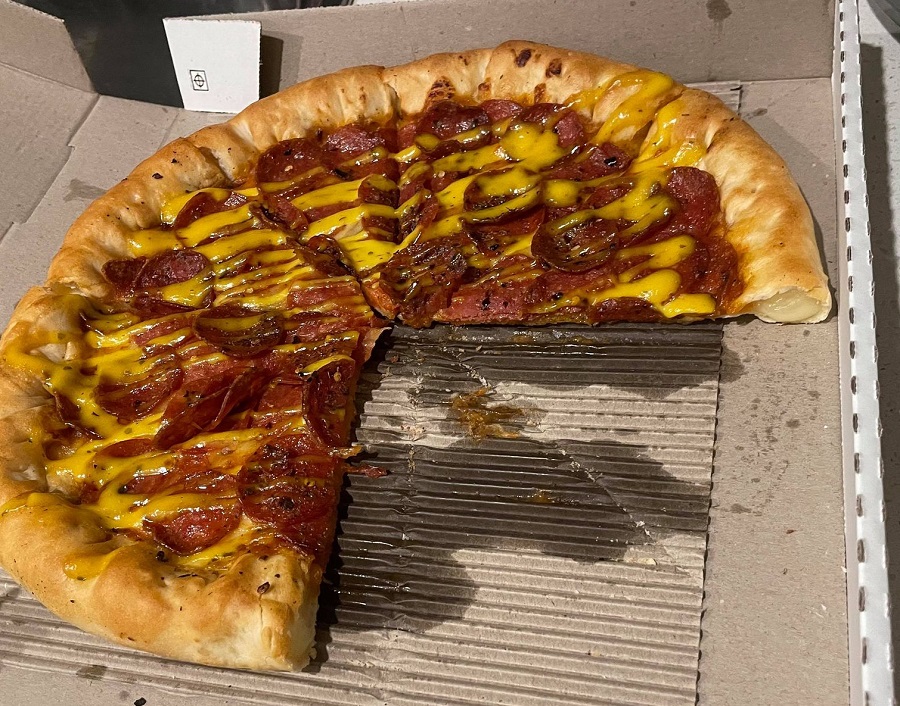 I usually get Pepperoni Lovers with the $3 Epic Pepperoni upgrade, $3.95 Stuffed Crust and these free extra add-ons – garlic, chilli flakes and oregano. This was really good with the sauce. I quite like this with ranch sauce whenever that's available as well.
Win SpongeBob SquarePants merchandise at Pizza Hut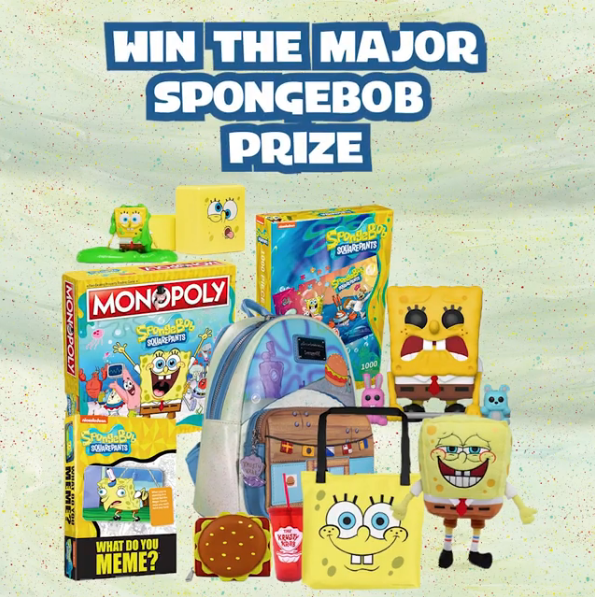 By ordering any products with this special sauce through their site (I doubt it would work on 3rd party apps such as UberEats) you can enter to win this major prize back. There are also smaller prizes for each individual item awarded weekly. I'm actually excited to learn that there's a SpongeBob version of the game "What Do You Meme?", I love that game.
SpongeBob SquarePants Pizza Hut Box Art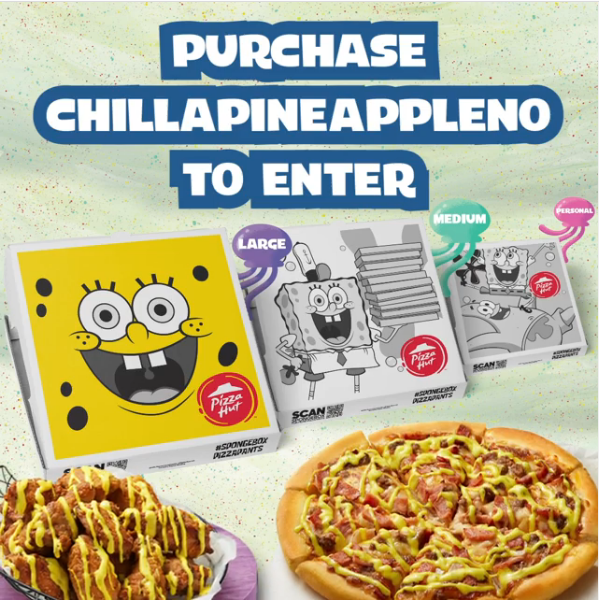 I know I'd probably want to keep one of these SpongeBob pizza boxes but my partner would kill me… Even if t was clean!
How did they name SpongeBob's Chillapineappleno Sauce at?
Unlike the Mutagen Ranch sauce of the Teenage Mutant Ninja Turtles promotion, this time Pizza Hut opened up the naming to the public, and that's how we got the name "Chillapineappleno" due to its pineapple, sweet chilli and jalapeño flavour.

We need YOU to name our NEW SpongeBob SquarePants inspired pineapple, sweet chilli and jalapeño sauce! 🍕🍍
Need some inspo?
💛 Think of classic lines and give them a spicy and saucy twist
💛 Take inspiration from the characters or key landmarks in the show such as his hometown of Bikini Bottom.
💛 Just think, what would SpongeBob do?
Head to our bio to submit your Spongey-est sauce name and potentially win the bragging rights of a lifetime! 🙌
Entries close July 28 AEST.
T&Cs apply.
So far, I am yet to try this but I'll be ordering this Pizza Hut deal very soon and adding photos to this blog.