I used to blog about the crazy Pizza Hut promotions a lot back in 2015 such as their Doritos Crust Pizza, Vegemite Pizza, Four N Twenty Pie Pizza, and Hot Dog Stuffed Crust Pizza. I'm really happy to see that after 6 years of mediocrity they have produced a range of promotional pizzas that is worth me writing about.

After someone shared a post in a group chat I'm in, I was so excited to order this, that I forgot to completely use my sneaky 20-30% off Dominos or Pizza hut promo trick that I usually use. This is mostly due to it being Wednesday and dinner not being started yet – where Wednesday is a special day – $1 wings day at Pizza Hut. I also didn't see the above banner, meaning I could have had a whole extra pizza and two more sides for about the same price. But this promotion makes me so happy that I'm not even sad. This reminds me of 80s and 90s fast food promotions so much that I'm just happy to support this kind of thing. Plus, I'm meant to be on a diet anyway.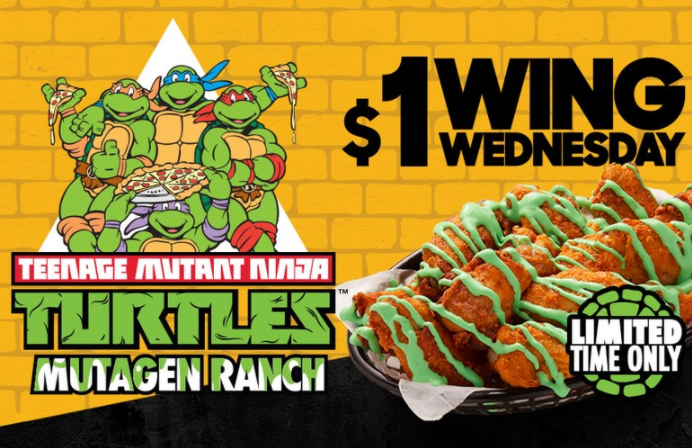 $1 wings with green ranch sauce – an easy sell to me.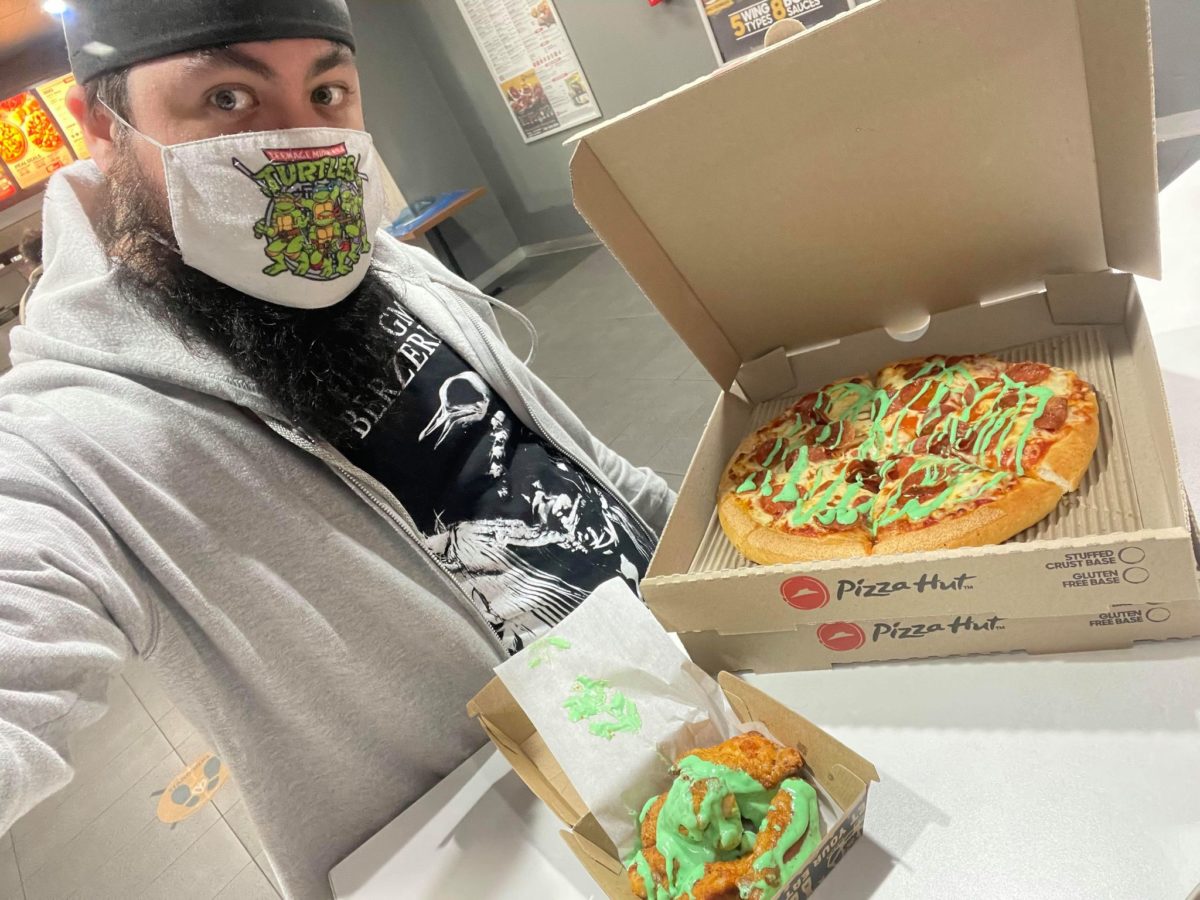 The whole aesthetic of green ranch sauce on a boring Pizza Hut pizza makes me unreasonably happy.
It reminds me of things I've heard a lot about from the 80s where you could get Ghost Busters Hi-C Ecto Cooler in 1989 in the USA or and in more recent years, the Halo Purple Plasma Energy Drink in 2012 in Australia.

Teenage Mutant Ninja Turtles Pizza Hut 2021 Flavours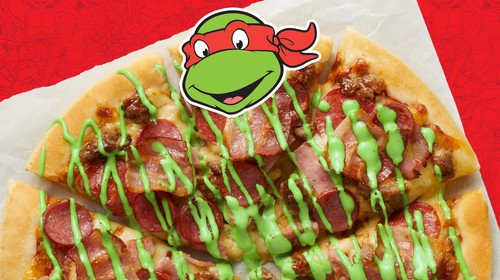 Raphael represents the Mutagen BBQ Meatlovers Pizza. This is what Kayla ordered.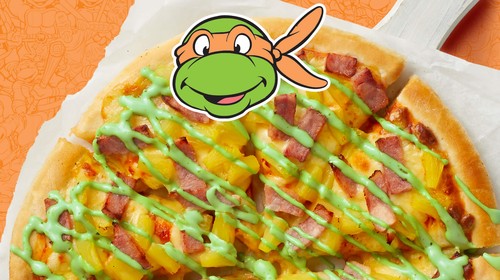 Michaelangelo represents the Mutagen Hawaiian Pizza.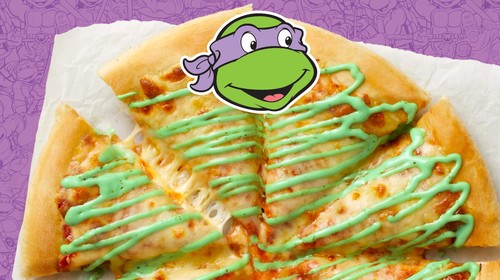 Donatello represents the  Mutagen Cheese Lovers Pizza.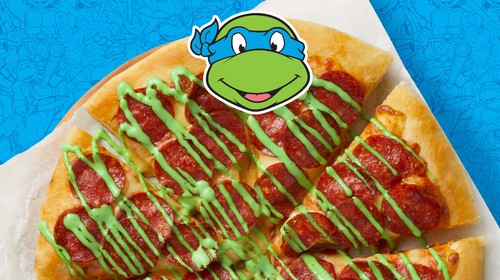 Leonardo represents the Mutagen Pepperoni Pizza. This is what I ordered.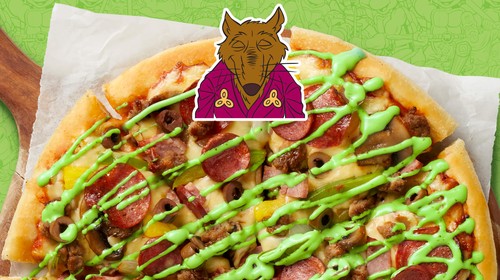 Splinter represents the Mutagen Super Supreme pizza. I'm surprised he got his own 5th pizza, that's pretty rad.
How does the Mutagen Ranch Teenage Mutant Ninja Turtles Post taste?
Any other established Pizza Hut connoisseur will know that ranch dipping sauce is a popular promotion for the chain. Dipping almost any pizza in ranch sauce tastes great, and the same goes for chicken wings. Ranch sauce or blue cheese sauce and chicken wings is great.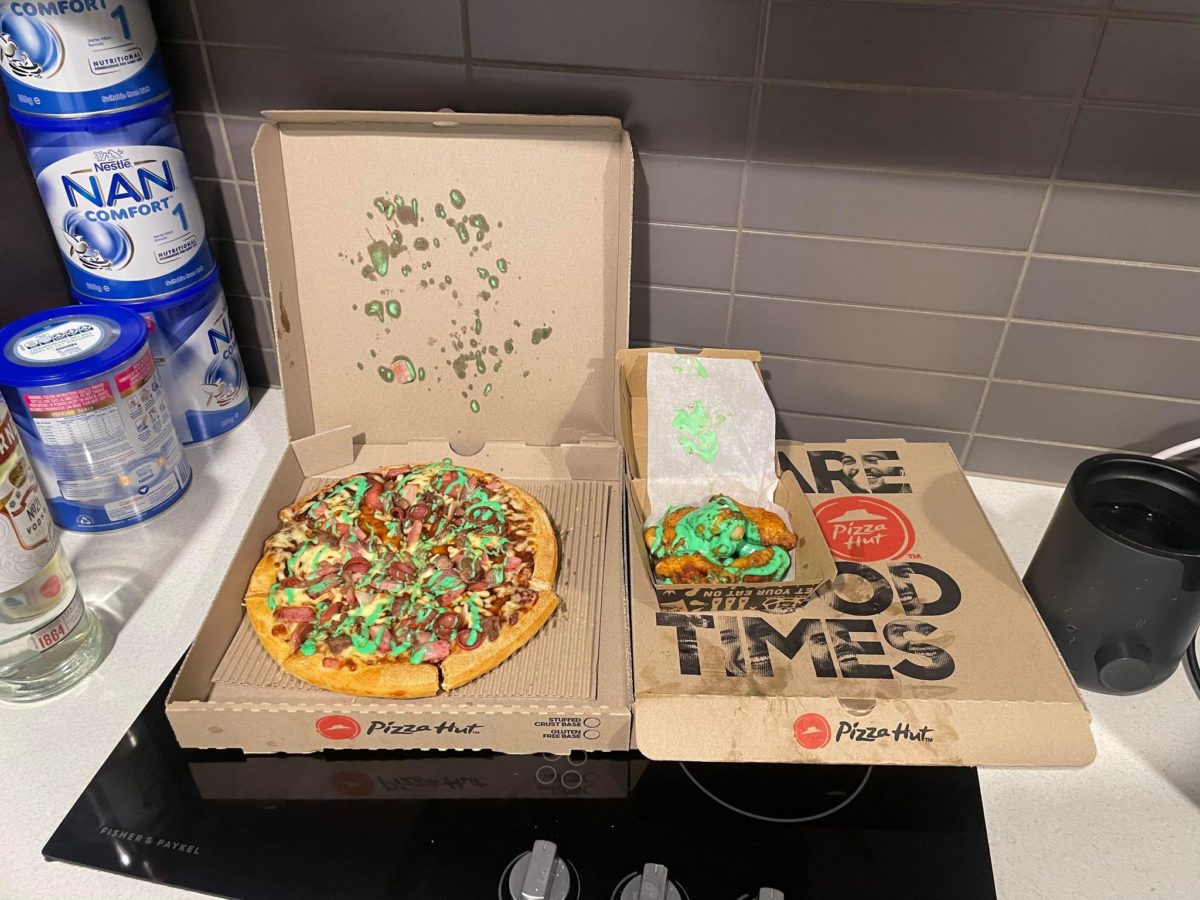 Our order was for a regular Pizza Hut pepperoni, meat lovers and the standard 6 for $6 Wednesday seasoned wings all with the Teenage Mutant Ninja Turtles Mutagen Sauce. All products were the standard version without any modification other than the Teenage Mutant Ninja Turtles Mutagen Ranch Sauce, and honestly, it was a massive improvement on the regular recipes.
We are actually staying walking distance from a Pizza Hut tonight, so instead of ordering online, I ordered direct from the site, half-using my secret trick to get a discount and forgetting to redeem the code at the last moment.
After I collected it, I walked by a very down on his luck guy in front of a local pub on a park bench, who saw that I was basically demolishing my own pizza by myself who asked for a piece of pizza. I walked forward for a moment, then reconsidered. Normally, I probably wouldn't be so charitable but since I'm meant to be on a diet, plus had the extra wings for myself I figured it was fair.
I gave him a piece of my pepperoni pizza with the green sauce on it and he looked at it weird with a "what the fuck is this" expression and I said something like "yeah it's a pepperoni pizza with a special green sauce because of a Teenage Mutant Ninja Turtles promotion" and he was keener on it.
If I was a Facebook or Instagram influencer, I would have taken a photo or video of myself feeding the poor for social credit, but honestly, I'm happy to have an extra anecdote to pad out my review. Plus, my hands were full of pizza and wings boxes.
Pizza Hut's TMNT Mutagen Pizza Summary
The deal that I didn't know about is actually really good value. The green sauce is good and apparently has no artificial colours or flavours from what I recall reading on their site. It's better than a regular version of these pizzas. It's green and fun and you should try it.
Update: they have done a similar promotion in August 2021 for SpongeBob SquarePants at Pizza Hut.