After failing to visit the Dine-In Pizza Hut in Ballarat on the weekend and finding out the grocery delivery order wasn't coming til after 7 pm today, we decided to get Domino's pizza for dinner. As it turns outs, they had a new special crust, which is something I always have to try whenever Pizza Hut or Domino's does something like this.
This includes:
Dorito Crust
Teenage Mutant Ninja Turtles Sauce
So as you can imagine, I was pretty surprised a new crust type had come out without me hearing about it. So naturally, I had to have it with my usual Loaded Pepperoni with chilli flakes.
What is the Cheese Toastie Crust Pizza?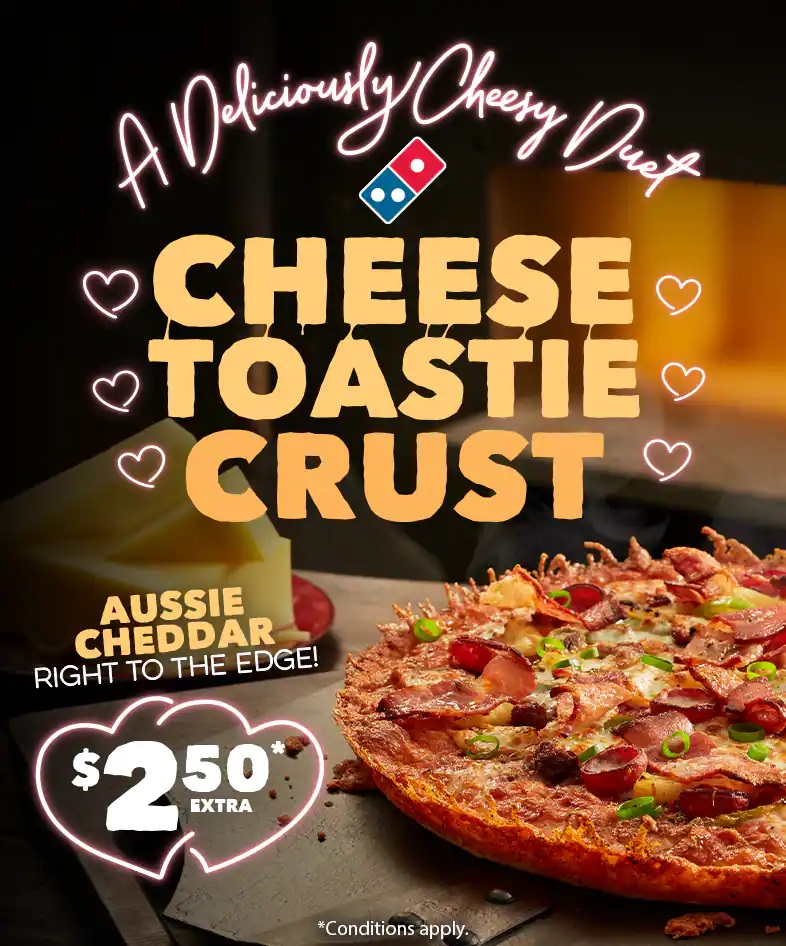 You know when you cook something with cheese on it in the oven and some of it falls out and turns into a crispy, bubbly chip? Or when you're actually making a toastie and some cheese spills out and cooks on your frying pan or sandwich press? Well yeah it's basically that on a pizza crust.
I imagine that they must put it in a deep pan with the Australian cheddar cheese sticking up around the edges so that some of it cooks to the side of the dish and comes up with the pizza.
How much extra does it cost to add?
At only $2.50, the Cheese Toastie Crust is cheaper than the regular Cheesy Crust (stuffed crust). That costs $3.45 at my local store but you can add a 10% surcharge on Sundays, 15% surcharge on Public Holidays and 20% surcharge on Christmas Day.
Is the Domino's Cheesy Toastie Crust Pizza Any good?
Overall, if you're a fan of the type of pizza sold at Domino's, you'll find this worth trying. I'm glad I tried it but for me it's a bit of a novelty that I am content with only having once. The crispy cheese is nice, but it kind of feels like this was created by accident, and perhaps it originally was! My concern is that it seemed like there was less overall topping on the pizza than usual. It was this strange border of not much going on where it's just the cheddar meeting the mozzarella I don't know if I was just unlucky with mine.
I think it's worth trying but I'd generally prefer to pay a little extra for the regular cheese crust, which is more filling and better justifies the added cost.